Time for a cozy, rosy Roasted Brussels Sprouts, Grapes and Walnuts recipe.
Changing Taste Buds
Were Brussels sprouts your least favorite vegetable growing up?
How about walnuts?
Neither were a huge favorite for me. As a matter of fact, I never even had Brussels sprouts until I was in college. And walnuts, especially those in desserts, made me gag – literally! I mean, so many lovely desserts – completely wasted with the walnut inclusion. You hear me?!
Today I am so vastly different.
In fact, among many other things I consume frequently, I eat both Brussels sprouts and walnuts – very frequently.
I still don't overly enjoy walnuts in desserts. There is something about a soft dessert mixed with a hard walnut that does not sit well with me. However, THIS Chunky Monkey Nice Cream made with all things whole and milked walnuts is incredible!
Brussels Sprouts
Brussels Sprouts are loaded with Vitamin K, Vitamin C, Folate and Vitamin K, among many other things.
They contain about 60 calories per 1 cup and approximately 4g of both fiber and protein.
And Brussels sprouts are, of course, naturally gluten free.
Walnuts
Walnuts are loaded with omega 3 fatty acids, manganese, and copper.
They contain about 163 calories per 1/4 cup, are low in carbohydrates and sugar and provide nearly 4g/protein and 2g/fiber.
Walnuts are a great anti-inflammatory and have been proven to help improve blood pressure. Again, they are naturally gluten free. However, with walnuts keep in mind that many times when they are not in their "raw" state, they can contain gluten (with candy-like coats, seasonings, etc.) Make sure to eat them raw, roast them yourself or check the packaging!
Combining Brussels sprouts, grapes and walnuts does seem like an unlikely combination, but you just wait! When they are all roasted together, something magical is born.
Roasted Brussels Sprouts, Grapes and Walnuts
Click HERE to save this recipe for later.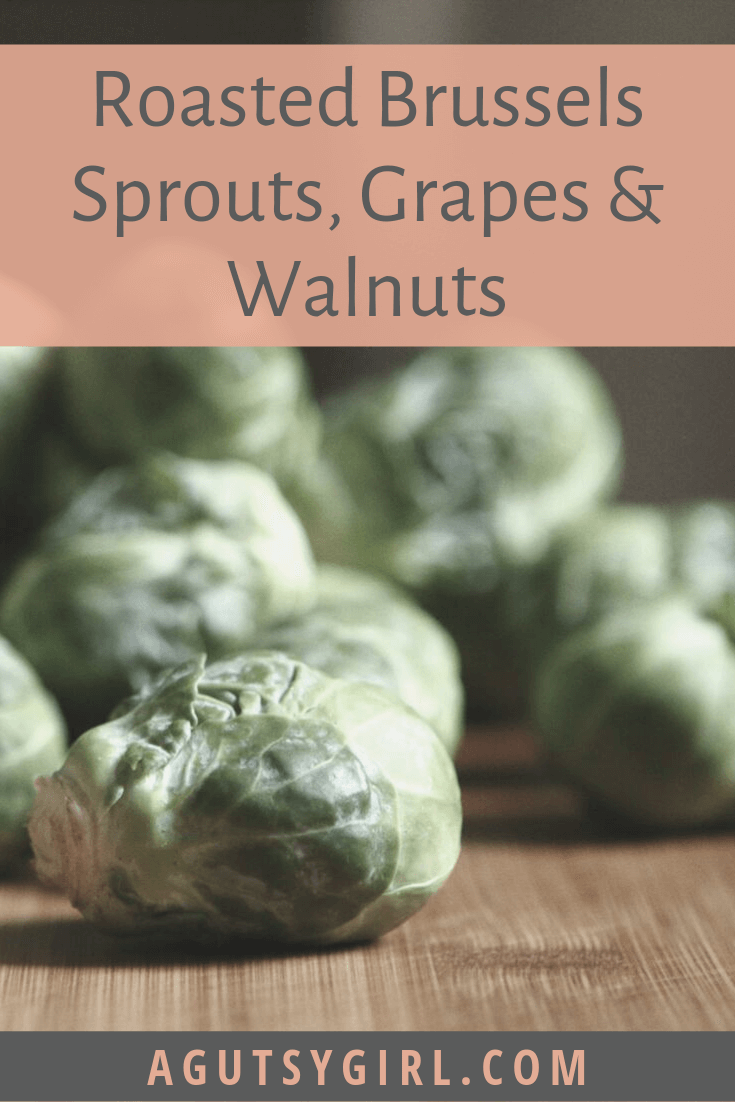 Roasted Brussels Sprouts, Grapes and Walnuts
Author:
Sarah Kay Hoffman
Prep time:
Cook time:
Total time:
A simple Roasted Brussels Sprouts, Grapes and Walnuts side dish for any dinner occasion.
Ingredients
4 cups Brussels sprouts, halved
2 cups grapes
2 tablespoons thyme
1 tablespoon olive oil
¼ cup walnuts
½ tablespoon apple cider vinegar
sea salt, to taste
pinch, pepper
pinch, cinnamon
Instructions
Preheat the oven to 400 degrees.
Toss together in a bowl all ingredients.
Place entire mixture on a rimmed baking sheet.
Bake in the oven for about 20 minutes.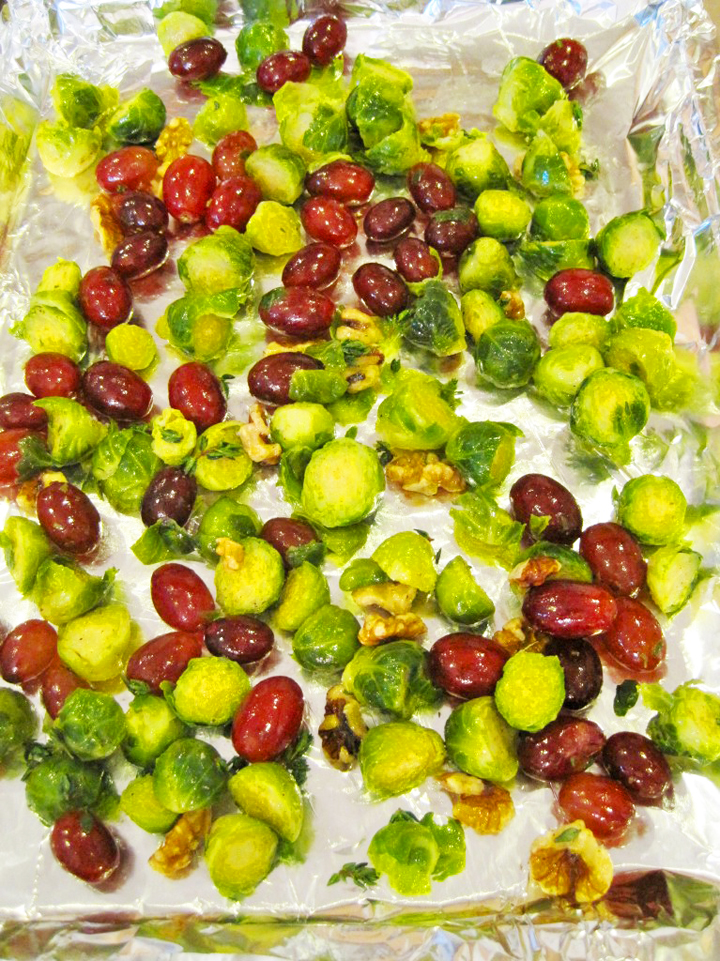 If you liked this post, you might also enjoy:
Xox,
SKH
You will heal. I will help.