L-Glutamine for gut healing is one of my favorite supplements I add to my diet nearly daily.
Day 7: Practice Medicine Without a License
Research your own conditions and treatment alternatives, ask questions, and seek second opinions with impunity. Leverage the expertise of trained pros, but don't allow it to eclipse your own informed instincts about what's best for you.
For a very long time I listened to what doctors and those with an official license told me to do to help my gut heal. There is a time and a place for doctors, but when it comes to healing the gut with food and lifestyle vs. (chronic) drugs and medications, I found that the traditional doctor just didn't have a place.
Chronic traditional medicine made me sicker (and believe me, I have lived through Canasa.)
I sought out alternatives, asked a million questions and got many different opinions before I landed to the place I am at today.
It wasn't easy. It was worth it.
I could now tell you about probably 100 different things that helped me, from food to lifestyle, supplements to herbs and more.
L-Glutamine is one of those supplements that has really helped me, but is definitely not a supplement that any doctor recommended.
L-Glutamine for Gut Healing
Click HERE to save this post for later.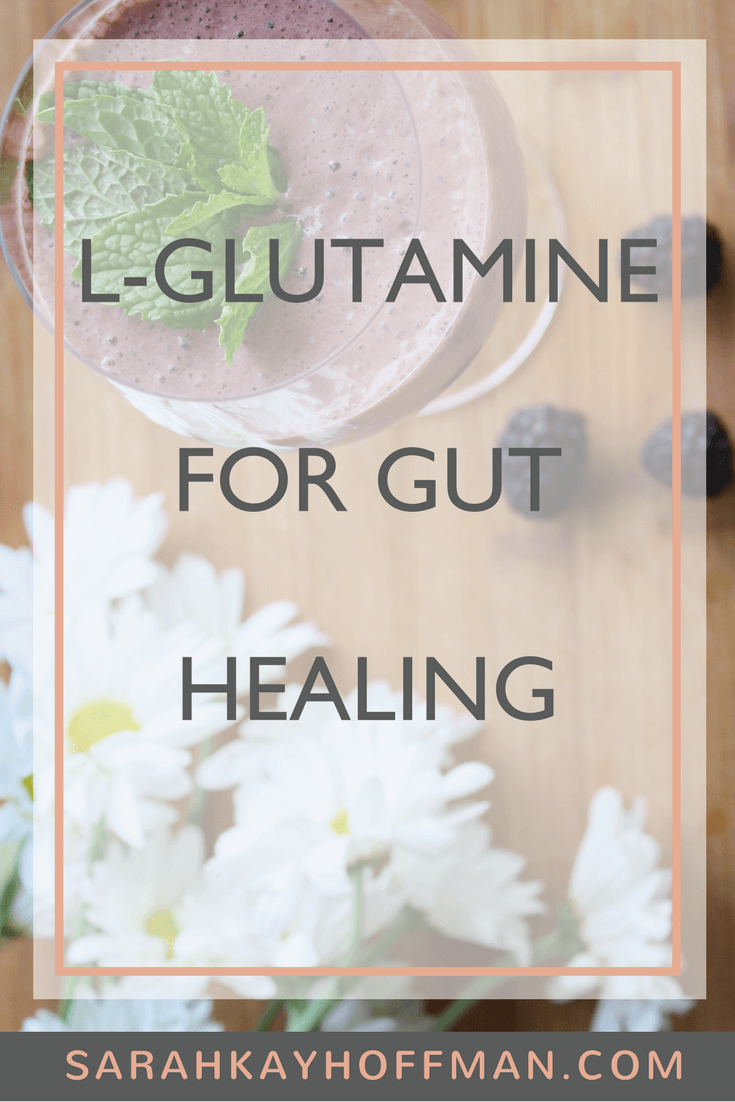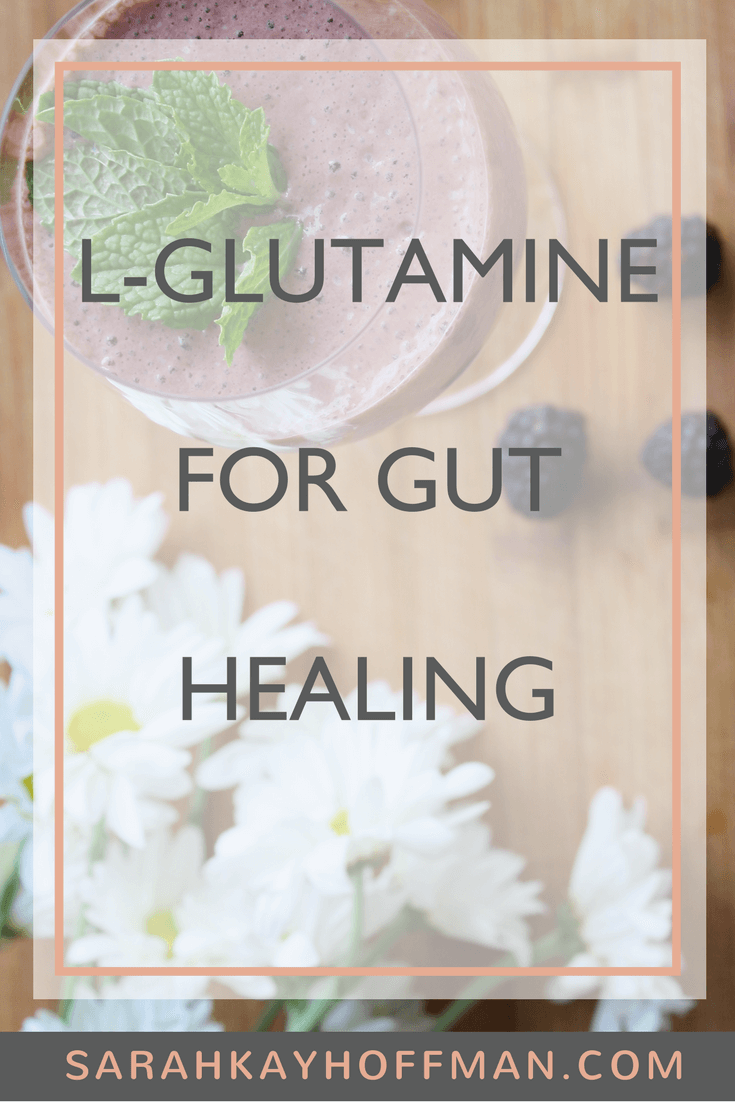 From my e-book, "Glutamine is an essential amino acid that is anti-inflammatory and necessary for the growth and repair of your intestinal lining. L-glutamine acts a protector and coats your cell walls, acting as a repellent to irritants."
Additionally, "Researchers are finding that it plays a critical role in healthy digestion and brain function." And you can learn more about that HERE.
What are Some L-Glutamine Benefits?
L-glutamine is the most plentiful amino acid in the body and supports intestinal health. L-glutamine may work for those with IBS because of this role. (source)
Here are 6 L-Glutamine benefits that almost everyone can enjoy
Click HERE to save them for later.
Good for wound healing. (sourced above)
May decrease side effects of chemotherapy. (sourced above)
Muscle building. (sourced above)
Immune system boost. (source)
Exercise performance. (sourced above)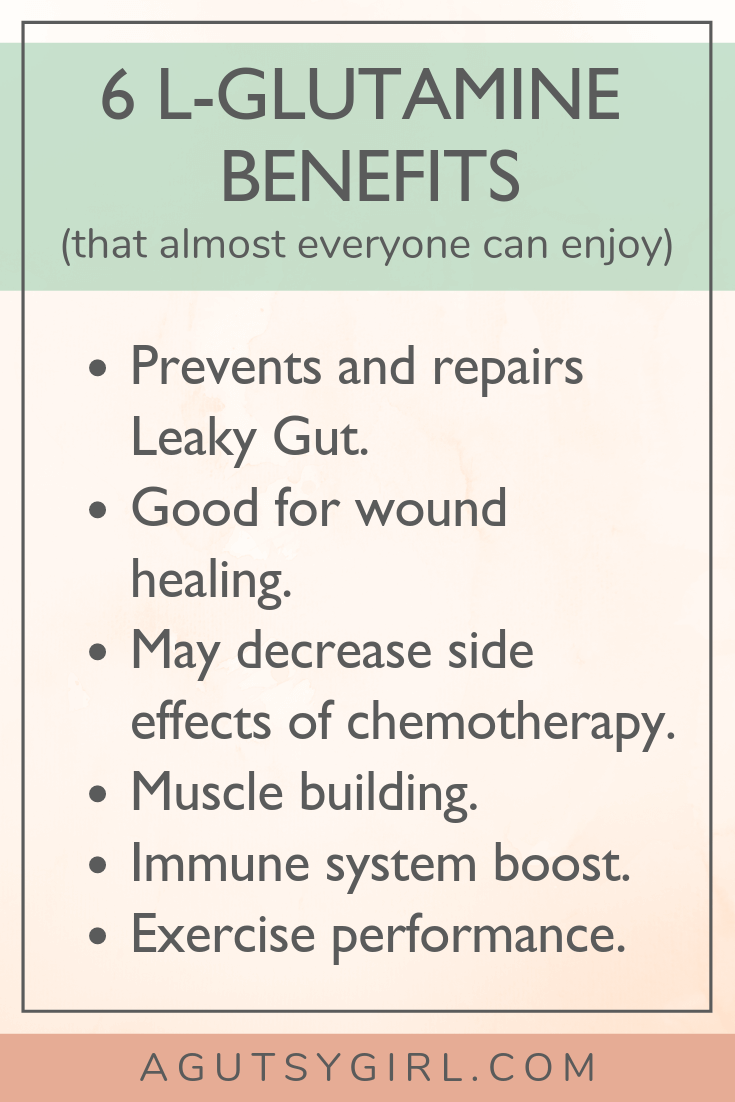 How I use L-Glutamine
This is the L-Glutamine I use. I use it in powdered vs. capsule form because I try to avoid more pills at all costs. I hate swallowing pills, and the more I have to take, the less I actually take them.
You will need to play around with the exact amount that is right for your body, but I tend to take about 15g in the morning and 15g at night (I started with just 5g total.)
I don't just put it in water and drink it, but instead, I incorporate it into other things I'm already eating. The 4 main things I add it to are:
There are a ton of places in The Gutsy Girl's Bible: an approach to healing the gut, 3.0 that talk about and/or include L-Glutamine. I've also discussed it on the 2018 Gut Holiday List + via a list of my favorite things for Gutsy women from NOW Foods.
I continue to use it more and more, and I have seen the benefits from using it.
What do you think? Do you use it? How?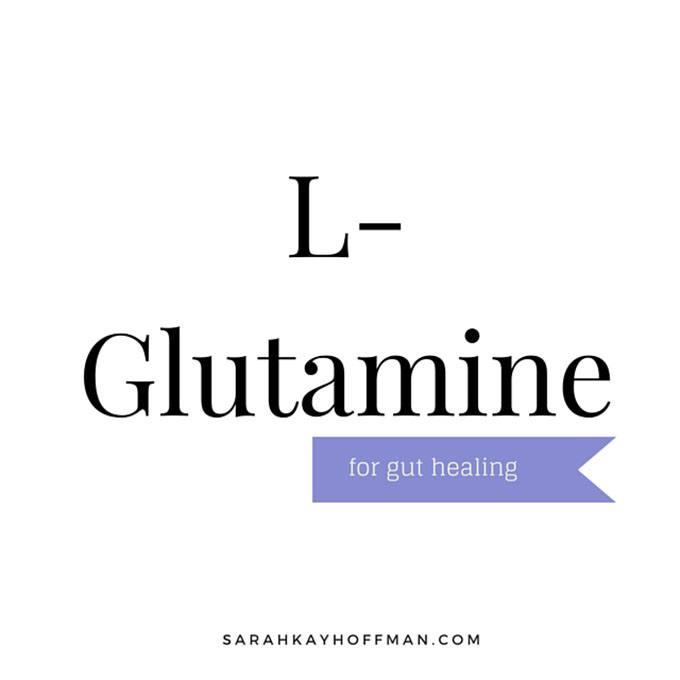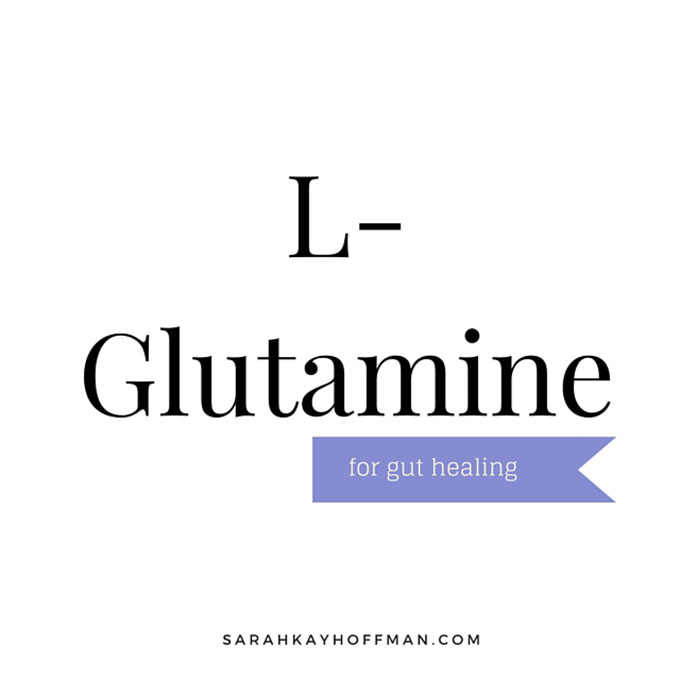 Xox,
SKH
You will heal. I will help.