You know what's awesome about all those holiday lists? You get so many ideas of things to purchase for yourself stat. Amiright?! This list is that sort of list. The A Gusty Girl Holiday 2018 Gut Health Wish List is made up of items you might ask for, but more than likely you'll just purchase yourself.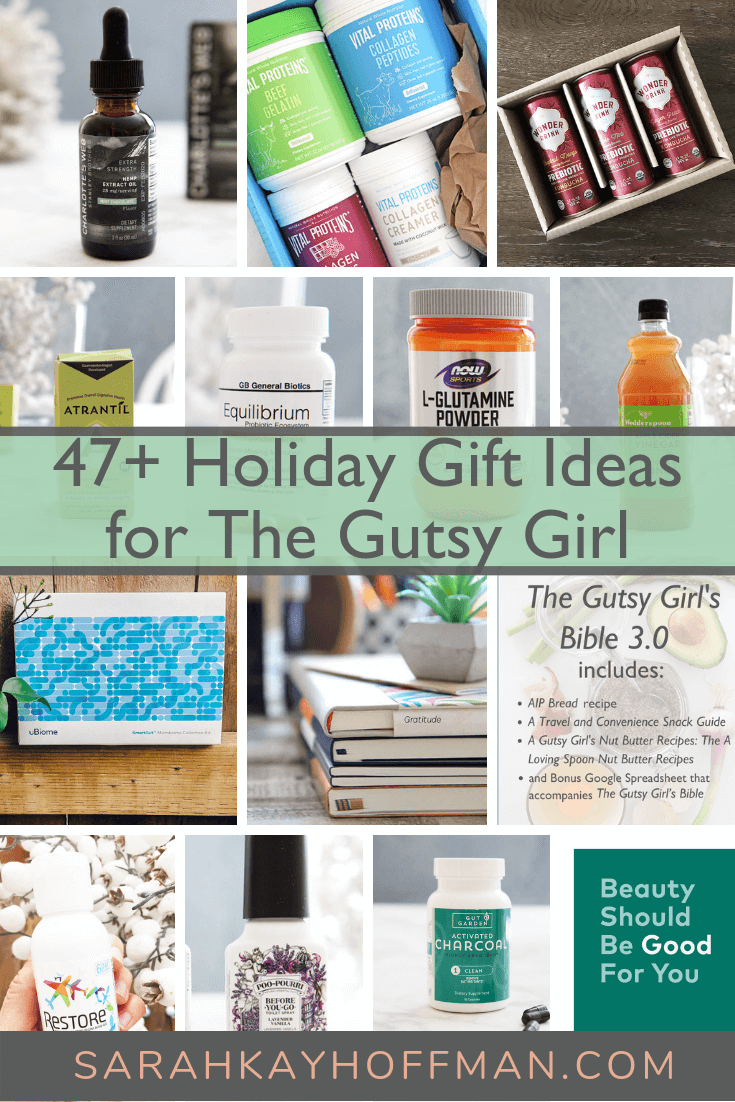 I have never done a gut-focused holiday list….until now. Why? Because this past year all things A Gutsy Girl really grew. I think it's because, as a society, we are dealing with more gut health issues than ever before. I have stayed a constant and consistent resource on all things gut since 2009 when I first started blogging.
So with that, here is my Holiday 2018 gut health wish list.
A Gutsy Girl Holiday 2018 Gut Health Wish List
Click HERE to save this post for later.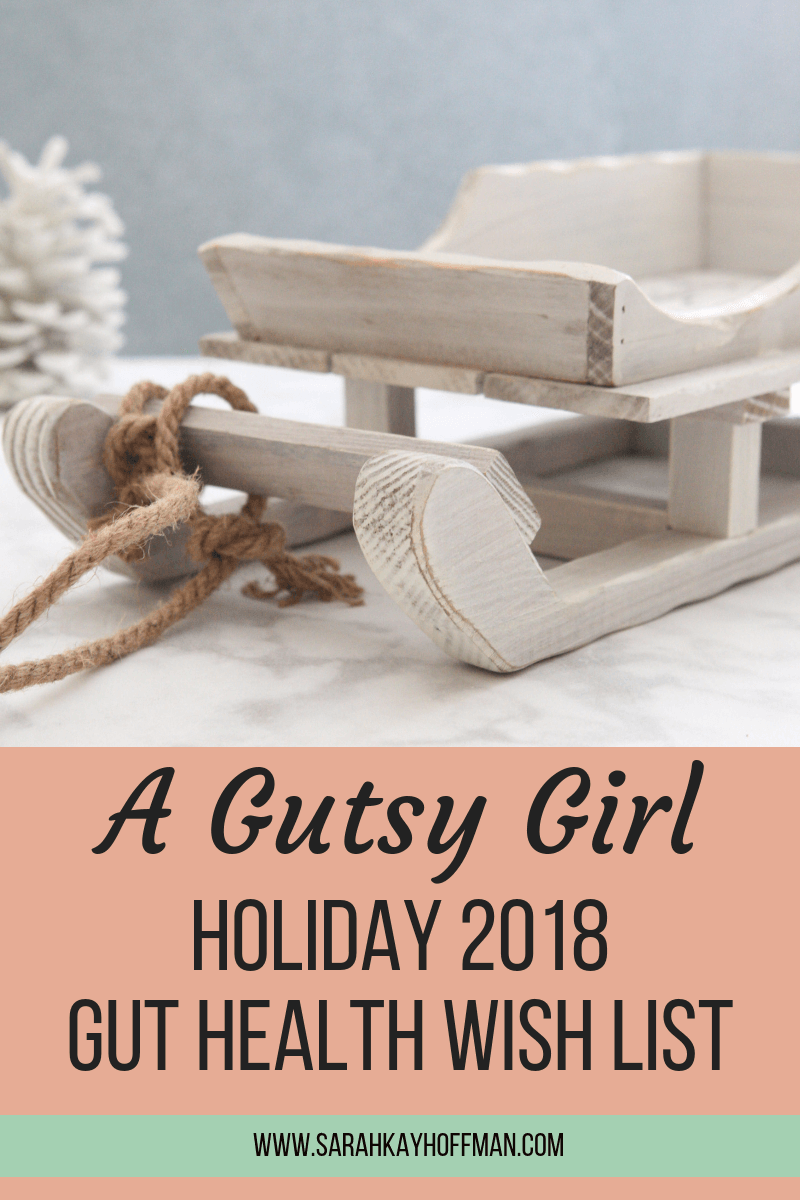 Gut Healing Bullet Journal. I started a Gut Healing Bullet Journal almost 3 years ago. Today, I use THIS ONE as a general bullet journal and have areas that are just for gut things. I don't know that I would ever go back to a traditional planner/journal. I'm obsessed with this one, and I just ordered another to begin 2019. You can learn so much about your health with this method of journaling.
Atrantil. Atrantil is the only natural and safe solution proven to get rid of abdominal bloating and discomfort. Atrantil's patented combination of natural polyphenols gets rid of your bloating and supports your digestive health.
Time to Poop coffee mug. After you finish that cup of coffee, what you'll see on the bottom of your cup is sure to make you laugh.
The Gutsy Girl's Bible: an approach to healing the gut, 3.0. Shameless plug for the 286-page e-book on all things gut and gut healing that I released this past year in 2018.
Dysbiocide. Supports gut healing. Learn all about it HERE.
EverlyWell. You guys…..this company is going to help change lives! I haven't written a full blog post about them yet, but I will be. What you need to know is that they offer 30+ at-home kits — from fertility to food sensitivity tests — ordered by you. The tests offer simple sample collection, free shipping, and physician-reviewed results and insights sent to your device in just days. In other words, you can get a test (like a Food Sensitivity one for example), take it at home, and find out results without ever stepping in a doctor's office.
Bristol Stool Scale coffee mug, travel coffee mug, or reusable water bottle. In case you need a daily, good old reminder.
Glutagenics. Helps support a healthy intestinal lining.
Activated Charcoal. Gut Garden's Activated Charcoal pills (from coconut shells) are powerful detoxifier that will bind up any unwanted materials in the digestive tract. Great for anyone starting an elimination diet, and they're also awesome to have on hand to relieve gas and bloating.
Funny bathroom signs. Looking to update your bathroom decor or need a sign like this to put in a clever spot? There are so many to choose from.
Equilibrium Probiotic. Equilibrium is the world's highest strain count probiotic – 115 strains, including 85 no other probiotic supplement offers – able to speak to more intestinal tract issues than any other. Developed by scientists from the Human Microbiome Project to mimic the microbiome of a healthy gut.
Doctor's Best Vitamin C powder. Vitamin C not only helps boost the immune system, but it also helps for constipation. This is the best Vitamin C powder I've found.
Learn all about the gut and a healthy lifestyle. Have you ever thought that it would be fun to go back to school to learn all about the gut and healing naturally with food and lifestyle? Now is the time. Go back to school, learn as much as you can, and enjoy the process. For more information, see my FAQ on attending The Institute for Integrative Nutrition. Make 2019 your year!
Fermented Cod Liver Oil. Boost your immune system and get it in this peppermint flavor for soothing the gut.
Wonder Drink Prebiotic Cans. This one-of-a-kind line of non-alcoholic kombucha contains an organic prebiotic fiber to promote digestive health, and comes in three fruit-forward flavors: Apple Mint, Ginger Peach and Tropical Mango. Each 12 o.z. can contains only 10 grams of sugar and is available for purchase through Amazon. Wonder Drink Prebiotic Kombucha is Certified Organic, Non-GMO, vegan and gluten-free.
Digestive Enzymes. I take these religiously. Give your body the help it might need to break food down.
THRIVE Market Membership. If you don't have a membership yet, get one for yourself or ask for one this holiday season. A year membership is just $59.95. You'll always get free shipping over $49, and you'll have a 30-day trial membership (in case you don't like it). Each day they have free things you can get with your order, and all items are discounted from what you'd pay in the grocery store. For an example of things I buy, check out my low-FODMAP THRIVE Market list.
Prank it. How about giving this for a gag gift or stocking stuffer?
Would poop here again. Did you ever think about a rating system like this?
HCL with Pepsin. Like the enzymes, I never leave home without these.
Socks. Socks are always trendy, and now you can have some that feel like your own.
Gut-Skin-Brain connection. I'll never stop telling you how crucial (and real) the gut-skin-brain connection is. Making the decision to swap in just one thing from Beautycounter for something you're currently using will have you one step closer to feeling better. You don't have to do all the things, just one thing at a time. p.s. With any purchase of this one, you'll get #4 (on this list) for free.
Squatty Potty. I think this company was on Shark Tank, yes? People say they love it.
Intestinal Movement Formula. I've written about this before HERE. It's still on back order, but you can put your email in to be notified when it's ready again. I did.
Wedderspoon Apple Cider Vinegar with Manuka Honey. Apple Cider Vinegar is a natural way to increase stomach acid production. And what I love about this one is that it's complete with Manuka Honey, which is a monosaccharide that most digest very well. You can easily add this to olive oil for a digestive-friendly salad/vegetable dressing.
Coffee, poop, run. I laugh every single time I look at this one. For all my Gutsy running friends out there, ask for this. (Also, grab my 10 Tips for Runners with IBS or IBD.)
2-gallon wide-mouthed glass jar. Ever wanted to make your own Kombucha (because you've heard how great it is for the gut?) You can and you should. Just ask for one or two 2-gallon, wide-mouthed glass jars. HERE is a tutorial on how to make it.
Gift wrap. Stay classy; wrap it up in style.
WholeMune. Entire immune support (Gutsy girl's need this).
Dr. Teal's Epsom Bath Salt. Epsom Salt is magical for those with constipation issues.
L-Glutamine. L-Glutamine helps support gastrointestinal health. I use it almost daily, and I swear by it. I always choose mine from NOW Foods because I have met their team and toured their facilities. You can learn more about L-Glutamine for gut healing HERE.
Necklace. Lovely. Who knew that they made jewelry for us, too?
Ox Bile. This will help the liver's production of bile for digestion. I've gone through many periods of taking this.
Gut screenprint. Ever wanted to see the entire digestive system or have it close by for reference?
Vital Proteins Gelatin. Gelatin everyday for gut healing. I've loved this for years now, and I'll never stop.
Charlotte's Web CBD Oil. More and more research is coming out about CBD and digestive issues. Ever since I tried Charlotte's Web last year at Expo West, I have been hooked. The Mint Chocolate is my jam.
1-on-1 health coaching with A Gutsy Girl. Jump start your 2019 year and work with me to help pave the way.
Love your guts. Give this sweet card to someone.
Perma-Clear. Used for leaky gut and to help support the intestinal lining.
Friendship card. If you have a best friend who would laugh, love, and appreciate this card, consider yourself lucky.
Osso Bone Broth. I am a fan of making your own bone broth 99% of the time. However, everyone always asks if I can recommend a packaged one. I'd love to do the ultimate packaged bone broth taste test for y'all so I can give a comprehensive recommendation, but for now, I'll tell you that I do love Osso Bone Broth.
Poo-Pourri. Clever. This is the "before you go" toilet spray. These are easy to carry in your purse or set in your bathroom for guests.
Fishing for poop toy set. For the kids or as a gag gift. I just can't with this one.
Iberogast. This helps to relieve bloating and induces expulsion of gas from the intestines.
RESTORE. People have used and loved this supplement for long-lasting gut health and healing.
Therapist. And last, but certainly not least, ask for some money for Christmas or do this one as a gift for yourself. Get a therapist, if you haven't already. Everyone thinks that the most important thing in healing the gut is food, supplements, and medication. I'm here to tell you, 1,000% that, while YES those are so important, the missing piece to the puzzle is almost always a lifestyle component. It's why I advocate for people to work 1-on-1 with me, but also to see a professional therapist to work through the toughest and roughest pain points in your life. Your life could change.
Any incredible gut health gifts I forgot? Tell me in the comments below! Let me know if you purchase any of these for yourself or someone else.
Here are all the 2018 Holiday Gift Guides:
Disclosure: Several brands and companies have sponsored this post, and many of the other links are Amazon Affiliate links. All opinions stated here are 100% my own. I appreciate your support, as this compensation helps with expenses to keep this blog up and running, and for me to continue sharing all that I can with you. For my full disclaimer and disclosure click HERE. Thank you for your support!
Xox,
SKH
You will heal. I will help.