I've basically been telling you for two years now that A Gutsy Girl's Master Kombucha Guide was in the works.
The time is now. No reason other than the fact that its popularity has, in my opinion, peaked so the gates of information are wide open.
Some of the information I've been reading is good; other information I am giving all the eye rolls to. Another story for a different day, I guess.
Anyways, I've been hardcore on the kombucha (aka Booch) train for many years. I have tried a plethora of brands; I also know how to brew my own.
No, I'm not a booch guru; just kind of close, so I want to share everything I can with you.
A Gutsy Girl's Master Kombucha Guide
Click HERE to save this post for later.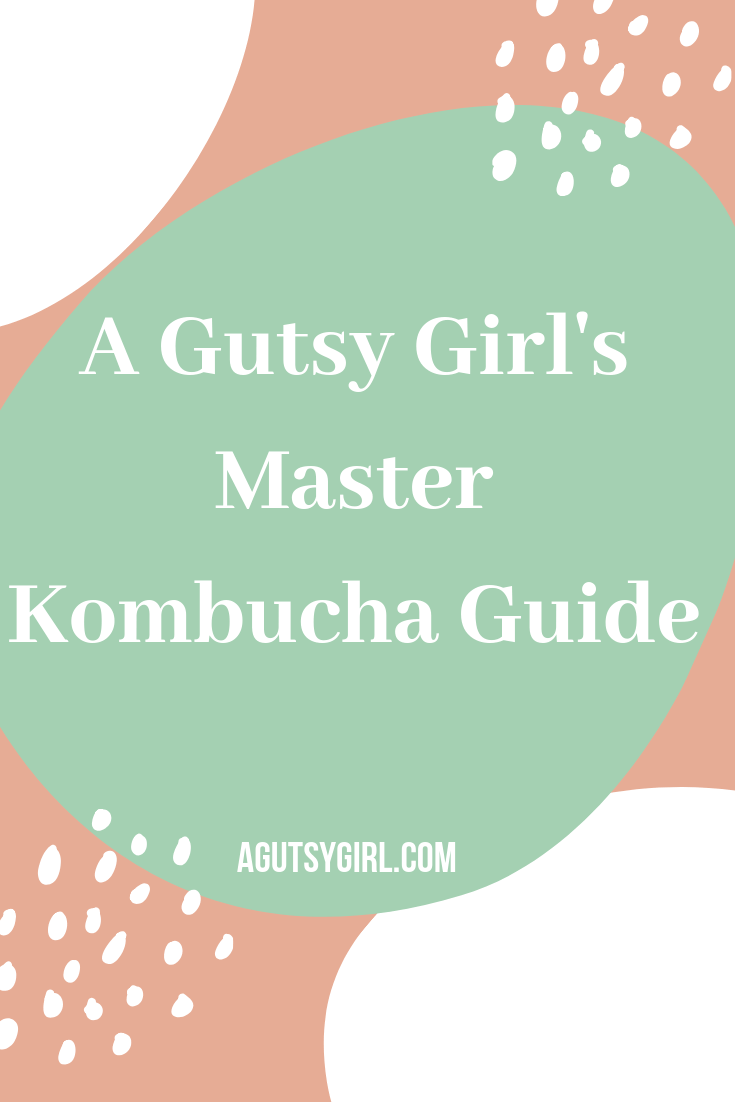 When it comes to kombucha, there are various questions I'm frequently asked. I'm addressing them today.
What is Kombucha?
Kombucha is simply a fermented tea. What that means is that the base of the beverage is tea and then it sits for quite some time to ferment before it's ready for consumption.
The popular beverage has been consumed for thousands of years.
The first recorded use of kombucha comes from China in 221 BC during the Tsin Dynasty. It was known as "The Tea of Immortality". (source)
What are Some Kombucha Health Benefits?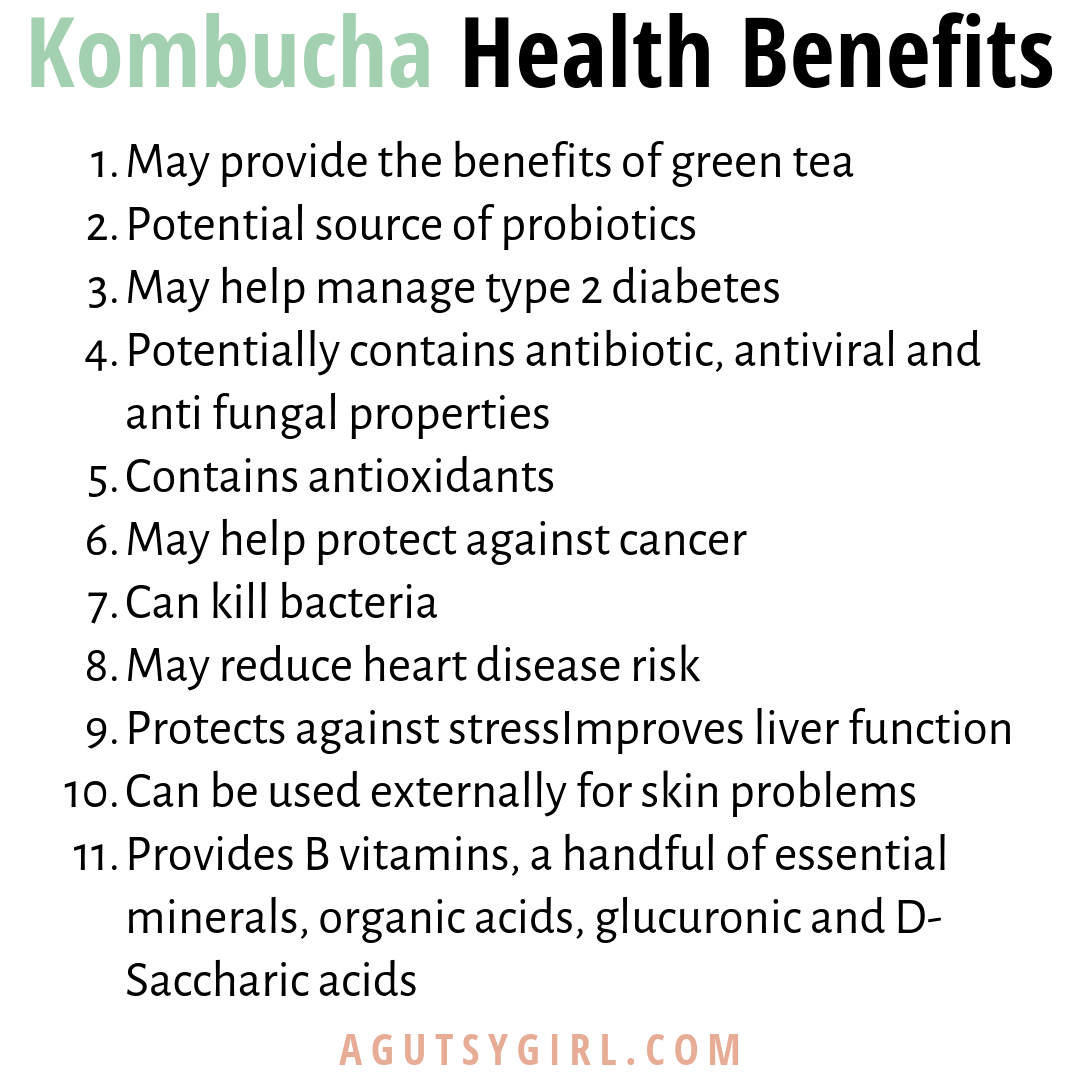 Like everything else, the kombucha health benefits are debatable.
May provide the benefits of green tea
Potential source of probiotics
May help manage type 2 diabetes
Potentially contains antibiotic, antiviral and anti fungal properties
Contains antioxidants
May help protect against cancer
Can kill bacteria
May reduce heart disease risk
Protects against stress
Improves liver function
Can be used externally for skin problems
Provides B vitamins, a handful of essential minerals, organic acids, glucuronic and D-Saccharic acids
But is Kombucha Okay for My Gut?
Gosh. This one is so tricky. I get super frustrated with the gut-health gurus out there who say, "Never drink kombucha." And I also get super frustrated with those who say, "You must drink kombucha."
There is no clear-cut answer to the question, "But is kombucha okay for my gut?"
Here's why.
Gut health and gut healing are two VERY DIFFERENT things.
Your answer to this question comes from the answer to your own question, "Am I eating and drinking for gut health or gut healing?"
Please stop right here if you aren't sure of the difference. Read: Gut Health vs. Gut Healing HERE.
Once you've answered that question, there might be more to answer (also maybe not).
The one thing I do not want you to do is overthink it. If you are drinking kombucha as part of a healthy gut routine and you have recently swapped in booch and out the soda, then STOP listening to all that advice about "too much sugar." Of course I want you to pay attention to that (some brands have far more sugar than others). But if you're simply trying to live a healthier lifestyle and don't have massive gut issues, kombucha is a far better choice than soda.
Perspective.
Ladies – do not live in fear, and stop following accounts that make you feel fearful. Okay?!
How Can I Make My Own Kombucha?
Of course making your own kombucha is best. Making your own of anything is best.
But here's the deal with making your own kombucha. It's time consuming and tricky.
Yes I do it, and yes I know the intricacies of it. But it's not like making homemade lemonade.
This is a process that takes hours, weeks, and then even months (if you continue the brew cycles).
Therefore, no judging on my part if you seek to buy it pre-made.
However, if you do want to give it a try, I've got you covered. Check out How to Make Homemade Kombucha HERE.
Which Kombucha Brands are Out There?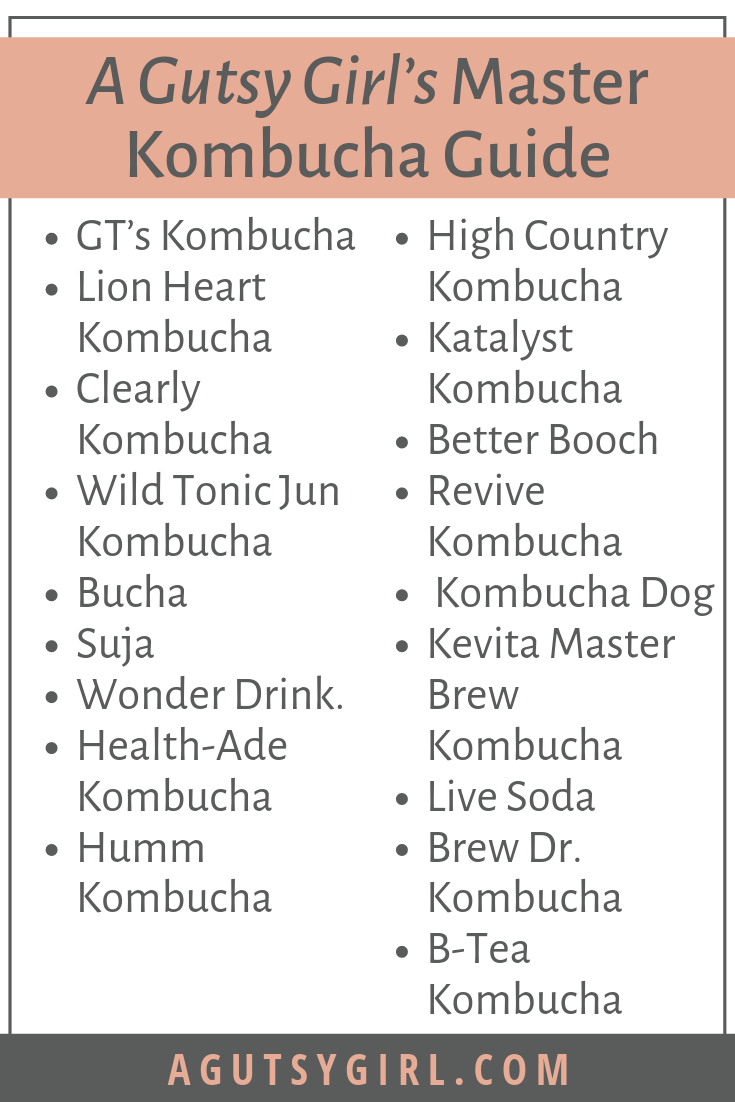 For the record, the reason I ever wanted to create A Gutsy Girl's Master Kombucha Guide was to share (and compare) various kombucha brands currently on the market.
This is not an exhaustive list, but here are a ton.
GT's Kombucha. For the record, Trilogy is one of my staples and favorites of all time. It has 12g of sugar for the whole bottle, which is far less than many other flavors and brands.

Wild Tonic Jun Kombucha. "Jun" = honey. Kombucha is usually brewed with sugar.
Suja. Yes, they even have kombucha.
Wonder Drink. I have written more about Wonder Drink HERE.
Humm Kombucha. The first time I ever had this was when we found the Coconut Lime at a little cafe in California. I was hooked – it's super incredible taste, but there is 18g of sugar in the bottle.

Revive Kombucha. The Original Cola tastes like soda, so there's that.
Kombucha Dog. Check out what Kombucha Dog stands for. Love this aspect of the brand.
Live Soda. The Root Beer one is my favorite, but I really don't like the Stevia aftertaste in this brand.
Alright, when it comes to booch, what else do you want to know?
Do you drink kombucha? Why or why not?
For the record, I drink it all the time today (now that I'm healed and in gut-health vs. healing mode). When my SIBO was active, I avoided it. And when I was somewhere in the middle, I'd drink it here and there, listen to my body, and re-adjust as needed.
Want more probiotics? Check out my FAVE, Just Thrive HERE. [Remember, if you put in code AGUTSYGIRL at checkout, you'll automatically save 15%.] No probiotics, but interested in going on a FREE 21-Day Gut Healing Inspiration Journey? Okay, then come along HERE.
Xox,
SKH
You will heal. I will help.