Coming in hot today….my airplane travel essentials.
Because guess why?
Ding, ding, ding. I'm headed out on an airplane tomorrow; going to one of my favorite places on Earth.
Know where? To a place that's stress-free and pure zen – Sedona, Arizona.
I need to get my suitcase and carry-on all packed. It's simple for me now because I pretty much bring the same things every time. There are also things I don't need to stress out over if I forget anymore now that my health is basically 100%.
But I do remember the days when it wasn't, and traveling was super stressful (don't get me wrong – it still is stressful for me; just in different ways).
Would I go to the bathroom before leaving? How bloated would I become during the flight? If I didn't have an aisle seat, was the bathroom close enough? Did people know my stomach was miserable?
Legit. But I don't have to tell you all of this because you know and go through the same thoughts and motions.
Anyways, I want to share some of my airplane travel essentials today in case it might help you for your next trip.
Airplane Travel Essentials
Click HERE to save this post for later.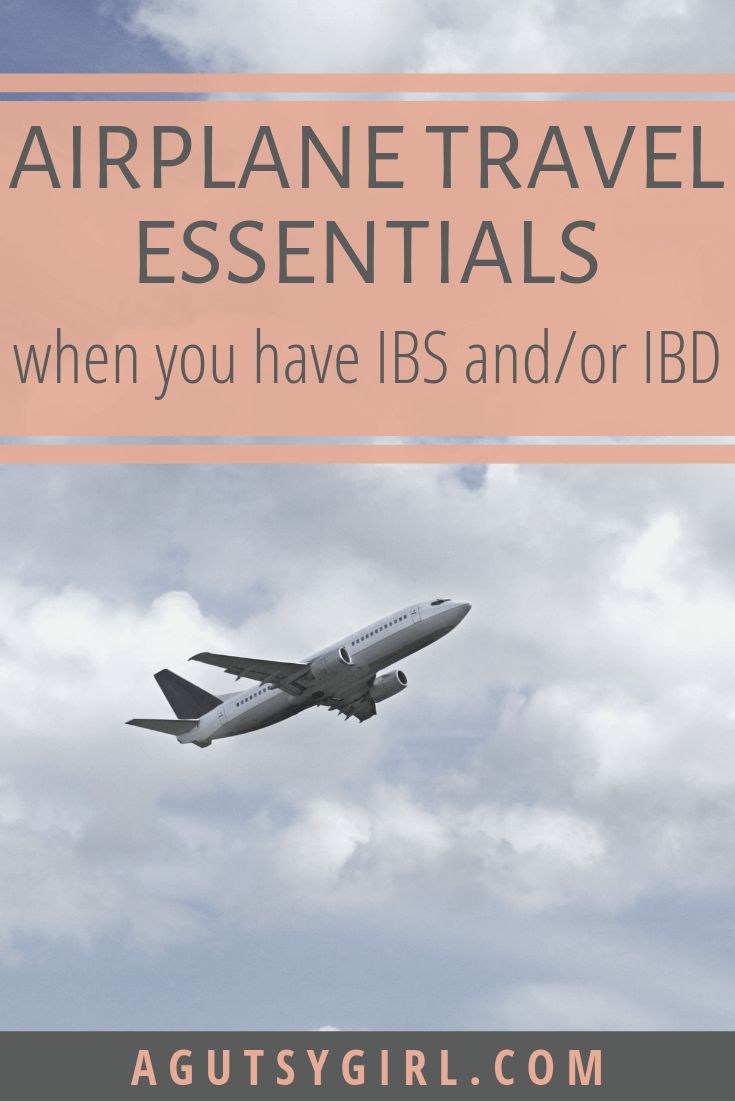 Ginger Chews. I swear by ginger for any upset stomach. Get whatever type you like, but I almost always have some Chimes handy.
Plastic bag. You just never know what you might need it for. I'm serious so not leave home without one.
Neck pillow. The more comfortable you are, the calmer you'll be. Is it not super frustrating when you're starting to doze off and the head bobs? Neck pillow to the rescue!
Empty water bottle. Grab a plastic one at the airport, but it's a total waste of money. Stick an empty water bottle in your carry on, and once you're through security, fill it up. Drink water as often as possible to help reduce bloat once you've landed.
Small notebook and pen. You know the recommendation for those who wake up frequently at night, right? Keep a notebook and pen next to the bed. Write down worries and thoughts when you need to get them off your mind. The same is true for the plane. If you're like me, the plane makes you feel "trapped." Nowhere to go and nothing to do until you've reached your destination. Worrying will do no good. Write it down. [Need some cute notebook ideas? They are all HERE.]
An extra pair of underwear. Full disclosure: I have never done this. However, if IBS/IBD-D and going to the bathroom multiple times a day is common for you, then put the pride aside and bring the extra pair. In fact, you might even want to bring an extra pair of pants (leggings are fine!), too. No shame.
"Safe" snacks. What is a "safe" snack? I don't know. You are different than me. A long time ago, I put together a free guide for travel and convenience snacks. Grab it HERE. Personally, I bring simple, one ingredient items like bananas and/or Paleo-ish bars. Or better yet, I try to just fast during that time. You won't starve to death. Well, unless you're going to Italy, then maybe plan something. 🙂
2 fl oz Poo-Pourri. Worried about leaving behind a stench? A 2 fl oz bottle of Poo-Pourri should do the trick.
Headphones. Tune it all out. Put those headphones on and enjoy the flight by listening to music, a podcast episode, TV show, or movie, or try something like the Calm app.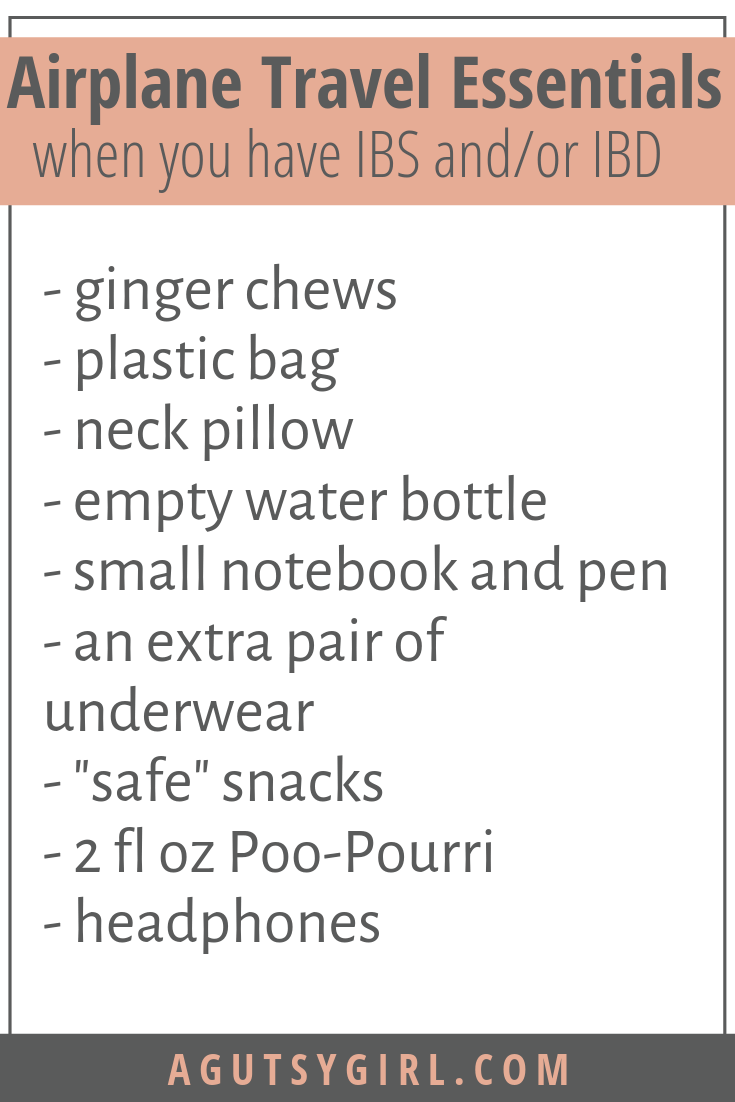 Other Things
And here are some other things for pre- or post-flight that might help you (or have helped me in the past):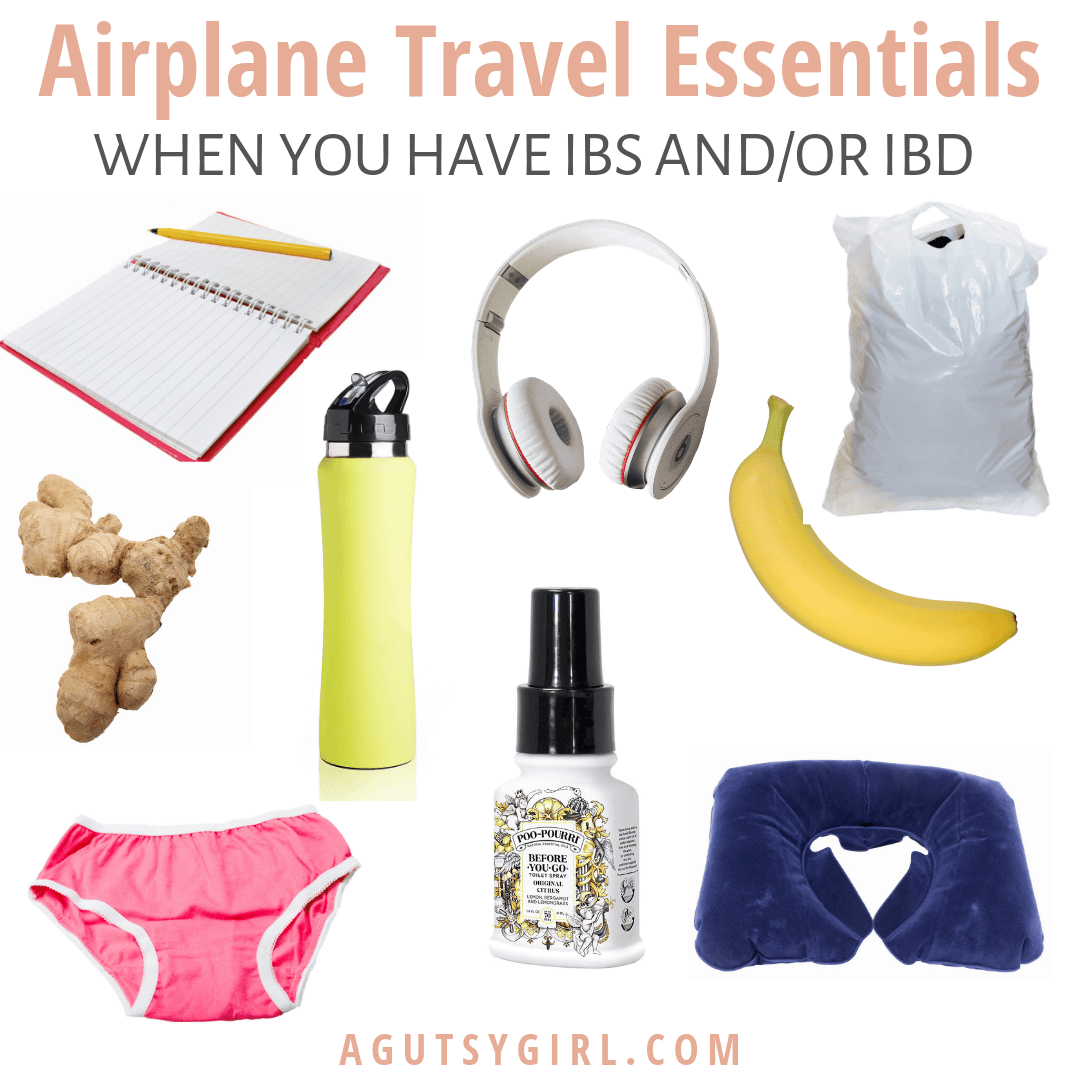 There are some airplane travel essentials for those of you with IBS and/or IBD. Is there anything I forgot that you never leave home without? Let me know!
Also, where is the best place you've ever traveled to via airplane?!
Xox,
SKH
You will heal. I will help.