What is Diverticulitis, and how could I have been diagnosed with it?
New, and very common questions I'm getting.
What is Diverticulitis
Click HERE to save this post for later.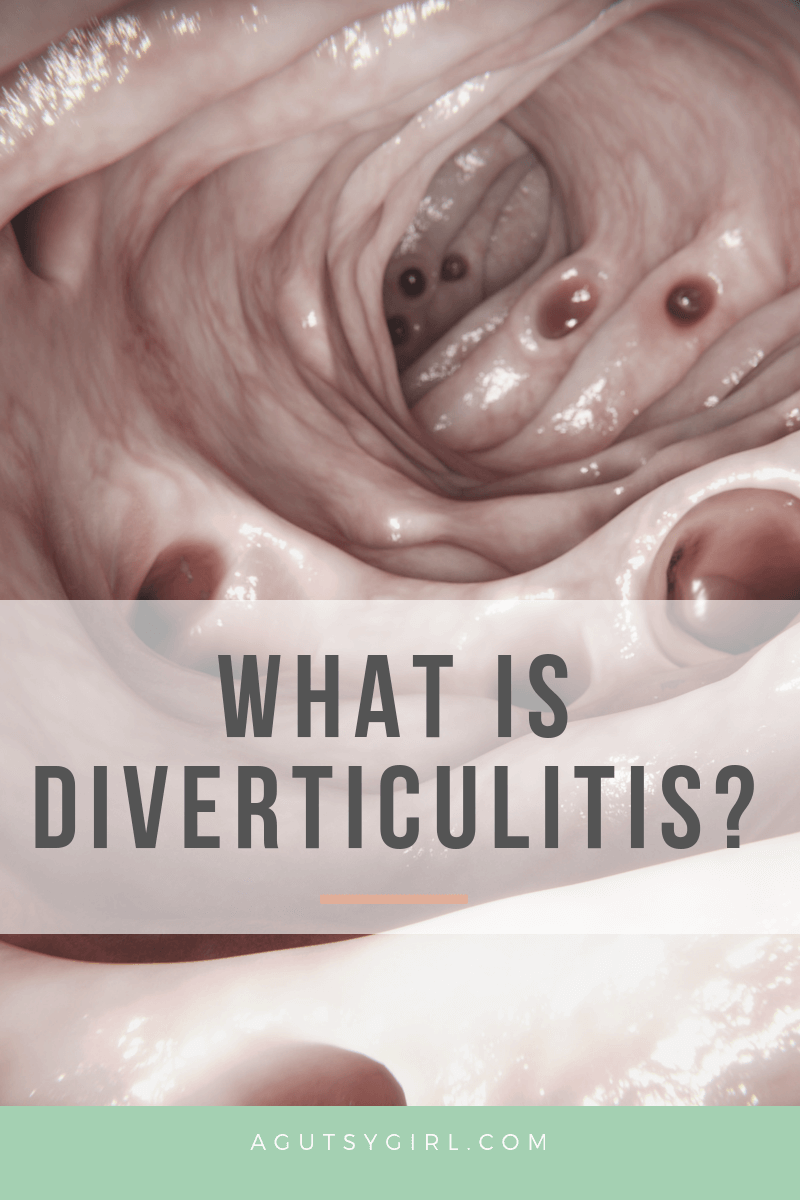 Diverticulitis is inflammation or infection in small pouches called diverticula.
Diverticula range from pea-size to much larger. They are formed by increased pressure from gas, waste, or liquid on weakened spots of the intestinal walls, and are most commonly found in the lower portion of the large intestine (the sigmoid colon).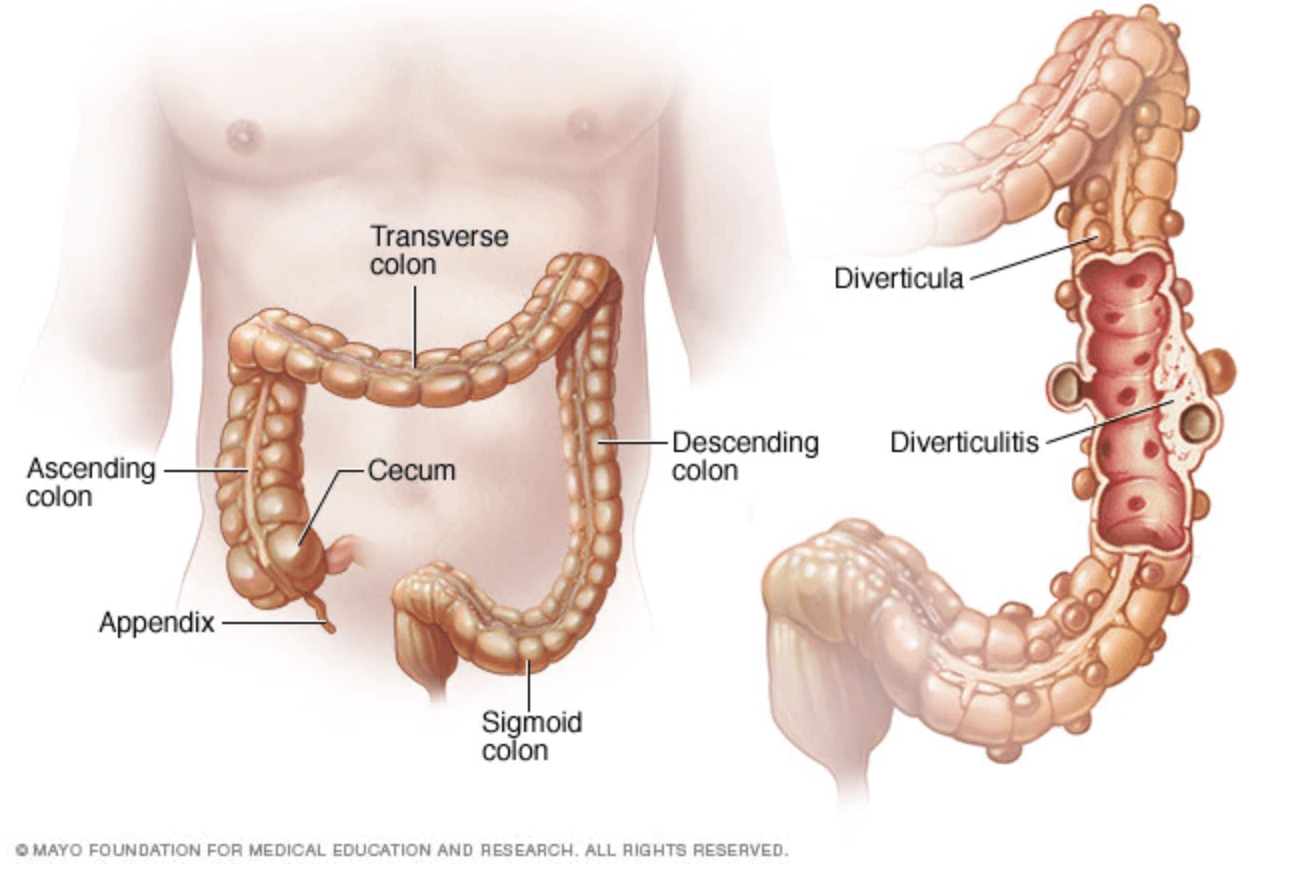 Image credit: Mayo Foundation
According to Harvard Health,
Diverticula tend to develop where the muscles are weakest, at the places where penetrating vessels cross through the muscles. And in Western societies, the great majority of diverticula develop where the colon is narrowest, in the sigmoid.
Diverticulosis vs. Diverticulitis
According to the NIH,
Diverticulosis is one of the most common gastrointestinal conditions affecting the general population in the Western world. It is estimated that over 2.5 million people are affected by diverticular disease in the United States.
Diverticulosis is when the small pouches, diverticula, form.
Diverticulitis is when one or more of them become infected and inflamed.
Thus, not everyone who has diverticulosis will necessarily have it develop into diverticulitis.
Diverticulitis Signs and Symptoms
Click HERE to save these for later.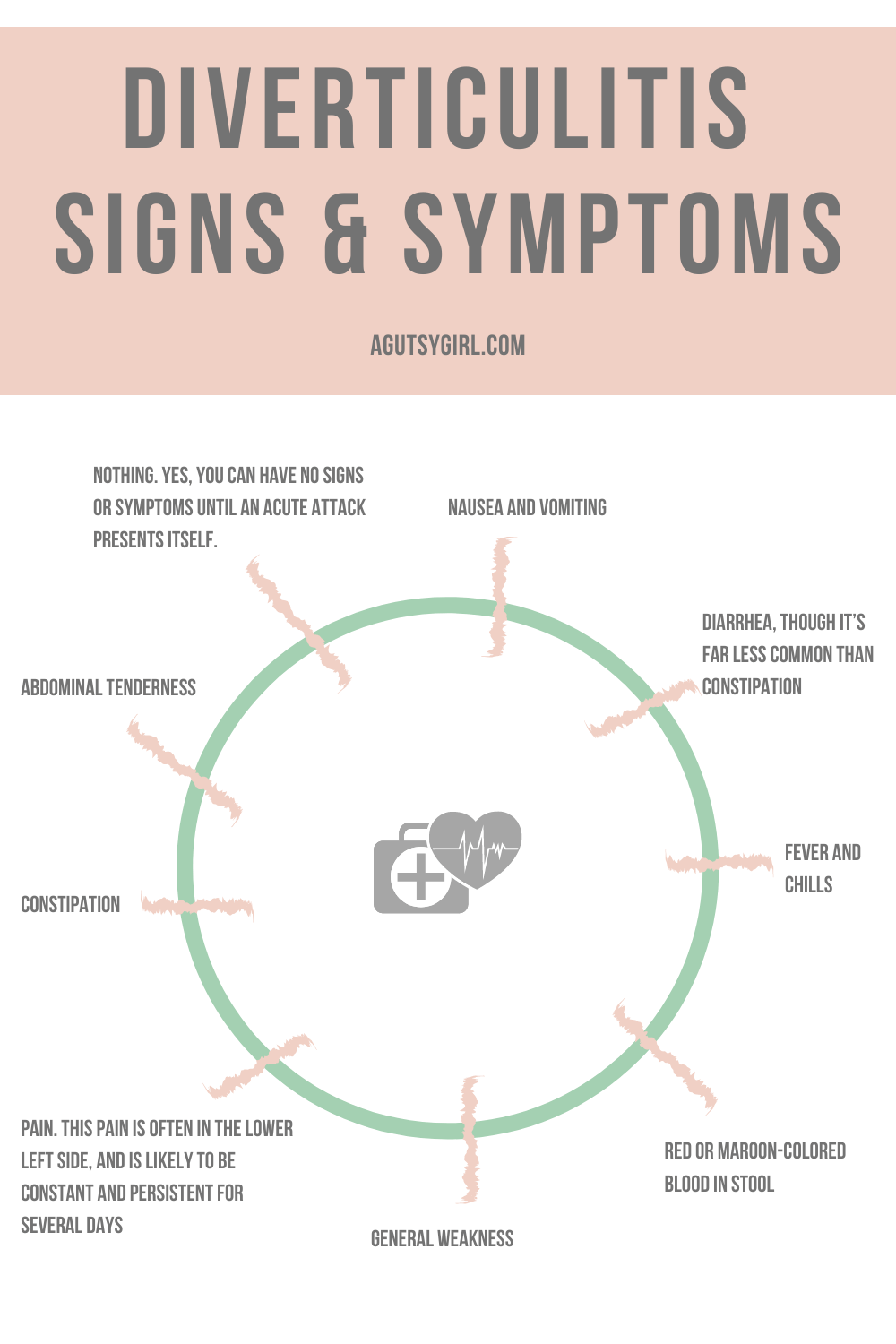 Like everything else gut related, the signs and symptoms can be different for everyone. These are some of the common ones for people who have diverticulitis:
Nothing. Yes, you can have no signs or symptoms until an acute attack presents itself.
Pain. This pain is often in the lower left side, and is likely to be constant and persistent for several days.
Nausea and vomiting
Fever and chills
Abdominal tenderness
Constipation
Diarrhea, though it's far less common than constipation
Red or maroon-colored blood in stool
General weakness
Symptom tracking is easy with my 90-day gut healing journal.
Causes and Risk Factors of Diverticulitis
Harvard Health says this about Diverticulosis,
The principal factor is diet, especially the refinement of carbohydrates, which has deprived the typical American diet of much of its fiber content. Diverticulosis is a disease of Western civilization.
Here are the common causes and risk factors for diverticulosis (which, as mentioned, many times turns to diverticulitis):
Age
Lack of dietary fiber
Obesity
Smoking
Lack of exercise
High animal-fat diet
Certain medications including steroids, opioids and nonsteroidal anti-inflammatory drugs, such as ibuprofen (Advil, Motrin IB, others) and naproxen sodium (Aleve).
Diverticulitis Diagnosis
The way diverticulitis is generally diagnosed is reactively, meaning, once someone is having an acute attack, they will go in out of intense pain and it's discovered.
A physical examination where the doctor may be able to feel tenderness in the abdomen.
A CBC (complete blood count), which could indicate infection with high white blood cell counts.
CT Scan. Medical equipment can be hugely expensive (for example CT scanners for sale are very expensive machines) too so it's worth considering just how much medical practices have to spend on such equipment.
Colonoscopy
The first three are typically done immediately; the fourth, as it involves much more, some time after.
But also, if you have had regular-ish and/or a recent Colonoscopy, they would have likely seen it. Remember, do not be afraid of the Colonoscopy. It can be life-saving. HERE are some (30 to be exact) tips to help get you through.
Treating Diverticulitis
For the short term, because it's a bacterial infection, antibiotics are almost always prescribed. These range from Augmentin to Flagyl and Cipro, depending on the person and their circumstances.
For severe cases, IV antibiotics may be administered at the hospital.
After that, sticking to a diet of clear liquids for a few days, then gradually adding soft solids and moving to a more normal diet over a week or two. Vegetable and/or bone broth anyone?
Because it tends to reoccur, prevention then is key.
Foods to Avoid if You Have Diverticulitis
While May Clinic is no longer saying you don't have to avoid any foods with Diverticulitis, there are the ones they have said should be avoided in the past:
nuts
seeds
popcorn
The theory is that they get stuck in the pockets (diverticula) and cause the inflammation (or an acute attack).
However, since two of the main causes are a lack of fiber and high animal-fat consumption, it can be generalized that, once an acute attack has ended, avoid foods with little fiber/no nutritional value and high animal-fat content.
What to Eat During a Diverticulitis Acute Attack
I will always tell it exactly like it is. Many who lean more holistic will tell you "always eat whole, unprocessed foods…..squeaky clean – more fiber is better, etc."
But I won't.
Because while I've never had diverticulosis or diverticulitis, I know that healing the gut can and does require something different than keeping the gut healthy and well.
Being in a reactive state is not the same as when you get to be in a proactive state.
During an acute attack, you need to respond reactively. So if it were me, acting reactively, with a diverticulitis acute attack, I would:
Consume only soothing, clear liquids for at least 1-3 days. This would include non-caffeinated teas, broth (both vegetable and bone), homemade jello, and maybe even homemade popsicles.
Once I was certain the absolute worst of it was over, I'd introduce easy to digest foods. And no, this still does not include 25+ grams of fiber per day. Common things I'd choose would be lean meat that is tender (likely even slow-cooked; slow and go), eggs, well-cooked vegetables de-skinned and de-seeded (I talk a lot about this in The Gutsy Girl's Bible), some plant-based fats like olive and coconut oil and/or avocado, white rice, and of course everything still from the first few days. I would stay here until I was feeling at least 80-90%, and then, I would begin adding in more fiber daily.
Take any and all antibiotics the doctor prescribed. Depending on the severity, likely no questions asked.
Consider a probiotic. "In one prospective open trial by Fric and Zarovral, Escherichia coli strain Nissle 1917 was administered to 15 patients with uncomplicated diverticular disease. These patients had longer periods of remission and improved abdominal symptoms after receiving probiotic compared to before treatment." (source)
Simple, Not Easy
Looks so easy. It's not. And also, if you're going through an acute diverticulitis attack but have never tired these basic few steps, what do you have to lose?
Nothing.
What I have found in the past 10+ years of researching, studying, and living all things gut and digestive issues is that no one believes this stuff until they are forced to try a new way.
If today is that day for you, take it.
You never know where the road might lead.
Want more to get started on your gut-healing journey? Check out:
My FREE e-book for how to make slow-cooked chicken and then subsequently chicken bone broth.
Questions?

Xox,
SKH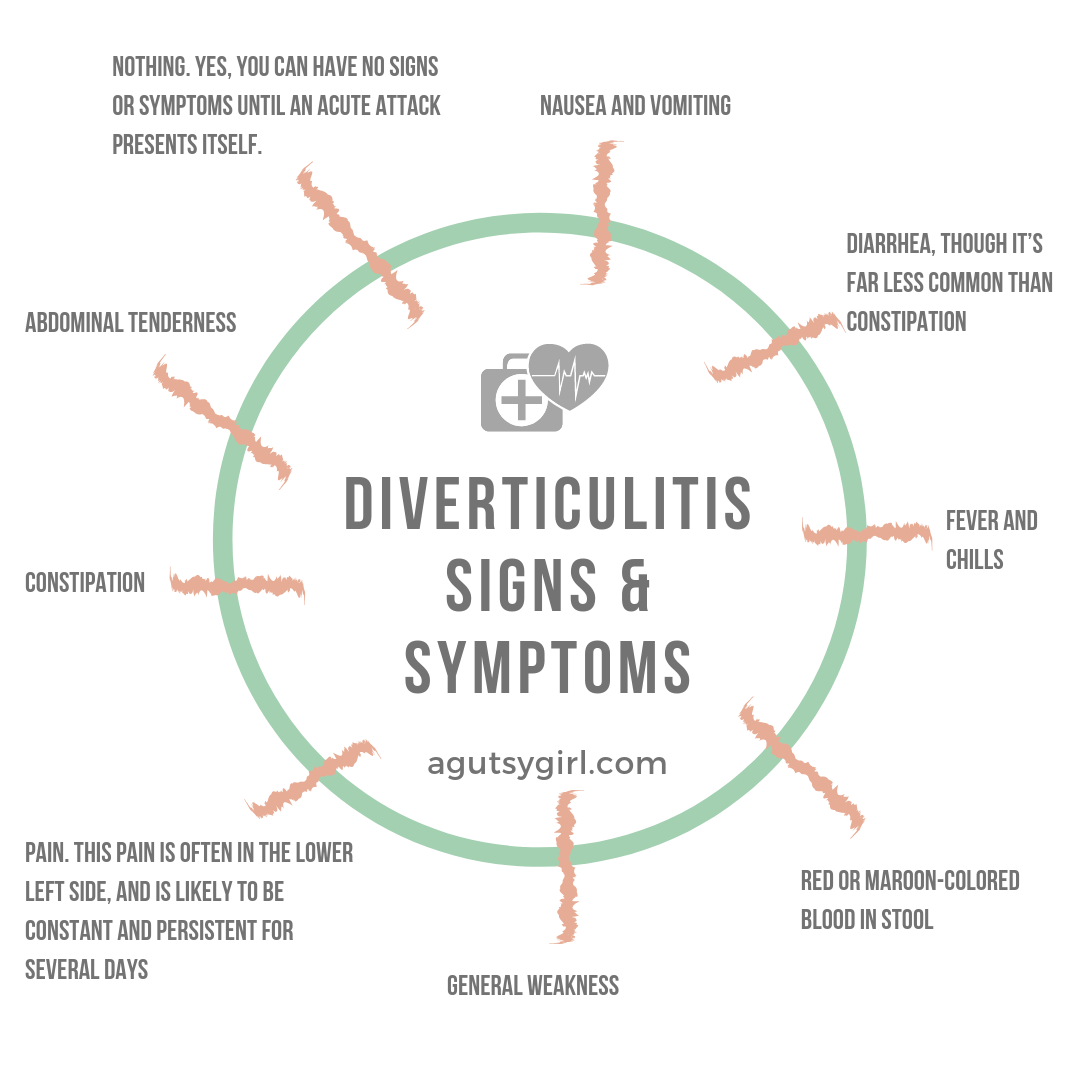 You will heal. I will help.