A question I'm getting lately is, "What is Magnesium Citrate?"
I didn't understand the influx of requests about this until I read the Facebook post that's made its way around the 'net. For full context, if you have not yet asked me, "What is magnesium citrate" and/or have not seen the post, you must first check it out HERE.
If Mr. Raposo wasn't famous for his wise (and hilarious) words before, now he certainly is.
And here is why I feel as though I'm qualified to write this post…..I know exactly what he is talking about.
I've told the story to many people throughout my life and even told it to all of you recently again when I wrote Magnesium, Constipation, and Digestion,
Back before I started healing naturally (vs. with a random drugs and medications), on my worst days, my GI would have me drink an entire bottle of Magnesium Citrate. It didn't matter which kind or which brand, so he'd tell me to "go to Walgreens and get this one." Yes, an entire bottle of that nastiness.

These were for the most distended days. It was miserable, but it worked like a charm. At the time, I thought a bottle of Magnesium Citrate was my cure.

I would never drink that now.
Legit – I think I've done it a handful of times in my life.
So the answer is, "Yes. Yes it's just as awful as he describes it." Okay, maybe not as bad, but so close.
The question remains, "What is Magnesium Citrate?"
What is Magnesium Citrate
Click HERE to save this post for later.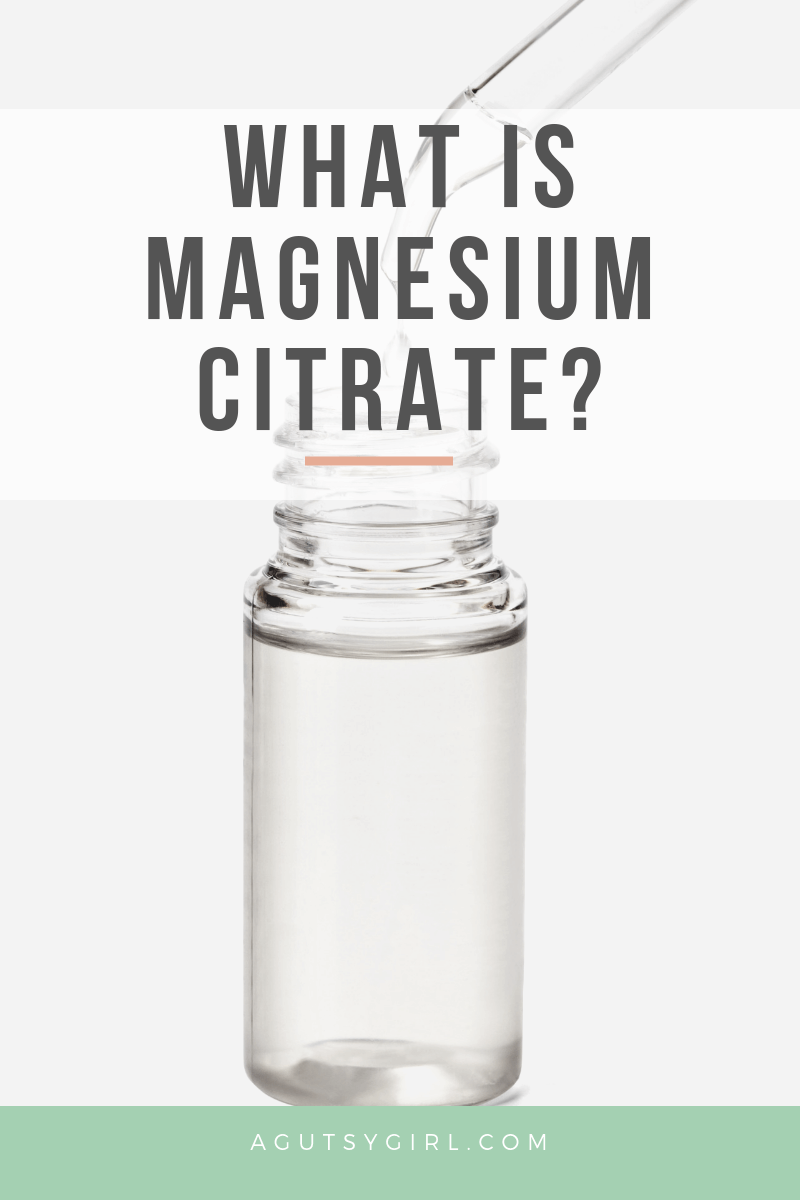 In both his image and the one I linked to, it technically says, "Magnesium Citrate. Saline Laxative Oral Solution." The one I took was not dye free; his at least was. But let's break down the ingredients contained in either/both.
Magnesium Citrate – 1.745 g (Saline Laxative)
Magnesium citrate is the generic name for over-the-counter products such as Citroma or Citrate of Magnesia, which can be used as a laxative or dietary supplement. It belongs Magnesium citrate belongs to group of drugs known as saline laxatives, which work by pulling more water into the colon in order to help the colon empty its contents.
Magnesium Citrate should not be confused for magnesium, though, which I have also discussed as it relates to constipation.
While Magnesium Citrate is a type of magnesium (another type is magnesium sulfate, which is what Epsom salt is!), magnesium in general is more of a supplement; the Magnesium Citrate, a laxative.
The difference is the dose.

Citric Acid
Citric Acid is naturally found in citrus fruits, but it can also be manufactured as an additive in food, cleaning agents, and nutritional supplements. When used in a bottle of Magnesium Citrate, it is obviously manufactured.
Citric Acid is one of the most common food additives in the world and it's used to boost acidity, enhance flavor, and preserve ingredients.
It is generally regarded as safe, but as with any additive, some people can have a reaction to it. (Note: namely those with mold sensitivities, as discussed HERE.)
Flavors
Flavors is one of the most ambiguous terms in food and product labeling. You might see it called flavors or natural flavoring.
You literally will have no clue what that means because there are thousands of combinations it could be. (This is a fact. One of the food companies I worked for in the past had a world-renowned food scientist on the team. I learned that from her.)
Purified Water
Lovely! This laxative uses water that has been filtered or processed to remove impurities like chemicals and other contaminants.
Purified water is a good thing.
Red 40
Red 40 was present in the bottle of Magnesium Citrate I used to always drink.
The U.K. has already figured this one out. They have banned it, and for good reason. It has been linked to cancer, childhood spectrum disorders, stomach issues and more.
If you want to watch a super short clip on Red 40, read Tricked by Red JELLO.
Saccharin Sodium
Saccharin is on my list of 192 Sugar Sources and Alternate Names.
It's a non-nutritive (artificial) sweetener that's 300-400 times sweeter than regular sugar. It's used as both a sweetener and preservative.
Some sources say it's perfectly fine for consumption, but organizations like the NIH have found health risks from consuming it.
Sodium Bicarbonate
Sodium Bicarbonate = NaHCO₃ = baking soda.
It is used to relieve heartburn, sour stomach, or acid indigestion by neutralizing excess stomach acid.
Magnesium Citrate Warnings
In case you absolutely must take it, here are the warnings (written right on the bottle):
Ask a doctor before use if you have:
Kidney disease
A magnesium restricted diet
A sodium restricted diet
Stomach pain, nausea or vomiting
Noticed a sudden change in bowel habits that lasts more than 1 week
Alternatives to Magnesium Citrate
If constipation is your issue, there are alternatives. And if you want to see an entire list of them, grab 15 Ways to Deal with Constipation.
However, if you're taking it because it's part of a Colonoscopy prep, do not substitute anything. It's imperative that you follow the doctor's orders prior to the procedure or they might not be able to perform it on your scheduled day.
Final Thoughts on Magnesium Citrate
Do I think you'll die if you drink a bottle of this powerful laxative? Absolutely not. I didn't. You won't.
What's important here are these 3 things:
Mr. Raposo's account of what happens is pretty accurate. It's no picnic drinking a bottle of Magnesium Citrate.
Looking back, knowing what I know now, I would have never simply settled for just drinking a bottle of Magnesium Citrate when the GI doctor told me that was "all I needed" in order to make the severe stomach distention go away. In most cases, Magnesium Citrate is just the mask.
If you must drink it (for Colonoscopy prep), grab the dye free one. You definitely don't need the Red 40.
Questions?
Xox,
SKH
You will heal. I will help.