I'm sharing my top 30 colonoscopy and endoscopy tips, tricks, and information today.
I have now had 2 colonoscopies and 3 endoscopies in 10 years.
If you haven't read my other post on this topic, you might want to start there first: The Colonoscopy and Endoscopy (9 FAQ's as they relate to them).
Then, here is all the new stuff I compiled after going through the process (and documenting it this time) again this week.
Top 30 Colonoscopy and Endoscopy Tips, Tricks, and Information
Click HERE to save my my top 30 colonoscopy and endoscopy tips, tricks, and information.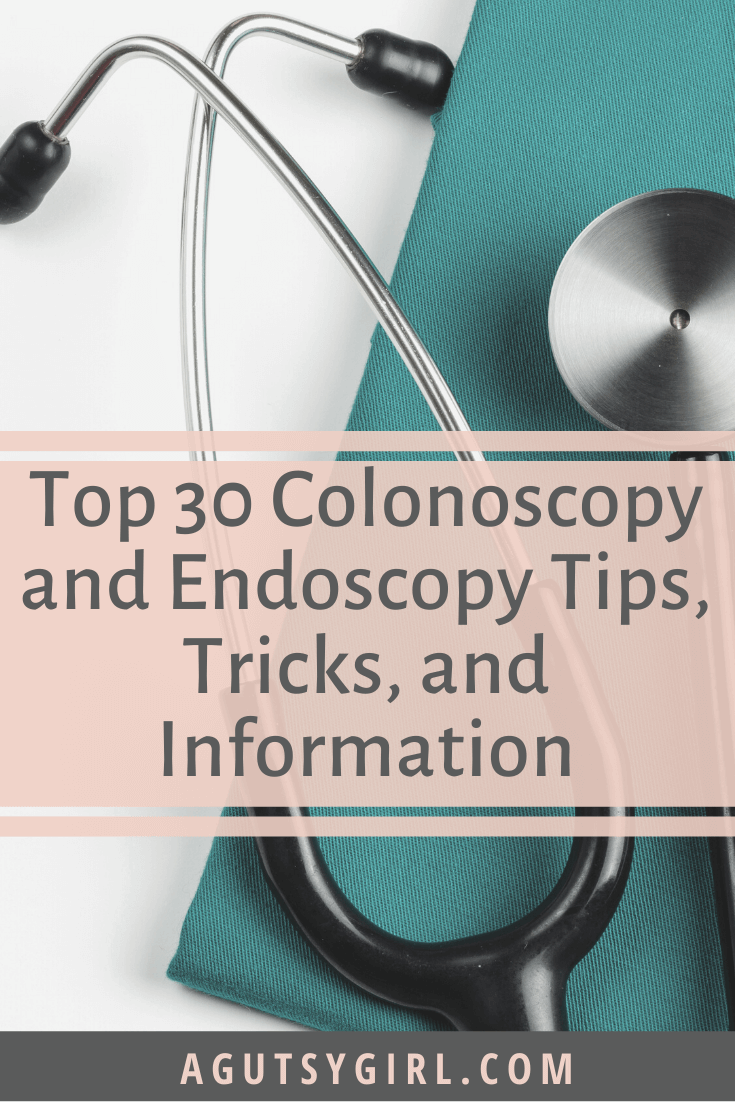 If you are just having an Endoscopy, don't even worry about it. There is nothing hard about getting one of those, nor is there any sort of massive prep.
If you only have issues where they need to do an Endoscopy, that is the best case scenario. But if you are having a Colonoscopy and Endoscopy at once, then these are my top 30 colonoscopy and endoscopy tips, tricks, and information for you.
Adhere to Diet

3-4 days before start a stringent diet. Get all nuts, seeds, fiber, grains (though they do say you can have white rice; I chose not to) and any blue, red, and purple things out of your diet.

Food

Things I ate and drank for 2-3 days before the procedure included: grilled chicken, coconut oil, coffee, Milked Almonds, Milked Cashews, banana, almond milk yogurt, eggs, homemade Banana Ice Cream (frozen banana, coconut milk, Vital Proteins Gelatin), water, 2% Organic milk, sausage, Stonyfield Vanilla yogurt, shrimp, and olive oil. No real variety, totally basic, but that's what you are supposed to do. I normally would never do dairy, but I believe that during prep, all "diets" go out the window.

Food the Day Before

Things I ate and drank the day before the procedure included: clear gummy bears, a little coffee, Apple juice, homemade Apple juice JELLO (this was actually good; I made it with an 8 oz bottle of pure Apple juice and Vital Proteins Gelatin), clear Italian ice cups, Green Apple Jolly Ranchers, and water.

In and Out

The less food you eat and colored beverages you drink in the days leading up to the procedure, the easier it is to get your stools ready for the procedure. Remember, whatever goes in, must come out.

Medications

I took all my medications and supplements as I normally would, except the night before the procedure, I did not take my LDN (the pill is red, so I wasn't sure) and the morning of, I did not take my WP Thyroid.

Appointment Time

Try to get an appointment for first thing in the morning. That way, you can get in and out. Sometimes if you wait until later in the day, they will be backed up (no pun intended!) and your procedure could be delayed. Trust me, you do not want to be delayed at all because by the time you go in, you're ready to eat your hand off.

Drink Prep

If you have the procedure first thing in the morning (I did), you will likely start drinking the prep solution the night before (I say likely because while this is the norm, some people are starting to get by with drinking a different + less solution. I have only done it this way, so this is how I am describing the process).

GoLytely and MoviPrep

This time they gave me GoLytely. The first time I had it done I had MoviPrep. They are both awful; no sugar coating

Crystal Light

I used the lemon flavor packet they gave me plus I added in some lemon Crystal Light. I would never drink Crystal Light because it's a chemical s#$% show, but again – the entire solution was already one big chemical and I did so out of desperation.

The Whole Solution

You might not have to drink all the solution. I debated whether or not to tell you this one because in huge print on the prep sheet given to me by the hospital they state, "It is very important that you drink all of the prep." But I'm trying to be as transparent and honest as possible with what I did. And what I did was drink more than half of it from 6-8 pm the night before. Then, I woke up at 2:30 am to drink the rest, but once I was over 3/4 the way full, I started gagging. It was about to all come up and in my panic, I started searching for "How to tell if your bowl is clean prior to Colonoscopy." I stumbled upon many different articles, which all were fairly similar, but THIS one was the best. And by this point, I was for sure in this category: Yellow, light, clear which indicated READY. "The yellow color is from bile stain." So I did one more 8 oz glass, and went to bed.

Veggie Straws

The only way I did not throw up was I discovered sucking on Veggie Straws. Seriously. It sounds so weird, but totally works. I'd guzzle 1/3 of the 8 oz as fast as I could, immediately followed by water. Repeat. Then repeat again. I'd then pick up a Veggie Straw and suck on it because somehow the salt from it countered the awful GoLytely taste. You must make sure you don't eat the Veggie Straw, though, because that is forbidden during this time.

Mind Games

Envision something else to "taste" when you start to feel sick. I laid down to go to bed around 8 pm, but my stomach was rumbling and I thought I might throw up because I had such an awful taste in my mouth, back of my throat and chest. So I started to envision eating Jade Pearl Rice with Nutiva's Garlic Buttery Coconut Oil. And it worked like a charm. Fell asleep. (You won't know what that flavor/taste is until you go through the process, but it will likely be something complete opposite from whatever solution you're drinking.)

Sedation

Almost everyone is mildly sedated for the procedure, enough to where you will be out and the next thing you know is they are telling you it's time to leave.

Information to Bring

Bring a list of all your current medications, supplements and their dosage. This will help keep everything moving along rapidly so you don't have to wait longer.

Clothing

Wear super comfortable clothes, and definitely a tank top or T-shirt. I wore a tank top with a zip up over it and sweat pants. During the procedure, the only thing you are allowed to keep on is your shirt (not the zip up) and bra (I'm talkin' to the ladies!)

Communication

If it's not your primary GI (which was my case) doing the scope(s), make sure to talk to him/her prior to the procedure. Tell s/he everything. For me, this meant making sure to show him my right side bump so he was aware of it during the procedure. By the way, I don't think anything was conclusive after scoping, so I'll have an Ultrasound to follow up on it. I was also able to talk to him for awhile about SIBO, and he asked several questions. This is a critical step if you're having a scope with someone other than your regular GI (in fact, I don't even have a regular GI anymore).

Spray

If you're having an Endoscopy, you'll likely get two shots of spray to the back of your throat before sedation. It's an aerosol-type can with a long spray attachment used to numb the throat (for the Endoscopy, the scope goes down your throat). The one I had was cherry-flavored. It was gross; plus it burns. You won't feel it long, though, because right after it….

Sedation

They will ask you to turn on your side. The sedation goes in via IV and within seconds (literally, I was looking at the wall counting, 1, 2, 3…..) you're out. Totally amazing sleep, by the way.

Gas

You should pass as much gas as you can afterwards to prevent bloating.

Bleeding

If you bleed a little afterwards, it's totally normal.

Do not Drive

Do not plan to drive, operate heavy machinery and/or sign any important documents; you'll be loopy all day. I was.

Sore Throat

If you had an Endoscopy, your throat could hurt a little, which is normal. Mine didn't hurt all day, but once the meds wore off, it did hurt some at night, but fine the next morning.

Poopin'

You will continue going to the bathroom all day after the procedure at a rapid rate, so best to stay close to a bathroom.

Repair

After the procedure, do everything you can to ensure you'll bounce back to normal (or as normal as possible) bowels as soon as possible. For me, this included: water, my probiotic (after this last bout of SIBO antibiotics, I got serious about the probiotic I'd use!) and a lot of real food which included fiber accompanied by my Enzymes and HCL. (Did it work? YES! This morning, just the day after, my bowels are already close to normal.)

Immediate Results

You'll get general results once the procedure is over; at least what they saw, and what what they did. The information will be relayed to the person who is driving you home (you must have someone drive you home).

Final Results

Sit tight and wait for final reports (if they took biopsies, they won't likely be back for about 10 days – they did take biopsies during mine).

Get a Second Opinion

I'm totally leaving this one open-ended for now. When my full report is back, I'll share with you and I'll share why I am saying "get a second opinion." It has everything to do with my last Colonoscopy and Endoscopy and less to do with this one. You'll understand soon.

Not Easy

If anyone tells you these 3-4 days are easy, they are lying. The days are not easy, and you need to give yourself grace during them. I made sure to have no photo shoots planned the day before and day of. I also scheduled a massage at Jasmine Traditional Thai Massage the day before. Do whatever you can/need to.

Life Saving

But absolutely, positively do not let anyone scare you into NOT getting a Colonoscopy and/or Endoscopy if you need them done. While they are invasive, I still argue that they can save your life or at the very least help guide you towards an answer you may have been searching years for.

Just Choose It

Always choose the Colonoscopy and Endoscopy over Dr. Google. Mmmmmmkay?!
(No editing. Just me, right after the procedure. Sarah plain and scoped. 🙂 If you saw my Instagram Stories that night, you also saw that I did a Charcoal Mask for some extra lovin'. It was my first time doing it, and absolutely lovely!)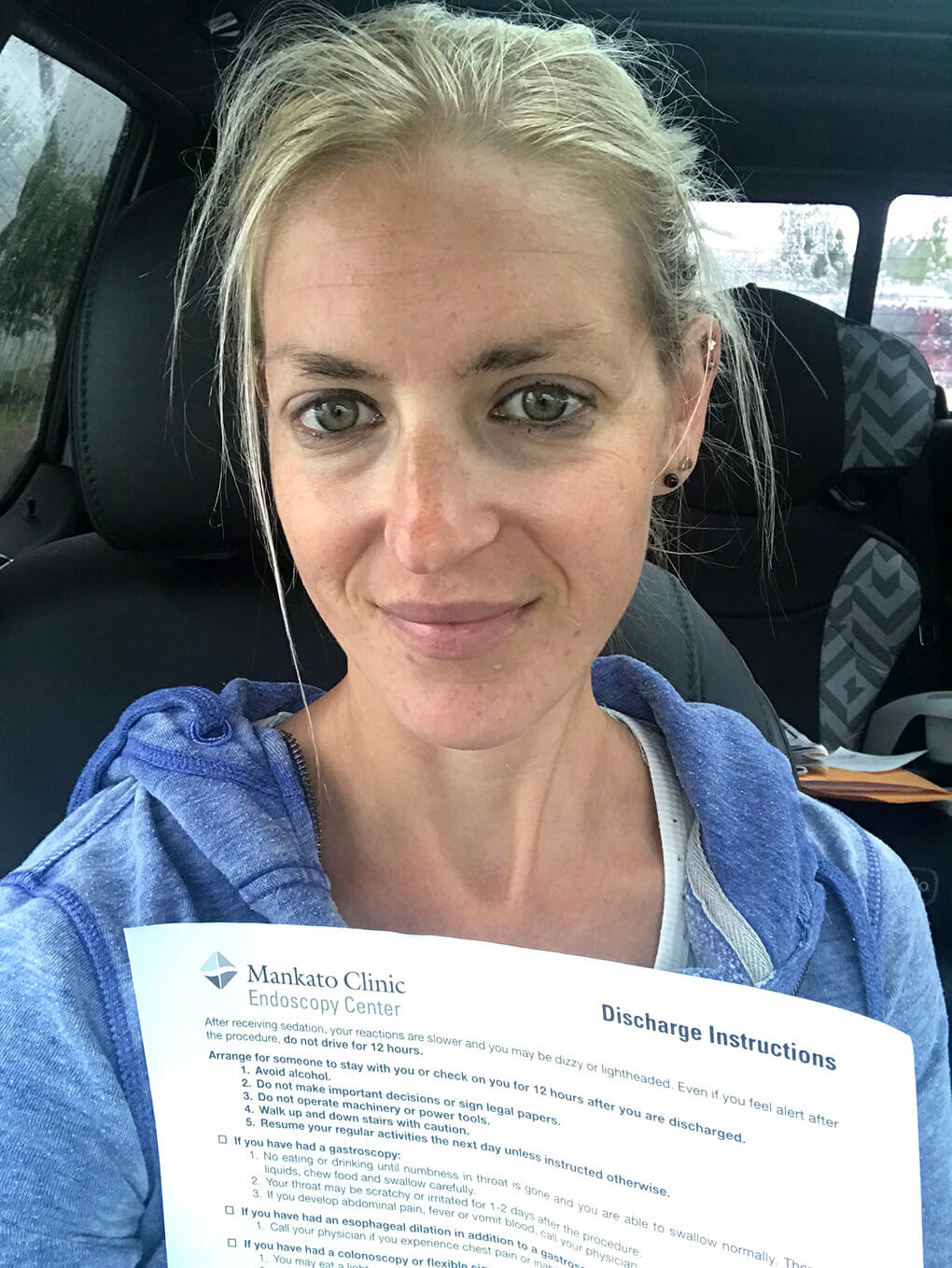 And with that, of course there will be things I forgot, so let me know any and all of your questions in the comments below.
Good luck. You got this.
If you liked this post, you might also enjoy:

Xox,
SKH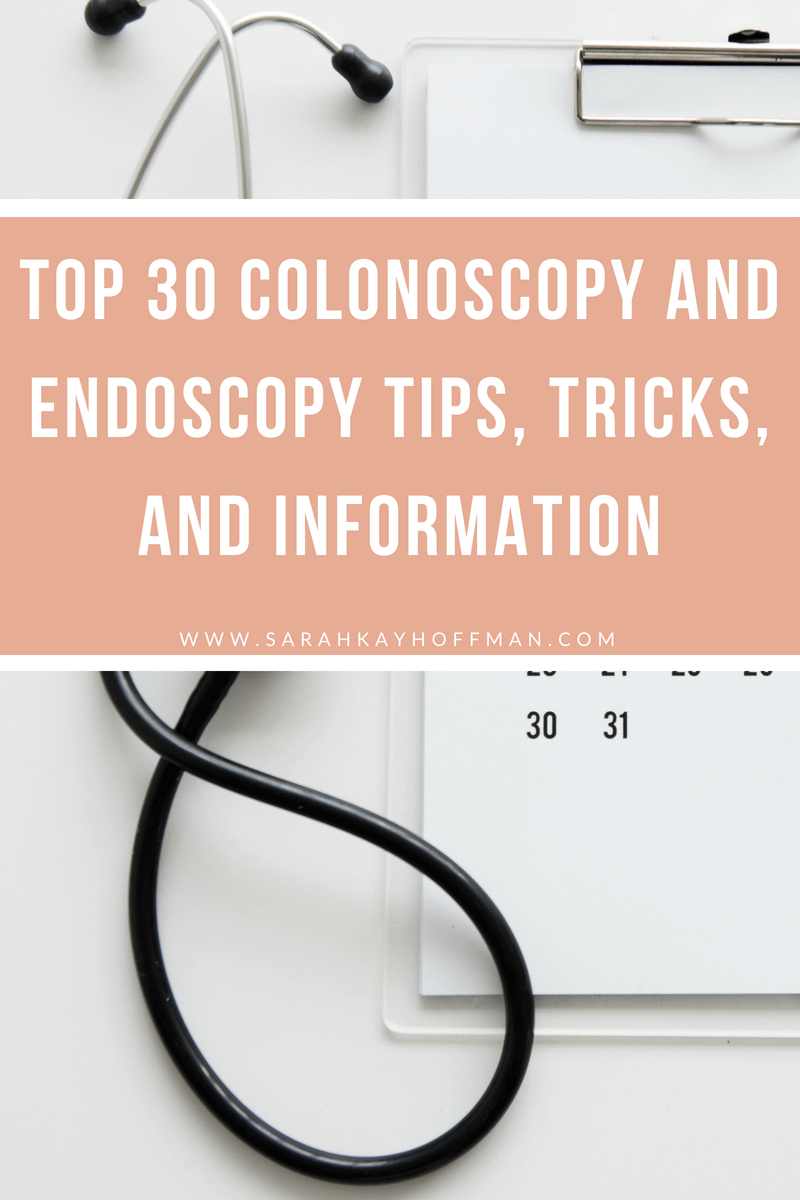 You will heal. I will help.