I've been asked, "What is inulin?" a lot lately, so I figured now was the time to address it….since I've been on such a FODMAP education kick.
By the way, I think what sparked this whole conversation about Inulin mostly was the fact that I keep putting these delish Gutsii bars on my Instagram Stories. They are all super clean, but they do use Inulin so people started asking about it.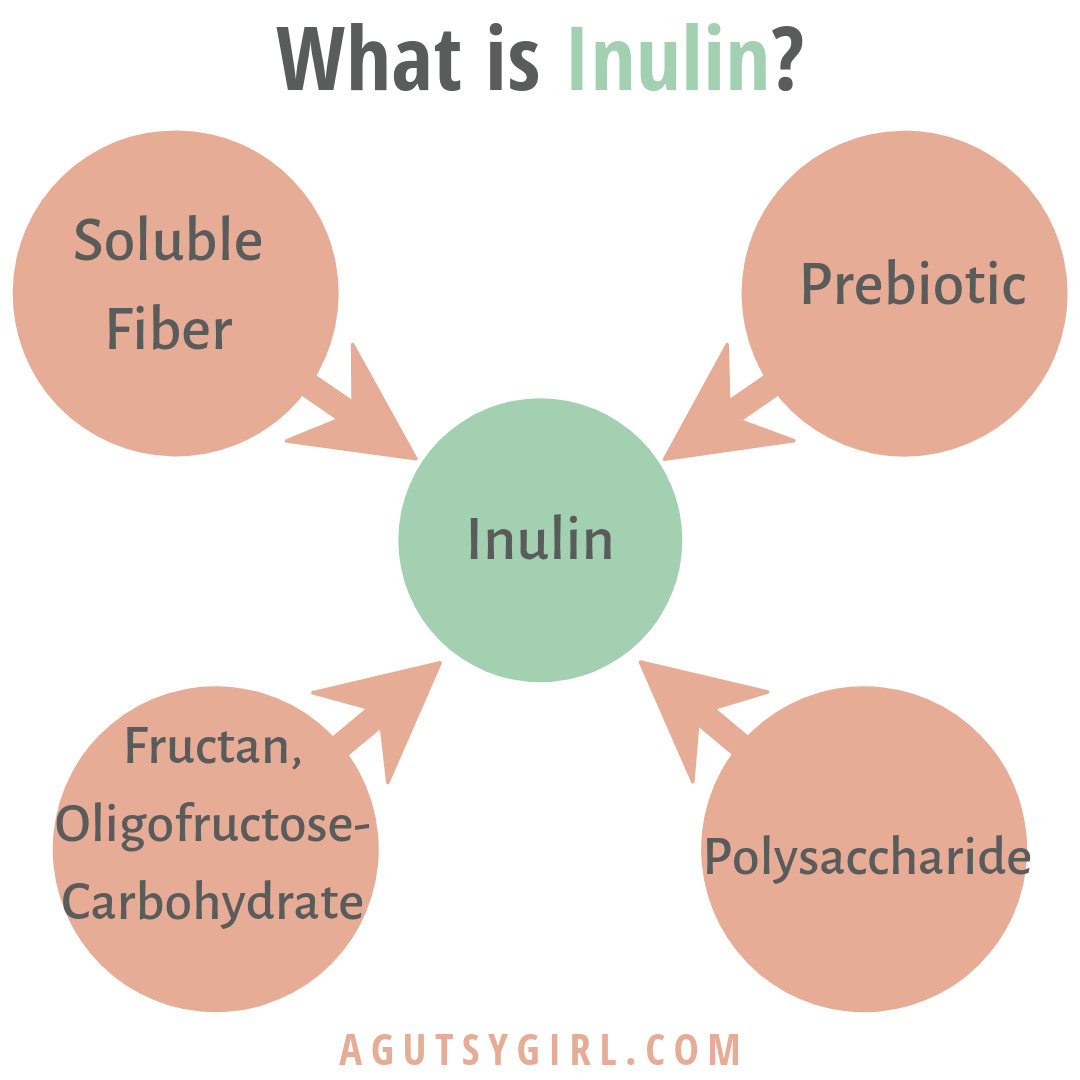 What is Inulin?
Click HERE to save this post for later.
Inulin is a type of fiber, a soluble prebiotic fiber. It is also a polysaccharide, along with a fructan, oligofructose-carbohydrate.
Good, sounds like a bunch of mumbo jumbo, right?
Kind of, until I break it all down for you. Let's revisit a little digestive chat 101.
It all sounds pretty complicated, right? Let's break Inulin down by some foods which contain it.
What Foods Contain Inulin?
Inulin naturally occurs in some plants, but it's also been commercially modified and added to packaged goods. Here are some examples:
asparagus
chicory root
garlic
Jerusalem artichoke
jicama
onions
yacon root
leeks
yams
bananas and plantains (when they are slightly green)
wheat
Gutsii: Mint Puffdaddii. See it on my list, #4.
straight Inulin, as a supplement
dandelion greens
general snacks (things like Fiber One Chewy Bars which use Chicory Root)
energy bars
cereals
granolas
yogurts
Sources: HERE, HERE, HERE, HERE, and HERE.
Digestive Benefits of Inulin
Click HERE to save these benefits for later.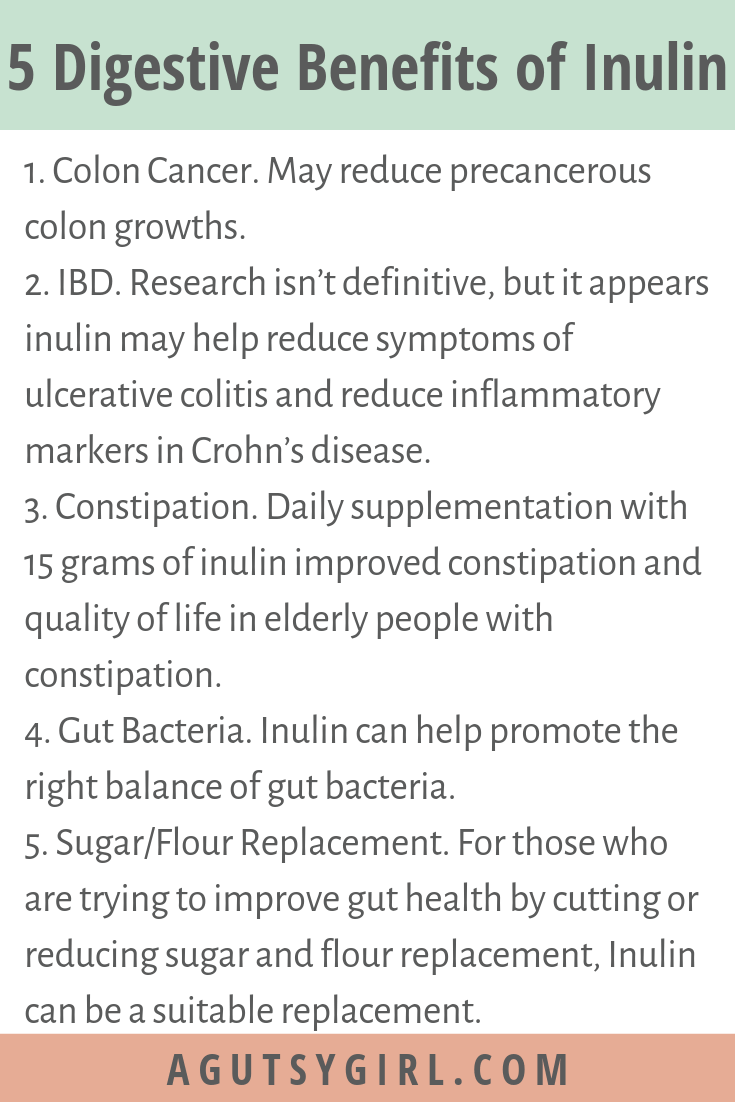 While many of you reading this are scared to consume Inulin, let me be clear that most digestive experts find far more benefits than drawbacks to it. Here are some of the digestive benefits of Inulin:
Colon Cancer

May reduce precancerous colon growths.

IBD

Research isn't definitive, but it appears inulin may help reduce symptoms of ulcerative colitis and reduce inflammatory markers in Crohn's disease.

Constipation

Daily supplementation with 15 grams of inulin improved constipation and quality of life in elderly people with constipation.

Gut Bacteria

Inulin can help promote the right balance of gut bacteria.

Sugar/Flour Replacement

For those who are trying to improve gut health by cutting or reducing sugar and flour replacement, Inulin can be a suitable replacement.
Sources: HERE, HERE, and HERE.
Is It Okay for Me to Consume Inulin?
You will hear both, "Inulin is good for gut health," and "It can cause havoc for your digestive system."
"Inulin and oligofructose possess several functional and nutritional properties, which may be used to formulate innovative healthy foods for today's consumer." And that statement comes from the National Institutes of Health.
Ugh. So what is it?
Based on what Inulin is, my stance is that, unless you have SIBO, it's not likely to cause a lot of digestive distress in normal amounts.
That said, you won't find the answer for you lingering somewhere online. You'll only find the answer by knowing your exact situation and state of gut health. This is where I come in – as always – to empower you to listen to your body and not a textbook, expert, or even my blog.
Here is how I decide whether or not to consume Inulin (for me) / the questions I ask:
What is the current state of my gut; in particular, the SIBO?
Where is the Inulin coming from? Is it a whole ingredient (i.e. onion) or a packaged good (i.e. the Gutsii Bar)?
Finally, if it's a packaged good, what are the other ingredients contained in the product and do I trust the company?
And that's it!
Currently, my SIBO is gone (has been for a long time, praise the LORD!) so I'm all about that Inulin life when it comes to whole foods. I would still never eat that Fiber One Bar (because, go back to #3 and then check out the ingredient list for the Fiber One Bar), but I would absolutely eat the Gutsii Bar over-and-over.
I'm always here to help you navigate. I've done the research for you. You know what it is, so now you can make the best decision for you.
But please if there is one thing you learned from Reasonable SIBO let it be that we should try to figure out how to eat all the things vs. living a life filled with unwarranted restriction.
p.s. There is a ton more information on fiber in The Gutsy Girl's Bible.
Xox,
SKH
You will heal. I will help.