Today is the final day of this mini-series on saccharides. Part V: Polysaccharides.
If you need to quickly catch up, go ahead:
Today is the mammoth that are polysaccharides.
Part V Polysaccharides
Click HERE to save this post for later.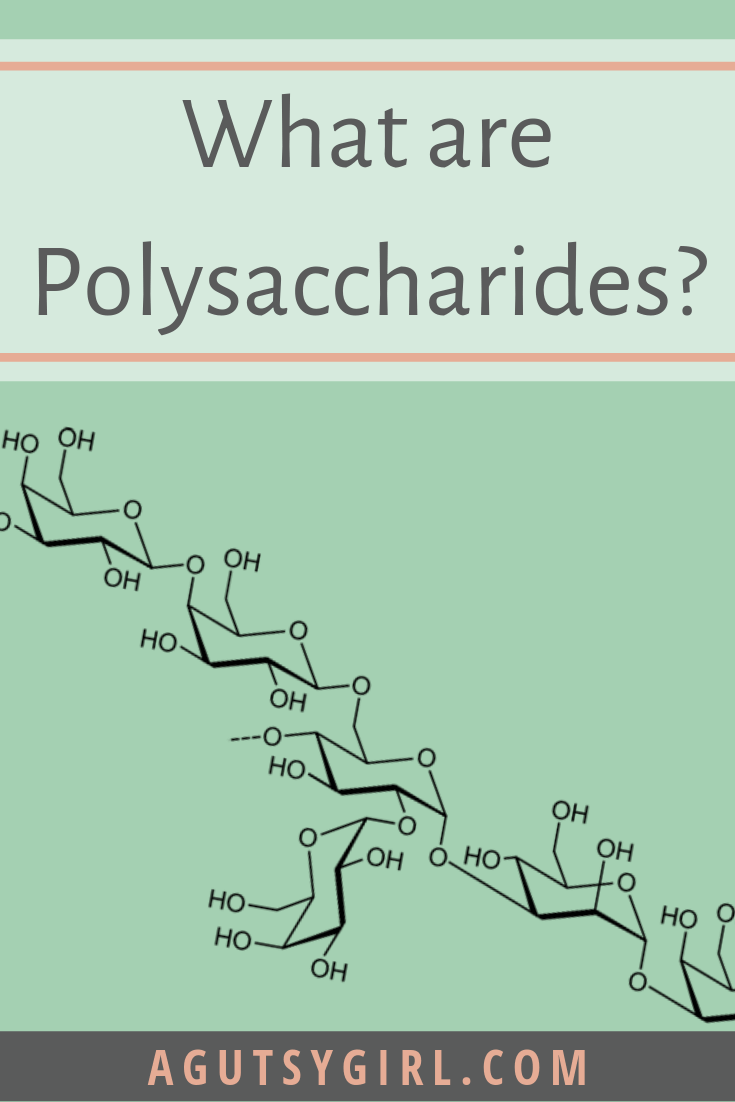 Polysaccharides are long carbohydrates chains. Their structure looks like this:


Polysaccharides According to Elaine Gottschall
The polysaccharides are so complex that no information I can pull together will be as good for you as the information from Elaine Gottschall when she discusses them,
Polysaccharides are even bigger molecules. These consist of many sugar molecules. These molecules are even more difficult for the digestive system to handle. First, the pancreas releases a fluid, which contains for an enzyme that can split the polysaccharides (starches) into disaccharides (maltose). Next, the enzymes (maltase), which are produced in the duodenum, must break down the disaccharides (maltose) into monosaccharides, before the body can utilize this kind of carbohydrates.
She continues on to say,
Starches mainly contain polysaccharides. In a healthy person all these processes work perfectly. However, in a small group of people, the duodenum can't produce enough enzymes to digest all the carbohydrates (di- and polysaccharides). This is what happens next: Large amounts of undigested carbohydrates remain in the intestines. This would normally be no problem, because whatever the body doesn't utilize will end up in the toilet. However, the intestines also have natural inhabitants: Bacteria. The bacteria have been waiting for a long time for such a feast ! Lots and lots of disaccharides, their favorite meal!
And she wraps up with,
To thank you for the meal, they start to produce large amounts of gas (they fart) and they start to produce acids. As a result, the gas pressure in the intestines gets higher and higher. The body wants to relieve itself of the overpressure, and the host (you) starts to burp and fart. Also, the gas is giving the stomach some false signals. The stomach replies by producing more digestive acids. The result for the host: heartburn and throwing up and nausea. (Source)
Examples of Foods Which Contain Polysaccharides
"starchy carbs" like corn, potatoes, rice, bread, pasta and cereal
cellulose found in foods like apple and pear skins, the covering of grains and spinach
oats, beans, nuts, psyllium husk, flax seed, carrots, root vegetables
p.s. The controversial carrageenan is also a polysaccharide.
If you have been following this series all week, you are likely sitting there right now thinking, "Huh. Then what am I supposed to eat? Is there anything that my gut will do well with?"
I'm going to put some thoughts and ideas together around this for y'all. I won't leave you hanging with the saccharide blues.
Xox,
SKH
You will heal. I will help.