We need to discuss exactly what is chicory root fiber.
And this is because there are the gut-health gurus who say, "always chicory;" there are also those who say, "never chicory."
I'm with you. This is all so super, duper confusing.
What is Chicory Root
Click HERE to save this post for later.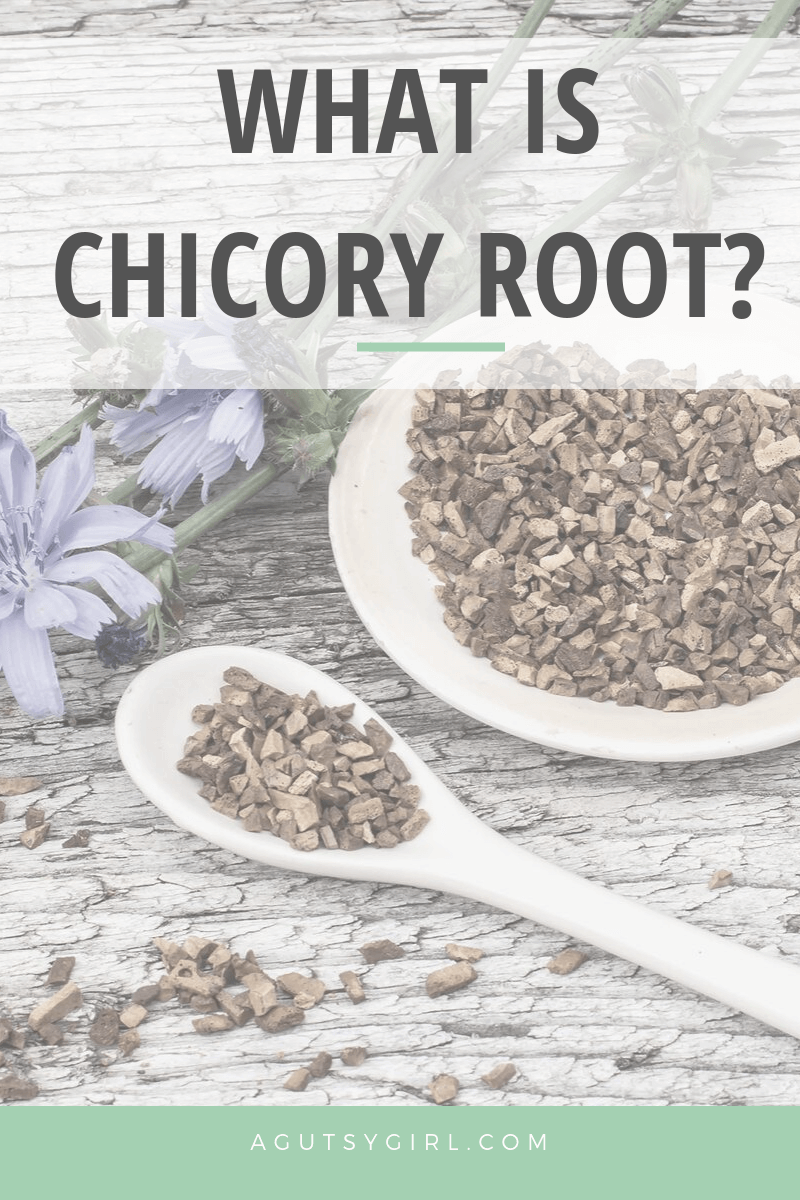 Chicory root is a source of inulin and a type of soluble fiber.
In case you need to revisit inulin, I wrote an entire post about it HERE.
In fact, 40% of chicory root is inulin, which is an oligosaccharide (and you can read more about oligosaccharides HERE).
Because chicory root is a soluble fiber, that means it dissolves in water, and includes plant pectin and gums. As it breaks down, it creates a gel-like substance.
I love the way Bon Appétit defines it,
Chicory, or cichorium intybus, is an herb that grows wild throughout Europe, the United States, and Australia but is also cultivated for culinary use. It's related to endive and radicchio, two slightly bitter, lettuce-like vegetables often used in salads, as a base for an appetizer, or as a garnish. Once deployed as coffee extender during hard economic times and still popular as such in New Orleans (its neutral taste and similar color and texture make it a perfect filler), chicory root has quite a different purpose in modern-day food science.
Where You'll Find Chicory Root
Hardly ever would you pick up a packaged food that says, "high-fiber food," contains inulin and the inulin source is not from the root of chicory.
That said, on the ingredients panel, it's not likely to say chicory root; instead, inulin, or sometimes called "chicory root fiber."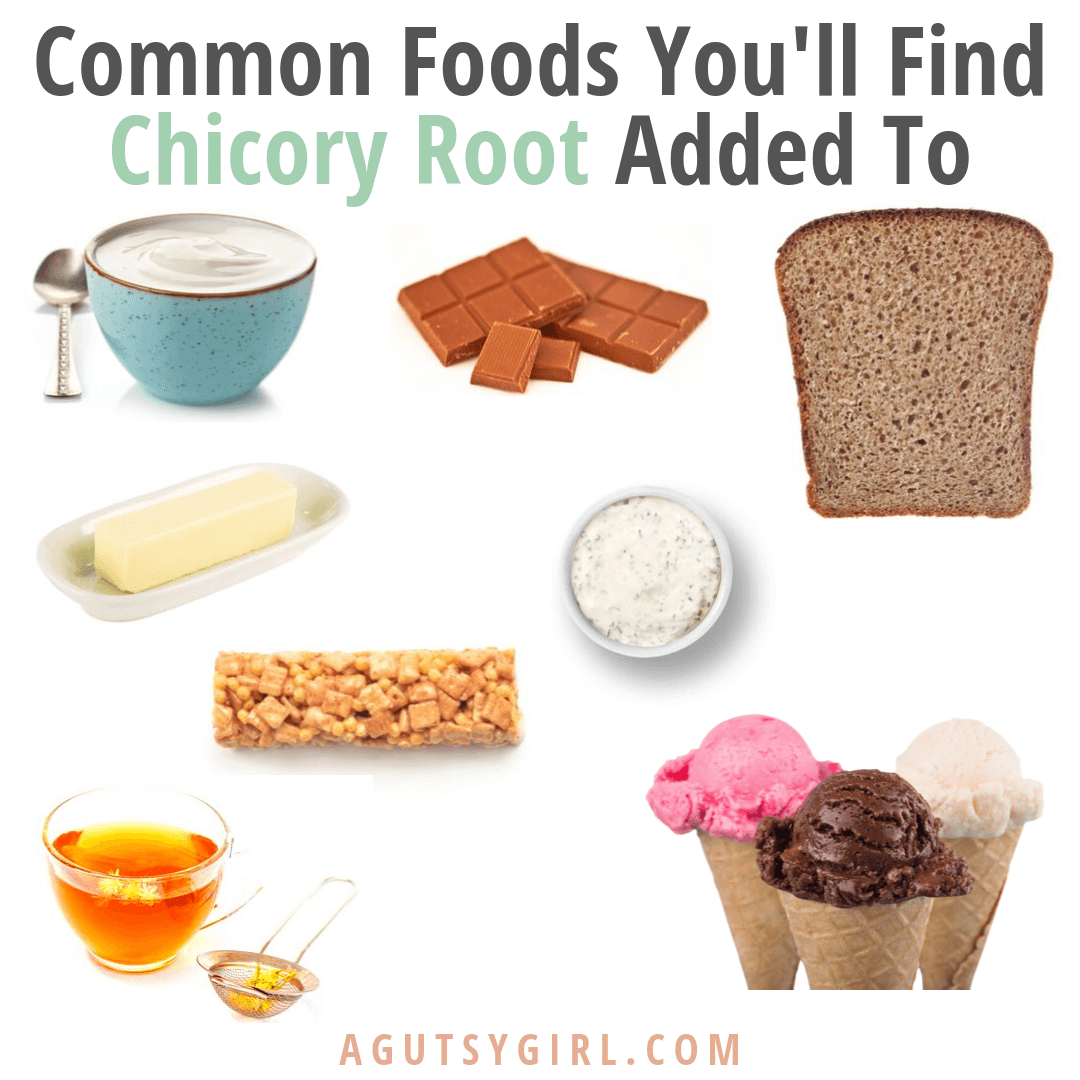 Because of this, you can find chicory root in many different items.
Some include:
yogurt
ice cream
chocolate bars
breakfast bars
salad dressings
margarine
breads
digestive and herbal teas
Remember, chicory is able to be added to these foods because it's water-soluble meaning that it has a smooth and creamy texture, working well as a replacement for fat.
Manufacturers can then tout, "more fiber, less fat." Please know that I'm not necessarily saying this is a bad thing.
Chicory Root Benefits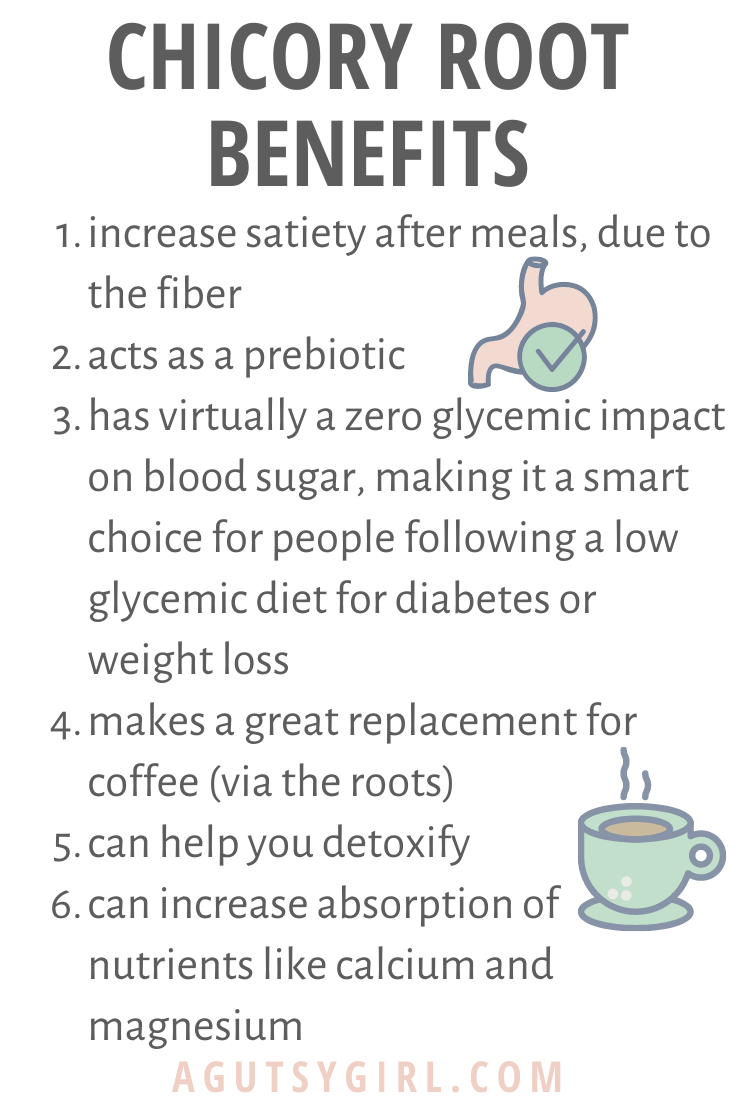 Some of the its benefits include:
increase satiety after meals, due to the fiber
acts as a prebiotic
has virtually a zero glycemic impact on blood sugar, making it a smart choice for people following a low glycemic diet for diabetes or weight loss
makes a great replacement for coffee (via the roots)
can help you detoxify
can increase absorption of nutrients like calcium and magnesium
Chicory and Gut Healing
It's kind of my new passion; helping people understand the difference between gut health and gut healing.
As it relates to overall gut health, do I think chicory root is good? Yes, times one hundred.
But if you are still in the healing phase, chicory might not be for you.
Here's why:
can cause gas and bloating, diarrhea and constipation
it's high-FODMAP (fructans) (note that chicory leaves are low-FODMAP)
slows digestion (that's also what allows it to provide high satiety post-meal)
since it's a prebiotic, it feeds and promotes the growth of the healthy probiotic bacteria in the gut
Also make note: The root of chicory can trigger reactions in people who are allergic to ragweed pollen or sensitive to related plants, including chrysanthemums, marigolds, daisies, and other members of the Asteraceae/Compositae plant family.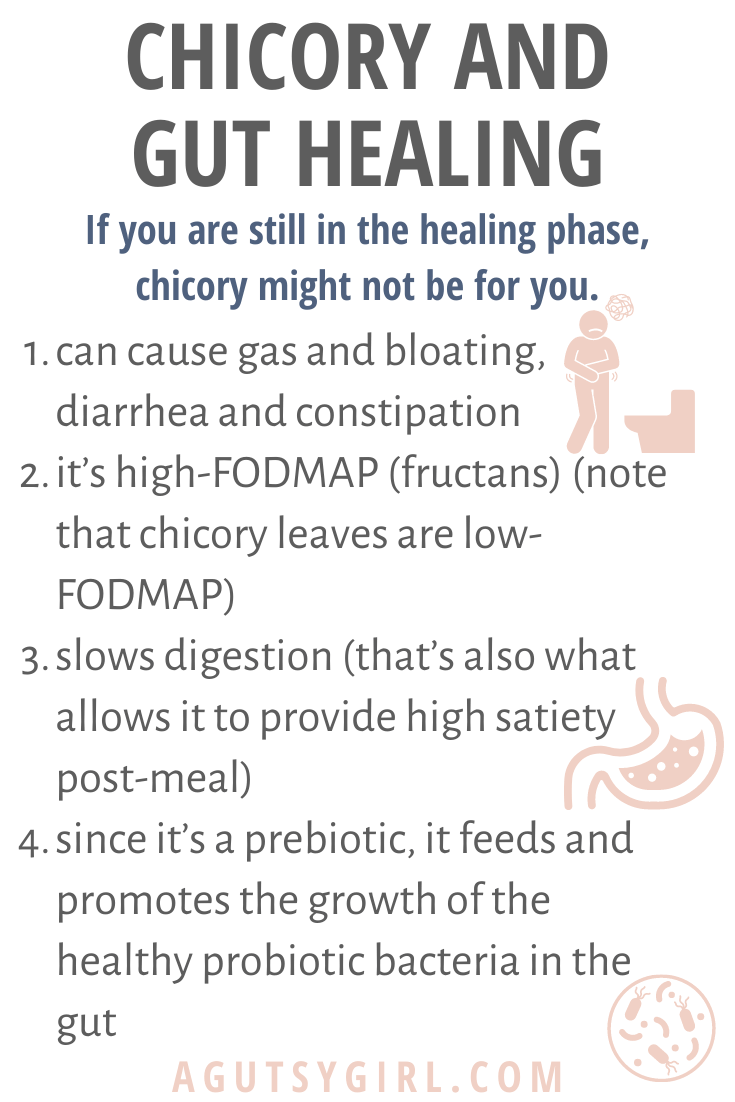 Can I Have Chicory Root?
Whenever I write posts like this, people are always left asking themselves (and me), "Okay, so after all the research you've done, just tell me: Can I have it?"
I'm not your nutritionist or doctor. More important than that, I'm not you. You, not your nutritionist or doctor, are the only one who truly knows if you can or cannot have chicory root.
Maybe start here, and ask yourself: Well how is that working for me?!
Or, keep track of ingredients vs ingredient(s) via my 90-day gut healing journal.

Then, know this.
A study from the University of Minnesota published in 2010 found that most healthy people can tolerate up to 10 grams of native inulin (one type of inulin product) and five grams of "sweet" inulin (another version) daily.
But again, you need to read that carefully. "Most healthy people" is what it states. If you dig more, you'll find that for those with irritable bowel syndrome even small doses like 0.5 to 1 gram can cause gas, bloating, abdominal pain, and diarrhea.
When these researched articles come out, I think they all need to link to my gut health vs. healing post 🙂
You know, deep down, where you're at today.
I personally do just fine with chicory root, but I didn't necessarily back when I used it as a coffee replacement.
Listen to what your body is telling you.
Sources: HERE, HERE, HERE, HERE, HERE, and HERE.
If you liked this post, you might also enjoy:

Xox,
SKH
You will heal. I will help.