We need to discuss this concept of packaged foods for digestive wellness.
Packaged Foods for Digestive Wellness
Click HERE to save this post for later.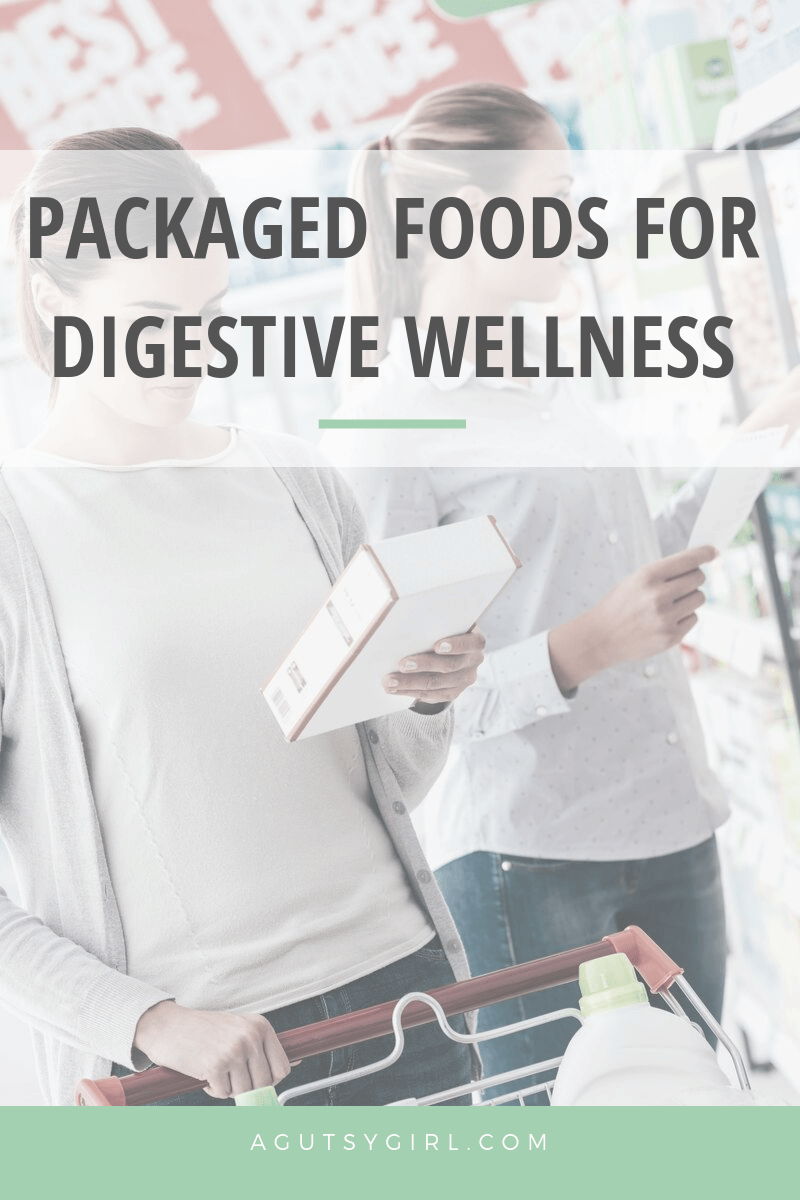 By now you most likely know I work in the natural food industry. I have for years.
In particular, I work in natural food marketing. To say I know a thing or two about brands and their marketing messages to you would be an understatement. And I'm seeing a huge problem with this with the high-fashion era of "digestive wellness."
So many products are touting all the digestive benefits. You know what? It's not necessarily a problem for the average individual, but it most definitely can be for the Gutsy community.
Back in early 2014, I wrote a post called Food for Thought. The intention for that series was very similar to this one. Only, back then I was wanting to focus on ingredients as a whole; not ingredients as they related to digestive health and wellness.
Because I am now highly focused on you, the posts I write around packaged foods for digestive wellness have a soul purpose. (Btw – whenever I use soul instead of sole, it's intentional!) The purpose is to focus on a product as it relates to actual digestive issues.
I want you to see the whole, real, and true picture so that you can make the best decision for you. And I want you to be able to pick up a product marketed to you and ask yourself, "Is this product for gut health, gut healing, or truly neither?"
If you've never read my post on Gut Health vs. Gut Healing, please start there today. You'll find it HERE.
So with that….
Happy Inside™
I really don't want to make an example out of brands, but I must.
While shopping at Costco on Sunday, Abby said to me,
Look at this granola. I want it; it's good for digestion.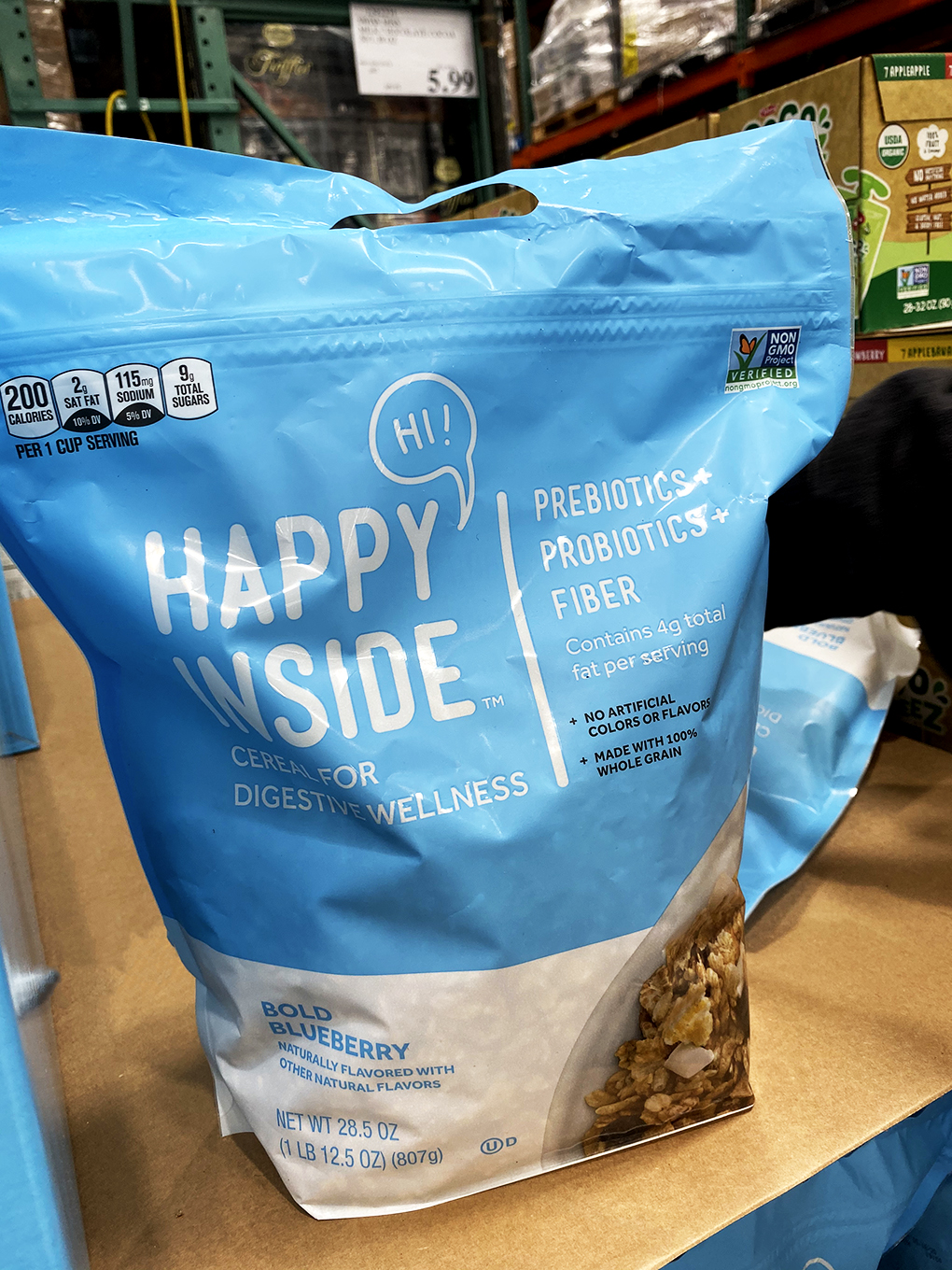 (And yes, I realize this is the worst picture ever, but we'll all survive.)
So I picked the package up, carefully reading the front and back. I wondered, "….but is this cereal actually good for digestive wellness?"
What is Happy Inside?
Happy Inside is a cereal that contains a a 3-in-1 medley of prebiotics, probiotics, and fiber. It was created at the W.K. Kellogg Institute for Food and Nutrition, aka Kellogg's. (Updated in 2021 to add: I can no longer link to this product as it has been discontinued. Shocker! [insert sarcasm])
Bold Blueberry was the flavor sold at the Costco we went to (this bag). But the company also has Simply Strawberry and Coconut Crunch flavors as well.
---
If you're interested in learning how to read food labels for gut health, I have a jumbo article on it with illustrations.
Read it HERE.
---
Happy Inside Cereal Bold Blueberry Marketing
Now that you have the basic background, here are the key marketing terms used on the packaging:
Cereal for digestive wellness
Prebiotics + probiotics + fiber
No artificial colors or flavors
Made with 100% whole grain
Non-GMO Verified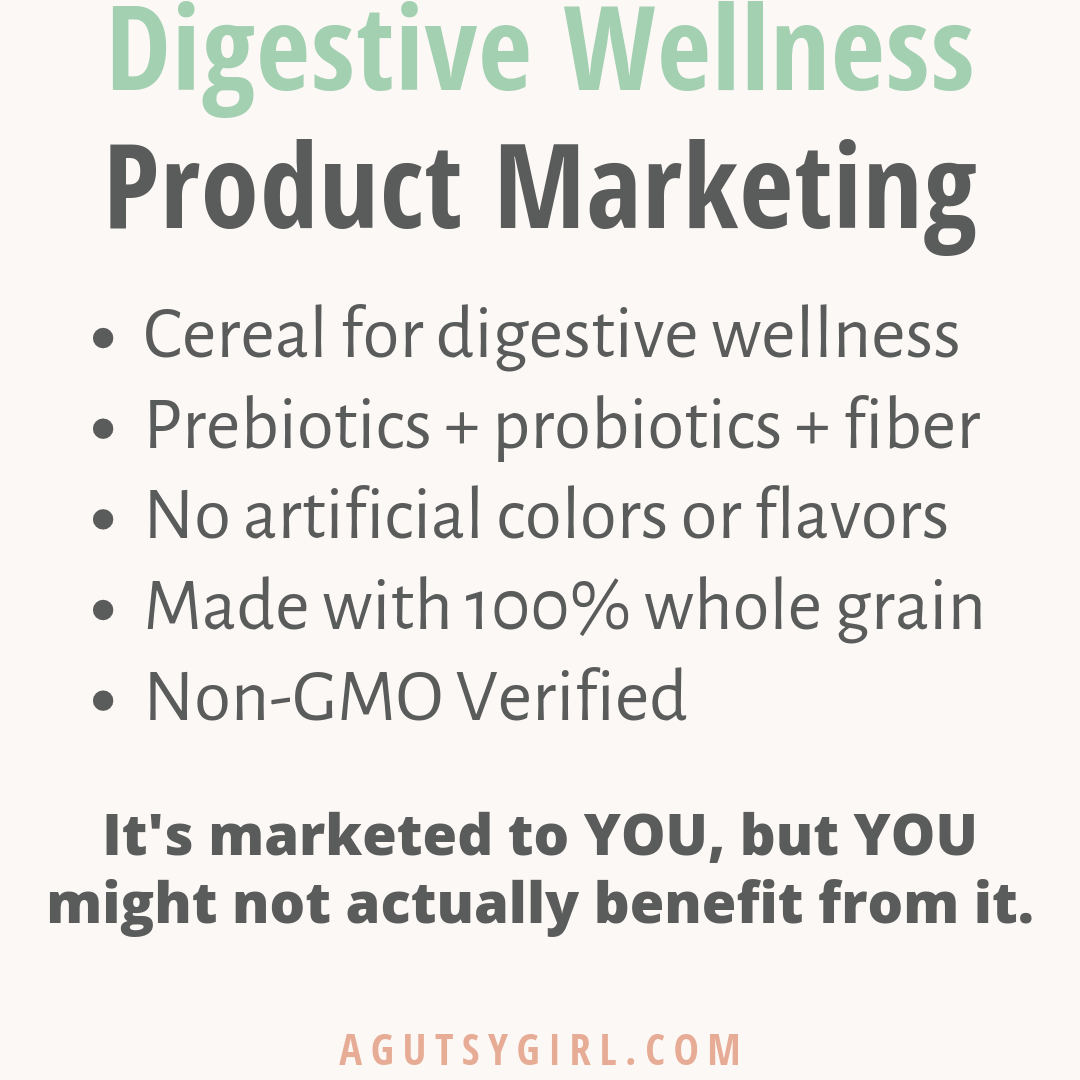 The back nutrition panel reads:
whole grain barley, whole grain wheat, whole grain corn, whole grain sorghum, yogurty probiotic piece (sugar, palm kernel and/or palm oil, milk, nonfat greek yogurt powder [cultured skim milk (heat-treated after culturing)], bifidobacterium lactis HN019, natural flavor, soy lecithin, cane sugar, chicory root fiber, brown rice syrup, freeze dried blueberries, cane syrup, contains 2% or less of sunflower oil, salt, mixed tocopherols (vitamin E) for freshness, almonds, coconut, hazelnuts, pecans, pistachios
A Brief Dissection
Because I live and breathe this stuff, I can easily pick up the package and know it's all marketing. In fact, I've written about many of these words and ingredients already on agutsygirl.com.
Come along!
Marketing Terms
Cereal for digestive wellness. Do not take that at face value. Promise me you will read Gut Health vs. Gut Healing. They are talking about gut health (which, to be honest, is even subjective).
Prebiotics + probiotics + fiber

Prebiotics feed and promote the growth of the healthy probiotic bacteria in the gut. You can read about the difference in pre- and probiotics HERE. Ask yourself: Is my probiotic bacteria already healthy? If not, prebiotics in bulk are not your friend.
Probiotics. First of all, the cereal contains 1 billion CFU per serving. It comes from bifidobacterium lactis HN019 (p.s. I do think it's cool that they mention both strain and species). So you'll need to ask yourself a couple questions:

Is that probiotic the one I need? See Probiotic Strains and Species HERE.
Should I take a probiotic with SIBO? Even if you don't have SIBO, but other gut issues, the post will still be helpful.

No artificial colors or flavors. Maybe not "technically," but just take a look at the ingredient list.
Made with 100% whole grain. Okay, that's great, but the whole grain and gut debate is very real. Whole grain might be optimal for digestive wellness, but it's usually not when you have active IBS and/or IBD. Read any of the Grain Brain books or even a lot of the posts on grain right HERE.
Non-GMO Verified. Okay, good. This one is good no matter who you are or what your digestive system is like.
Nutrition Panel
I was going to name out specific ingredients that I thought are not really for you, but quite honestly, every single one of these ingredients is subjective.
Heck, no matter what the product is, all ingredients are subjective.
This is why I don't believe in following any one specific clear-cut diet. There is no diet that will 100% work for you.
Instead of calling them all out, here are just a few things to caution:
It's a highly-allergenic product, which is odd for something geared towards digestive wellness. It contains: almonds, coconut, hazelnut, milk, pecans, pistachios, soy, tree nuts, and wheat.
Milk. Last I checked, barely anyone with IBS and/or IBD tolerates dairy. If this were 100% raw, organic dairy, then maybe. Maybe. But this is far from it.
Natural flavor. This one depends. Do you trust the manufacturer? Read about natural flavors HERE.
Sugar. There are a lot of different sugar sources in this digestive wellness cereal: cane sugar, brown rice syrup, and cane syrup. With that many different sugars, I even wonder if this product could be marketed towards "general wellness?" You can read more about sugar HERE.
Chicory root. I just wrote about this as it relates to the ingredient + marketing. Read the full post HERE.
It's Not Food Fear
Now please, please, please remember that this post (and any and all like it moving forward) do not have a goal of creating food fear.
I am, literally, just desperate for wanting to help you.
And I truly do NOT believe that products like these – marketed to you – who is probably already sick, are doing any good.
Any questions on the Happy Inside product?
Is there a product marketed for "digestive wellness" you'd like me to feature next?
If all of this is confusing to you, but you know you need to heal your gut, consider going on a FREE 21-Day Gut Healing Inspiration Journey HERE or just grab The Gutsy Girl's Bible which is a 286-page e-book.
If you enjoyed this post, you might also like:

Xox,
SKH
You will heal. I will help.