Ready to get the hands dirty today with your guide to emulsifiers in food?
You've been asking me about emulsifiers in food for a long time now. Thing is, though, there are so many. But I want to help you navigate.
So let's just start here.
Your Guide to Emulsifiers in Food
Click HERE to save this post for later.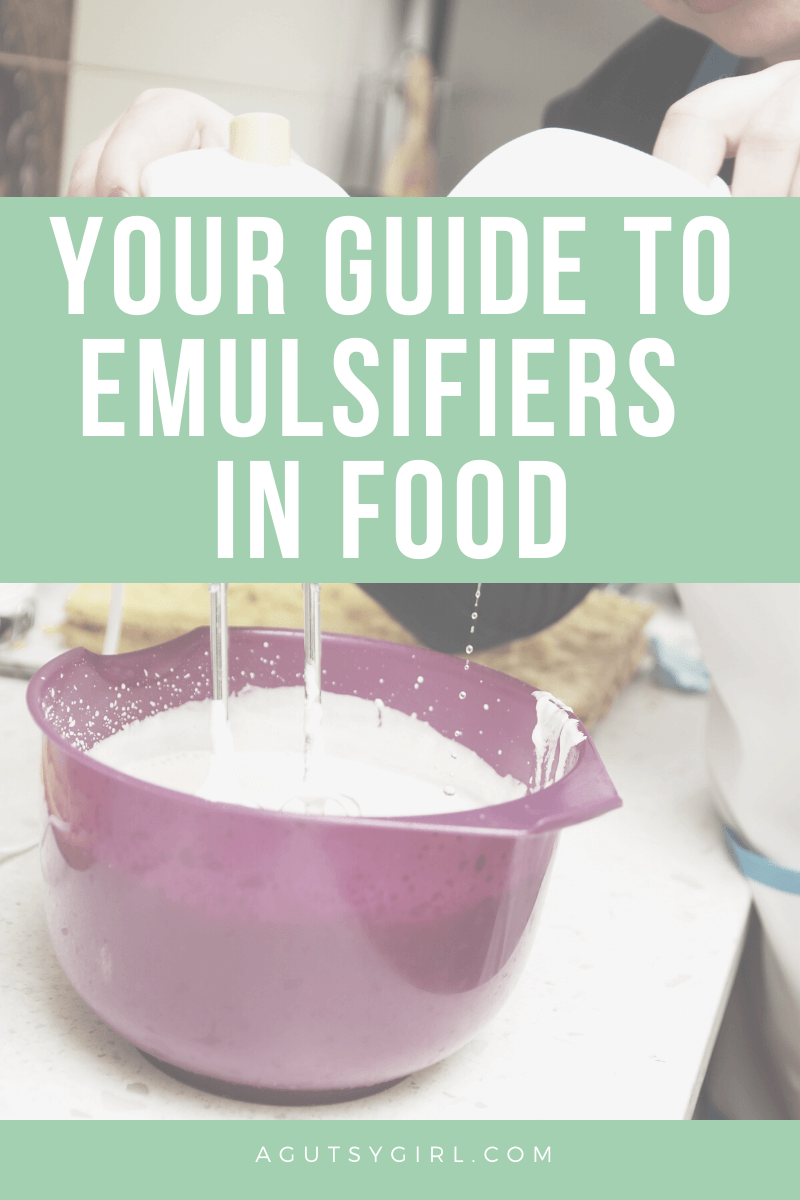 What is a Food Emulsifier?
Let's start with the basics so you understand what an emulsifier is and how it's relevant for food.
By definition an emulsifier is,
a substance that stabilizes an emulsion (a fine dispersion of minute droplets of one liquid in another in which it is not soluble or miscible), in particular a food additive used to stabilize processed foods.
In other words, emulsifiers help keep processed foods (or even foods you make by hand at home) stable and/or enhance the structure because oil and water don't mesh together on their own.
Master List of Food Emulsifiers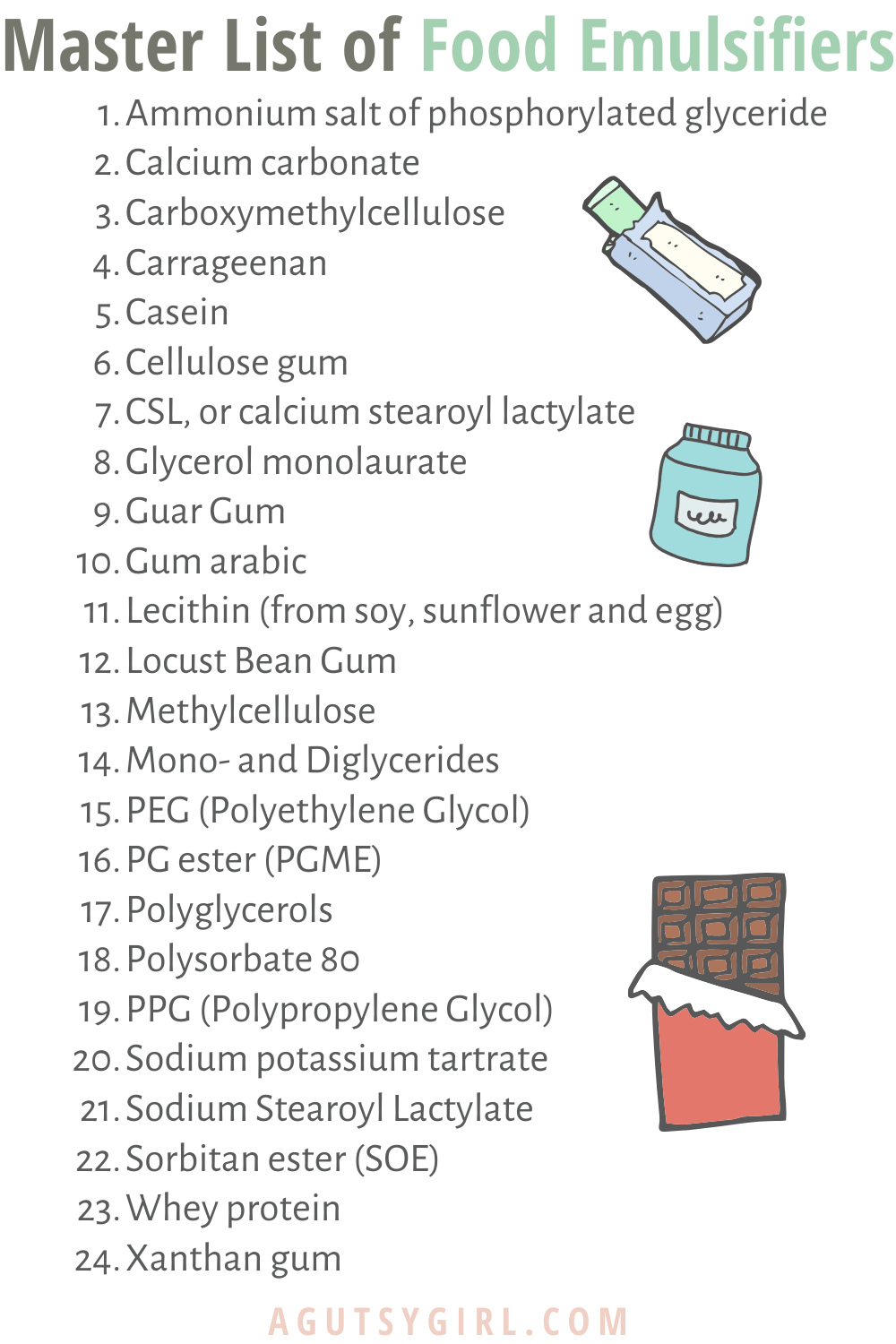 Ammonium salt of phosphorylated glyceride
Calcium carbonate
Carboxymethylcellulose
Carrageenan
Casein
Cellulose gum
CSL, or calcium stearoyl lactylate
Glycerol monolaurate
Guar Gum
Gum arabic
Lecithin (from soy, sunflower and egg)
Locust Bean Gum
Methylcellulose
Mono- and Diglycerides
PEG (Polyethylene Glycol)
PG ester (PGME)
Polyglycerols
Polysorbate 80
PPG (Polypropylene Glycol)
Sodium potassium tartrate
Sodium Stearoyl Lactylate
Sorbitan ester (SOE)
Whey protein
Xanthan gum
You'll find even more common emulsifiers HERE.
If lists like this are interesting to you, then you'll love my book, A Gutsy Girl's Bible: a 21-day approach to healing the gut. In it, you'll find 100+ Creations. Grab your copy on Amazon HERE.
Or, have this book at your fingertips instantly by downloading the PDF now.
Common Packaged Foods that Contain Emulsifiers
Because even many homemade foods need an emulsifier, they aren't all inherently "bad." And if I'm being perfectly honest, even the packaged ones aren't always bad.
Regardless, here is a list of common packaged foods that contain emulsifiers:
peanut butter
ice cream
margarine and other low-fat spreads
biscuits
cakes
frozen desserts in general
bread
chewing gum
mayonnaise
salad dressings
processed meats
chocolates
candies, toffees
fillings and icings
coffee creamers
infant formula
topping powders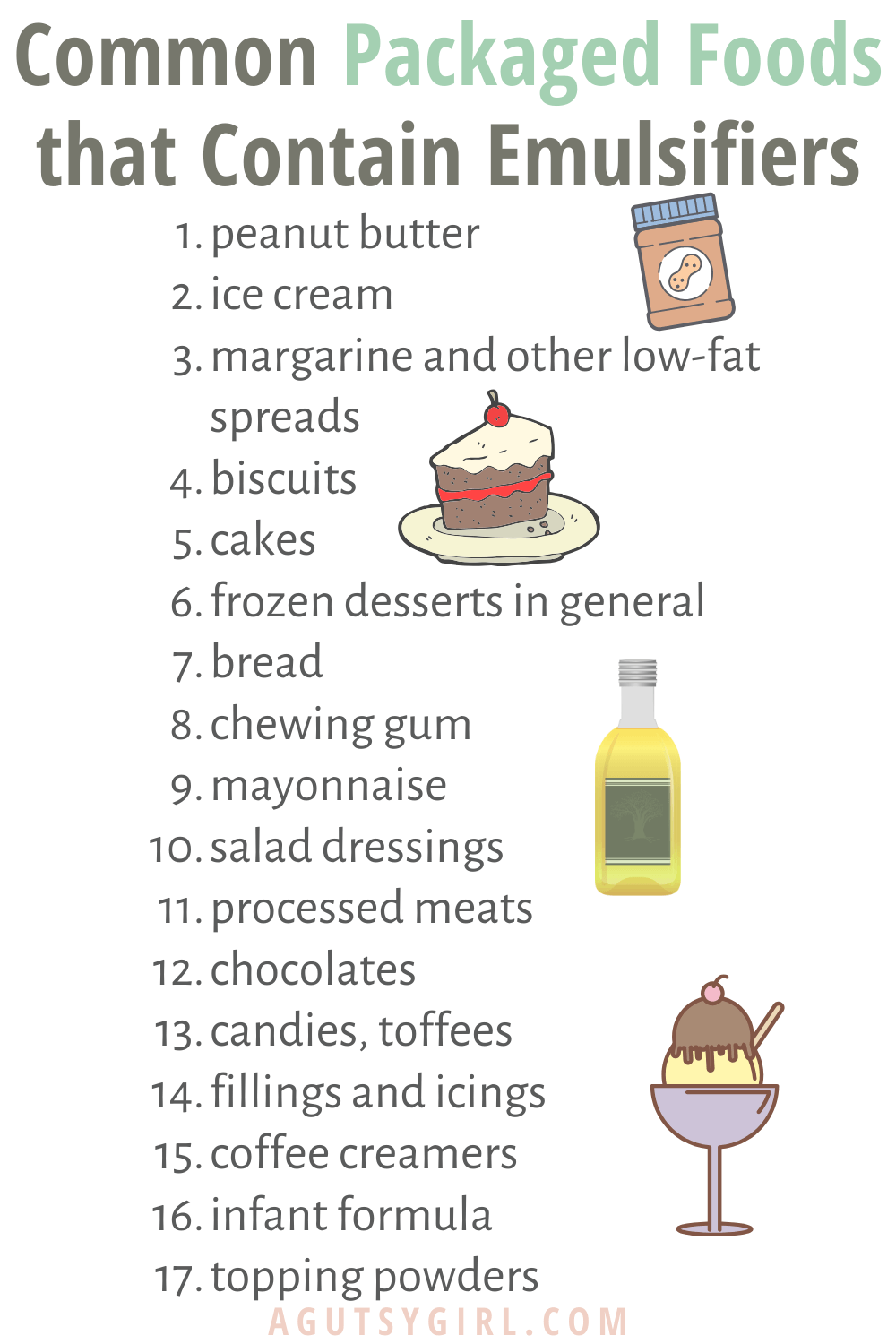 Emulsifiers and the Gut
Now that all of that is out of the way, I'm ready to address your real question/concern:
Are food emulsifiers bad for my gut and/or gut healing?
So let's break it down.
The Concern with Emulsifiers
It's true. The research is there that (certain) emulsifiers have been shown to affect the gut.
And the research shows that they can contribute to both leaky gut and cause changes in the microbiome.
Leaky Gut
Emulsifiers can disrupt bacteria-mucus interactions and comprise the mucous layer, causing inflammation and contributing to leaky gut.
Emerging evidence suggests that permitted dietary emulsifiers may impact on gut health through impairing intestinal barrier function, thus increasing antigen exposure, and/or by modulating the microbiota, thus potentially increasing the incidence of inflammatory bowel disease (IBD) and metabolic syndrome.
Microbiome
As emulsifiers relate to the gut microbiome, some of the research states,
Potential effects of food additives on the gut microbiome have generally been overlooked; however, emerging evidence, mainly from animal studies, suggests that several common food additives, not just emulsifiers, can induce microbiota‐mediated adverse effects.

Taken together, the emerging effects on intestinal inflammation and gut microbiota are consistent with those observed in IBD. Food exclusion diets for Crohn's disease, which encourage the avoidance of additive‐rich 'processed foods', have been observed to induce remission, although lots of other dietary factors may be involved.
And also,
When added to a dynamic in vitro slurry that mimicked a human colonic microbial culture, both polysorbate 80 and carboxymethylcellulose induced gene expression profile changes in the bacterial slurry, including an increase in bacterial flagellin expression.
However, to date these effects have not been confirmed in humans.
Should You be Concerned with Food Emulsifiers?
Ready to feel annoyed?
The answer, once again is, "It depends."
That's right. It depends on your current state of health, what your body will and will not tolerate, and finally the main health challenges you currently deal with.
First, it's very important to make note that I stated "certain" emulsifiers have been shown to affect the gut.
Carboxymethylcellulose
For example, let's say you have SIBO. Well, the research says that in mice, the emulsifier Carboxymethylcellulose had an effect on the microbiota via bacterial overgrowth.
And the tricky part is that you aren't likely to see that long word on food packaging. Instead, you'd see "cellulose gum" or even simply "dietary fiber" on the label.
Other emulsifiers that come with more caution for intestinal damage include:
Polysorbate 80
Glycerol monolaurate
Methylcellulose
On the other side, emulsifiers are not all created equally.
Lecithins
You see these terms commonly used in "natural products:"
lecithin
sunflower lecithin
soy lecithin
egg lecithin
Ingestion of lecithin at high dosage in healthy human volunteers (22‐83 g/day for 2‐4 months) has shown no obvious ill effects, though a lowering of plasma triglyceride levels has been reported.
My Personal Opinion and Take on Food Emulsifiers and the Gut
Like everything else, the research is there on both sides of the fence: food emulsifiers are fine for the gut and food emulsifiers are highly damaging for the gut.
So here's where I'm at with them. Feel free to use these guidelines for your own journey as well:
Take this all for what it's worth to you at this stage of your journey.
It's actually not super complicated to figure it out.
Start here and do these two things:
Ask, "How is this working for me?"
Keep a tight food journal via a gut healing journal. It's the only way to know what ingredients are bothering you, in what quantities, etc.
You can get the instant PDF version of the 90-day gut healing journey journal HERE or, purchase the physical, spiral-bound copy to ship directly to your doorsteps.
Questions about any of the emulsifiers in particular? I've written, separately, about Carrageenan HERE.
But is there another one from the master list above that you'd enjoy a full post on? Let me know in the comments below.
Sources: HERE, HERE, HERE, HERE and HERE.
If you liked this post, you might also enjoy:

Xox,
SKH
You will heal. I will help.