As soon I knew for sure I wanted to partner with Vital Proteins, I knew that this post, why I believe in gelatin for gut healing, would be the first post I shared with you.
…because I whole-heartedly do believe in gelatin for gut healing.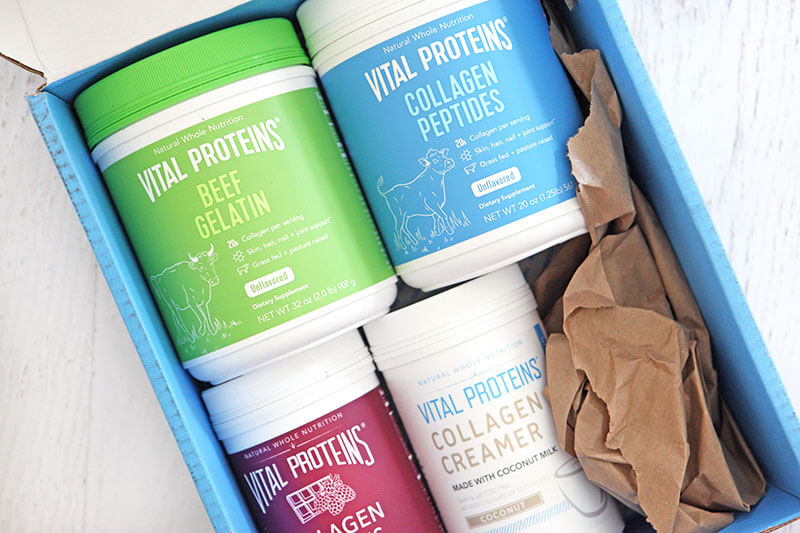 Bone Broth
Have you ever made a batch of my incredible bone broth? Of course you have. But here is a common question/complaint I get,
After I made your bone broth, I put it in the fridge because there was so much leftover. When I woke up in the morning to make a cup, I was so grossed out. There was a huge layer of fat sitting on top. Is that normal?
The answer is this: Yes, it's normal. Yes, you should use it. And yes, it's where a lot of the broth "magic" is hidden. (Also, vegetable broth does not have this, which is – in my opinion – 99% why it lacks flavor. Fat = flavor, mmmmmkay?) The only caveat to this is if you are not using super high-quality meat and bones because then the (new-ish) fear is that your broth could be hurting you more than helping.
Anyways, back to that layer. That layer is the gelatin, even though most refer to it as collagen. Vital Proteins details it here, saying, "Beef collagen is a form of gelatin…."
According to the Townsend Letter (which is highly respected),
It (gelatin) is usually encountered in powdered form, but gelatin also describes the collagen extracted into broth. Properly prepared broth will gel, just like Jell-O, when cooled, because collagen is rubbery and flexible. Webster's Dictionary defines gelatin as "the…substance extracted by boiling bones, hoofs, and animal tissues."16 Since collagen is present in both bone and cartilage, it can be extracted from either of the two connective tissues and be labeled as gelatin.
Gelatin History
In Gelatin in Nutrition and Medicine, Dr. Gotthoffer displays the findings of several gelatin surveys that were conducted from the late 1800s to the mid-1900s. According to that same article via Townsend Letter,
….one general area of health prescription clearly comes to the fore, and that is digestion. Most notably, he refers to over 30 years of research on gelatin's ability to improve the digestion of milk. In the early 1900s gelatin was therefore recommended as an ingredient in infant formula, to decrease allergic reactions, colic and respiratory ailments. Gelatin was also reported to increase the digestibility of beans and meat (which gives credence to the practice of serving meat with gravy). It was also found that gelatin increased the utilization of the protein in wheat, oats and barley, all gluten containing grains.
Other things Gotthoffer found it beneficial for were:
hyper- and hypo-stomach acidity
broth is healing and coating to the gastrointestinal lining
its ability to calm and soothe
improve body weight as well as bone mineral density in states of protein undernutrition
help cancer patients who have lost weight
Why I Believe in Gelatin for Gut Healing
Click HERE to save this post for later.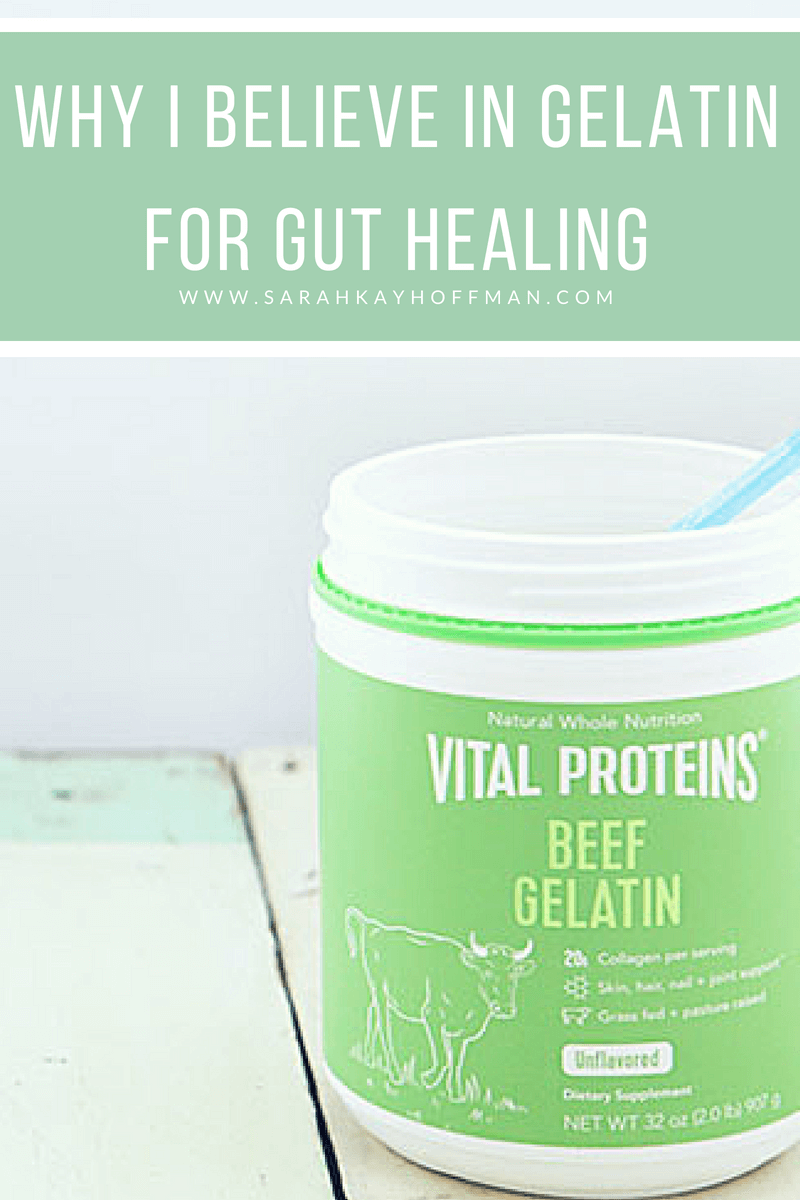 The Townsend Letter article concluded on gelatin with this,
Gelatin (broth) can be considered for use in the following conditions: food allergies, dairy maldigestion, colic, bean maldigestion, meat maldigestion, grain maldigestion, hypochlorhydria, hyperacidity (gastroesophageal reflux, gastritis, ulcer, hiatal hernia) inflammatory bowel disease (Crohn's disease and ulcerative colitis), irritable bowel syndrome, leaky gut syndrome, malnutrition, weight loss, muscle wasting, cancer, osteoporosis, calcium deficiency and anemia.
Quite honestly, there is nothing else profound I can add for why I believe in gelatin for gut healing.
All of those reasons, in summation, are why I believe in it.
Many of them are reasons you all would believe in it, too….as you live with one or several of the conditions listed above. When I was super rigid with gelatin supplementation daily, I was at my best. I have returned to it, most days of the week.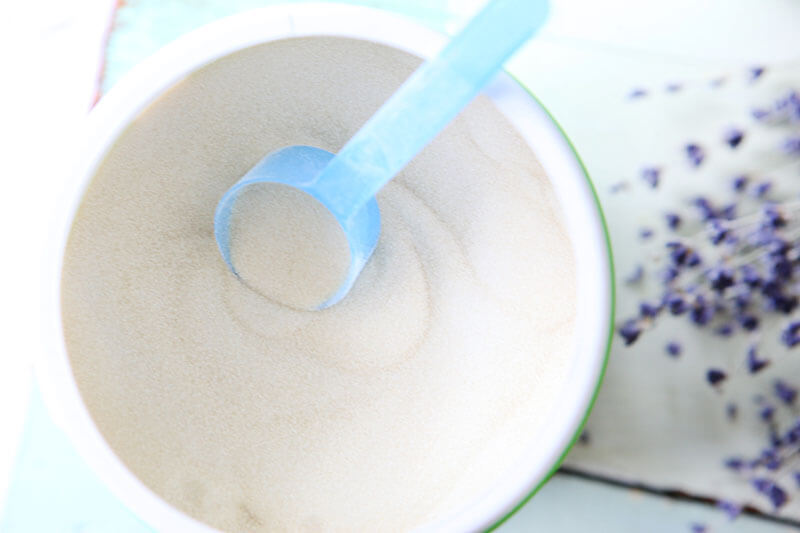 Why Vital Proteins Gelatin?
With various gelatin brands on the market, why would you choose Vital Proteins?
"….are sourced from the hide of Brazilian grass-fed cattle, predominantly the Nelore breed. These hides are a byproduct of the cattle industry, which means that the cattle are first used for their meat. At Vital Proteins, we are advocates of using the whole animal whenever possible, helping to reduce waste and improve sustainability." Furthermore, "Since the cattle were pasture-raised and grass fed, this eliminates the risk of rBGH in their feed. Brazil also has a law (Decree No 57 824 Article 4(4)) which prohibits the addition of hormones to feed. The hormone rBGH is typically injected into dairy cows to make them produce more milk. The Nelore breed is not a dairy producing cow and is strictly used as a beef breed. Based on these factors, the collagen is derived from bovine hide without the use of hormones like rBGH."

Animal Wellfare Alliance

I desperately wanted to heal my gut with a Vegetarian Diet. It didn't work (for me). In fact, to a degree I got worse (a topic for another day). But what I'm still set on, is eating the highest quality meat and other animal products as often as possible. Vital Proteins Beef Gelatin is, "sourced in alignment with the 5-step animal welfare rating standard set by the Global Animal Partnership."

I trust them

I have been in contact with Vital Proteins for a couple years now. My main contact is always responsive, helpful, and truly interested in wanting to help me communicate their product and brand in the best way possible. The only thing I have yet to do with the brand is physically go there (on my list!) to meet them. And when I trust a brand, I'm always likely to choose it no matter what and recommend it to friends and family.
You can learn more about Vital Proteins Beef Gelatin and buy it HERE.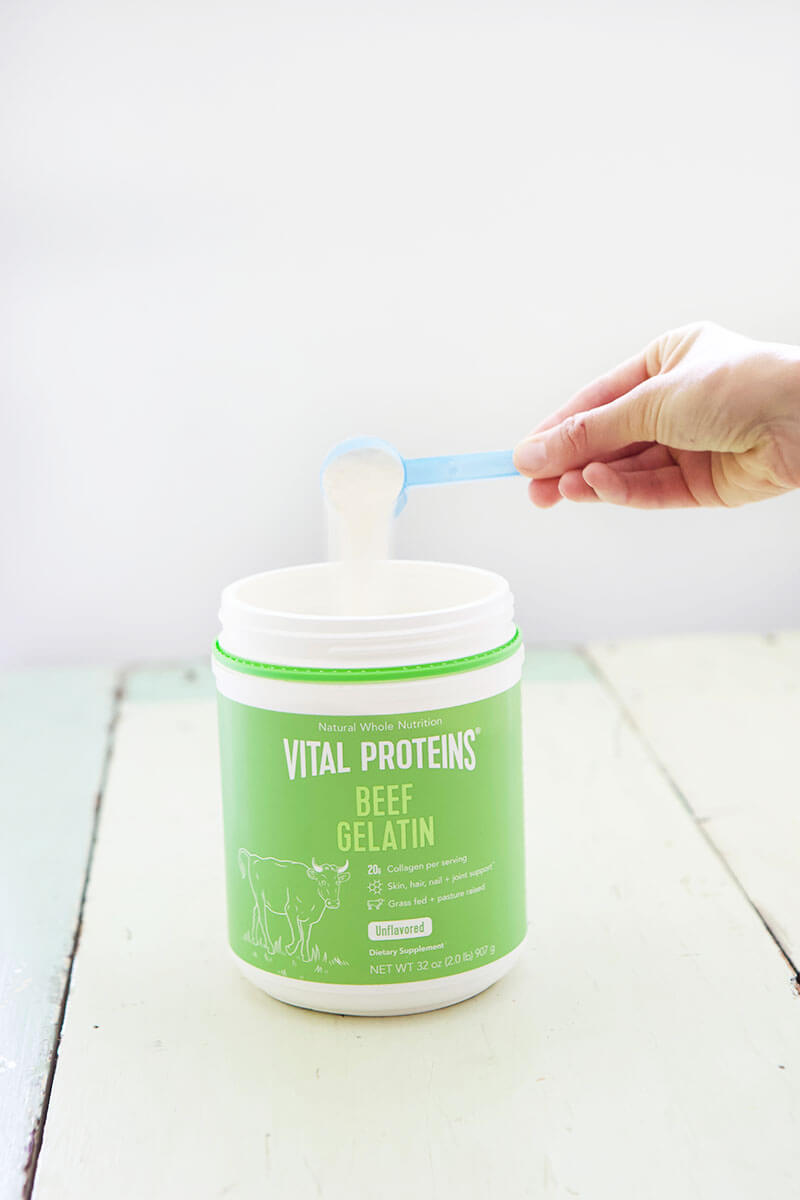 Disclosure: This post is a paid partnership with Vital Proteins. All opinions stated here are 100% my own. I appreciate your support, as this compensation helps with expenses to keep this blog up and running, and for me to continue sharing all that I can with you. For my full disclaimer and disclosure click HERE. Thank you for your support!
Xox,
SKH
You will heal. I will help.