I'm ready to share my 28-day Rifaximin and Neomycin SIBO journal.
As soon as I mentioned I'd be starting Rifaximin + Neomycin again, everyone started asking me to share what the days were like on it; side effects, ups, downs, etc.
So I chose to document the 28 days, and now that they are over (ended on June 28, 2018), I wanted this to be as helpful and useful as possible for anyone who might come across this blog post without me needing to give every single last detail about each of the 28 days.
So with that….
My 28-Day Rifaximin and Neomycin SIBO Journal
Click HERE to save this post for later.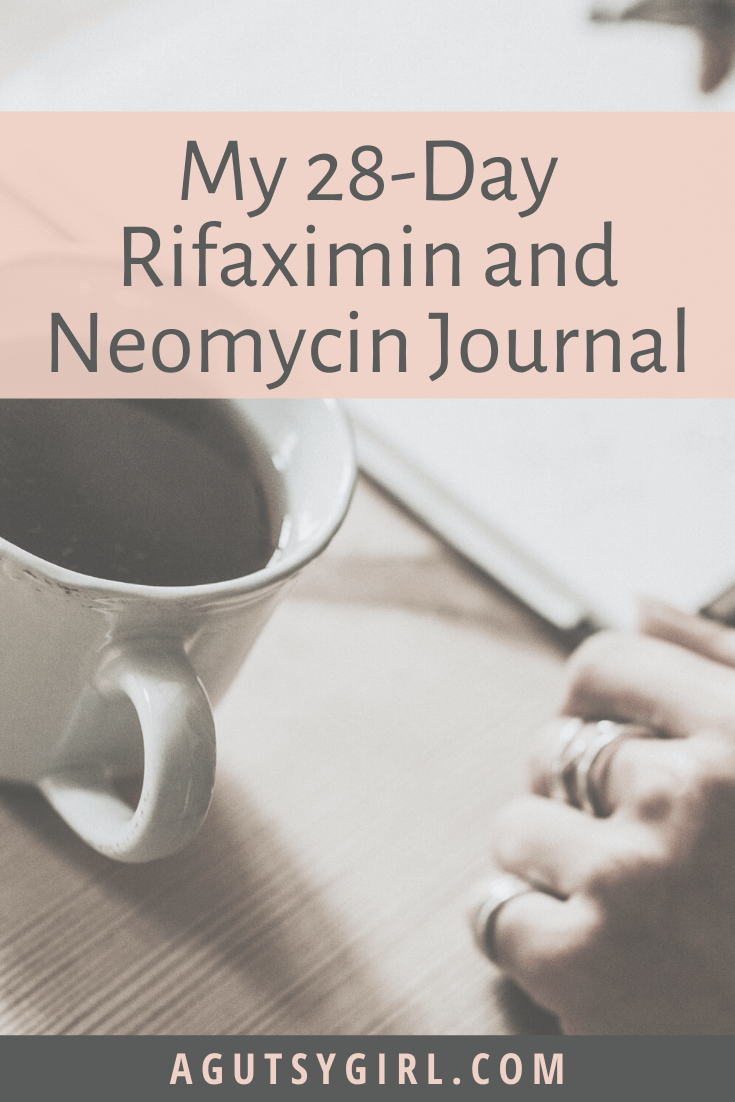 I used a small notebook, in fact, it's just my journal and I used the last 28 pages of it for this little experiment.
At the top of each day I wrote (example): Day 1: Rifaximin + Neomycin Friday, June 1, 2018.
Updated in 2020 to add: If I had to do my entire journey over, I would have used the Healing Blooms from Within journal. This 90-day journal was created from a decade of experience, and would have made these 28 days FAR easier to record, manage, and evaluate.
Beneath each day, I had 6 sections. They included (in order):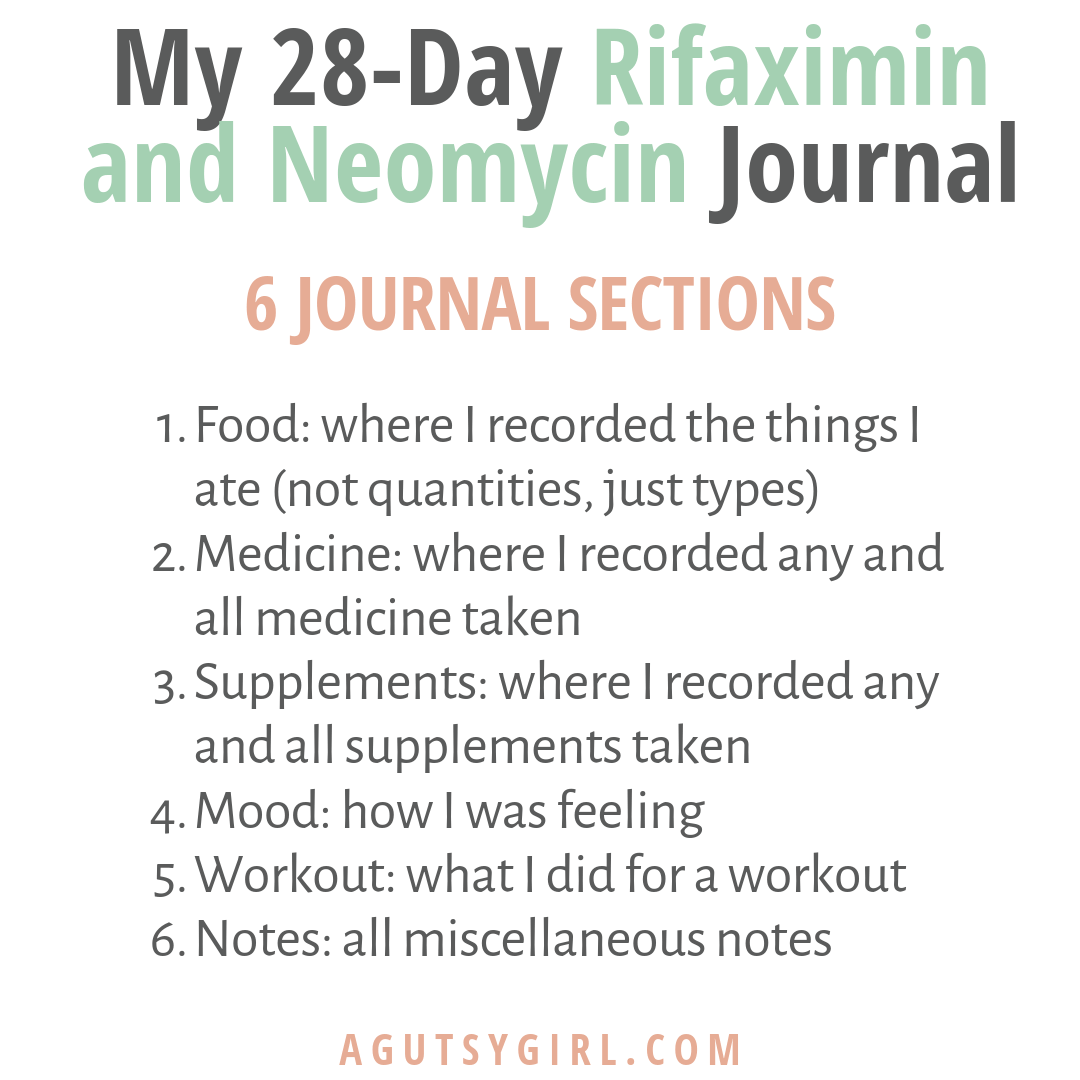 Food: where I recorded the things I ate (not quantities, just types)
Medicine: where I recorded any and all medicine taken
Supplements: where I recorded any and all supplements taken
Mood: how I was feeling
Workout: what I did for a workout
Notes: all miscellaneous notes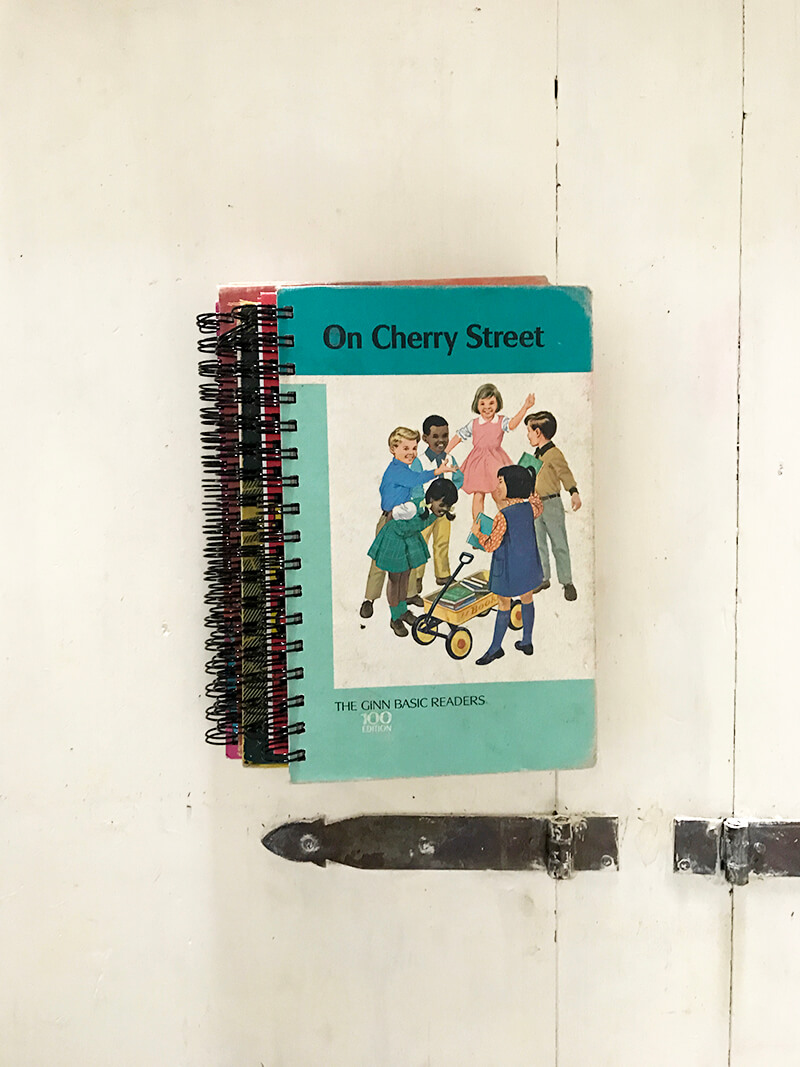 Here we are the key (consistent) things from the 28 days:
My food didn't change a ton. I toggled between no, low, and high-FODMAP, depending on the day, how I was feeling, and what I was comfortable with.
Every single day from Day 1 – Day 14, my medicines consisted of Rifaximin x 3 per day, Neomycin x 2 per day, LDN (low dose naltrexone) at night before bed, WP Thyroid on an empty stomach immediately upon waking up each day.
Once Day 15 hit, all medicine was the same except no more Neomycin.
Almost every single day, my supplements stayed consistent with just digestive enzymes, HCL, and Adrenal Glandular. There was a period of time when I took Atrantil (2-3 times per day x's 2 pills per time) as well.
I was working out almost every single day, and barely ever was it "light and easy."
Interesting/telling things from the 28 days on Rifaximin and Neomycin
Click HERE to save this for later.
Days 1-14 (Rifaximin + Neomycin)
On day 1

I felt great until 4pm when I started feeling semi-nauseous. Just prior to starting, though, I had been low-FODMAP so I wasn't expecting to feel anything less than great. I also forgot to eat FODMAPs on day 1, so there was that.

On day 2

I still didn't have any bloat, but the nausea started hitting me. I got some ginger mints and that worked wonders. It was a Saturday so I had a long, 8-mile run that day which I noted left me completely wiped out and fatigued.

Day 4 was a major high

I made note that night: "No bloat. No gas. 2 great BM's. Almost no nausea. Very tired around 3pm, but I also only got 6 hours of sleep last night. Still no back acne returned."

But then day 5 hit and bam

Most of the rest of the 28 days would be misery. That day I did a hard 20-minute workout, and I made note: "Sometime after workout = bloat, bad at night with huge bloat." I also then commented, "Correlation between the hard workouts, my lower back, and bloat?"

The super bloat continues

And on day 8 my notes said: "Super bloat all day. Sitting in lower stomach. Lower back made it worse after early morning workout. So bloated I could barely breathe. Left-side pain-like gas and nausea."

I start getting super paranoid

Paranoid that nothing is going to work this time, and I dig deep back into all the research. On day 10 I noted: "Methanogens are tough characters (Dr. Pimental). I was so tired in the morning, felt super blah, dozed off about an hour, bloated and sitting in my lower gut."

By this point

I'm eating all the FODMAPs because I continue telling myself to, "just trust the process." But it feels like hell, and on day 12 I note: "Feeling so uncomfortable in my clothes – nothing fits, left-side pain all day. My mouth is highly irritated."

At the beginning of that week

Days 10-13, I was in New York for work. When I get home and settled on day 14, I noted: "Horrible fatigue today. A lot of nausea. Coffee aversions. Overall down day."

This is not a day I can forget because I got out of bed that morning thinking (remembering) how it was around day 13/14 of the previous SIBO antibiotic cycles when seemingly overnight I felt 100% again. I had so much hope, but not even an hour after waking up, I was back in bed, thinking maybe I had the flu. I felt miserable. And when I did spring back to life, I began having the coffee aversions, which lasted for most of the rest of the 28 days. Who was I anyways?! But that was day 14, which meant the final day of Neomycin.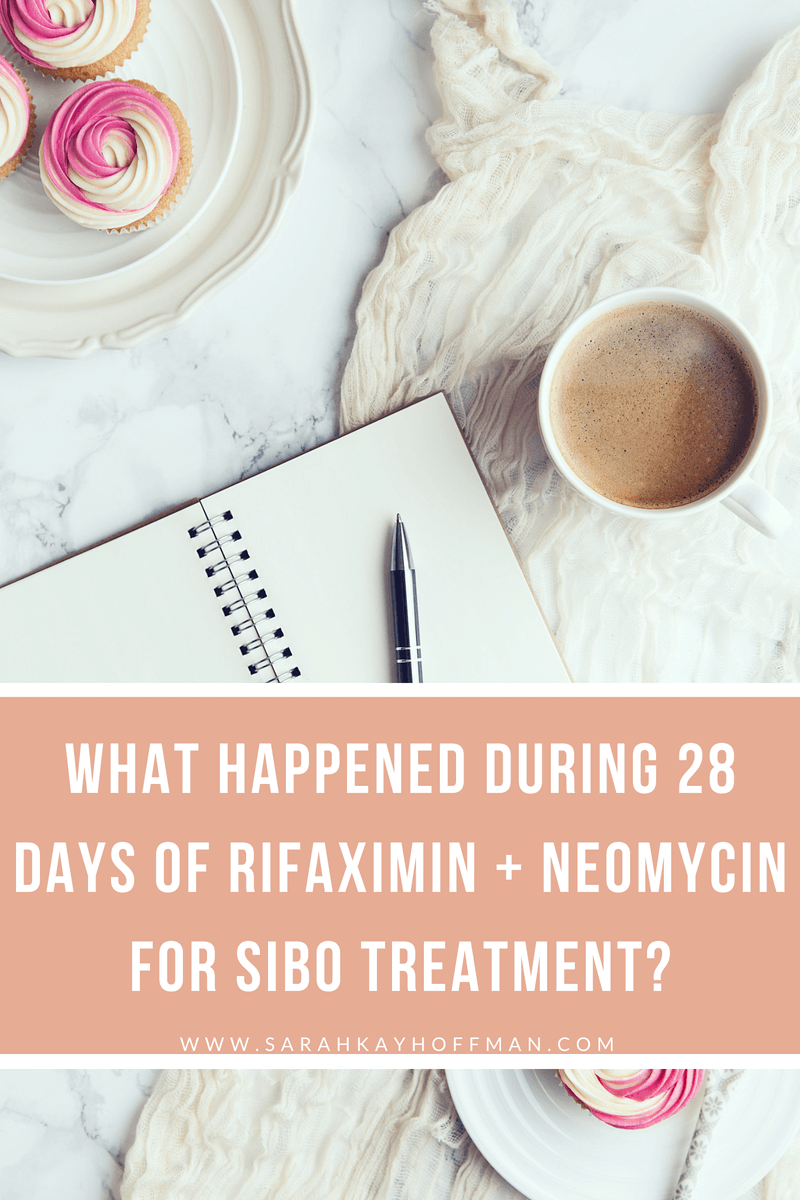 Days 15-28 (Rifaximin only)
Miraculously

On day 15, all nausea went away. Don't you dare think this is made up, either. It's a very common side effect of Neomycin. The nausea is the worst. I did a hard 20-minute workout that day, and at night I felt so fatigued, drained, and my throat even hurt some.

By the way, at this point in the game, my weight was still creeping up some.

The next day

On day 16, I felt achy and sick again. I was so achy that I even had to take some Advil to get through the day (which I never, ever have to do unless my female monthly friend is visiting).

Because I was getting so afraid, I figured I might as well start Atrantil to see if that would help. I was insane (yes, looking back, just pure insanity) and ran an "easy" 7 miles that day.

And looking back

It's no surprise, then, that on day 17 I was still so achy and had to take Advil yet again. I also developed a stye in my eye. But at least I completely took the day off from working out that day.

I should mention

Even though I was on the struggle bus this entire time, I was going to the bathroom every single day like a normal person with BM's that were just fine. That was my sign for hope that repair could happen.

On day 19

I didn't eat much, but here's what I did eat: coffee, coconut milk, monk fruit, chicken, honey mustard, Chipotle Rice Bowl with that huge heaping of guacamole, S'mores Quest Bar, booch, peanut butter, espresso coconut chips. And overall I just felt off and blah. I noted, "I'm bloated, lower stomach sloshing, frustrated – mad – sad, I think it's just time to follow the tried-tested-true diet for me."

So on day 20

I stopped eating the FODMAPs and grains, dairy, and anything else that's "technically" encouraged during the antibiotic protocol. And I also started fasting again, and fasted for 14 hours that night/morning.

I stayed the course

But on day 22 felt the super bloat again, noting: "All this bloat — when I started Atrantil again?" But I stayed with the Atrantil through day day 24.

On day 25

I cut the Atrantil cold turkey. Day 25 was miserable (I also ran 6 miles that day), but I decided to finish my last few days with some FODMAPs and grains and carbs sprinkled in here and there, but no Atrantil.

Day 26

Food: coffee, coconut milk, monk fruit, smoothie (Elmhurst Milked Unsweetened Hazelnut, kale, spinach, Swiss chard, banana, blueberries, hempseeds), Banana, Paleo Bar, pork rinds, collard greens, homemade dressing (olive oil, cinnamon, apple cider vinegar), chicken, turkey, flaxseed + pumpkin seeds, 100% chocolate, walnuts, banana and almond butter
Medicine: Rifaximin x 3, WP Thyroid, LDN
Supplements: HCL, enzymes, L-Glutamine, gelatin, adrenal glandular
Mood: great
Workout: Nia's workout (which is straight lifting) + a 1-mile walk
Notes: BEST day yet! ZERO bloat.

I finished day 27-28 the exact same. No bloat; perfection
Rifaximin Side Effects
This is a question I get all the time,
I heard the side effects from Rifaximin are really bad. Did you experience any Rifaximin side effects?
The answer is, "No." And I think I took it a total of 4 times throughout my journey.
I did, however, have awful nausea from the Neomycin each time I took that.
Just because I did not have Rifaximin side effects doesn't mean there aren't any.
Wrap Up from My Rifaximin and Neomycin Experience
And there you have it….my 28-day Rifaximin and Neomycin SIBO journal.
What's the point of keeping a meticulous journal so we can see progression (or regression for that matter) like my 28-day Rifaximin and Neomycin SIBO journal or a Healing Blooms from Within (the 90-day gut healing journey journal) we're not going to act upon the findings?
While I did want to keep track of all this so I could share the experience and journey with those who have SIBO and/or are thinking about doing the antibiotics, I also wanted to do it for myself – to understand exactly what to do next and why.
Because listen, my testing results for anything underlying are still inconclusive. Numbers are off, but specific tests are still negative (i.e. I don't have Lyme disease).
I will never stop seeking the real answers (i.e. mold test, the Colonoscopy and Endoscopy, etc.) as to why I would relapse 4 times now when my lifestyle would (otherwise) indicate a relapse should never occur.
However, upon studying my 28-day Rifaximin and Neomycin SIBO journal, there are things I know for sure. I can draw many conclusions, and I can take the very worst days and see possible connections for why they were the very worst days.
Questions? Ask in the comments below or EMAIL ME.
Updated in 2020 to add: I am healed. I have had no relapse since this time period.
If you liked this post, you might also enjoy:
Healing Blooms from Within – the 90-day gut healing journal
Xox,
SKH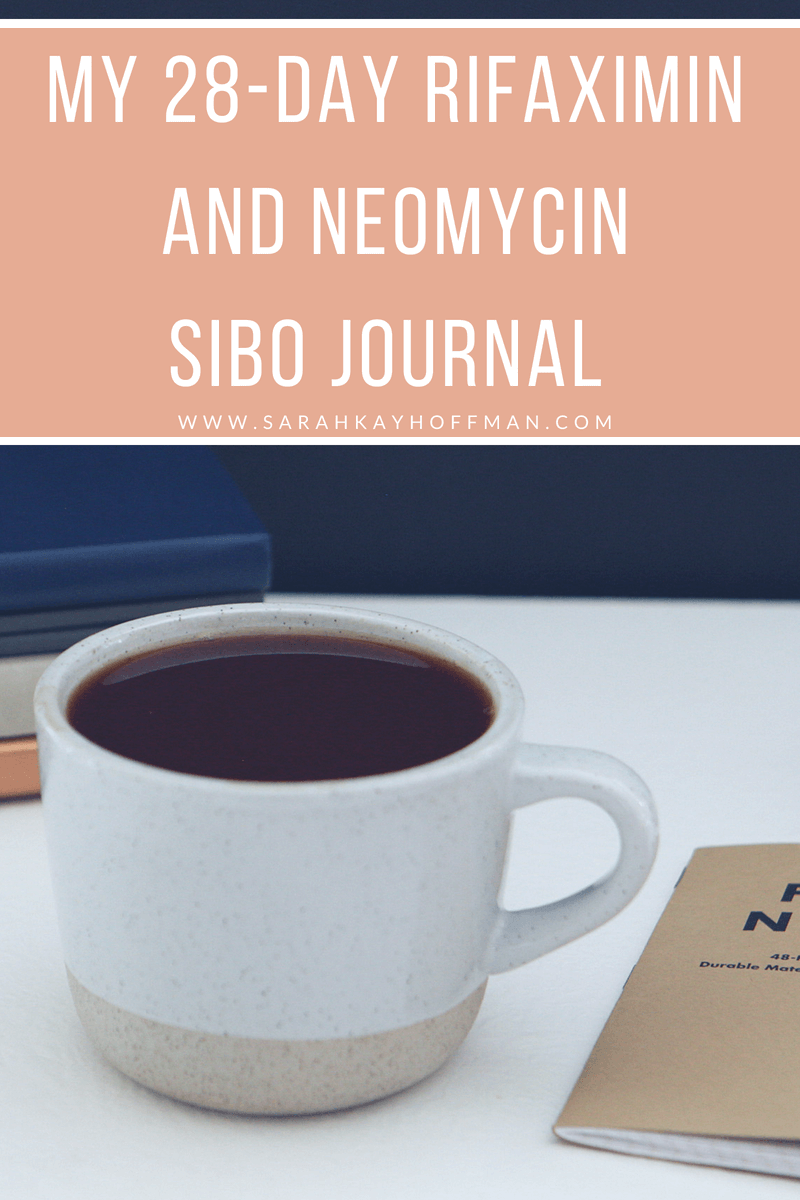 You will heal. I will help.