As I told Wellness Mama on the podcast episode, "I don't think SIBO can ever truly heal unless you understand what caused your SIBO."
I have some answers for you today, and this time it's from the one and only Dr. Nirala Jacobi.
Who is Dr Nirala Jacobi?
Dr. Nirala Jacobi, BHSc, ND (USA) graduated from Bastyr University in 1998 with a doctorate in naturopathic medicine. She practiced as a primary care physician in Montana for 7 years before arriving in Australia.
Nirala is considered one of Australia's leading expert in the treatment of small intestine bacterial overgrowth (SIBO), a common cause of IBS.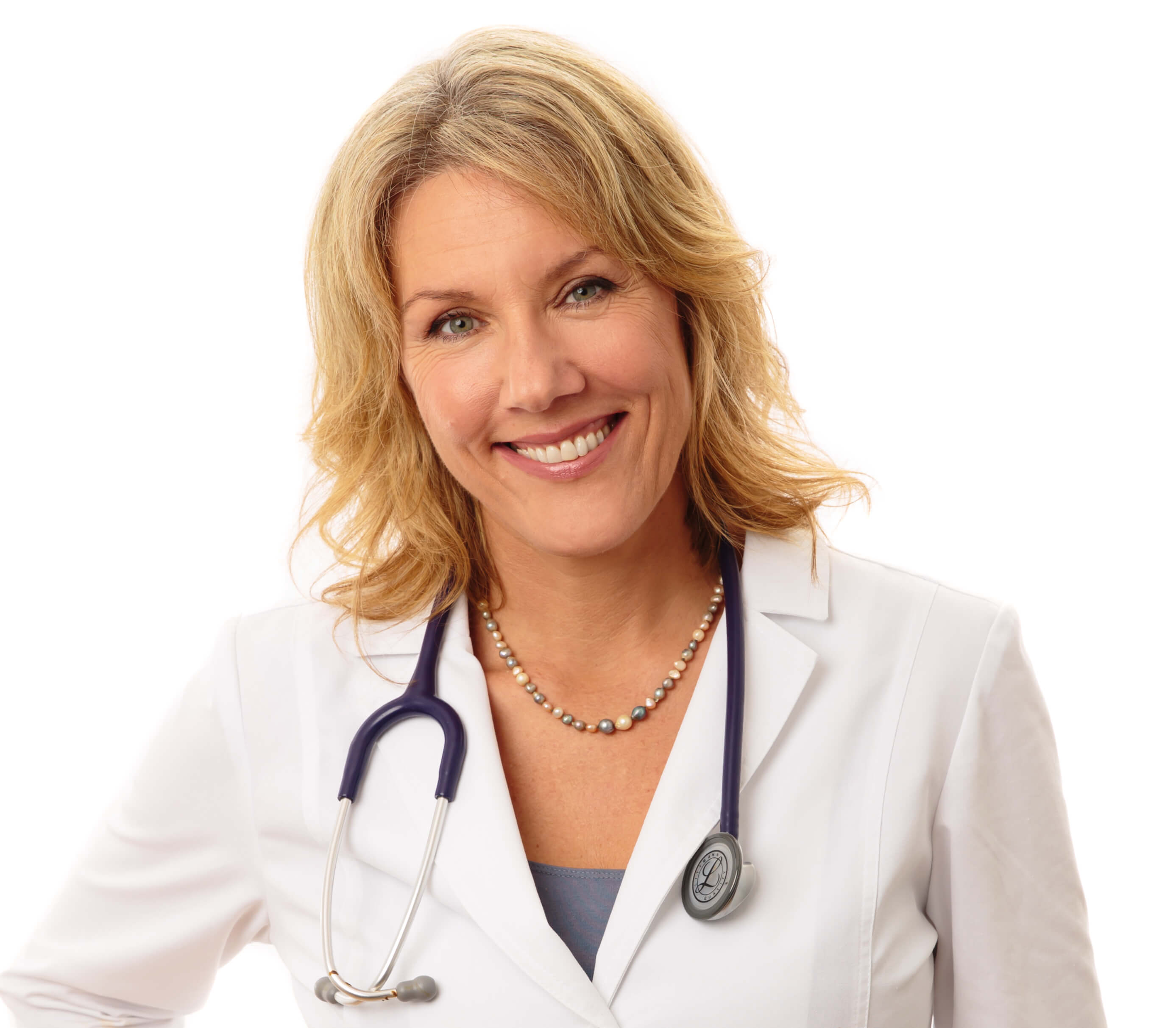 She is the medical director for SIBO test, an online testing service for practitioners. Nirala is so passionate about educating practitioners that she founded "The SIBO Doctor", an online professional education platform for functional digestive disorders. She lectures nationally and internationally about the assessment and treatment of SIBO and is the host of the popular podcast The SIBO Doctor podcast for practitioners.
Nirala is the medical director and senior naturopathic physician at The Biome Clinic, center for functional digestive disorders in Mullumbimby, New South Wales.
Nirala is also one of the co-founders of the Australian Naturopathic Summit, a biennial event that aims to promote and showcase the art and science of naturopathic medicine in Australia
When she is not actively researching, seeing patients or lecturing, Dr. Jacobi can be found enjoying the beauty of nature.
Today, she came to share a post on what caused your SIBO.
What Caused Your SIBO
Click HERE to save this post for later.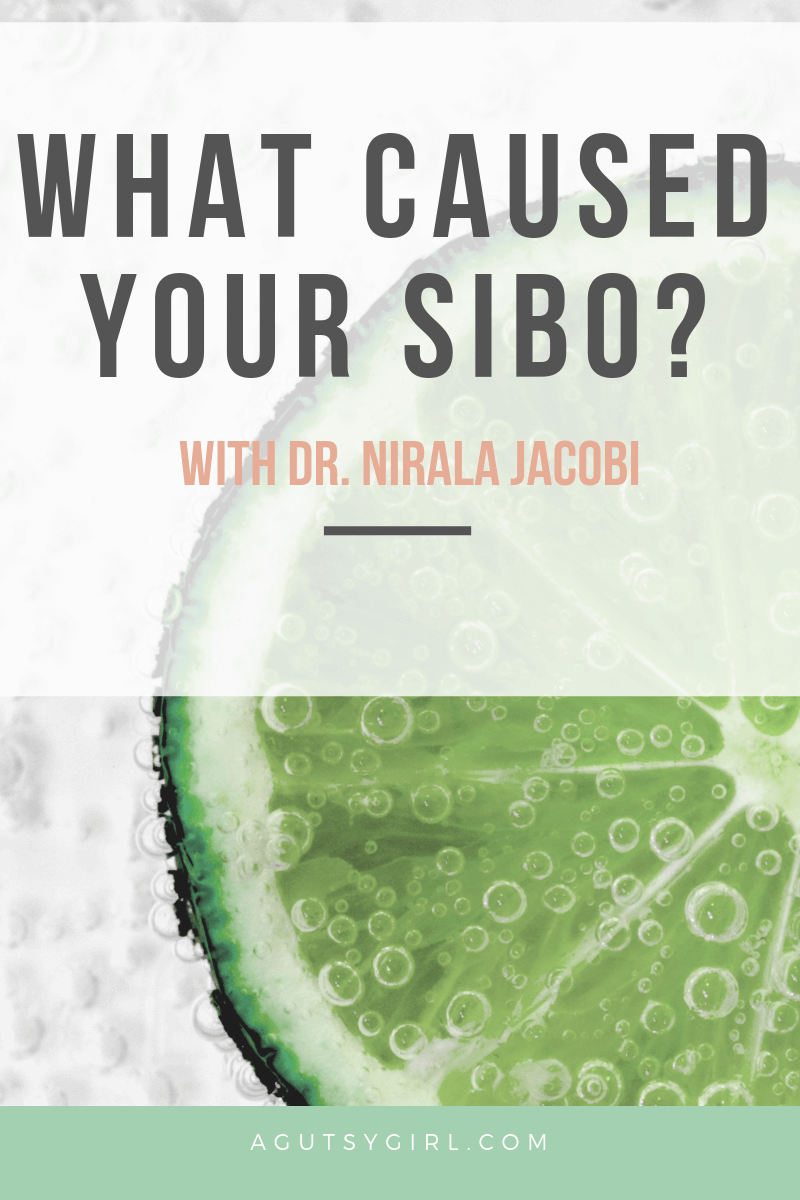 SIBO is a condition in which bacteria are overgrowing in the small intestines, an area that normally does not allow tremendous bacterial growth. This results in food being fermented, causing gas, bloating, diarrhea or constipation as well as a multitude of other symptoms.
Treatment of SIBO usually includes the use of herbal or conventional antimicrobials to get rid of the bacteria. Often, there is no further treatment offered after this.
If you're reading this post, chances are you've been diagnosed with SIBO or IBS and are looking for answers. You may even have had treatment for SIBO but you don't feel completely well yet and have some persistent symptoms. Or maybe you're one of the many people who have relapsing SIBO.
What many people don't know is the fact that something caused bacteria to overgrow in the small intestine and it's not until you've also addressed the cause will you be truly free of SIBO.
Let's have a look at the causes that drive the development of SIBO.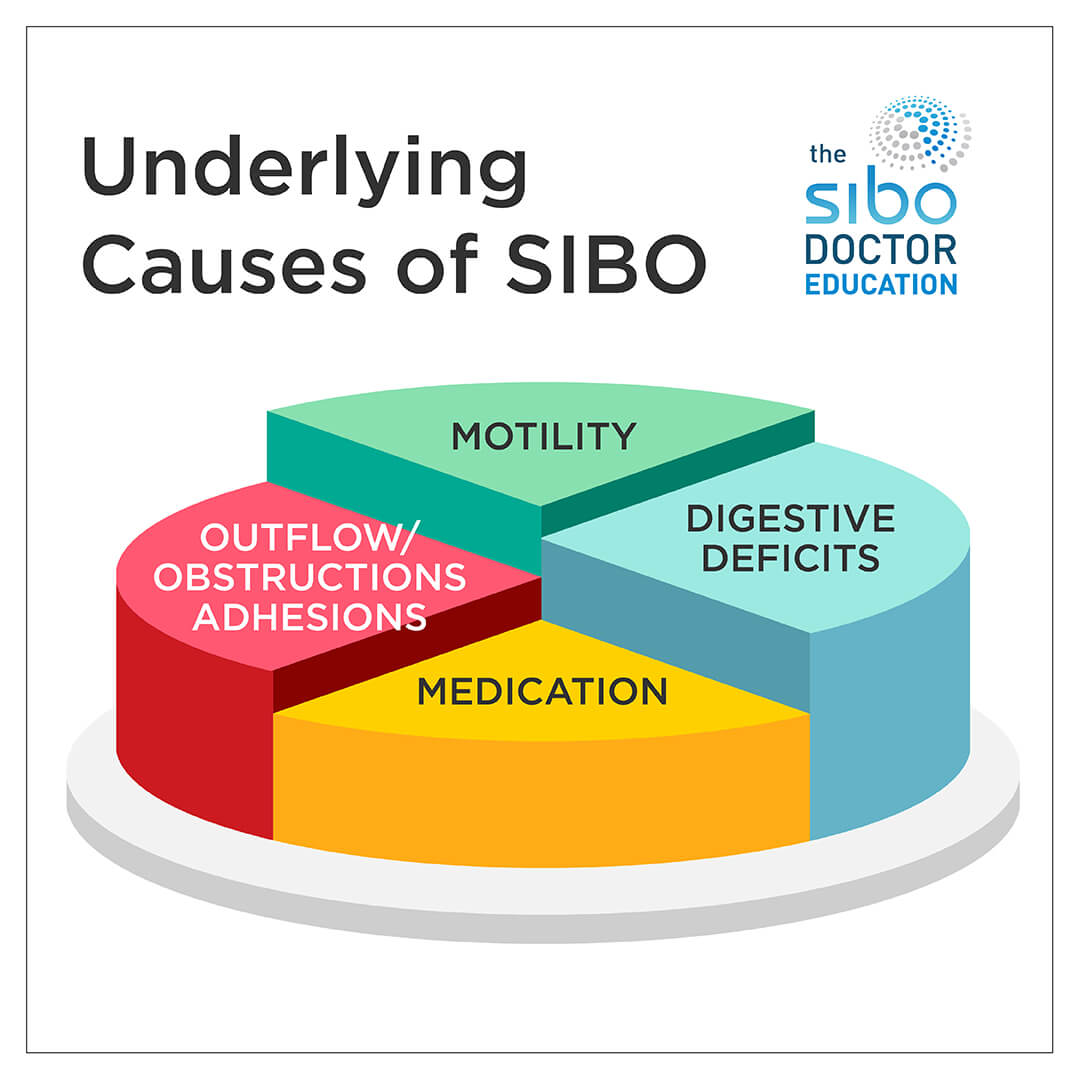 Generally, there are 4 major categories of causes.
Motility: The small intestine has a "cleansing wave" that sweeps bacteria towards the colon. This wave, called the migrating motor complex, should occur every 90 minutes on an empty stomach. When there are problems with this wave, bacteria are not swept out of the small intestine and so they stay there and multiply. Conditions that affect this wave include post-infectious IBS, hypothyroidism, and chronic stealth infections like Lyme disease and viral infections. There are many other conditions that affect motility.
Digestion: the digestive juices include stomach acid, bile from your gallbladder, and pancreatic enzymes. Besides helping you digest your food, they have the important function of helping to keep bacteria in check. When you have a problem with the secretion of any one of these juices, bacteria will overgrow.
Outflow problems: in this category, something is impeding the normal flow of food through the intestines and bacteria are allowed to stay in the small intestine because something is blocking their exit way to the colon. This is usually due to some previous abdominal surgery or endometriosis which can cause scar tissue or adhesions to form. When this happens the normal flow is impeded, almost like a kink in the garden hose.
Medications that affect the normal motility of the gut or otherwise interfere with normal digestion. These include acid blockers like Nexium, morphine, narcotics and also possibly thyroid medication.
Interested in more from Nirala?
Check out her "What caused my SIBO" questionnaire and have a discussion with your practitioner about your specific cause.
If you'd like to learn more about how you can find your underlying cause, or you're interested in what else you can do beat SIBO other than just taking supplements, you may be interested in the SIBO Success Plan she's created. This plan helps people become more informed and empowered on their journey to digestive freedom. You can learn more about this plan HERE.
p.s. If you enjoyed this post, you might also enjoy going on a FREE 21-Day Gut Healing Journey with me and/or grabbing Reasonable SIBO.
Xox,
SKH
You will heal. I will help.