Does anyone really know the answer to this question, "Why is Rifaximin so expensive?"
Note: This post was originally published on February 5, 2016 as "Where There's a Will." The stories told below are all from back then. I have not taken Rifaximin and/or Neomycin in well over a year because my gut is healed.
It seems as though most people find it incredibly difficult to obtain the antibiotic they need. (And when I say need, you must know that I rarely ever say I need an antibiotic. I have not been to a traditional doctor's visit in years.)
What is Rifaximin?
Rifaximin treats traveler's diarrhea and irritable bowel syndrome by stopping the growth of the bacteria that cause diarrhea. It treats hepatic encephalopathy by stopping the growth of bacteria that produce toxins and that may worsen liver disease.
Rifaximin is a nonabsorbable, broad-spectrum antimicrobial that inhibits bacterial RNA synthesis by binding the β-subunit of microbial RNA polymerase. It targets the gastrointestinal tract and works by reducing the quantity of gas-producing bacteria and altering the predominant species of bacteria present. In vivo animal studies suggest additional beneficial mechanisms of rifaximin, including reducing mucosal inflammation and visceral hypersensitivity.

Clinical studies have demonstrated that rifaximin improves symptoms associated with IBS, such as bloating, flatulence, stool consistency, and abdominal pain, and has a side-effect profile similar to placebo. Although additional investigation into optimal dosing, treatment duration, and potential resistance is required, rifaximin presents as a safe and beneficial addition to the current management options for IBS. (source)

Rifaximin and Neomycin Cost
In order to rid the overgrowth, both Rifaximin and Neomycin are needed, since I have both the Hydrogen and Methane versions of SIBO.
If you know anything about SIBO, you know that the combination is the hardest to get rid of.
About a year ago, I did an extended round of Rifaximin and it cost us about $1,200 (out of pocket), and that's with phenomenal insurance coverage.
Several weeks ago, my doctor sent the prescription in to our pharmacy, and later that day I received a phone call,
Hi. Before we fill your prescription, we wanted to let you know that it's going to be about $1,800 for the Rifaximin. Since this is a mortgage payment for many people, we needed to get your approval before moving forward.
I about died. On principal alone, I denied it. I told them I'd go back to my doctor, and figure something out.
Back-and-forth and back-and-forth we went. Our insurance wasn't willing to do anything. The final option was a pharmacy in Australia my doctor has a good relationship with.
I still had no idea how much it would cost, but I told myself and Ryan that my options were this:
Pray that in Australia they wouldn't completely rob me.
LIVE with the overgrowth, but completely nix all FODMAP foods and go almost 100% Paleo, GAPS/SCD (which by the way might not take care of it entirely, but instead would just help me manage symptoms).
Ryan is amazing and said that he didn't want me to have to struggle through option #2, and that if option #1 wouldn't work, we would pay the $1,800 here.
I denied that, with deep conviction. Again, on principal alone.
Australia Comes Through
Earlier this week the email came through that everything was approved and done. I have tracking confirmation that the Rifaximin is en route to me as I type this.
I just checked its status, and the Rifaximin is now in Los Angeles, which means I should have it in hand by Monday.
My total bill: $277.92
Side note: The Neomycin was only about $24 in the US.
Why is Rifaximin so Expensive?
Click HERE to save this for later.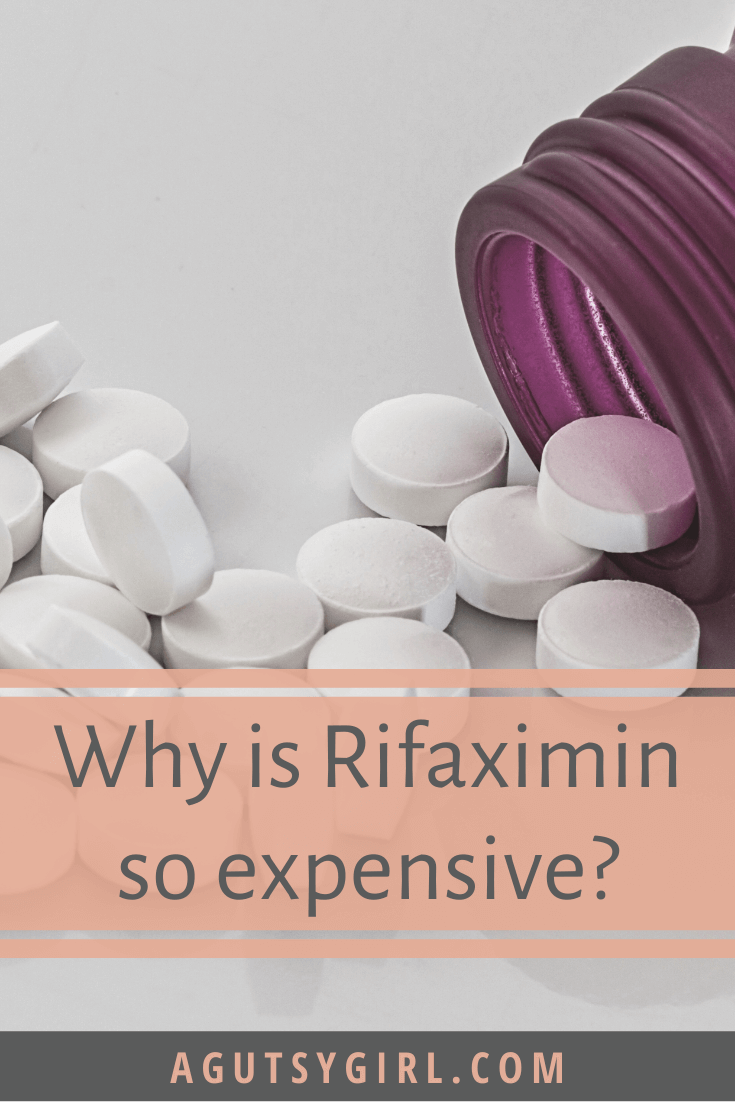 I have been trying to investigate why Rifaximin is so expensive. But I have kind-of-sort-of stopped because it's draining, and it flat out makes me furious.
Rifaximin = A "Rare" Drug?
My pharmacist told me it's because the drug is "rare." I have to call BS on this because I know two women who have gotten the exact same thing as I am getting, and have paid less than $20 for the entire supply. Their common denominator is that a traditional Western medicine doctor wrote their prescriptions and sent them off.
If the pharmacist is right, then people should be very afraid since SIBO diagnosis is on the rise.
And if I am right that it's a matter of functional vs. traditional doctor's prescription then the fact still stands that as long as people stay sick and miserable the wonderful world of "health care" stays rich and abundant.
Not "For" SIBO?
Rifaximin is commonly known as an expensive drug for travelers diarrhea. It has been argued that:
A. SIBO is Not Real and
B. Rifaximin won't help those with SIBO.
Thus, doctor's won't prescribe it and even if they do, it's usually a 2-week course (which, by the way, if your SIBO is bad enough, you'll still be miserable at the 2-week mark likely – read THIS).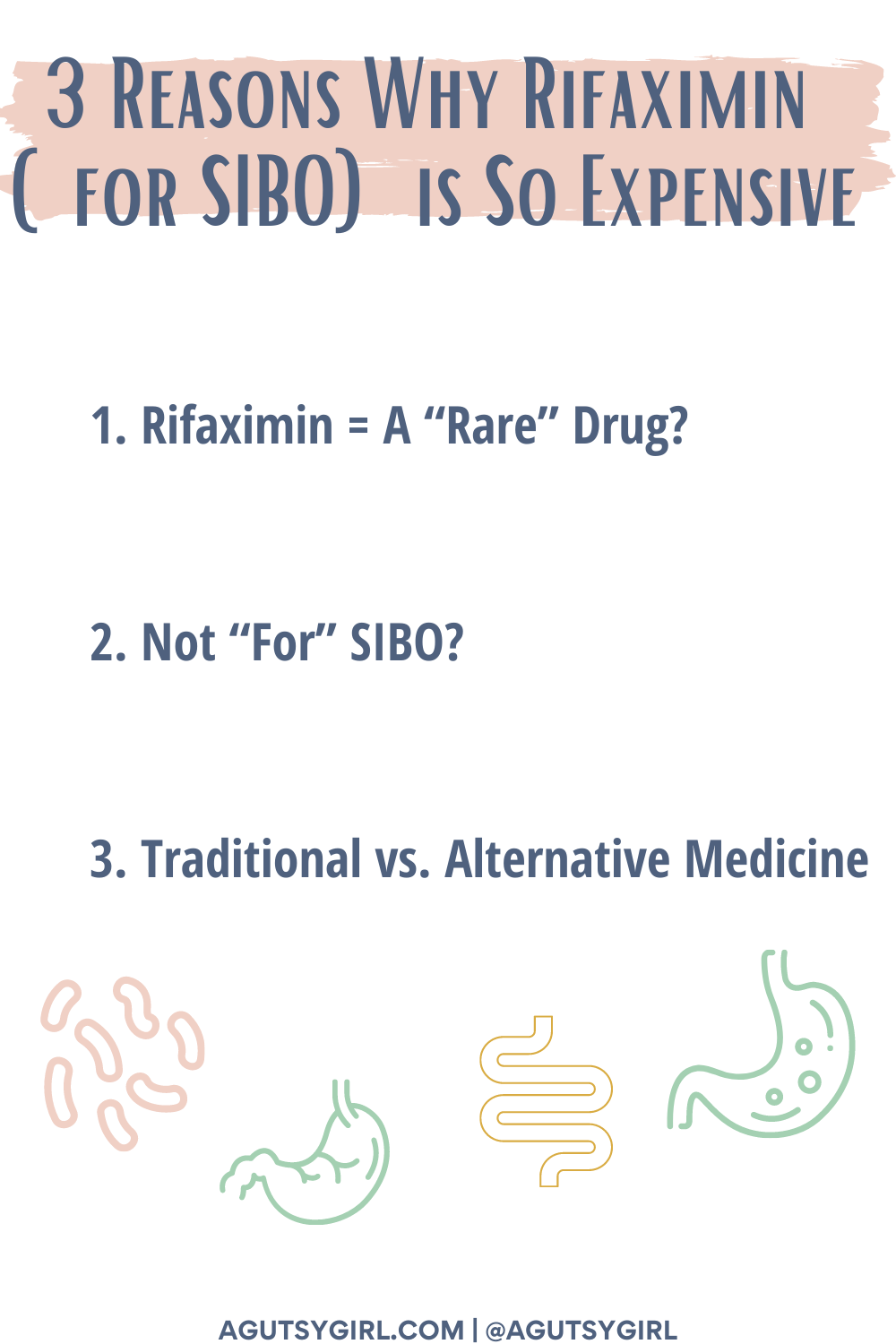 Traditional vs. Alternative Medicine
We all make choices about how we live and the health care we choose to provide ourselves and our families. I have a very ugly past filled with choices which left me ill in my adult life. I am not proud of them, and I have been extremely vocal about doing my very best to not let other young women follow in those same footsteps.
But on the flip side, once I became so ill, I did every single thing in my power to avoid excuses about why I wasn't getting better and to avoid the medical trap that society as a whole falls into.
I spend hundreds, heck – let's be brutally honest, thousands of dollars to get the help I need now. This isn't some whimsical, fruity-loopy wizardry I'm into.
I see a function MD, a "real" doctor with the exact same credentials as any traditional doctor. They attended the same school but one doctor chose the path of getting to a root problem vs. masking problems by suppressing symptoms.
And it's only been through my illness that I have been able to see the VALUE in this. For as much as I hate illness, I feel grateful for this awakening in my life daily.
It gave me a new lease on life.
Without my whimsical,fruity-loopy wizardry doctor, I would have lived my whole life with SIBO, Adrenal Fatigue, and failing hormones and instead bought into taking drugs like Canasa while believing diet and lifestyle didn't matter.
Where There's a Will
Our health care system has left a bitter taste in my mouth. Very bitter.
But like everything else in life, we have a choice.
I could stay bitter OR I could find a way to get what I need and do all the things I need to do to get better.
Not only does it allow me to feel 100% again but it also ensures that I don't have to rely on our health care system.
Those who don't have the will won't ever find the way, and this, ultimately, is exactly what our health care system wants.
There is no money in getting better.
But you can get better, I promise!
If you want to read through my full SIBO healing journey and also where I got the Rifaximin, check out Reasonable SIBO.
If you liked this post, you might also enjoy:

Xox,
SKH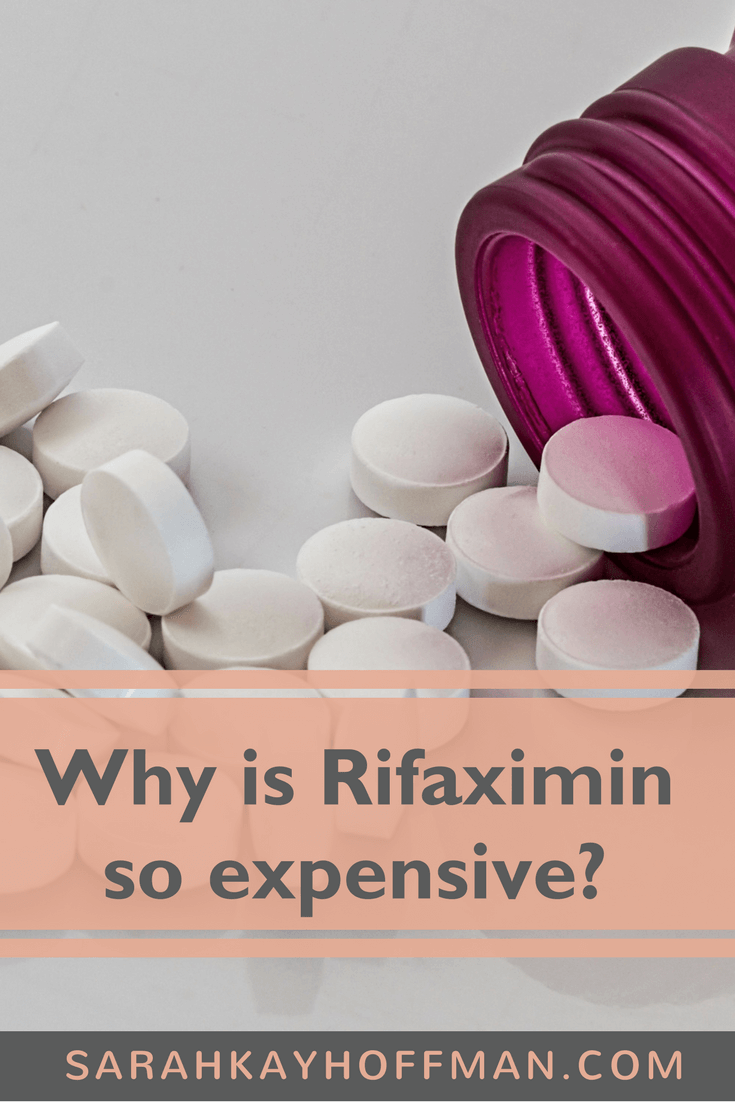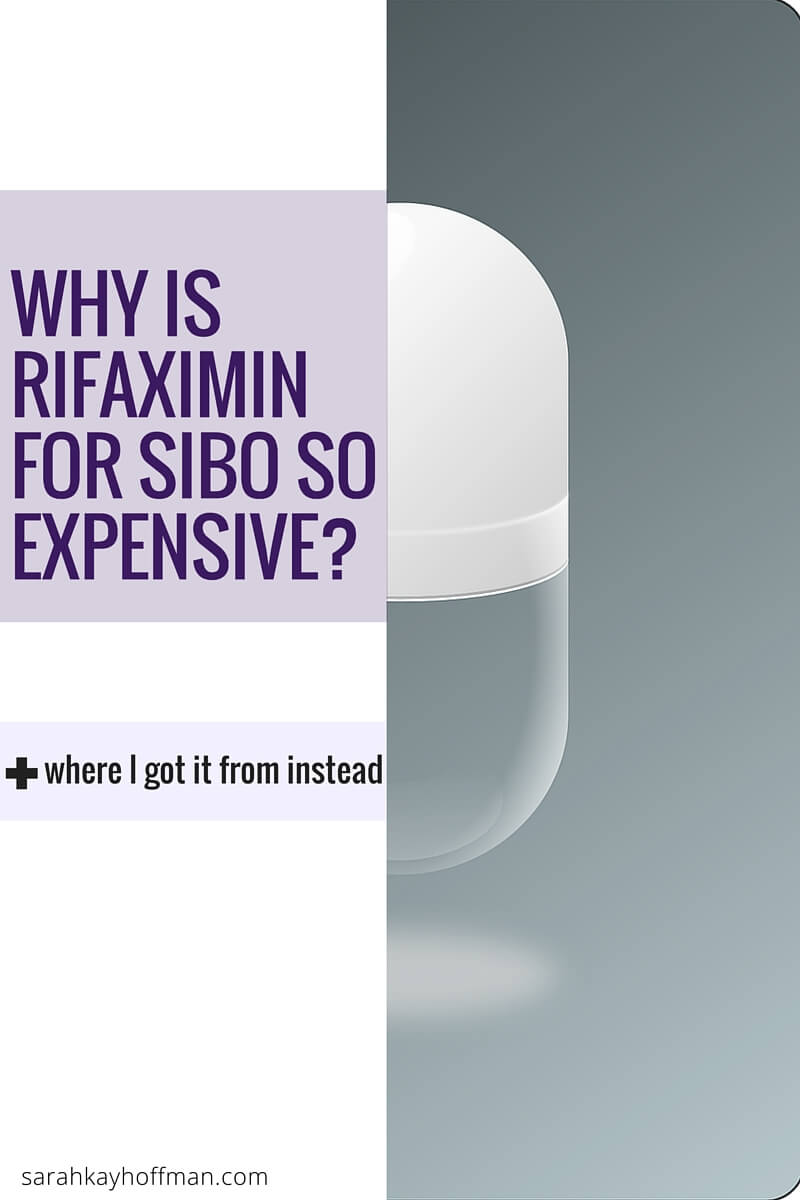 You will heal. I will help.