If you have never tried journaling for gut healing, I want to challenge you to the idea today.
And I'm going to make it fun!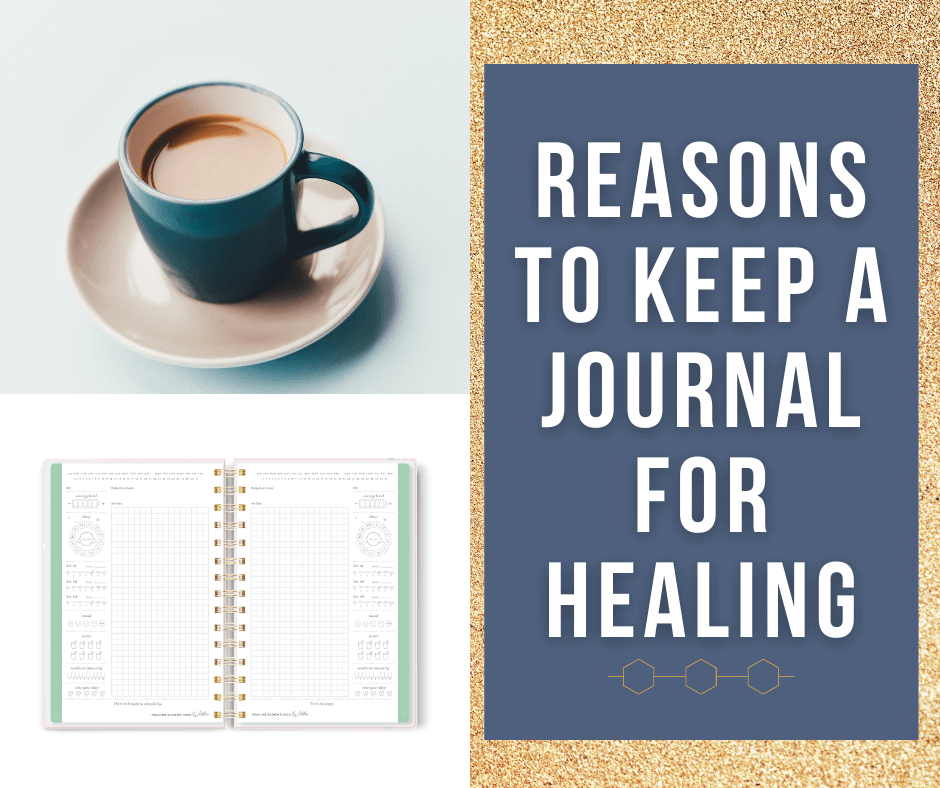 Journaling for Gut Healing – 6 Top Reasons
Click HERE to save this post for later.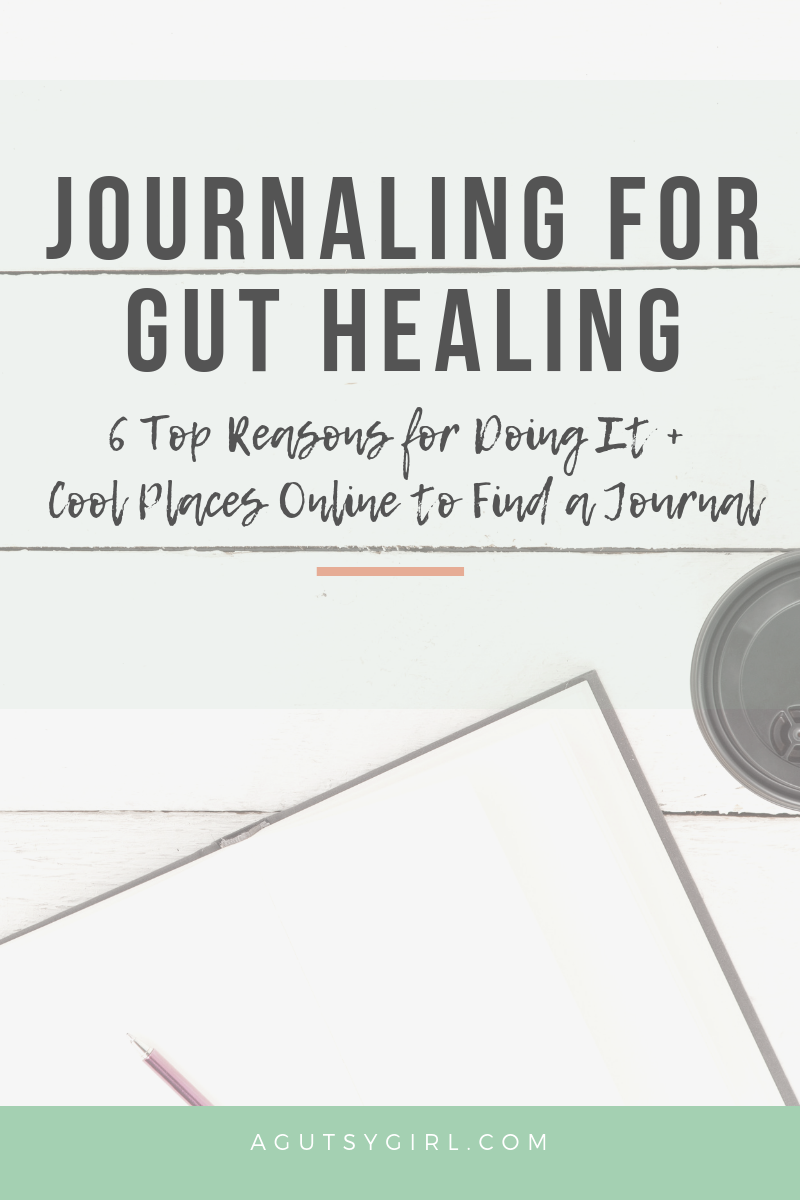 Journaling my way through the gut-healing process was critical. In fact, it was so critical that I believe it truly helped me fully heal to the point where I am no longer journaling on a daily basis.
There is no longer a desperate need for it; I now journal because I adore it (and the beautiful journals I get to brighten the experience even more).
Back then, I did more journaling via a Gut Healing Bullet Journal, which you can see a how-to for HERE.
Even if you didn't want to use a Bullet Journal format, journaling in any way, shape, or form can and will help…..if you make a commitment to doing it.
Here are my top 6 reasons why I believe in journaling for gut healing
+ you can save these 6 reasons for later HERE.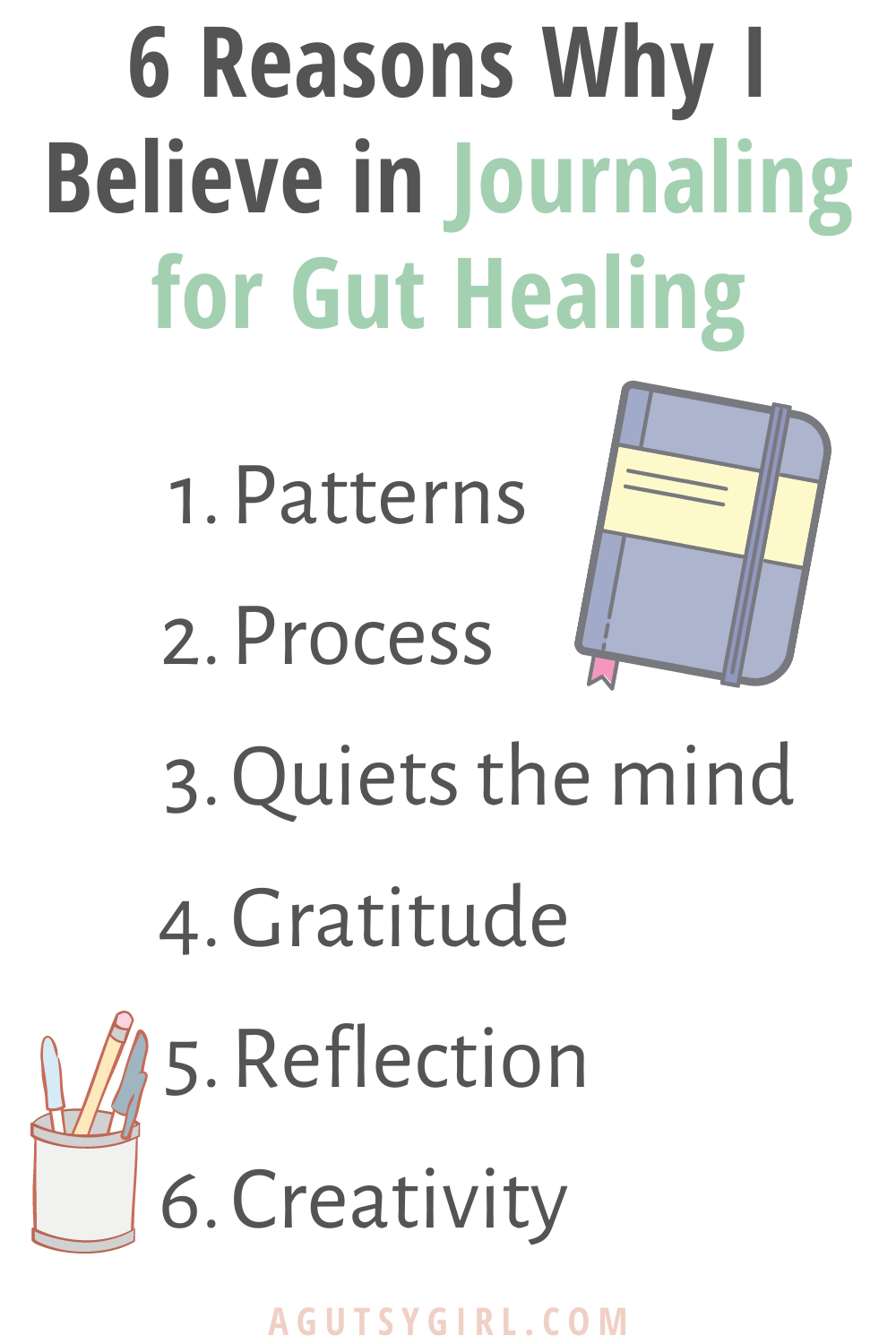 Patterns

By journaling, you will be able to better identify patterns. If you're ever doing an Elimination Diet, journaling the foods you're eating and how you're feeling can help you make correlations between food and mood, food and digestive symptoms, and food and other symptoms.

Process

I probably can't emphasize this one enough, but if you don't address every single last emotion, you might never fully heal. Journaling can help us process and even release.

Quiets the mind

Once you're able to transfer thoughts inside your own head somewhere else, your mind becomes quieter. When your mind becomes quieter, you are better able to process (see #2).

Gratitude

Healing happens faster when we focus on the positive vs. negative. When you think you might be headed downwards, you can always attempt to turn it around by listing out all the things you're grateful for in your journal. By doing this, you'll see how much there is to be grateful for, when just minutes ago you might not have thought about them at all. Gratitude breeds more gratitude.

Reflection

If you're journaling daily and then keeping those journals year-upon-year, the journal itself acts as a life reflection. You'll be able to see where you were, compared to where you are now, and where you still might need to go on your healing journey.

Creativity

Some of you might not care about this one at all, but many will. Finding a beautiful journal, getting some lovely pens or markers, and exploring life and healing in a creative way can be such an incredible tool for your journey.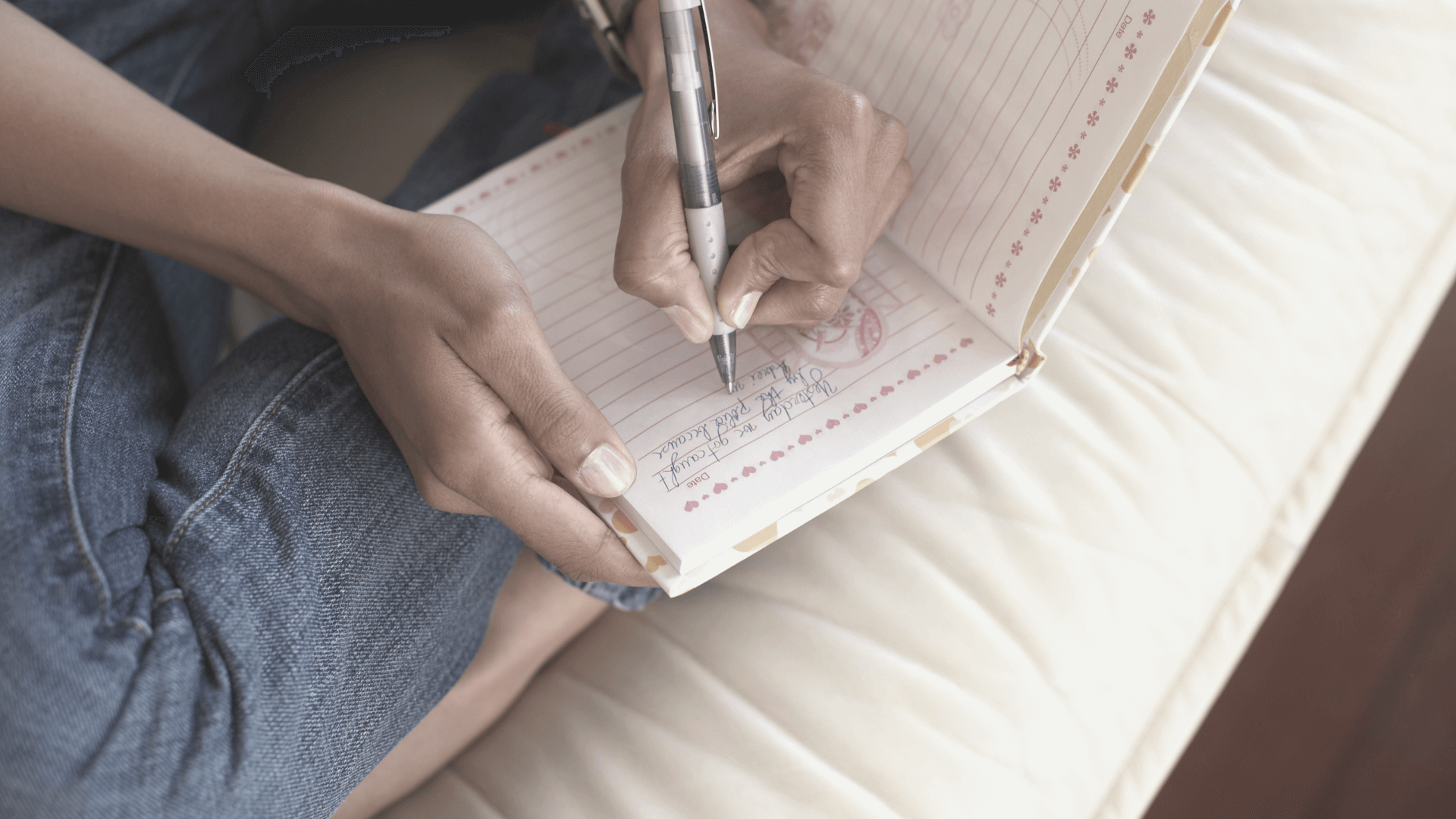 Cool Places Online to Find a Journal
Before you go one step further, you can grab this journal RIGHT HERE.
Yes, I have created one for you already.
If you don't like one that's already dialed in for you, then here are more ideas…..
A woman recently reached out to me on Instagram for some ideas in finding this beautiful journal. Because I talk about the practice of journaling for healing quite a bit, I thought this would be something fun to include in the post.
Now that you know why and how journaling for gut healing makes sense, consider grabbing one, two, or even three for yourself. Oh my gosh, ladies, I am seriously that excessive with mine.
I'm obsessed.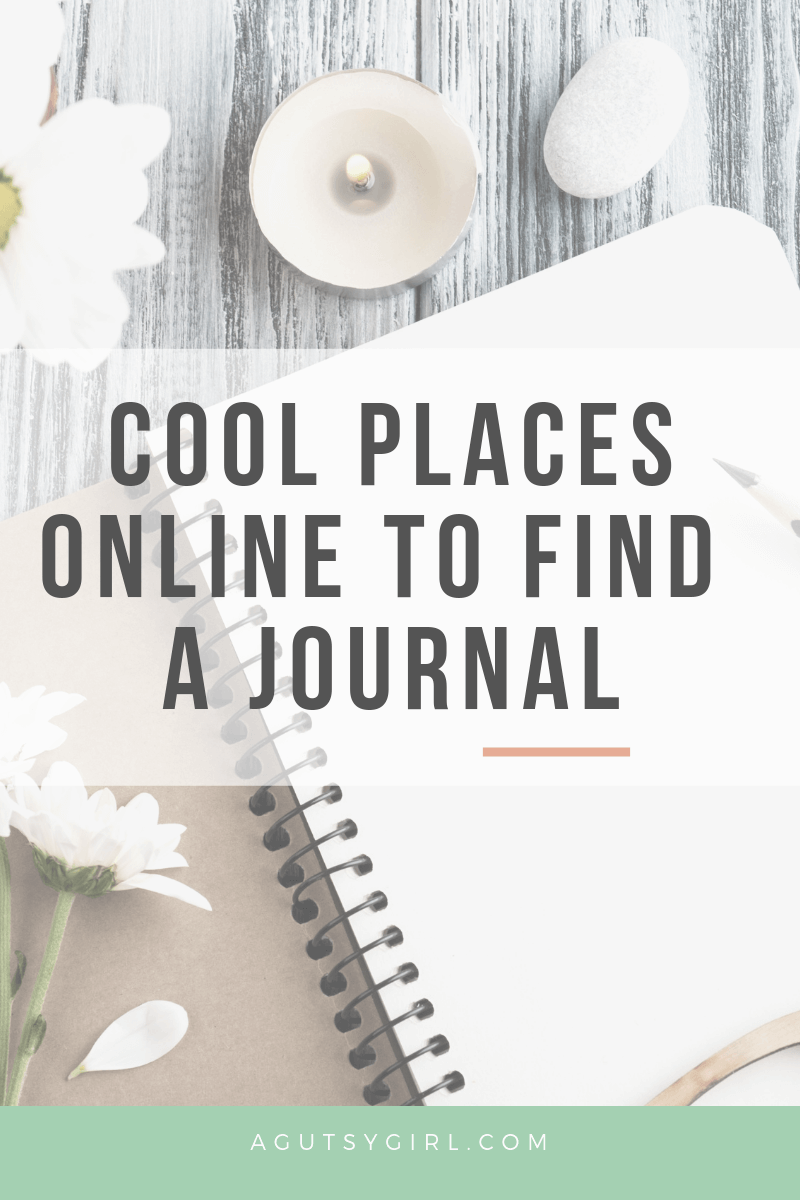 Below are some cool places online to find a journal. By clicking each link you'll go directly to them.
A Gutsy Girl!

Dayspring. Faith-based, and I love it!
Etsy. Search "journal."
T.J. Maxx (in the search bar enter, "journal")
Simple Elephant Planner. I'm going to do a yearly planner post like this one for the New Year. This will be included on that list, too – I'm thinking I might get it! It's a daily and weekly agenda for achieving goals and living happier. Gratitude, Mindmap, Vision Board, and Journal.
Whitelines. This one can be combined with a digital version, too, in case you'd like that option.
Your turn. Do you journal for gut healing? Ever found the most beautiful journal? Where did you get it? I'd love to hear.
If you liked this post, you might also enjoy:

Xox,
SKH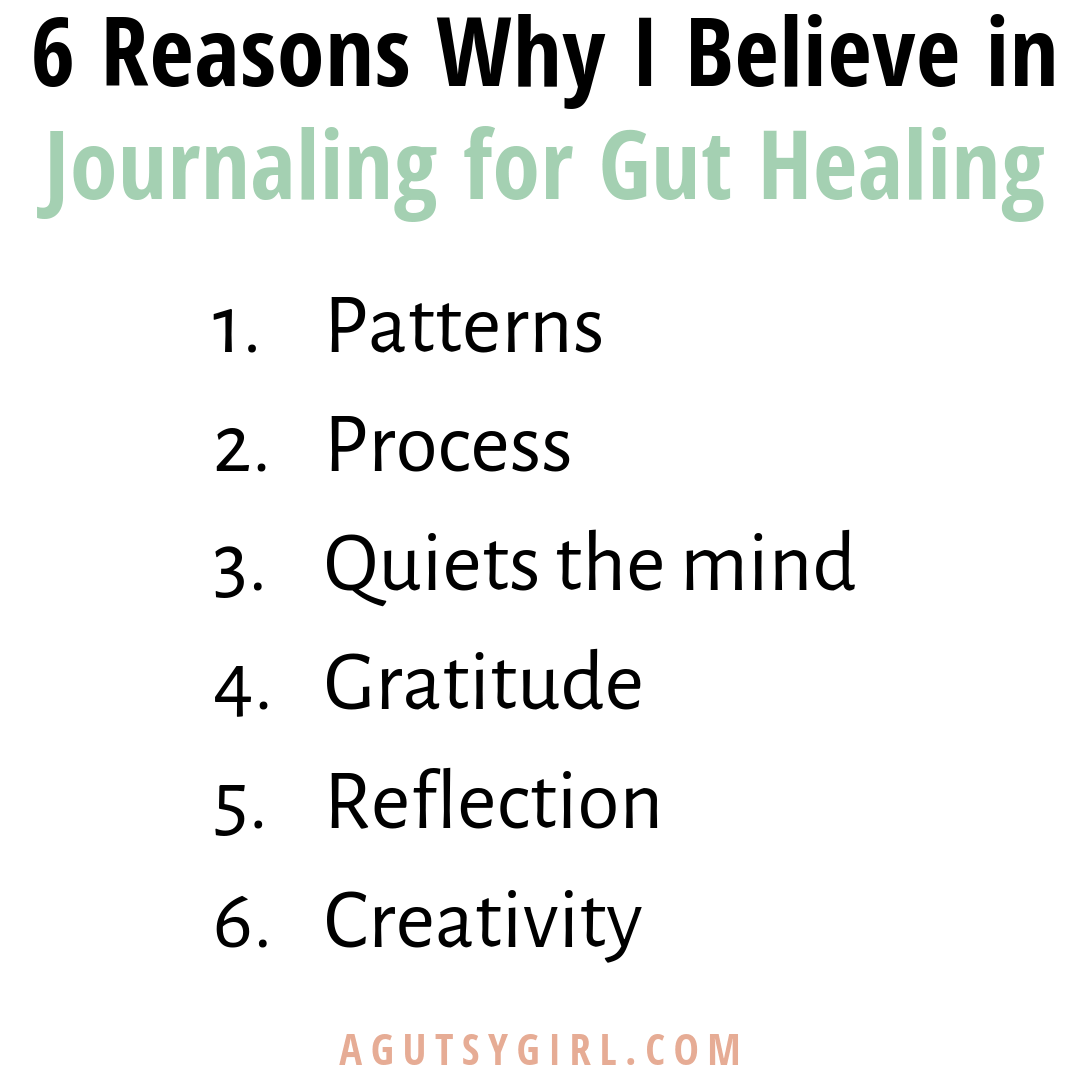 You will heal. I will help.