The gut health and gut healing master resource has arrived! Last day of the decade, and I made it happen.
Actually, the real and official name for it is, A Gutsy Girl's Master Resource.
And it was created out of messages upon messages which asked, "Do you have all of your blog posts in one place so I don't have to navigate online from post-to-post?"
Here is what I learned in 2019 about A Gutsy Girl: She wants to fly.
The website currently houses more information than I truly know what to do with. I'm trying to do my best to corral it all in a way that helps you at the exact moment you need the help.
But with so much information, this has been really hard to do. I'll never stop seeking new and creative ways for putting content together in a simplified manner.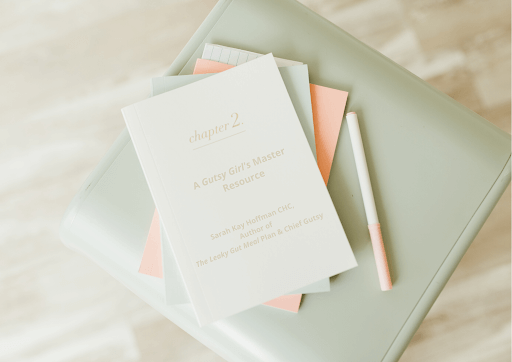 A Gutsy Girl's Bible
Not to be confused with my book, A Gutsy Girl's Bible: a 21-day approach to healing the gut, which is much different.
This is my main book; the Master Resource is just something to accompany it – the fill-ins, if you want to think of it like that.
A Gutsy Girl's Bible can be found HERE.
The Leaky Gut Meal Plan
After that, I wrote a book. The book is called The Leaky Gut Meal Plan, and it was published in 2019. You can have a hard copy or e-book copy of the book. And there are 75 recipes contained in the book with a complete 28-day meal plan. It is highly focused on, you guessed it, leaky gut. And honestly? I do believe that almost everyone with severe IBS and/or IBD has a leaky gut. However, the book may or may not be for you.
If it is, you can grab a copy of The Leaky Gut Meal Plan HERE.
Reasonable SIBO
Somewhere in between those, I also produced and published Reasonable SIBO. This isn't so much of a detailed book, as it is general information about SIBO and then 100+ graphics to help break down the low-FODMAP diet in a reasonable way.
If you are just starting the low-FODMAP diet and you're a highly visual person, grab a copy of Reasonable SIBO HERE.
A Gutsy Girl's Master Resource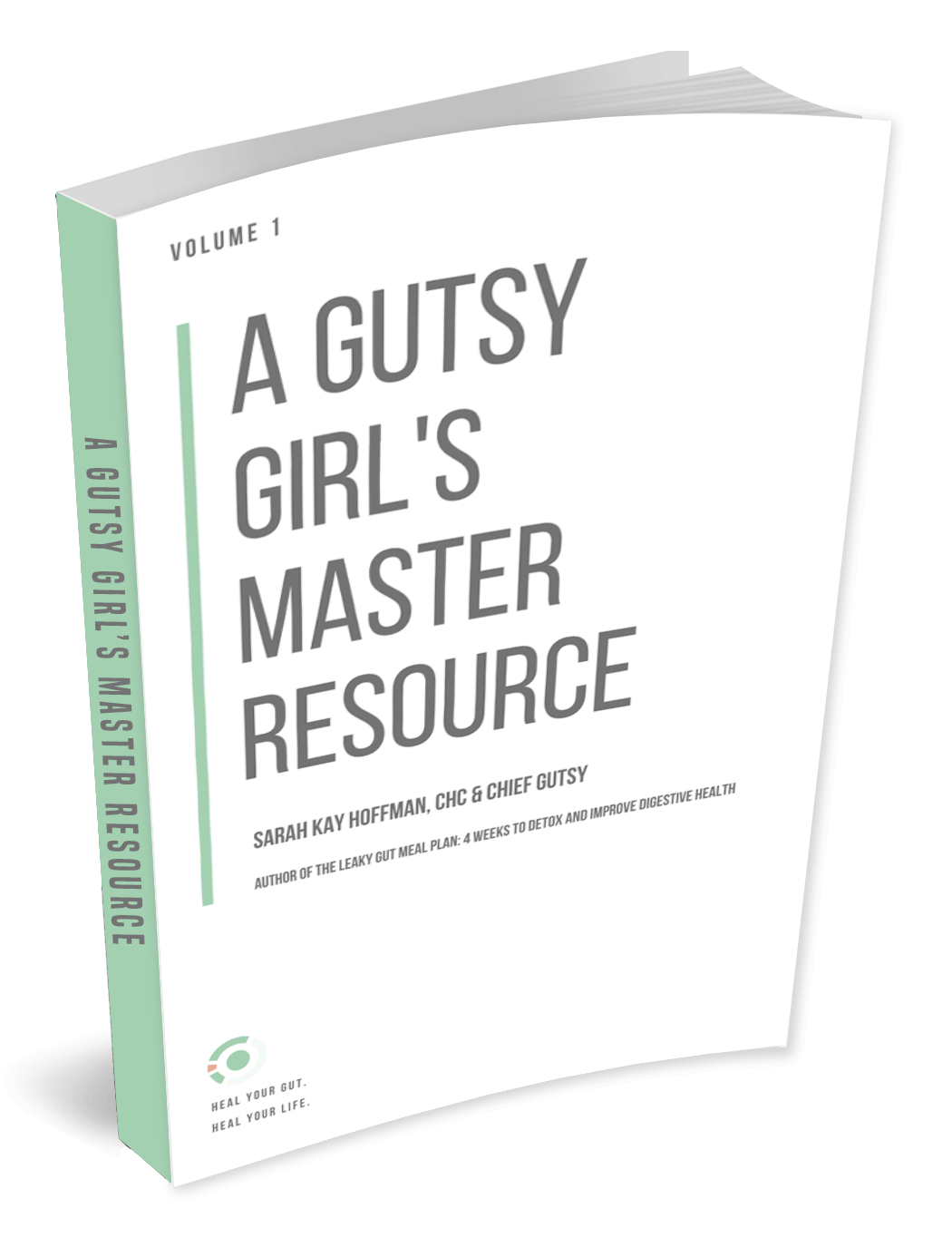 Which brings us to now…..what about all that content that I've researched and published from The Gutsy Girl's Bible 3.0 (April, 2018) up until now?
That's right. There has been a big gap. And the thing is that during this time, I have produced an incredible amount of information. So much information that I am not only proud to have published, but also information that has truly changed your life! I know because I get emails and private messages daily.
This brand new resource that you can BUY NOW is a compilation of information I've researched and written, then collected over time.
Most of the information in this e-book you could find on agutsygirl.com.
The difference? You won't find it all in one place like I've done with this resource.
Gut Health and Gut Healing Master Resource
Click HERE to save this post for later.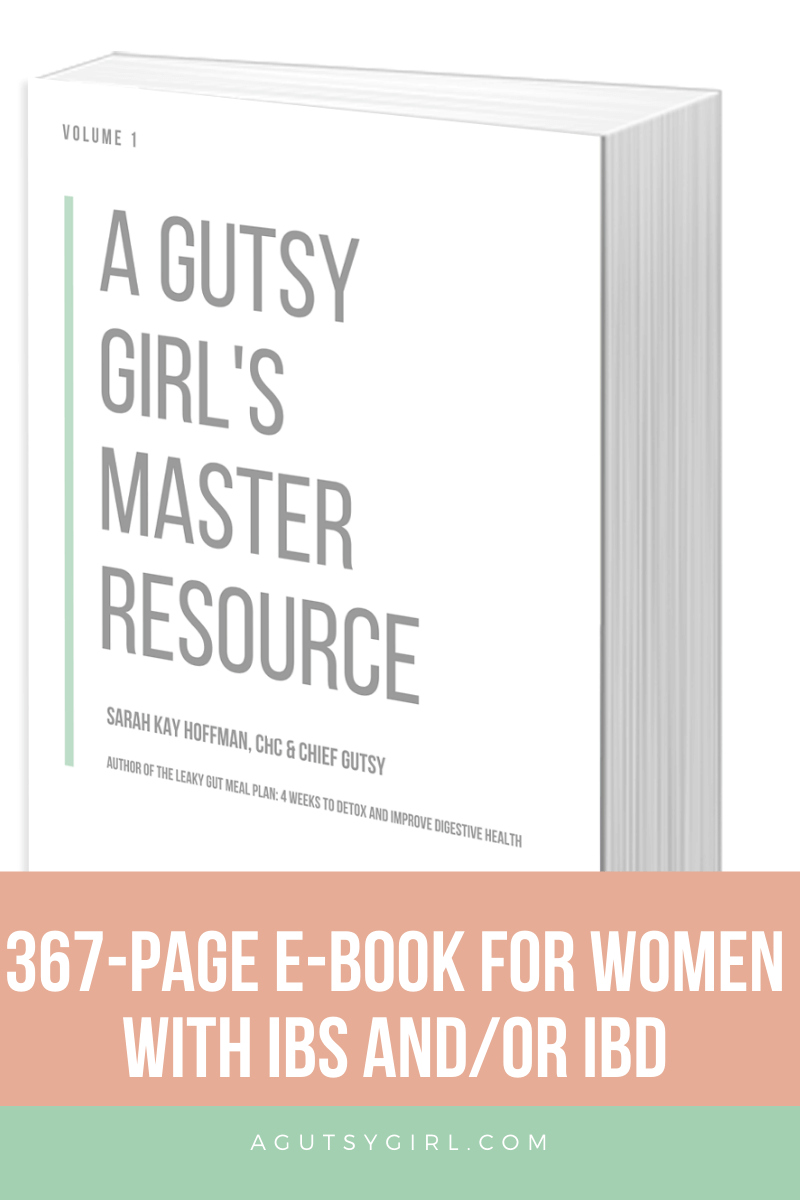 I named it a Master Resource because, over time, this is going to be the biggest tool out there for our community. Mark my word. Eventually, it might feel like a dictionary in size!
Each year moving forward, in December, I'll add to the e-book.
And each newly released version will include subsequent information from the website (about a year's worth of information).
Once you have your copy of A Gutsy Girl's Master Resource, you'll never pay full price for the e-book again.
Purchase Your Copy Below
This is to encourage you to never stop learning.
Because when you heal your gut, you heal your life.
Are you ready to give this gift to yourself?
Click HERE to grab your copy now.
By the way, did I mention I'm only charging $11.11 for this incredible resource? See why in the FAQ section below.
A Gutsy Girl's Master Resource FAQ
Why are you only charging $11.11 for the massive resource?

11:11 is highly significant in my life, though I still don't know why. When the number popped into my head, I couldn't get it out. There must be a reason for it.
Because I desire to have you never stop learning.
And the number 1 reason?! I care too much about this journey YOU are on. I am healed, but I know where you're at. Yes, I know how much the doctor's visits, medications, supplements, all of it, costs. I'm just trying to do my part for this community.

How many pages long is the e-book?

The e-book is 367 pages long, which is almost 100 more pages than The Gutsy Girl's Bible.

Is a meal plan included in the e-book?

No. This is nothing like a meal plan. There is a section for recipes and some food ideas, but nothing extensive. For a large food list, grab The Gutsy Girl's Bible and for a 28-meal plan, grab The Leaky Gut Meal Plan.
More questions? Ask them via the comments below. I will address in this post so everyone has the answer.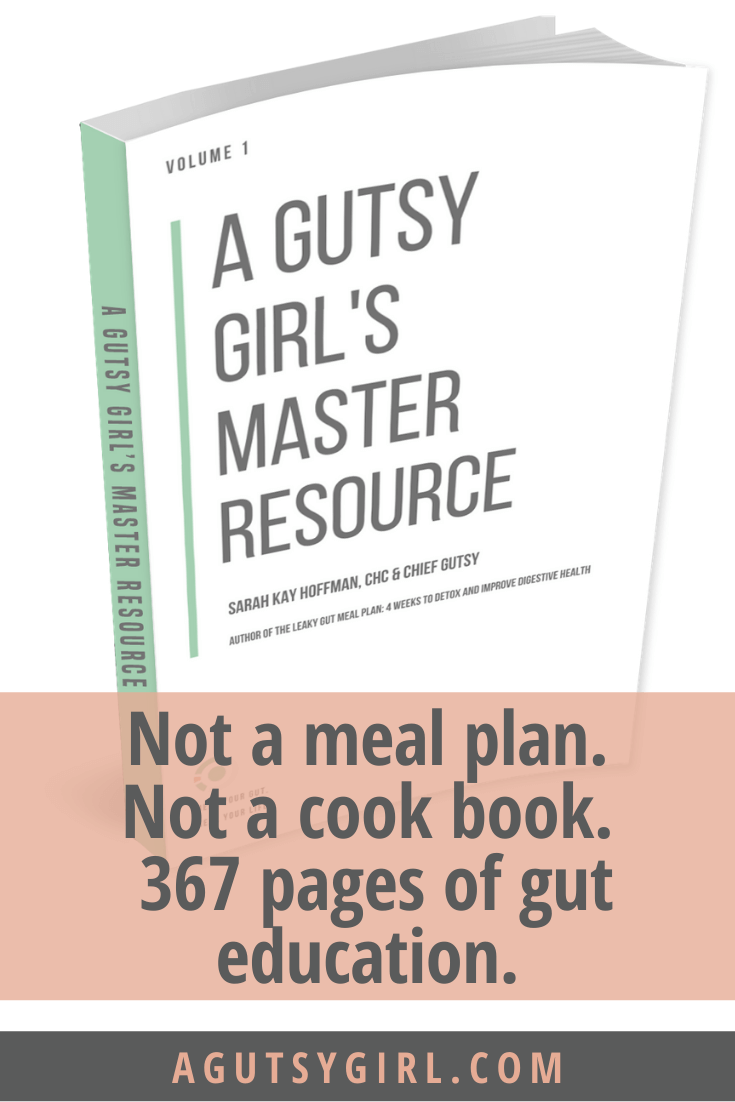 Xox,
SKH
You will heal. I will help.