Never fear, I've got your gut health to do list right here.
Why Make a Gut Health To Do List
I love lists. And I really love making them extravagant. But here's the thing, I never get to cross everything off my list. Eventually, when only a few remain, I throw the list away and create a new one.
It's the whole idea of reaching for everything, but even when you don't get everything, you've still accomplished a ton.
Making a gut health to do list will help keep you on track for what you should be doing and how you're going to do it. Without that, you'll waste time, money, and energy.
Here is a list of things to consider putting on your own gut health to do list.
Gut Health To Do List
Click HERE to save this post for later.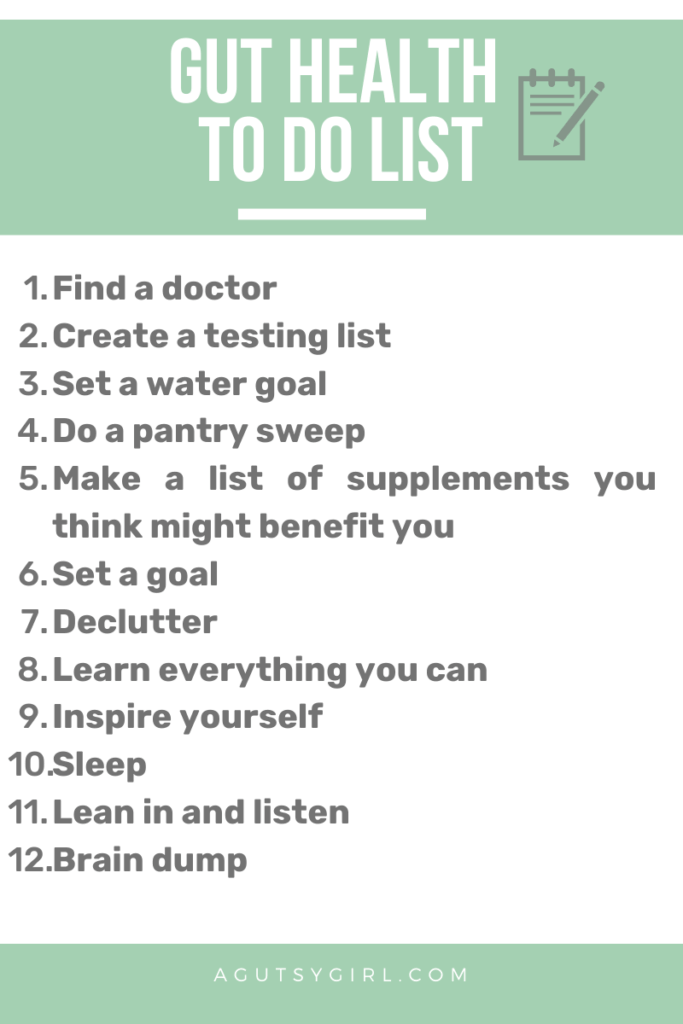 Find a Doctor
Some of you reading this haven't even found the right doctor yet. You might have a general practitioner you see, but if you're looking for in-depth gut testing and help, you likely need someone very specific.
Start doing research. What kind of doctor are you looking for? Who is recommended in your area? This is an important and critical step. For more help, check out 
The Beginner's Guide to Digestive Health Testing
.
Create a testing list
If you're miserable and have never had any tests done, start making a list of the ones you think would benefit you. Celiac blood test? Colonoscopy? Endoscopy? Advanced Thyroid check?
Make that list, check it twice, and then figure out when, where, and how to complete the tests. You can see more on gut health testing HERE. I include both free and paid ways to test your gut status.
In addition, the 90-day journal gives prompts and ample room to do this.
Set a water goal
Be honest. Are you drinking enough water? If not, set a goal for quantity of water to drink daily. I continuously have to do this.
Water for digestion is critical.
Do a pantry sweep
Look, I'm not at your house right now. No one is, and no one needs to know what's in your pantry. But you know, and you live with it.
If you don't think your fridge and pantry are serving you and your gut-health goals, maybe it's time to do a sweep (click HERE to see a version of my pantry).
Consider a Thrive Market Membership to help with replacing items.
Make a list of supplements you think might benefit you
This is highly dependent upon where you're at on your healing journey, what condition(s) you have been diagnosed with, and many other things.
Today I'm going to throw out any and all old supplements and/or the ones I simply don't need.
Remember, minimal supplements are always the way to go whenever possible. For sure, my core 5 will be on my own gut health list (see number 5 HERE).
Set a goal
Plan one huge goal, and one smaller goal for your gut health and/or healing journey for the upcoming year.
Need some goal-setting ideas and inspiration?
Declutter
In Germinate, I stated
I believe germination then growth cannot happen in a cluttered and chaotic environment. I've started watching all the minimalism documentaries, studying up on applying it to my own life. In the process, I've already begun getting rid of many things. I know for a fact that stress is heightened and quality of work lowers when everything is a mess. And thus, I will focus a ton of time and energy on clearing away clutter and getting rid of stuff that's merely just "stuff."
There is peace and calm found in decluttering your life; both online and offline.
I'll forever be working on decluttering the house and my car, but I have been doing little things for a few weeks now both online and offline (including dumping off 3k+ images and videos from my phone). It feels so good and calming. 
Learn everything you can
While this is what I do 24/7 for a living, I was learning everything I could on a smaller scale for years prior.
If you're ready to dip your toes into the world of healthier living and a thriving gut, start with my resource library HERE.
Inspire yourself
Inspiration is everywhere, but the truest form you'll ever find is when you dig deep to find it within. Some ways I've found to do this is by setting a mantra, creating a vision board (or even a digital vision board), writing in a Gratitude Journal, etc.
If you need help getting a jumpstart on this, I've got ya covered!
Sleep
If all else fails today, just sleep it off.
I'm not sleeping when I'm dead; I'm sleeping now to thrive while here.
Here are 7 tips to help you sleep more and better.
Lean in and listen
Just sit and be present with your body for awhile. Listen to what it's telling you. And listen to what your gut intuitions are telling you. They are usually right. What we resist, persists.
The only way to see yourself changed in a year is by making changes now.
Brain Dump
You know what might be the most important thing you put on this list?
Anything and everything. Over the past few months, something has seemed off to you. But you aren't sure what or why or when it even happened. And during this time, your mind has been overloaded with thoughts. HERE might be some of them.
Get out a notepad and write down all those lingering thoughts. Just taking them from head to paper could put your mind and body at ease. By the way, the point in writing them is also to take action on them in the upcoming year.
If you liked this post, you might also enjoy:
Xox,
SKH
You will heal. I will help.