You might be surprised when learning more about the hydration definition and also this next month's whole healing challenge.
To recap, here are the challenges we have done so far:
January – Weaning Off Coffee
February – Healing Letters
March – Clean Living
Remember, it doesn't matter what time of the year you choose to join in. You can adopt any challenge at any point throughout the year.
Today I'm presenting the details for our April, hydration challenge.
Hydration Definition
Click HERE to save this post for later.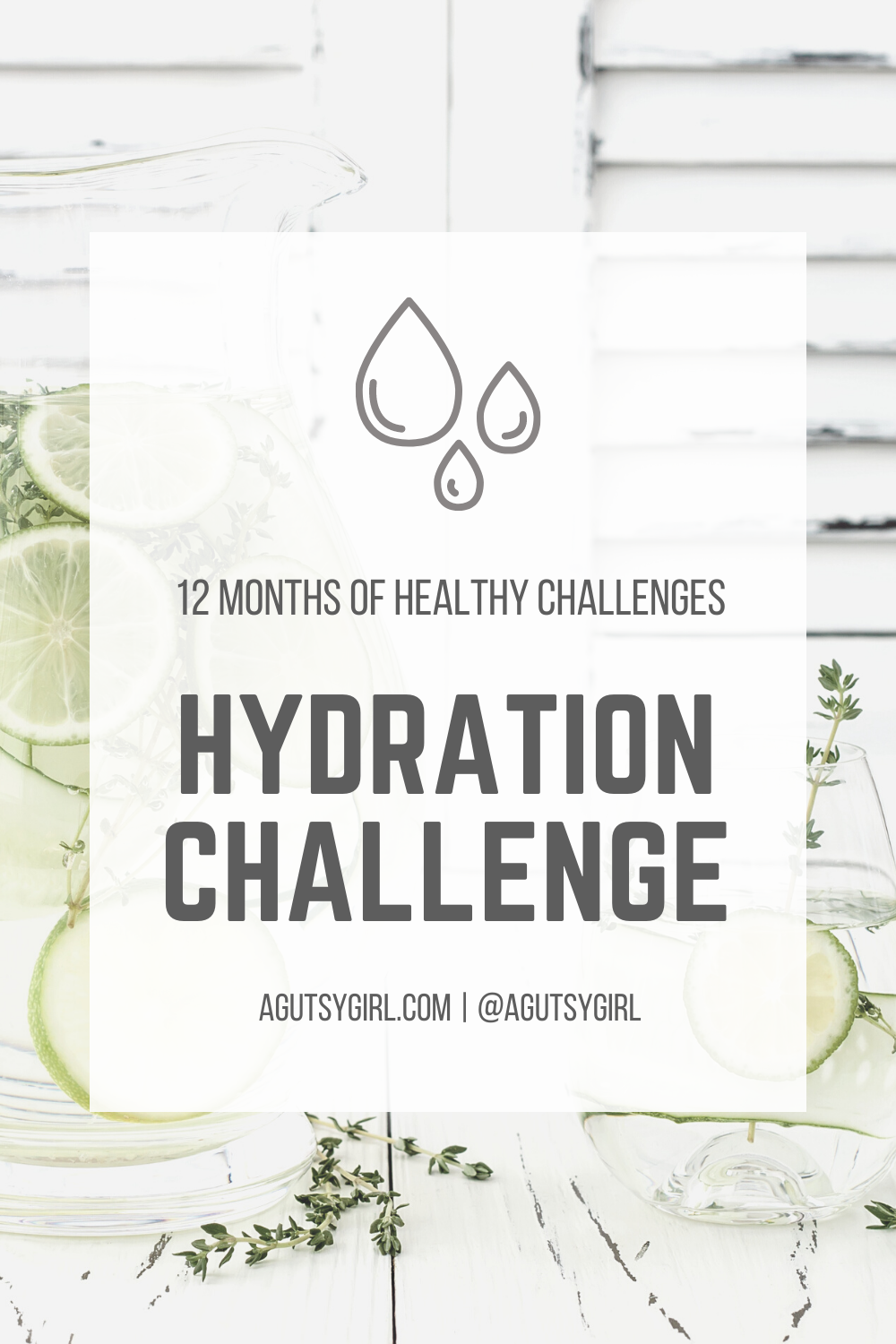 In order to understand more about various ways to join this challenge, let's first understand the hydration definition.
Science courses states hydration as, 
the process of replacing water in the body. This can be done through drinking water, eating ice chips, eating foods that have high water content, drinking other fluids or an intravenous or IV line. Being dehydrated is when your body is lacking the water levels necessary to function optimally.
I never fully understood the value of hydration until I watched my dad battle Cancer and go through Chemo. He would become so dehydrated that it would leave him in so much physical pain.
And, I too know the pain that comes along with dehydration. I do not like water, so one time after two back-to-back half marathons in the mountains, I landed in the ER. Upon being hooked up to an IV for hydration, I began improving quickly.
Getting and keeping hydrated is super important.
And yet, it's still hard for me because I don't naturally love water.
Total Body Water
Did you know that roughly 60% of the body is made up of water?
But did you also know that 75% of your stool is water?
Because the majority of the body is water, it is essential that we get enough of it on a daily basis. The reality is that many do not get enough water per day, which leads to less than desirable digestive side effects (read: constipation and nutrients which are more difficult to absorb).
And due to this reality, hydration is our theme for the month.
Inspiration for Hydration
When I first shared about this challenge, here is how I said it would look.
April: celery juice and/or hot water with lemon
you choose one or both, daily
I'm wanting to get a juicer prior to this to do the celery juice in addition to the hot water with lemon. I already know the hot water with lemon is refreshing and soothing, but I'm skeptical of celery juice. But – don't knock it until you've tried it??!
But then I simply wanted to help us all focus on more water in general, without limiting the options to celery juice and/or hot water with lemon.
So with that….
Details for the April Hydration Challenge
I like sharing exactly how I am going about these challenges so that it can provide you with inspiration and ideas for your own challenge.
I'm still sticking with the celery juice and/or hot water with lemon daily. This is because, in addition to the water content, I'm wanting to test them for other gut implications.
I already know how much my body loves hot water with lemon. But I have never tried celery juice, so I think it's time. Full disclosure, I did not go out and buy a juicer. So, I'll be making celery juice in a more complex way with a blender only. And I'm going to share my how to at the beginning of April, too, in case you want to try it out.
But let's say your goal is strictly to lean in to more hydration.
Here are options to try.
How to Rehydrate
I'm going to give you several ideas for both liquid and food hydration. More options mean better chance for success.
Liquid Hydration
plain water
coconut water
any type of "spa" water (water that's infused with fruit or vegetables)
tea
celery juice
22 Foods with a High Water Content
In case you'd rather eat your way to more water….I get it.
All 22 foods below contain at least 75% water.
watermelon
kiwi
strawberries
cantaloupe
peaches
oranges
cucumber
lettuce
broccoli
jicama
pineapple
carrots
radishes
broth
zucchini
celery
tomatoes
bell peppers
cauliflower
cabbage
grapefruit
apples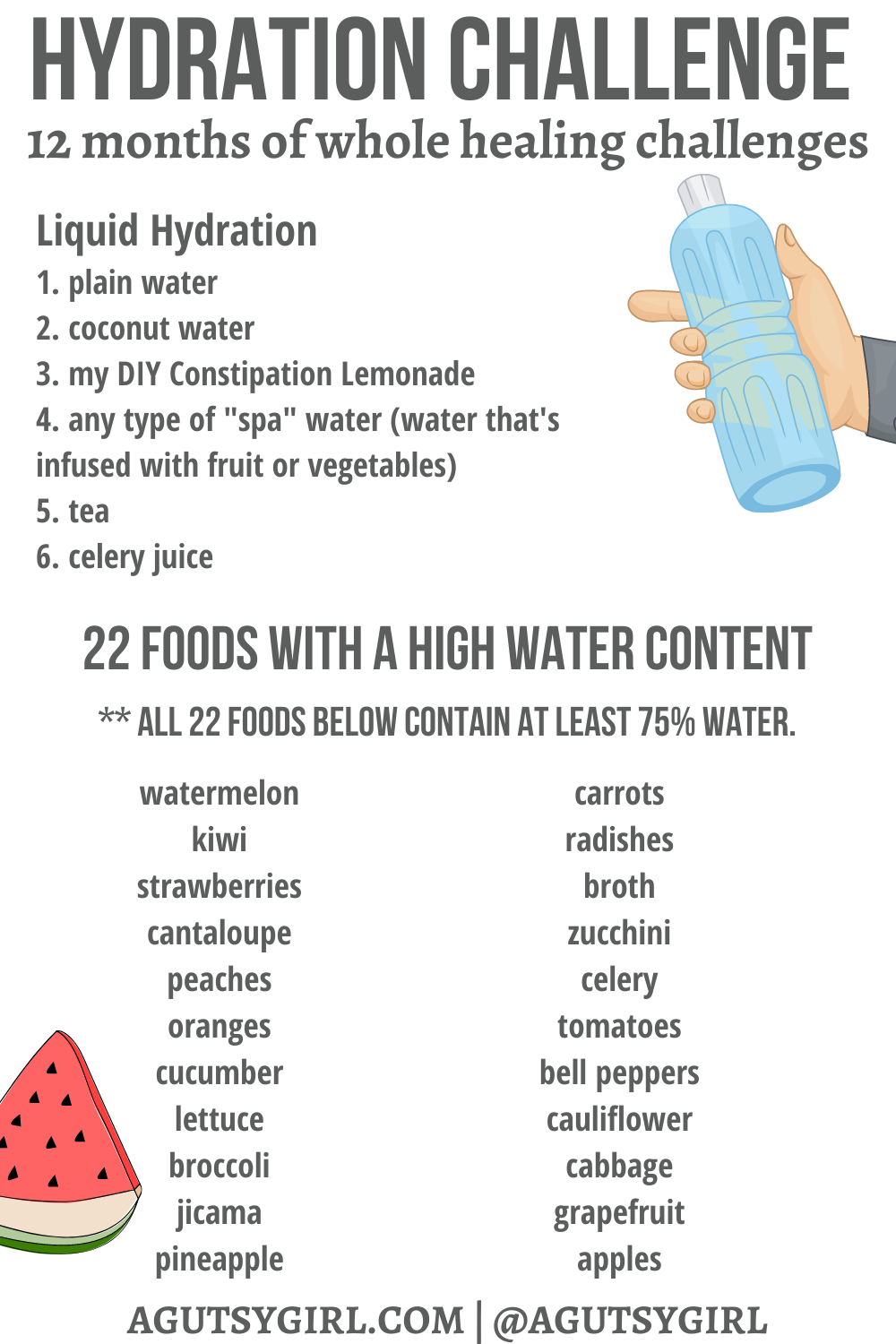 Adequate Intake
So what exactly is the adequate intake for daily hydration?
According to Mayo, healthy adults living in temperate climates need:
About 15.5 cups (3.7 liters) of fluids a day for men
About 11.5 cups (2.7 liters) of fluids a day for women
Cups in a Gallon
In case you need a quick refresher, since many want to eyeball water consumption based on the gallon, there are 16 cups in a gallon.
Therefore, just aim for a gallon of hydration per day and you should be set.
New Quarter, New 90-Day Journal
April not only means the start of spring, but it's also the beginning of a new year's quarter (doesn't it seem like it was just January 1?!)
If you started your 90-day journal at the beginning of the year, you are ready for a new one! And if you already have the journal, you'll see the 30% code contained within the journal for ordering your next. Remember, you can use that on the printed or e-journal (PDF download) HERE.
These monthly whole healing experiments are perfect to add to your Habits Tracker in the journal.
Ways you can "join in:"
Just join silently. No need to share or announce with anyone. Just do the work. That's where the magic lies.
The Rated-G Email Club (sign up HERE if you're not part of it yet)
Instagram (I'll also use this hashtag -> #12monthsofhealingexperiments)
Private Facebook group HERE. I have created this so there is an extra support chat room for those who want it!
Right here, agutsygirl.com (I'll do a recap post at the completion of each experiment)
Let me know if you have any questions and/or if you'd like another swap recommendation. Always happy to help.
If you liked this post, you might also enjoy:

Xox,
SKH
You will heal. I will help.