The clean living month is here!
To recap, here are the challenges we have done so far:
January – Weaning Off Coffee
February – Healing Letters
And by the way, it doesn't matter what time of the year you choose to join in. You can adopt any challenge at any point throughout the year.
Today I'm presenting the details for our March, "Clean Living" challenge.
Inspiration for Clean Living
I chose March for the clean living challenge because this is the month spring will sprung; spring cleaning commences.
For 7.5 million reasons this excites me!
But the reason I chose a whole healing challenge around clean living in general is because I firmly believe that it's hard to heal and/or living a truly healthy lifestyle if we don't pay attention to cleaner living.
What is Clean Living?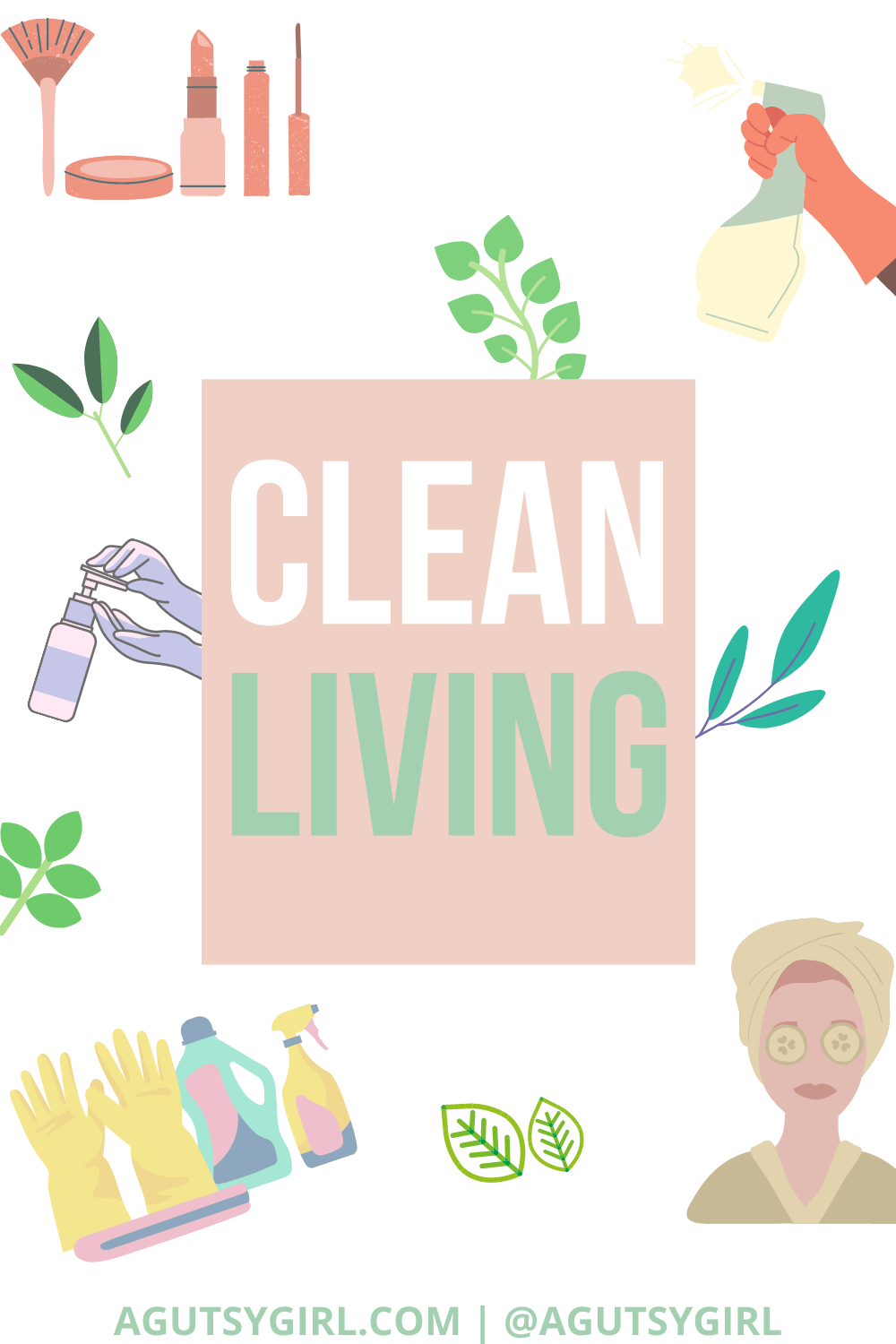 First things first.
You are not clean or unclean because you use or don't use any certain product. Just like you are not a good person for eating "good food;" bad person for eating "bad food."
Humans have morality; objects and places do not.
When I say clean living, I'm referring to:
makeup
skincare
personal care products
cleaning products
Clean living can include food, but this month contains cleaner living options within my LIFESTYLE pillar.
And the reason I'm focusing on a whole month of teaching more about clean living as it relates to the lifestyle pillar is because I believe in the power of what it can do for the healing (and health) journey.
Choosing to focus on what goes on your skin and what you're breathing in around you on a daily basis is a huge factor in overall health.
Details for the Non-Toxic March Challenge
I like sharing exactly how I am going about these challenges so that it can provide you with inspiration and ideas for your own challenge.
Because I started making all these small changes a few years back (it's how I'm so confident in them today), there are not a ton of things new for me to add. However, these are the things I am committed to doing:
Getting out my Dr. Bronner's Castile Soap and making the dish soap (below)
Researching water filters
Understanding more about air purifiers
Purchasing the glass bottles from Branch Basics to use for all of the below instead of the plastic ones we currently have.
I have added each one to my March Habits Tracker in the 90-day gut healing journal to keep myself accountable.
Remember, this journal will be perfection for these 12 months of challenges. You can get your e-journal HERE or purchase the physical copy right here.
But here is how you can start the challenge today.
I have created 31 cleaner living swap ideas for you to consider throughout the month.
Clean Living Challenge
Click HERE to save these ideas for later.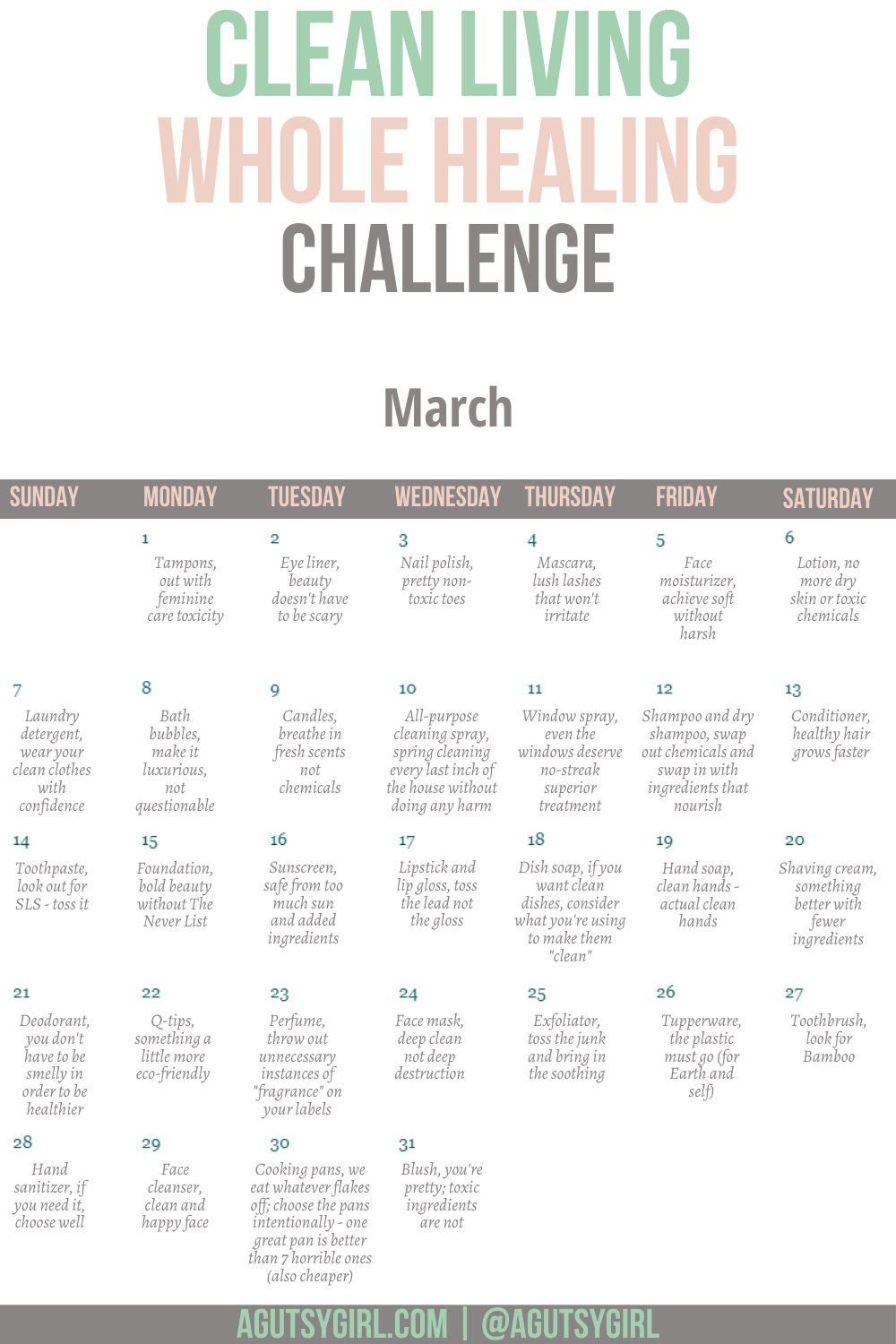 There are 31 ideas here because March contains 31 days. You can adopt one a day, a few a week, or any combination of the 31 on any days of the year.
Remember, this is your challenge. You do it however you want. I am here to support.
The way to go about this is to read each number. That is the general product. Beneath each product, I'll give swap suggestions and/or more information to discover as you please.
Tampons

Nail polish

Want to stop biting your nails? ella+mila Nail Care, No More Biting

Face moisturizer

I personally use the Countermatch line, but if you need to know which skincare regimen is best for you….
Jojoba oil

Lotion

Eucalyptus + Lavender Body Butter (Use code "AGUSTYGIRL10′ at checkout to save 10% off your entire FIRST purchase)
Interested in being super crunchy?! Save the leftover fat after cooking bacon. Pour it into a small, glass jar. It will harden. Use that. No. It does not smell good, but if you are looking for a deep body moisturizers, this does the trick. And it's about as non-toxic as it comes 🙂
Coconut oil

Laundry detergent

Branch Basics, make your own laundry detergent (Use code 'AGUTSYGIRL' for 15% off all Starter Kits)
Better Life Laundry, unscented

Bath bubbles

Bath Soak Packet (Use code "AGUSTYGIRL10′ at checkout to save 10% off your entire FIRST purchase)
Flower Bath (Use code "AGUSTYGIRL10′ at checkout to save 10% off your entire FIRST purchase)

All-purpose cleaning spray

Branch Basics, make your own cleaning spray (Use code 'AGUTSYGIRL' for 15% off all Starter Kits)

Window spray

Branch Basics, make your own non-streak window spray (Use code 'AGUTSYGIRL' for 15% off all Starter Kits)

Shampoo and dry shampoo

Toothpaste

Foundation

Sunscreen

Lipstick and lip gloss

Dish soap

Dr. Bronner's Pure Castile Liquid Soap – Baby Unscented (Pre-dilute 1 part soap with 10 parts water. Squirt on a scrub brush and scrub dishes.)
More dilution parts from Dr. Bronner's to make a ton of things on your own HERE.

Hand soap

Here's a video that explains more about the microbiome and non-toxic cleaning + how I make my own hand soap (and how easy it will be for you, too!)
Ways you can "join in:"
Just join silently. No need to share or announce with anyone. Just do the work. That's where the magic lies.
The Rated-G Email Club (sign up HERE if you're not part of it yet)
Instagram (I'll also use this hashtag -> #12monthsofhealingexperiments)
Private Facebook group HERE. I have created this so there is an extra support chat room for those who want it!
Right here, agutsygirl.com (I'll do a recap post at the completion of each experiment)
Let me know if you have any questions and/or if you'd like another swap recommendation. Always happy to help.
If you liked this post, you might also enjoy:

Xox,
SKH
You will heal. I will help.