Healthy cleaning for a healthy gut is actually a thing.
I know you don't want to focus on one more thing as it relates to your gut-healing and gut-health journey, but you must.
You must look at and see this journey in a holistic manner.
If you only focus on whether or not to eat the broccoli and squeeze in enough L-Glutamine, you're completely missing the bigger picture.
Affiliate disclosure: The Branch Basics products and links in this post are affiliates. When you purchase any Starter Kit from Branch Basics, you will save an automatic 15% and I make a small commission.
It's a win-win. Just use code 'AGUTSYGIRL' at checkout to save. As always, thanks for the love and support to ensure I can keep producing content for the community, free of charge.
Healthy Cleaning for a Healthy Gut
Click HERE to save this post for later.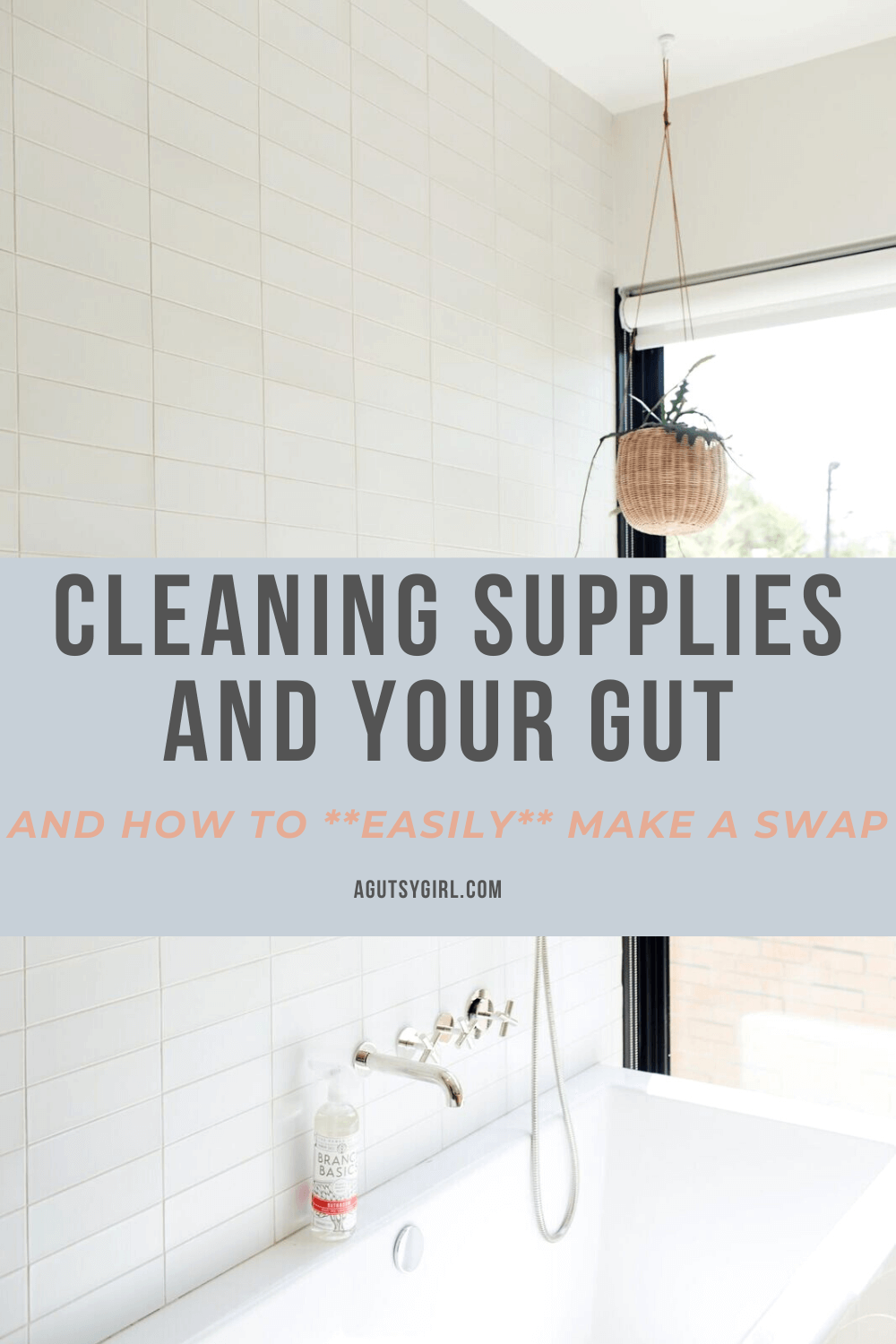 I'm not just combining these two ideas: healthy cleaning and healthy gut. There is actually a correlation between the home cleaning products used and the gut microbiome.
Rather than just tell you, "Buy Branch Basics," I want to give you some context. 
Cleaning Supplies and Your Gut
I've been talking about this idea around home cleaning supplies and the microbiome for almost a year now, fairly consistently.
It all started in 2019 at Expo West when microbiologist Kiran Krishnan told me that one of the 3 simple things I could do for my microbiome immediately was to re-evaluate home cleaning supplies.

We didn't get too much into the detailed weeds, but here are some facts to back up this idea:
Babies living in households that used eco-friendly cleaners had different microbiota and were less likely to be overweight as toddlers. (source)
Sulfuric acid (found in some powdered laundry detergents, hand soap, dishwashing liquid and pet products) can irritate the skin and eyes and can damage the kidneys, liver, and digestive tract.
Triclosan (found in deodorants, antiperspirants, soaps, laundry detergents, toothpaste and hand sanitizers) can be absorbed through the skin and is currently believed to interfere with hormones, especially the thyroid, disrupting their normal functioning. (source)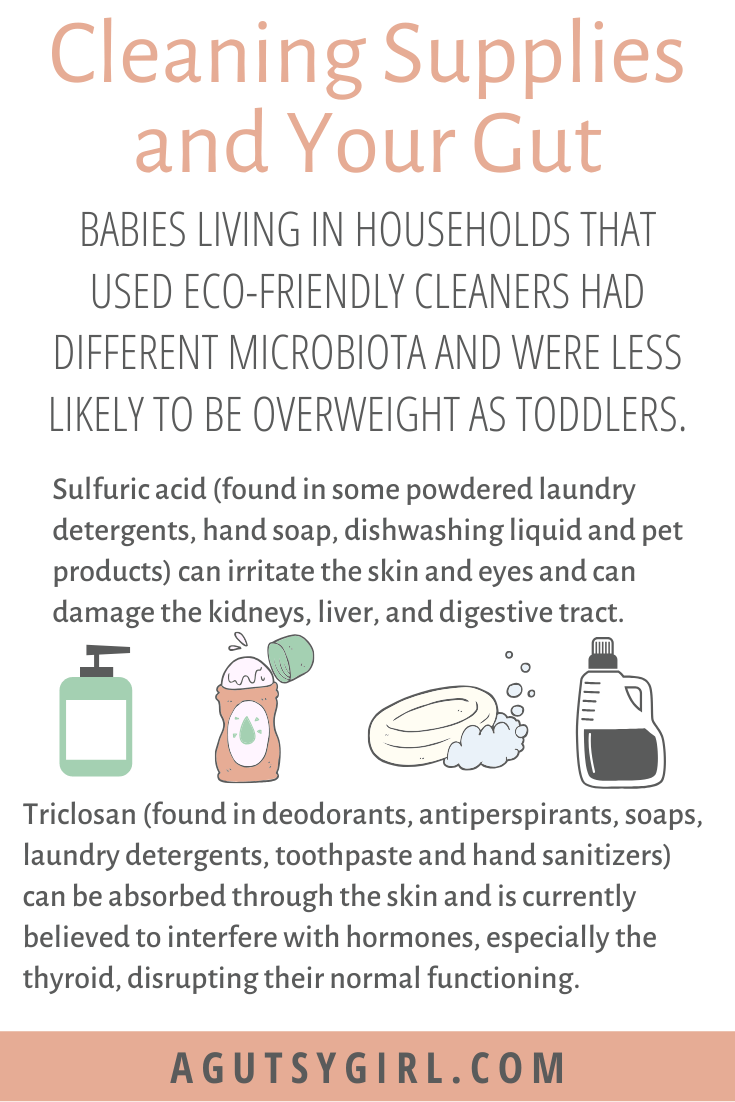 And these are just some of the facts.
While there are many more ideas and points for why we need to be more cautious with the home cleaning supplies, you can clearly see its importance.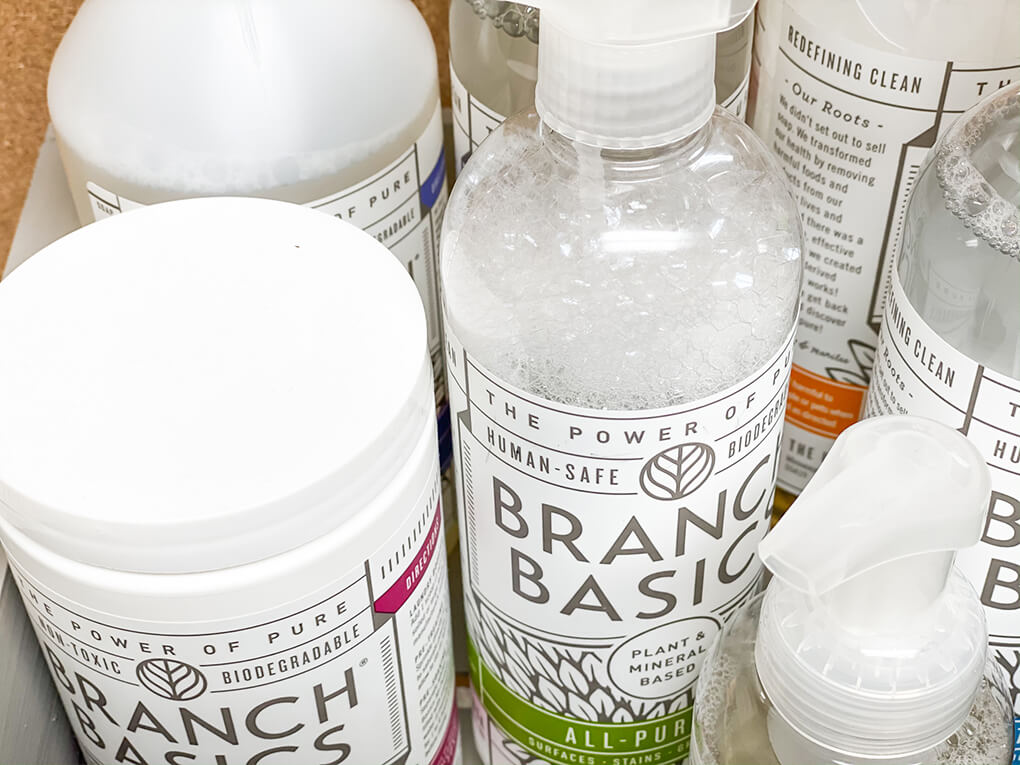 DIY Cleaning Supplies
Now, of course you can make your own cleaning supplies. In fact, I have done this in the past. And I taught you how to make your own cleaning supplies HERE.
But like with the broth, sometimes you just want it done for you.
Convenience is both a killer and life-saver.
So when Branch Basics reached out to me at the end of 2019, I was excited by the idea of what they provide. 
Why then, have you not heard about them much until now on A Gutsy Girl? Because I wanted to do my research to make sure the product(s) worked before talking about them.
And they absolutely do!
All About Branch Basics
With that, let's dive into who Branch Basics is, what they stand for, and which products I use.
Branch Basics Story
Simply speaking, they are on a mission to create healthy homes.
And why cleaning products? According to their mission and story, it's because….
cleaners and laundry detergents have a major impact on our air quality and overall health
switching to healthy cleaning is an easy first step to tackle
the world is in need of truly safe cleaners that work, and
everyone cleans!
If you want to know more about their story, you can check it out HERE. After all, stories are what make the world go 'round, yes?!
Branch Basics Starter Kit + Oxygen Boost
For a short time only, you'll save 15% off this kit when you click HERE and use code 'AGUTSYGIRL' at checkout. These products will last you a long time.
Imagine replacing almost all of the cleaning products in your home with just one product. The Starter Kit + Oxygen Boost has everything you need for cleaning your home, doing laundry, and washing your hands and body.
Here is what's included (aka what I have):
33 oz. Concentrate

This is the main product. When your kit arrives, this is the only bottled filled with liquid. The ingredients include: Purified Water, Coco Glucoside (Sugar-Based Cleanser), Organic Chamomilla Recutita (Chamomile) Flower Extract, Decyl Glucoside (Sugar-Based Cleanser), Sodium Citrate (Food-Grade Emulsifier), Lauryl Glucoside (Sugar-Based Cleanser), Sodium Bicarbonate (Food-Grade Baking Soda), Sodium Phytate (Plant-Based Antioxidant). For those of you who have Celiac Disease, it's also gluten-free.

3 empty 24 oz. spray bottles (All-Purpose, Bathroom, and Streak-Free)

These three bottles all arrive empty. And on the back of each bottle you'll find directions. Don't be scared, the directions include nothing except the Concentrate from above and water. For example, on the All-Purpose bottle the directions state: Fill water to line, add The Concentrate to soap line, and then slowly top off with water. That's it.

10 oz. Foaming Wash bottle (great for washing hands and face and for dishes too!)

This one is the same as the other spray bottles, just smaller in size for hand washing.

32 oz. Laundry bottle (fights stains & odors)

And same with this one. But I love that they make the bottle sizes unique for each area of the home.

2 lb. Oxygen Boost

This container comes pre-filled. The ingredients include: Sodium Percarbonate and Sodium Bicarbonate (baking soda). There are directions for how to use it on the back, but it's literally as basic as putting 1-2 scoops in per load.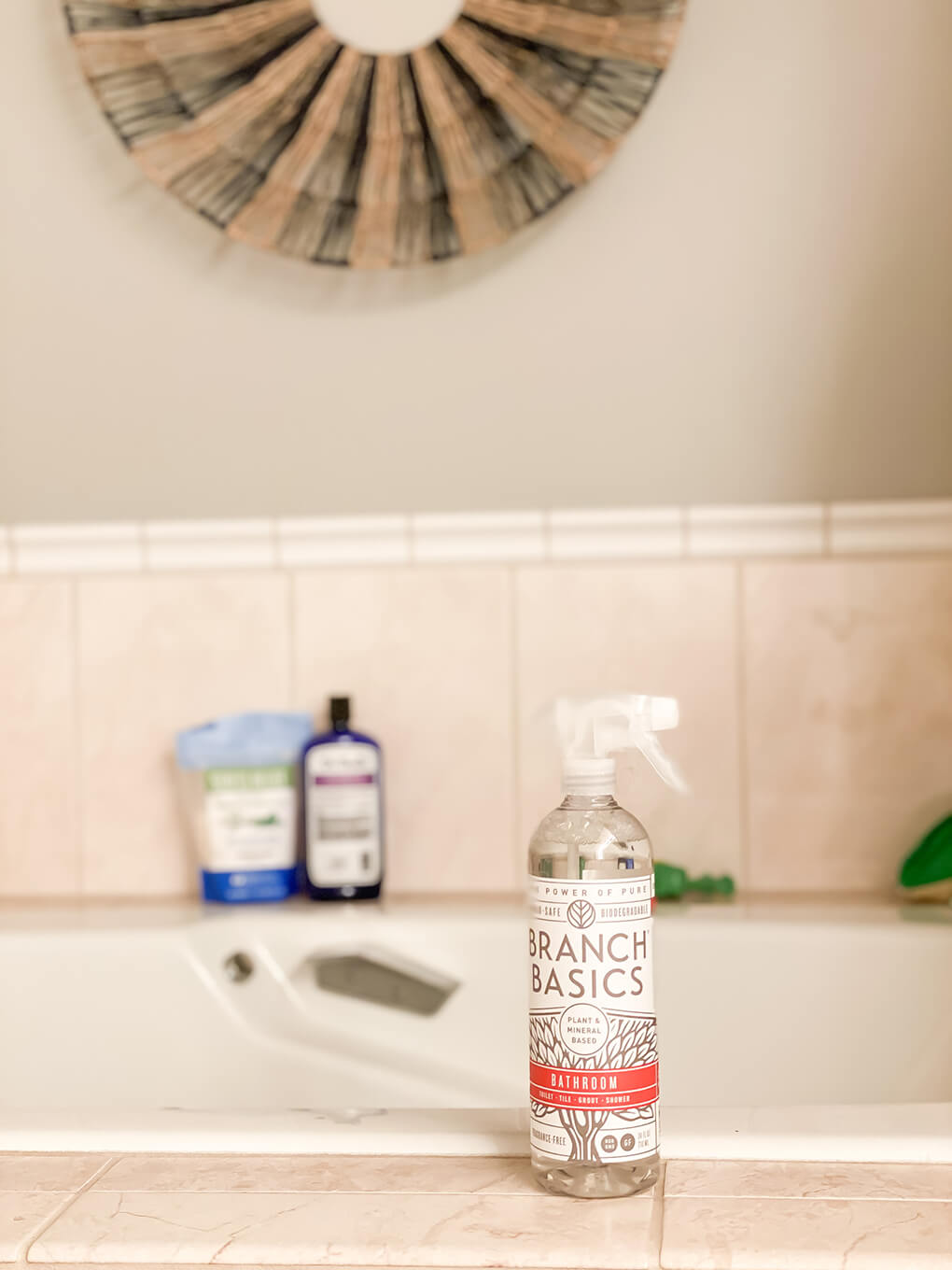 Other Branch Basics Benefits and Information
User guide

Another important thing I will tell you is to grab the User Guide HERE. Something I did not pay attention to the first time I got a stain out of our white chair was the type of water to use. They state,Mineral Free Water – like reverse osmosis or distilled water – is best for diluting Branch Basics Concentrate, particularly for stain removal or washing walls and ceilings. "Hard water" or tap water heavy with minerals sometimes leaves mineral rings.

And it does work because now I don't have those mineral rings anymore.

Lasting power.

With this Starter Kit + Oxygen Boost, you can make three of each cleaner and still have enough Concentrate left to do 64 loads of laundry. The Oxygen Boost is tough on stains and works like a dream for scrubbing sinks and bathtubs squeaky clean.

Buying Branch Basics for your home may save you as much as half of your yearly cleaning budget. The average cost of 24 oz. "green" cleaners – many of which still contain harmful chemicals – is $6.18, and their uses are very limited. A 33 oz. bottle of The Concentrate makes 16 All-Purpose spray bottles (24 oz.), costing only $2.90 each! 

Reusable

The bottles are created to last: refill, reuse, repeat (replaces dozens of plastic bottles). The kit is packaged in a reusable cloth bag, perfect to repurpose for toting produce, packing shoes, or for stashing dirty delicates. If you're new to Branch Basics, this is a great way to experience the versatility of the Concentrate.

5-Star Rating

Out of 1,047 ratings, Branch Basics Starter Kit + Oxygen Boost gets a 5-star rating. In other words, you don't fully have to take my experience, information, or thoughts into consideration if you don't want. Users have left it all right there on the table for you to see. I'm loving this statement one woman made on her review,
"I am 35 wks pregnant with a 2 year old at home. I have SCRUBBED our entire house without worry that it will harm anyone in my family. My husband? A REAL believer this time. I can now throw out/give away old products since this does it all (and well!)

Laundry, bathrooms, veggie wash, hand soap, even my child's bubble bath! This is not as good, but better than all the other stuff we had. I have already purchased a second starter kit for my upstairs, and have signed up for their subscription service so that I never have to worry about running out!"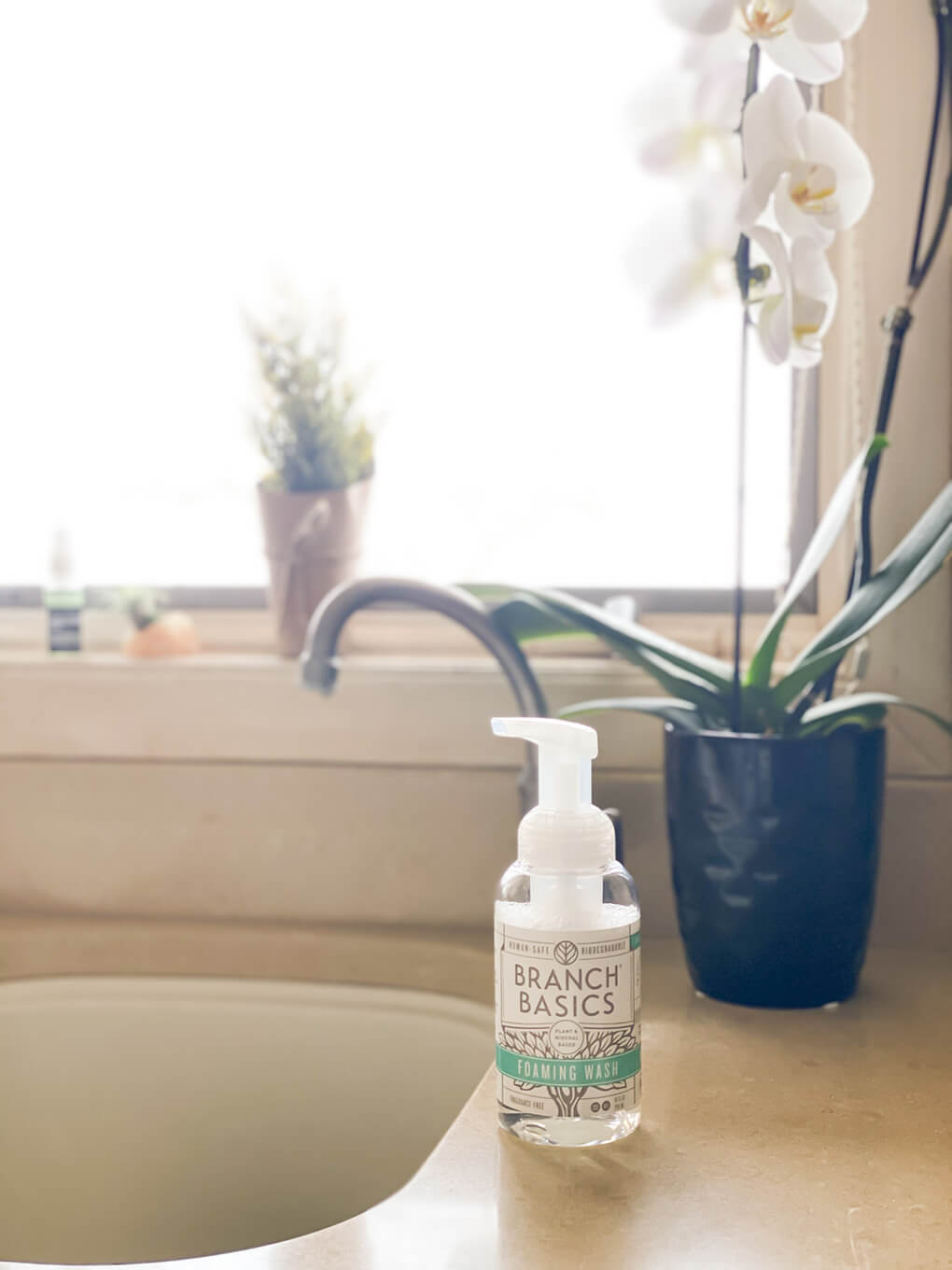 Cost
Here is the cost breakdown to help you understand how this makes sense from a cost standpoint, too.
The Starter Kit + Oxygen Boost breaks down like this:
All-Purpose bottles x 3 (24 oz.) at $2.90 each
Bathroom bottles x 3 (24 oz.) at $5.80 each
Streak-Free bottles x 3 (24 oz.) at $0.20 each
3 Foaming Wash bottles x 3 (10 oz.) at $2.90 each
64 laundry loads at $0.24 per load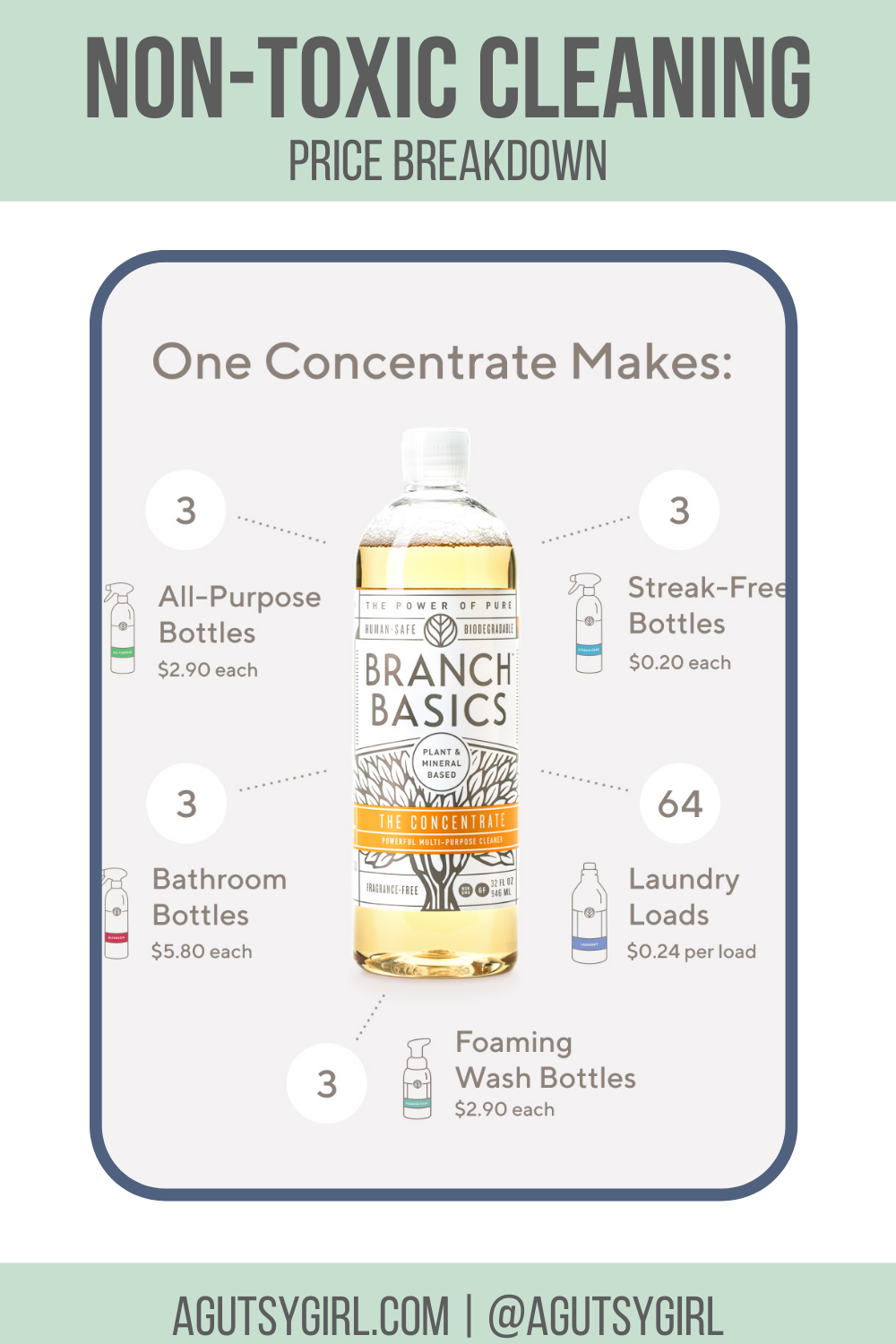 Yes, that's usually a little more expensive than the more toxic counterparts, but not more than other non-toxic lines.
You're wondering how the Streak-Free bottle can only be 20 cents, right? It's because you only need one drop of the Concentrate to make it.
And, better yet?! When illness strikes, I don't have to run out frantically trying to beat any crowds for cleaning supplies.
This is EASY!
Branch Basics is right, "switching to healthy cleaning is an easy first step to tackle." I don't know why it took me so long.
When you consider doing simple things to change your overall gut healing and gut health, the dietary things can be difficult.
But these swaps – nearly everything you'll need for cleaning and hand washing – are literally just that, swaps. And I say that because the product acts the same as the more toxic counterpart.
And even if you live in a small town like I do, you have access to this. Because, online ordering! In fact, when you order the Branch Basics Starter Kit you'll get free shipping since everything $39+ comes with free shipping.
So what do you think? Healthy cleaning for a healthy gut?
Well, either way, you do have to clean.
Might as well test the waters.
By the way, you might have seen this cute little carrier for the Branch Basics goods on my Instagram stories.
See more about it HERE.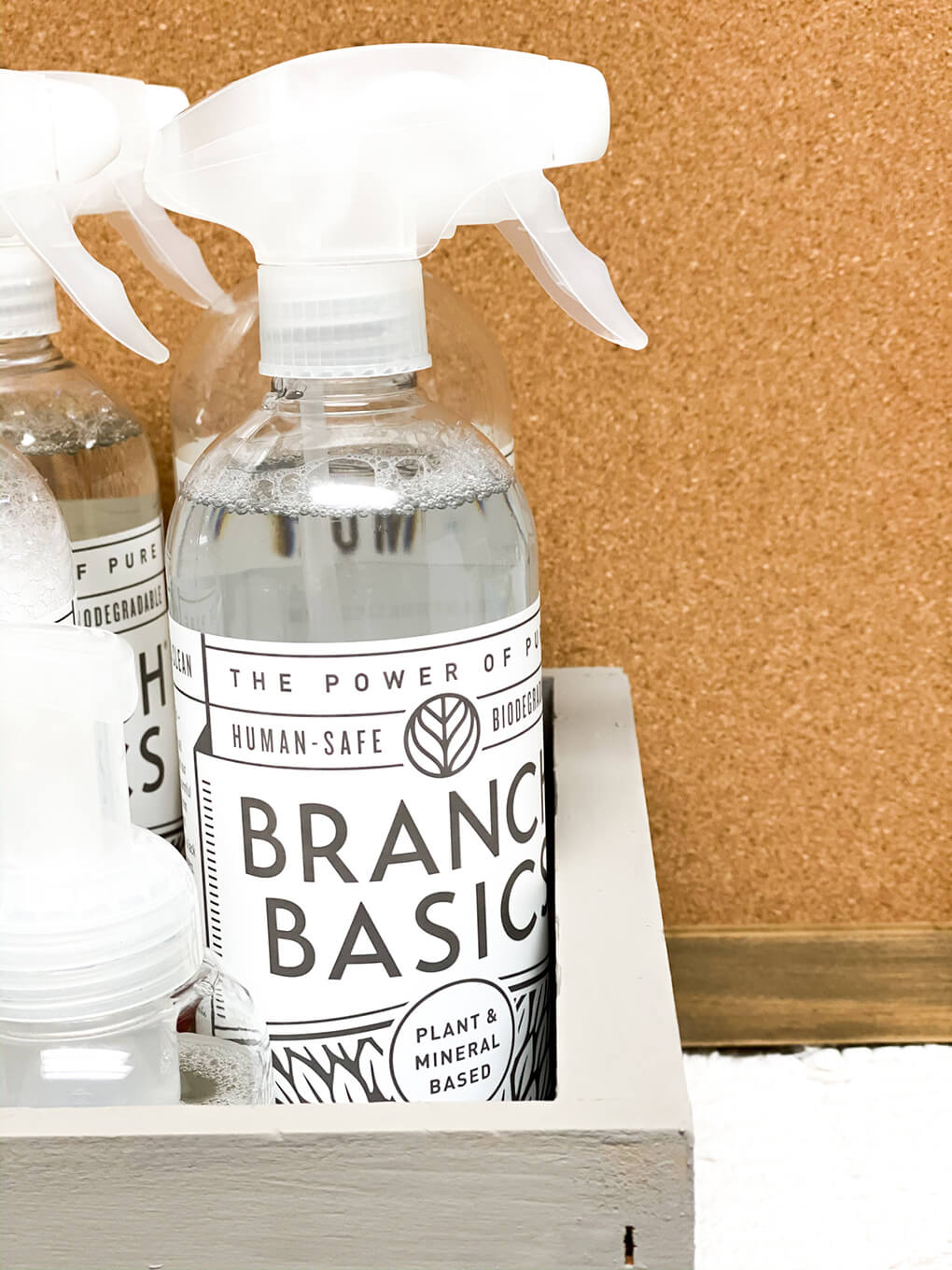 If you liked this post, you might also enjoy:

Xox,
SKH
You will heal. I will help.