The Target Edition Gutsy Finds is next up for the Favorite Gutsy Finds series.
Target is Life
Walmart was first because it's so practical for much of the United States.
But Target had to be next because Target is life.
Dear target is especially important to me because it's headquartered here in Minnesota. Did you know that? In fact, when I was in college, I started off as a Retail Merchandising major (<- looking back, what a joke for my life!)
Anyways, the mentor I was assigned to was a head buyer at Target, so I spent several days with her, shadowing. It was actually fascinating. I belonged in a sort of business, just not a corporate setting like that.
I digress.
Overall, Target has a higher price point than Walmart. There are about 5,000 Walmart stores (this number includes Sam's Clubs, though) and 1,800 Target stores in the United States. (source)
Due to this sheer volume alone, Walmart and Target had to be part of the Gutsy finds series.
Because remember, the goal is to help you and give access to Gutsy products no matter where you live.
Note: You might live outside the United States. How I would read and navigate these in-store posts is to consider searching the product name via Amazon.com. You know, Amazon has everything 🙂
Target Gutsy Finds Notes
Here are some key notes from my shopping trip for the Target Edition Gutsy Finds.
Small store

Everything found from this first Target shopping trip is from a small store. There are Super Target stores, in which I could find double (maybe even triple) the items. What's on this list is likely to be found at any Walmart. (If you want the truth, the Target store featured in this post is my least favorite I've ever been to. And it's ultra-small.)

Shorter list

This list is shorter than the Walmart one. That's because, like I mentioned, it's a super small Target closest to me. That said, as I'm planning to do with Walmart and all other stores featured in this series, I will continue adding to it. Let's be honest, I frequent Target stores nationwide as often as possible.
Target Edition Gutsy Finds
Click HERE to save this post for later.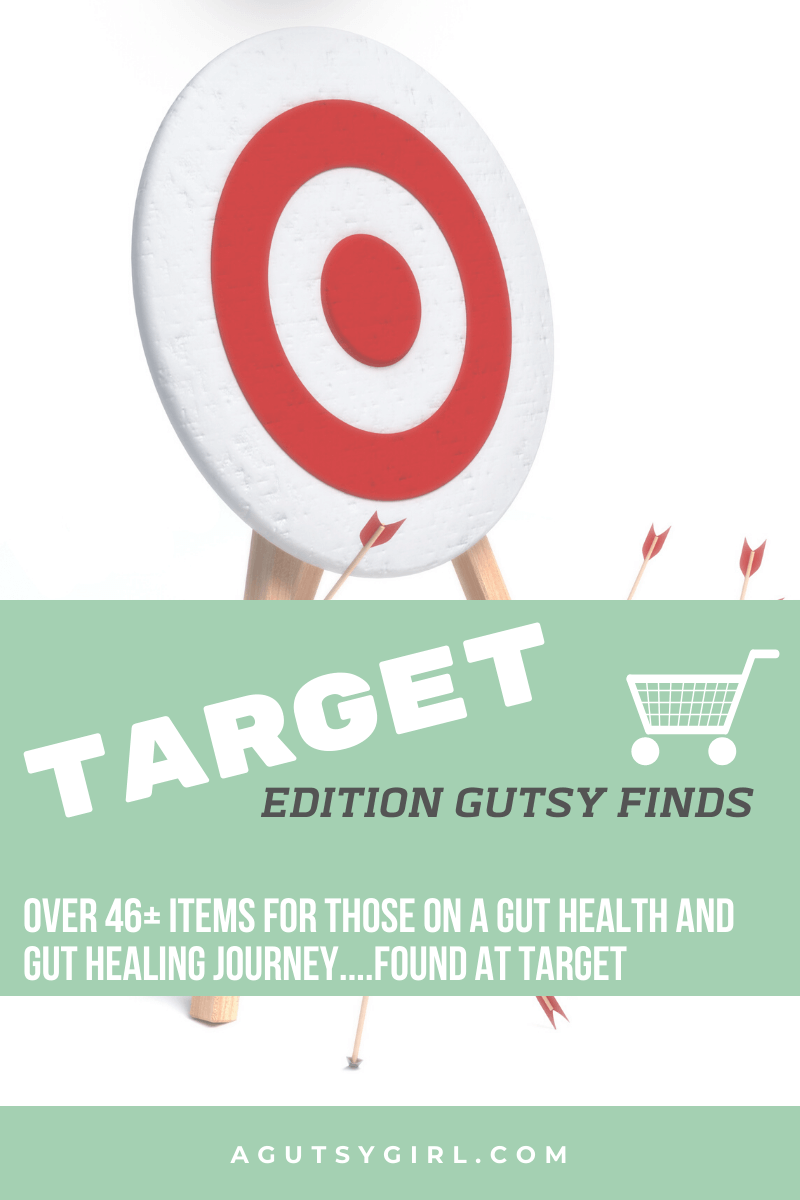 Edible
Quaker Lightly Salted Rice Cakes
Good & Gather, freeze-dried mango, peach, and apple slices
100-calorie, on-the-go packs of natural almonds, Emerald
Wonderful Pistachios
Equal Exchange chocolates, organic, extra dark
La Croix
LaraBar
Good & Gather Bars
Wild Planet, wild pink salmon
Wild Planet, no salt added albacore wild tuna
Traditional Medicinals organic teas
Simply Balanced organic teas
Birch Benders, Paleo pancake and waffle mix
Bob's Red Mill gluten-free old fashioned rolled oats
Good & Gather grain-free granola
Nature's Path organic, grain-free granola
Pacific Foods Organic Bone Broth, unsalted chicken
Simple Mills baked goods
Good & Gather organic, unsweetened dried apple rings
Apple Cider Vinegar
Non-Pareil Capers
Simply Balanced organic chicken, frozen
Good & Gather raw & unfiltered North American honey
Supplements and Personal Care
Hello brand (fluoride toothpaste)
Hello brand, hemp seed oil + coconut oil infused floss picks
Garden of Life grass fed collagen peptides
Cora Organic Tampons (one of my top 4 organic tampons), liners, and the cora cup
L. Organic Tampons
Pacifica Dream Sleep Beauty Gummies
Vital Proteins Collagen Beauty Greens
Dr. Teal's various products
Vital Proteins Collagen Bar, chocolate almond sea salt
Rae Vegan Collagen Boost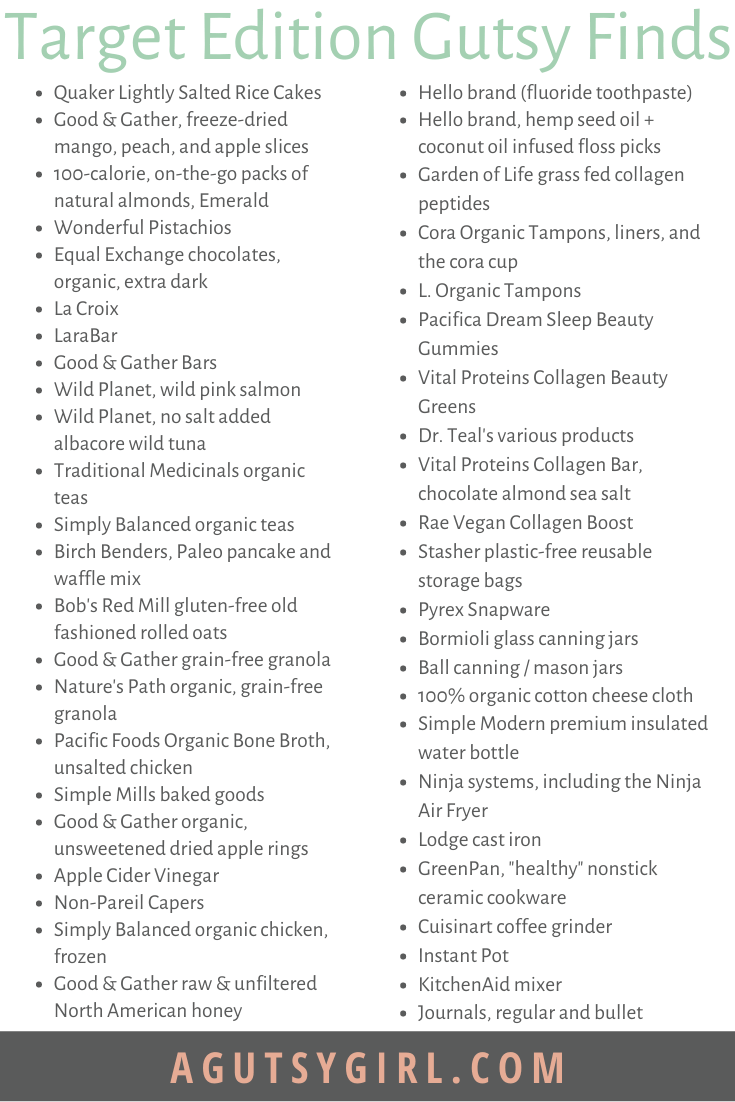 Non-Edible
Stasher plastic-free reusable storage bags
Pyrex Snapware
Bormioli glass canning jars
Ball canning / mason jars
100% organic cotton cheese cloth (this one is super beautiful, and I just bought one for the next batch of my Probiotic Vegan Cheese recipe)
Simple Modern premium insulated water bottle
Ninja systems, including the Ninja Air Fryer
Lodge cast iron
GreenPan, "healthy" nonstick ceramic cookware
Cuisinart coffee grinder (added this one to the list because it's what I use for grinding seed cycling seeds)
Instant Pot
KitchenAid mixer
Journals, regular and bullet
Target Digestive Aisle
This is what the Target digestive-focused aisle looks like.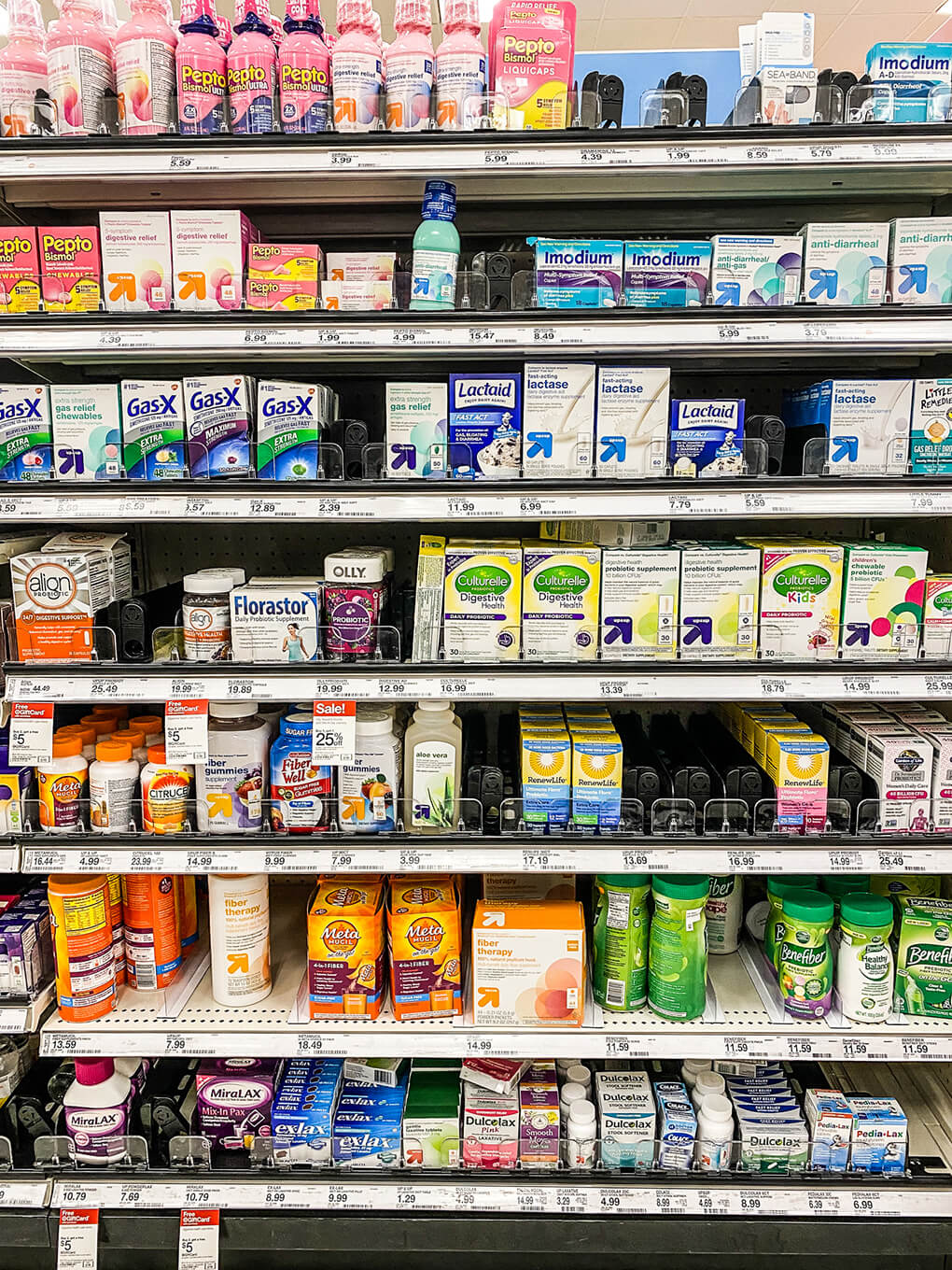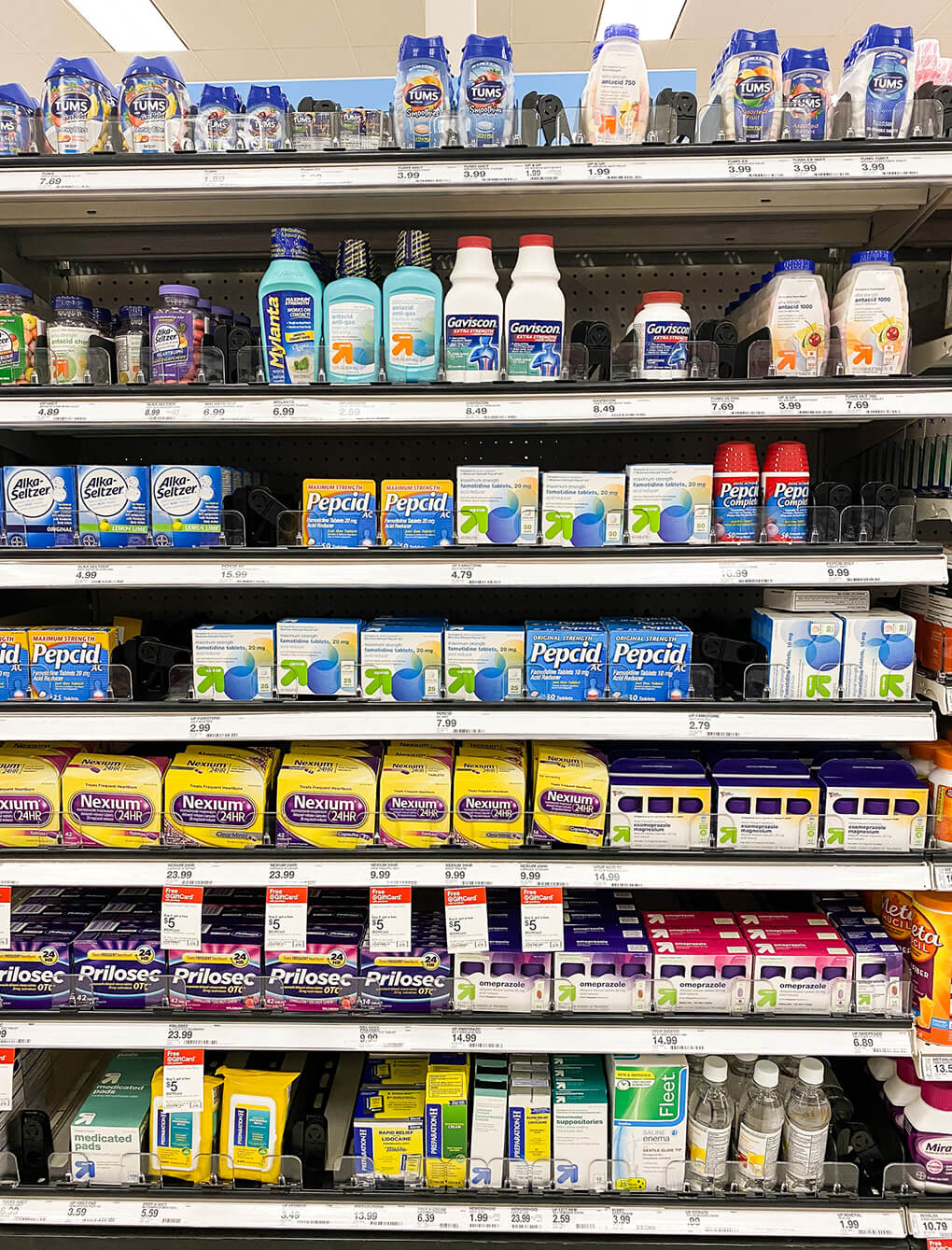 It's similar to the Walmart one, and there isn't anything new in the Target digestive aisle that I've taken (that I didn't take from the Walmart one).
In other words, just like Walmart, the "digestive-health aisle" isn't actually healthy at all. Just band-aids.
Did you like this post? If so, you might also enjoy:
Xox,
SKH
You will heal. I will help.