I'm sharing my non-toxic under-5-minute natural makeup routine today.
Non-Toxic Under-5-Minute Natural Makeup Routine
Click HERE to save this for later.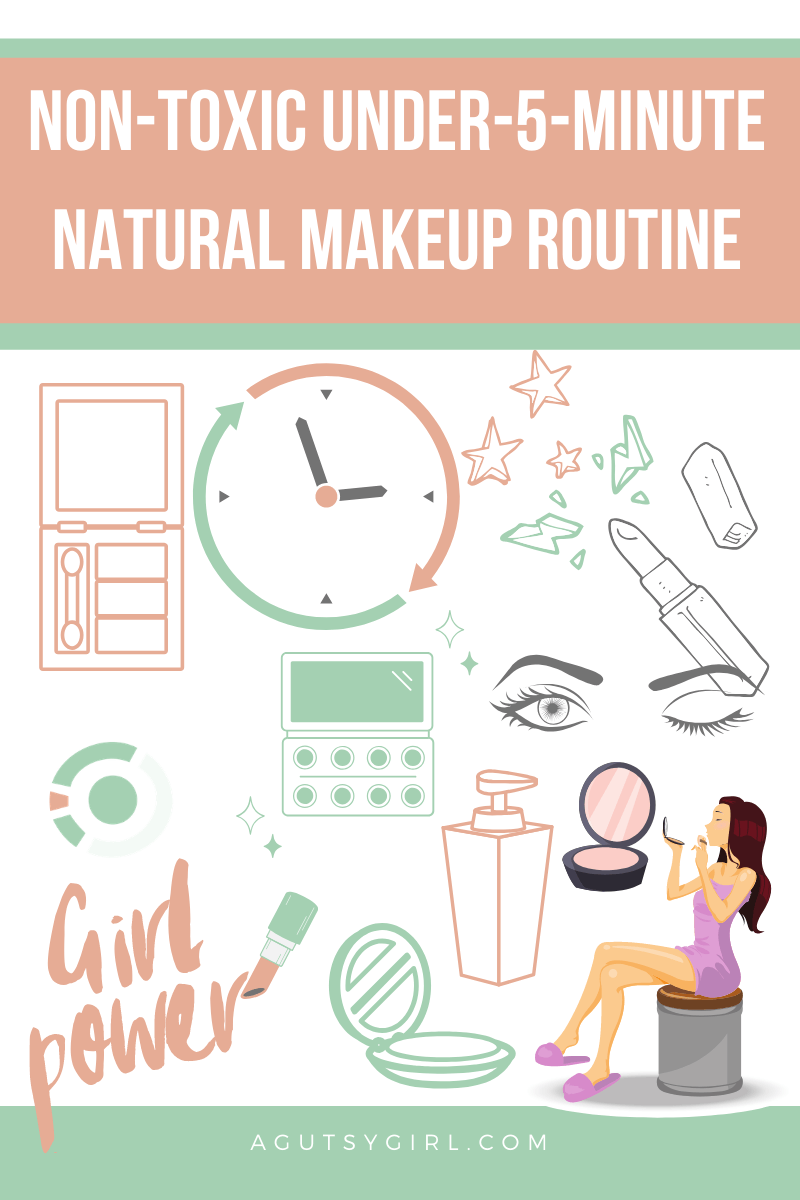 Literally, I do this every single day. So this past weekend, I finally timed and filmed it, then sped it all up and put it into this video format for you to peruse.

Prior to editing, the entire routine took me 4:23.
That's 4 minutes, 23 seconds.
Now why do you, as a Gutsy girl even care about this?
3 Reasons Gutsy Girl's Should Care
Here are my 3 reasons I believe the Gutsy girl's should care about my non-toxic under-5-minute natural makeup routine.
Toxic overload. We must reduce our overall toxic load. There is absolutely no way to completely eliminate toxins unless you survive in a bubble. And there is absolutely no way to survive in a bubble. Toxic overload is a huge issue in Leaky Gut Syndrome. If you have my book, you know this. Skincare and makeup products are a huge offender for toxic chemicals.
Time. While some women love doing makeup, I'm just not one of them. Sometimes I wish I were because I do think the final product is fun and lovely. But I don't love it so I would never devote the time to it. Getting an effective routine down in under-5-minutes was critical for me.
Acne. Along with a leaky gut (or any diagnosed gut issue in general) usually comes some sort of acne. This plays into my first point with toxic overload. But when you have acne (in my case it was severe Perioral Dermatitis), it's important to not use a million skincare and makeup products. You can see more about this science via Skincare and Makeup in Leaky Gut Associated Dermatitis.
Products Used in the Non-Toxic Under-5-Minute Natural Makeup Routine
By the way, a full list of Beautycounter offers can always be found HERE.
Step 1
I blend about 1/4 dew skin with 3/4 tint skin. I love the combination for a little, simple glow.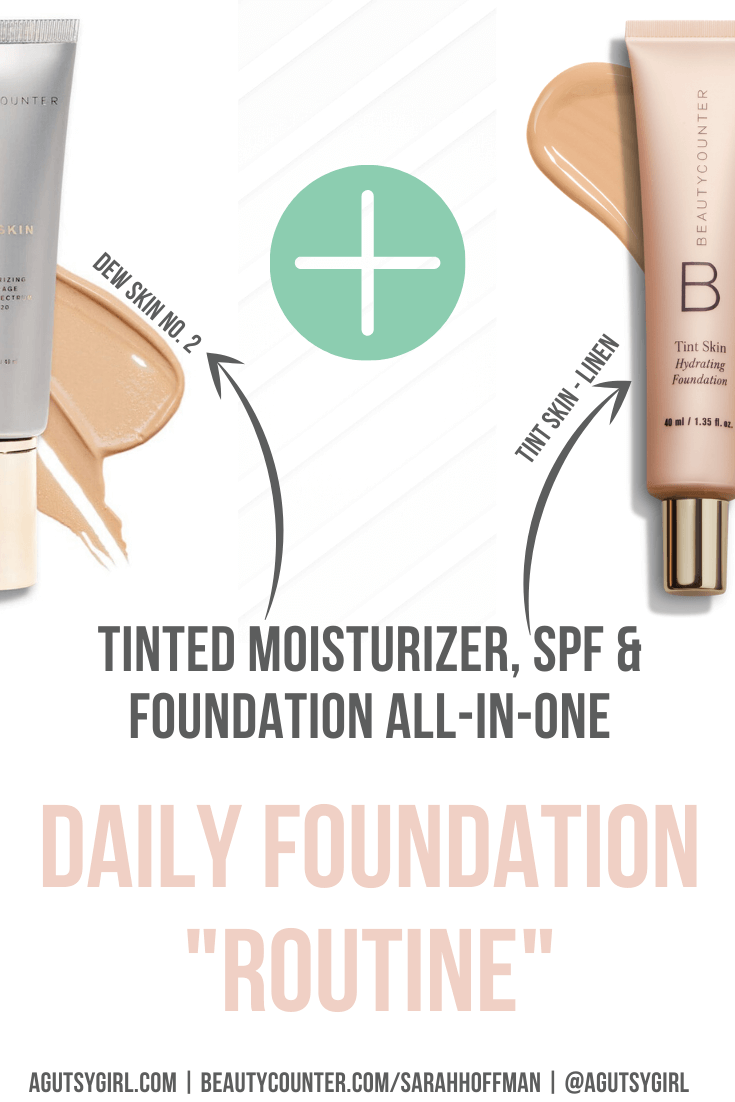 Step 2
I never use too much of this. A little will really go a long ways.
Step 3
This palette was purchased when we went to Italy. I've loved it ever since, and use many of the colors in it.
Velvet Eye Shadow Palette – Romantic

Moto – eyebrows
Candlelight – eyes
Step 4
This is an obvious essential.
Step 6
The Volumizing Mascara and eyebrow tint are great. I need all the extra help I can get!
Step 7
For the longest time I was using the Hibiscus Cream Blush. I still have and love it, but the powder feels a little more basic and matte to me.
Step 8
I finally got a vibrant lipstick from Beautycounter that I actually adore. It's the Color Intense in Little Black Dress. However, when I want to do my basic, everyday look, I stick with this one.
So I got ready and before going out, of course I changed out of the sweatshirt. Ha! I clean up fairly well in under 5 minutes 🙂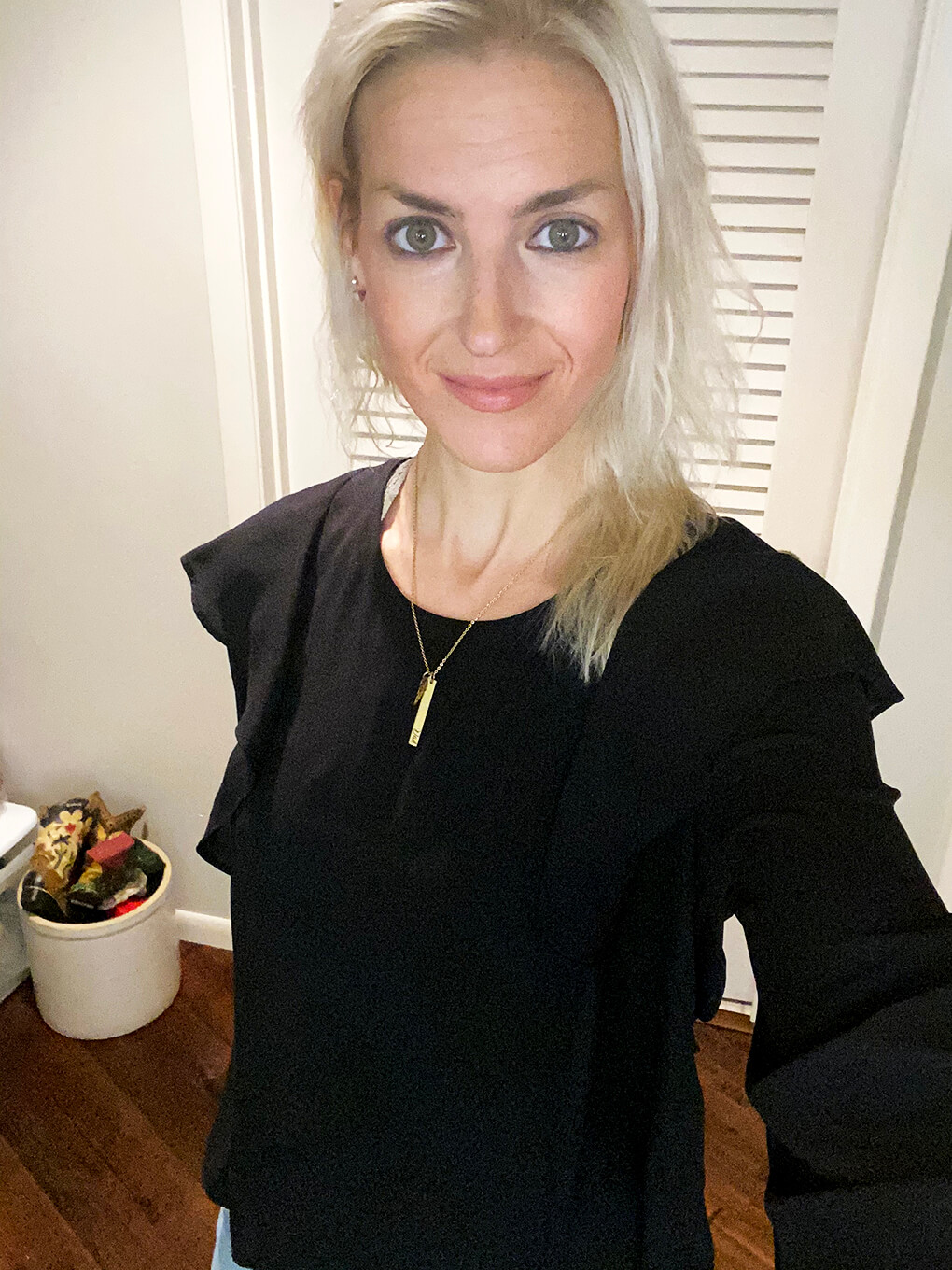 Makeup doesn't have to be toxic. It shouldn't hurt your gut-healing progress you've been working so hard at. Okay?!
And that's all she wrote, darlings.
If you have questions on any Beautycounter products, you can always contact me HERE. And if you're ready to join the A Gutsy Girl Beautycounter team, see THIS.
If you liked this post, you might also enjoy:
Xox,
SKH
You will heal. I will help.