Episode 5 of the A Gutsy Girl podcast digs into toxic beauty.
Subscribe Today:
Apple Podcasts | Google Podcasts | Spotify | iHeart Radio | RSS
---
It will take you 5 seconds to rate and review the show HERE. Please do so that more women can find the show! I appreciate your help.
Episode 5: Toxic Beauty Show Notes
Click HERE to save this post for later.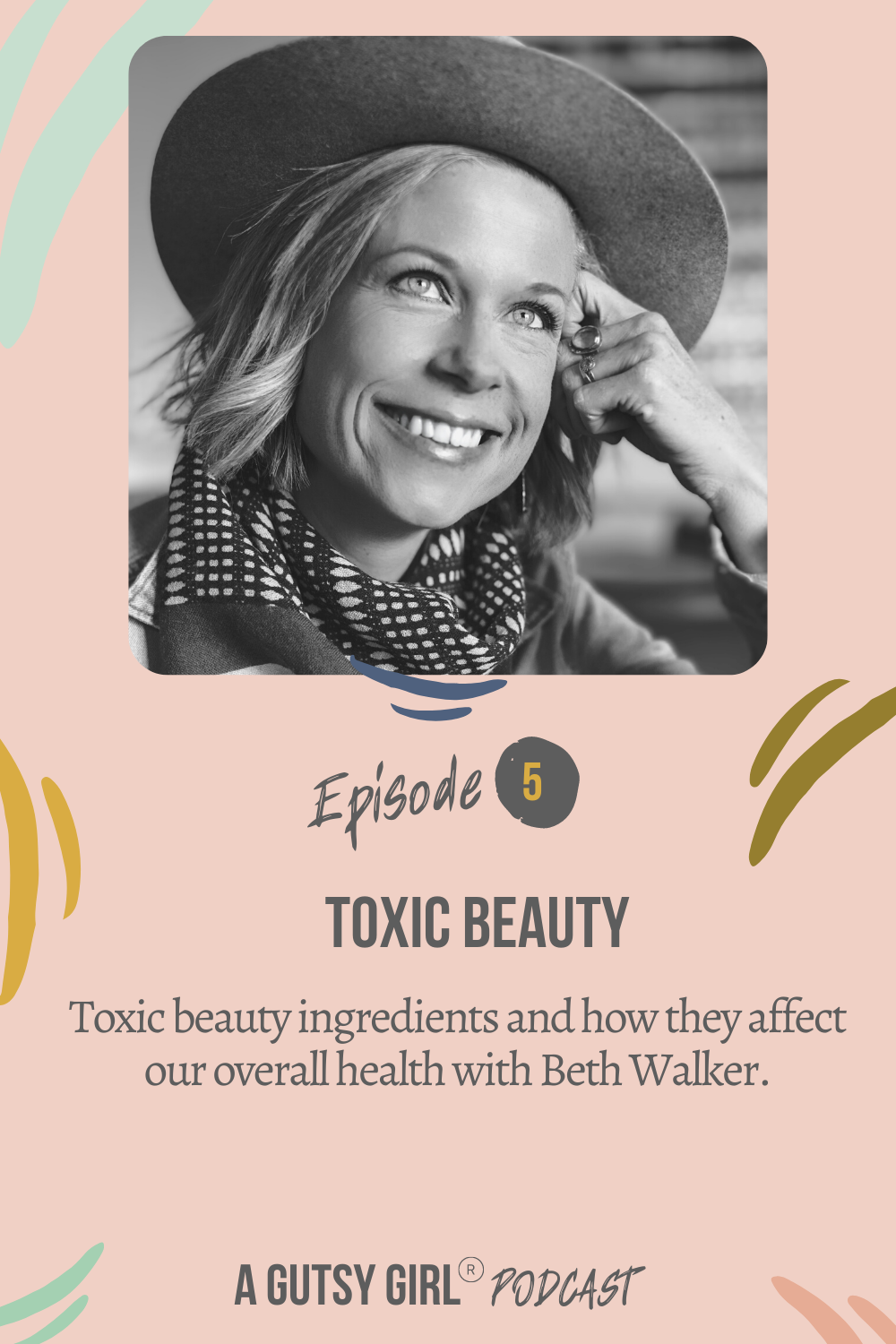 p.s. You're going to adore Beth's Irish accent.
Resources Mentioned
Don't Miss These Thoughts
Ingredients to avoid in your beauty products
Beth's favorite skincare products and brands
Things about the beauty industry that not many people know.
The one word on a label in the beauty industry that could mean thousands of different things.
Lead is no longer allowed in house paint or gasoline, but it may be lurking in our lipstick.
The term hypoallergenic is not regulated.
"You are what you eat." (Good food equals healthful living.) – Beth
"Glyphosate free is key." – Beth
"When you eat standing up, the devil looks over your shoulder." – Beth (via Dr. John Douillard)
More from A Gutsy Girl
Btw – don't forget to grab a copy of your 90-day healing journey journal (there is also a PDF e-version you can download today HERE).
And more from the Toxic Beauty Episode
Alternatives
During the show, Beth provided alternatives to the ingredients she cautioned against using.
Here are the ones she mentioned, along with more.
SLS, Sodium Lauryl Sulfate

Castile Soap is hands down the best but not always the right fit for formulations, like toothpaste.
Some safer alternatives you can look for in your products include SLSA (sodium lauryl sulfoacetate), Sodium Cocoyl Glycinate, Disodium / Sodium Cocoyl Glutamate, Decyl glucoside, and Lauryl glucoside.

Bismuth Oxychloride

A combination of minerals can provide a similar result to blush and foundation powders with Bismuth; Mica (sustainably sourced or synthetic, Zinc Oxide, Titanium Dioxide,), Boron Nitride, Kaolin.

Parabens

A combination of the following are often used as paraben alternatives; Lactobacillus, Radish Root, Gluconate, Colloidal Silver Potassium Sorbate, Grapefruit Seed Extract

Oxybenzone

Non-Nano Zinc
Titanium

Talc

Non GMO Cornstarch
Arrowroot
Oat Flour
Rice Starch
Tapioca Starch
Rice Powder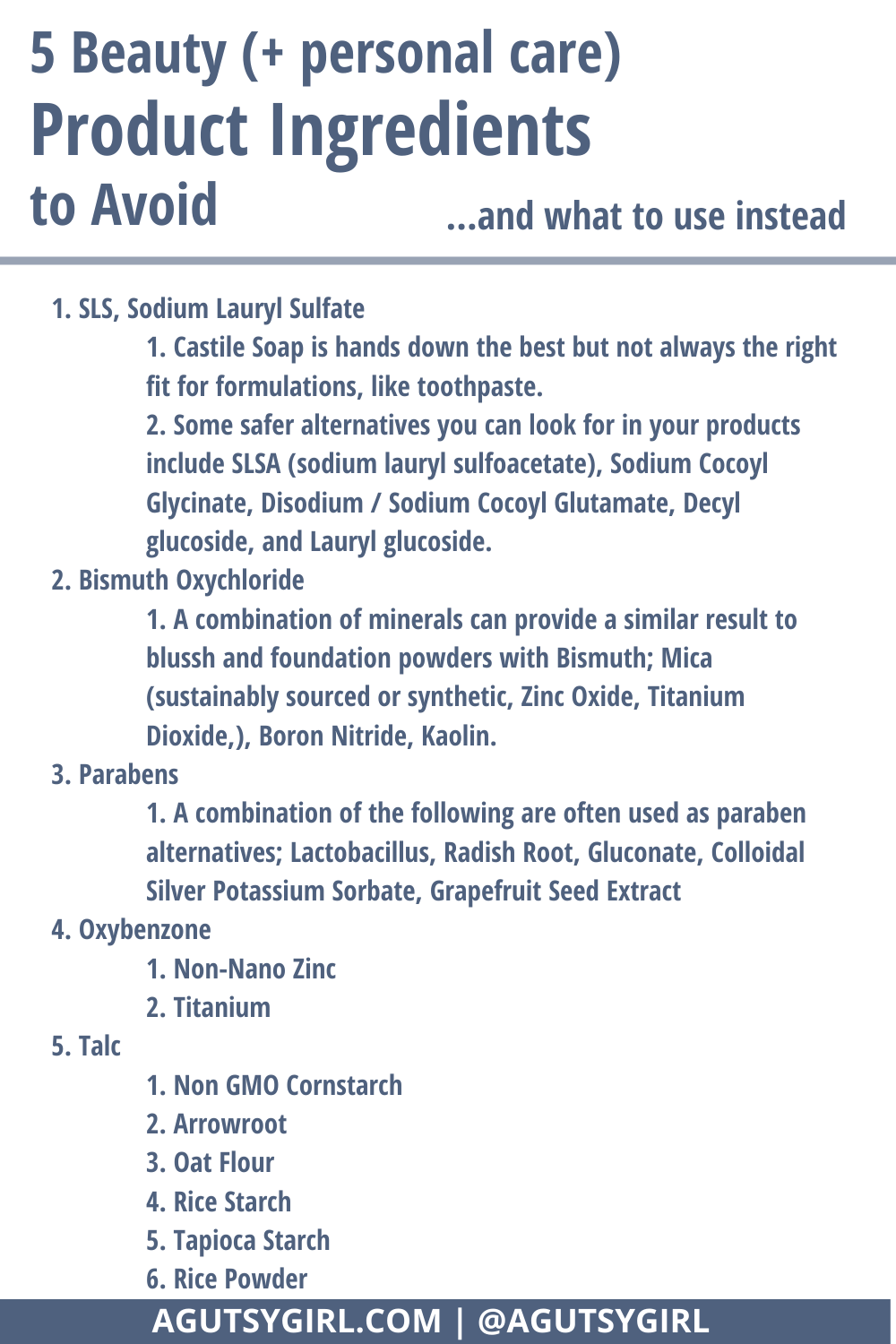 Beth also provided ideas for various clean beauty stores.
Here is a list of 6 to checkout:
Hypoallergenic Makeup
There are no Federal standards or definitions that govern the use of the term "hypoallergenic." The term means whatever a particular company wants it to mean.
In fact, this is what the FDA states,
As a result of the decision, manufacturers may continue to label and advertise their cosmetics as "hypoallergenic" or make similar claims without any supporting evidence. Consumers will have no assurance that such claims are valid.

However, cosmetics users who know they are allergic to certain ingredients can take steps to protect themselves. FDA regulations now require the ingredients used in cosmetics to be listed on the product label, so consumers can avoid substances that have caused them problems.
But remember, like Beth said, products are constantly being labeled as, "hypoallergenic."
What that means for you is to always read labels in detail when in doubt.
Clean Living Challenge
Remember, this podcast episode falls in line with the monthly Clean Living Challenge. You can learn all about it HERE.
If you want to save the 31 clean living challenge ideas for later, click HERE.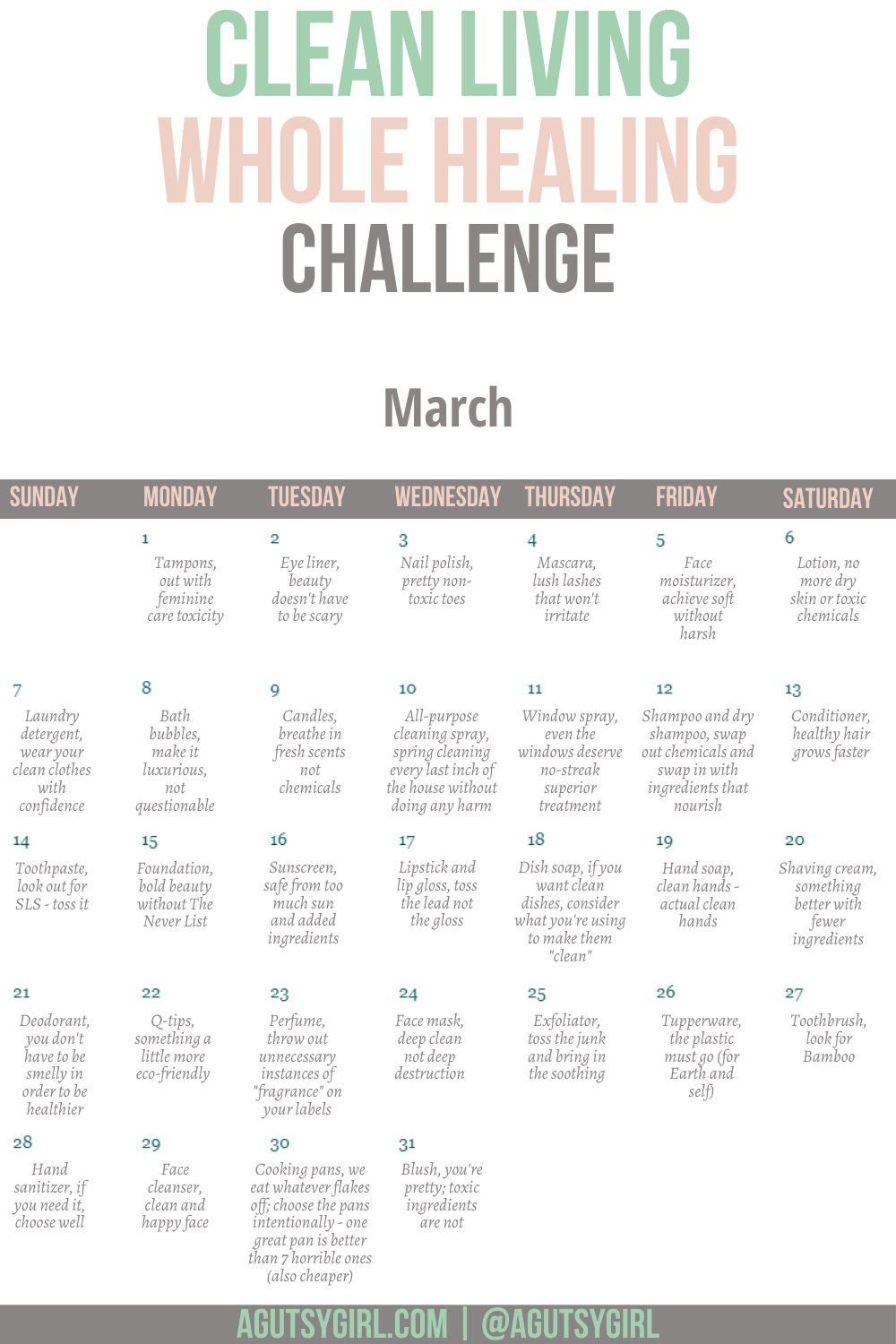 Wrap Up
Time to wrap this up. As always, a huge goal for this show is to connect with even more people. Feel free to send an email to our team at podcast@agutsygirl.com.
We want to hear questions, comments, show ideas, etc.
Did you enjoy this episode? Please drop a comment below or leave a review on Apple Podcasts.

Xox,
SKH
You will heal. I will help.