I'm constantly being asked, "What is a Certified Health Coach anyways?"
In case you haven't seen it yet (and you likely haven't because you're not obsessed like me!), the American Medical Association Approves New Category III CPT Codes for Coaching.
"The new codes acknowledge the potential value of Health and Well-Being Coaching services, well documented in the scientific literature, for patients wishing to prevent or reduce the suffering and costs of chronic conditions including prediabetes, diabetes, hypertension, heart disease, and obesity," notes Margaret Moore, NBHWC board member.
What this means is that, as health coaching is rising, it is also becoming recognizable.
I graduated from The Institute for Integrative Nutrition to jumpstart this whole career. (Actually, the Marketing BA from The University of Minnesota really was the trigger.) To learn all about the Institute, grab my jumbo FAQ HERE.
Anyways, I've gone back-and-forth with both furthering the nutrition education and health coaching in general.
Now that I'm back with you, with A Gutsy Girl, full time I know I'll be doing both.
Regardless, so that we are very clear from the get-go, I want to tell you exactly what a Certified Health Coach is. Also, I need to make it very clear what a Certified Health Coach is not.
What is a Certified Health Coach
Click HERE to save this post for later.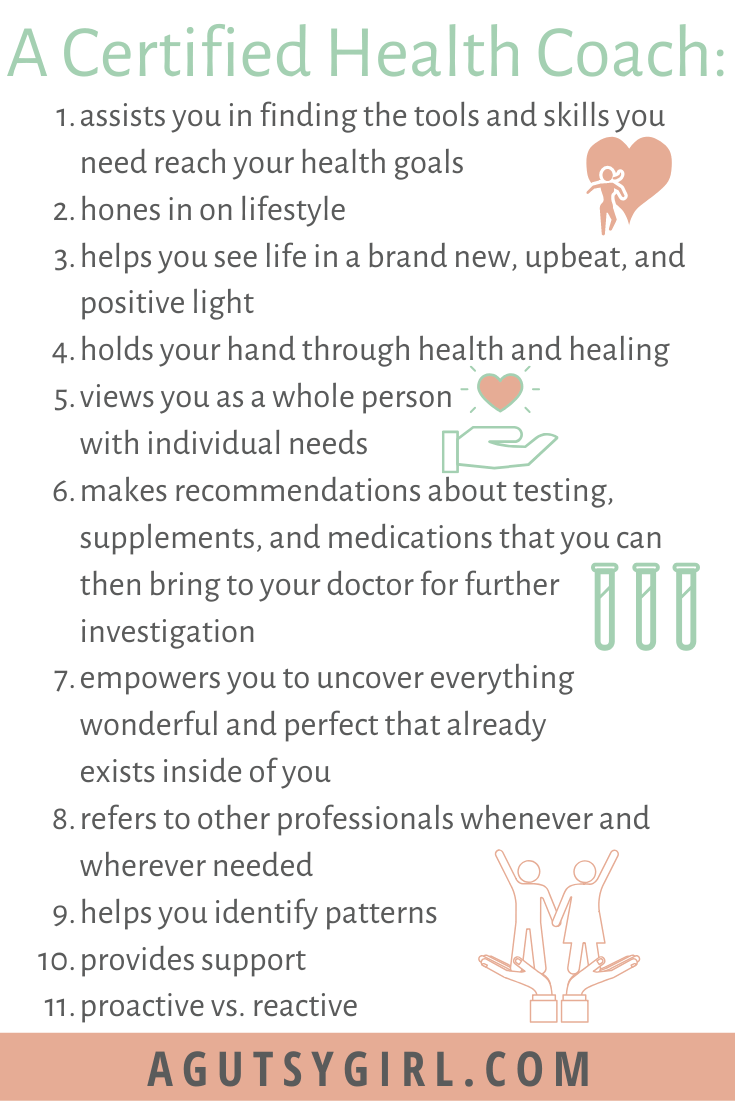 What Does a Health Coach Do?
Here's a brief overview.

A Certified Health Coach:
assists you in finding the tools and skills you need reach your health goals
hones in on lifestyle
helps you see life in a brand new, upbeat, and positive light
holds your hand through health and healing
views you as a whole person with individual needs
makes recommendations about testing, supplements, and medications that you can then bring to your doctor for further investigation
empowers you to uncover everything wonderful and perfect that already exists inside of you
refers to other professionals whenever and wherever needed
helps you identify patterns
provides support
proactive vs. reactive
What Does a Health Coach NOT Do?
While a health coach can do many things, there are also many things that are off the table for discussion.
A Certified Health Coach does NOT:
diagnose clients with specific conditions
set up specific eating plans to treat specific issues
tell you how many calories to eat on any given day
prescribe medications or recommend different doses of your current medications
act as a drill sergeant
make you feel small
pretend to be a counselor
If you're wondering about other health-coaching programs to consider besides The Institute for Integrative Nutrition, I put together a list 7 health coaching programs HERE.
The world needs health coaches.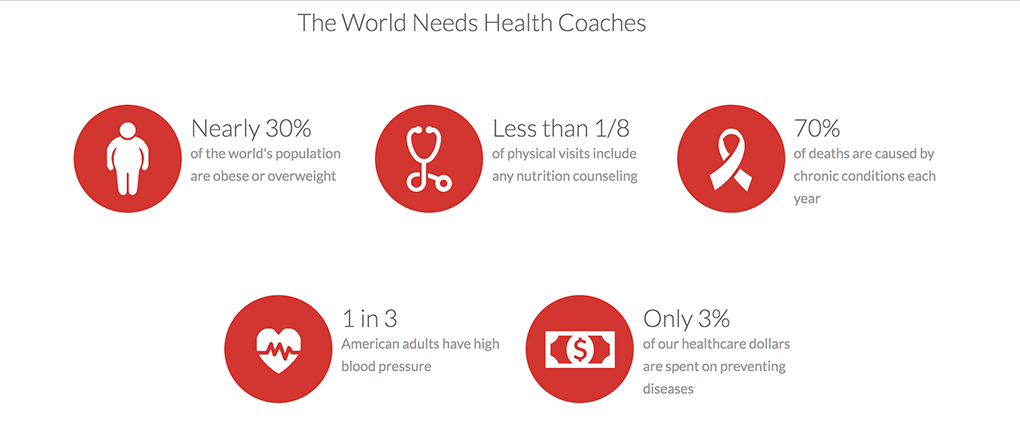 If this excites you, consider starting your own health coaching journey.
Click on any one of the images below to learn more.
IIN syllabus

Integrative Nutrition eBook Excerpt

And p.s. If you decide to enroll at The Institute for Integrative Nutrition, make sure to let them know that Sarah Kay Hoffman (A Gutsy Girl) sent you. You may be able to get a special savings or discount!
My Private Health Coaching Business
My private health coaching is definitely not for everyone.
I am highly focused on a certain woman. Yes, I only work with women in my private health coaching business. Here are a few things, right off the bat, I can tell you about her:
Suspects she has or has been diagnosed with any form of IBS and/or IBD.
She is looking for a partner in gut health or gut healing crime.
She is not

frustrated if a quick fix is not found. I don't believe in them, and they don't work.
If, after all of this, working with me is in alignment for you right now, choose either:
And if you're considering becoming a health coach or are already one, you may be interested in Marketing for Health Coaches HERE.
If you're wanting to really focus on your business, join the 7 Days to a Niche Defined & Health Coaching Refined Business.
Questions? Ask away.
p.s. HERE is the difference between an RD and a Health Coach.
Xox,
SKH
You will heal. I will help.