Come the New Year, you may consider dipping your toes into the Whole30 challenge, so I want to share my Whole30 coffee creamer recipe.
While you can drink your coffee black, I don't prefer it. Furthermore, for many who are trying to heal the gut, I don't think it's ideal.
So, today I am teaching you how to make homemade coffee creamers.
Mine are:
dairy-free coffee creamer
no gluten creamers
free from artificial additives, preservatives and the term "natural flavor"
grain free, soy free, and egg free
In addition, many are low-FODMAP and/or can be made that way.
The Background on These DIY Coffee Creamers
It was Memorial Day. I was at home, indulging in a quiet morning.
And I wanted a sweet creamer for my morning cup of joe, but not the junk in plastic bottles.
So I whipped out my full-fat coconut milk, "candy" molds and other various simple ingredients.
Then, I began to play.
All my favorite flavors, right at my fingertips.
I knew there was a reason I bought those candy molds oh-so-long ago. 🙂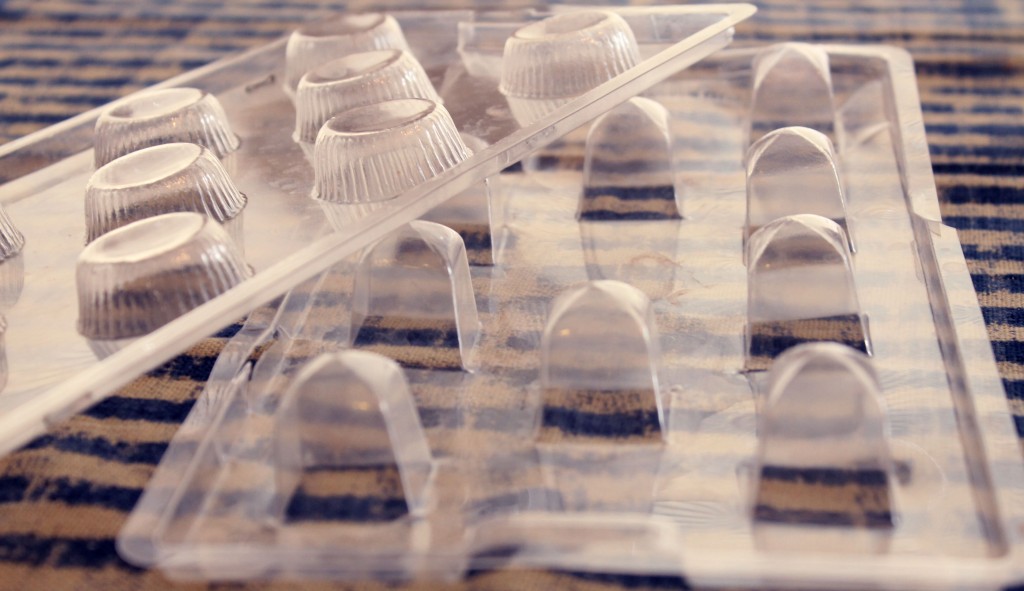 What is the Whole30 Diet?
Over time, the Whole30 Diet has changed to a degree, but at its core, it's a program which encourages the following:
meat
seafood
eggs
vegetables
fruits
natural fats
herbs
spices
seasonings
And, it eliminates the following:
any and all added sugars
alcohol
grains
legumes
dairy
carrageenan
sulfites
No recreating baked goods,"treats", or junk food with approved ingredients*
At its core, the Whole30 Diet is very restrictive, and, in fact I've made it clear as to why I'm personally a Whole30 Diet dropout.
But even still, if you personally desire to follow all Whole30 Diet rules and still make my Whole30 coffee creamer recipe you can. Then again, "technically" making these creamers might fall under the "no recreating baked goods,"treats", or junk food with approved ingredients" category.
I. Do. Not. Care. Though.
Besides, some rules are just meant for bending or breaking.
Whole30 Coffee Creamer Recipe (How to Make Homemade Coffee Creamers)
Click HERE to save this post for later.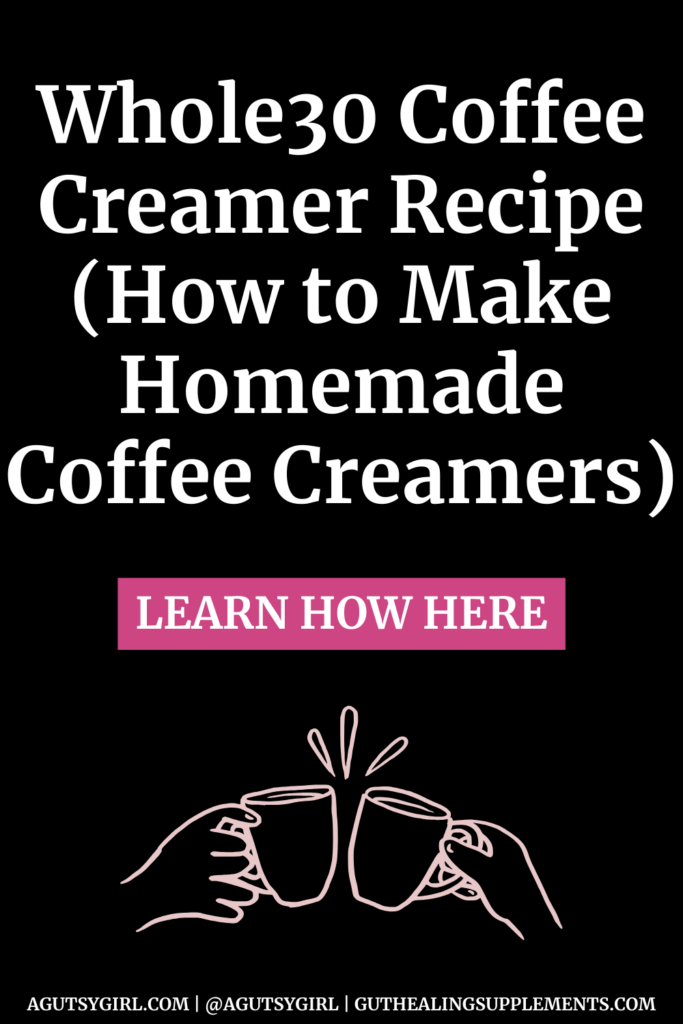 Note
Before digging into this recipe, make note that in addition to making a 100% compliant Whole30 homemade creamer for your morning cup of coffee, you can also choose to add a sweetener if and when desired.
I've included in the ingredient list my favorite sweeteners to add to these creamers, all of which are still Paleo creamer by nature. I will put an asterisks next to them to indicate that they ARE added sugar ingredients and technically not approved for Whole30. 
Ingredients
With this list of ingredients, I'm empowering you to make your own Whole30 coffee creamer recipe, based on your personal taste preferences.
These are all ingredients I've used to make my own creamers for that morning coffee.
100% straight coconut milk, full fat and/or light coconut milk
cashew milk – THIS one is only cashews and water, made with raw cashews
coconut cream
cinnamon
almond extract
coffee extract
peppermint extract
orange extract
vanilla extract
100% raw cacao powder
pumpkin pie spice
coconut sugar*
honey*
maple syrup*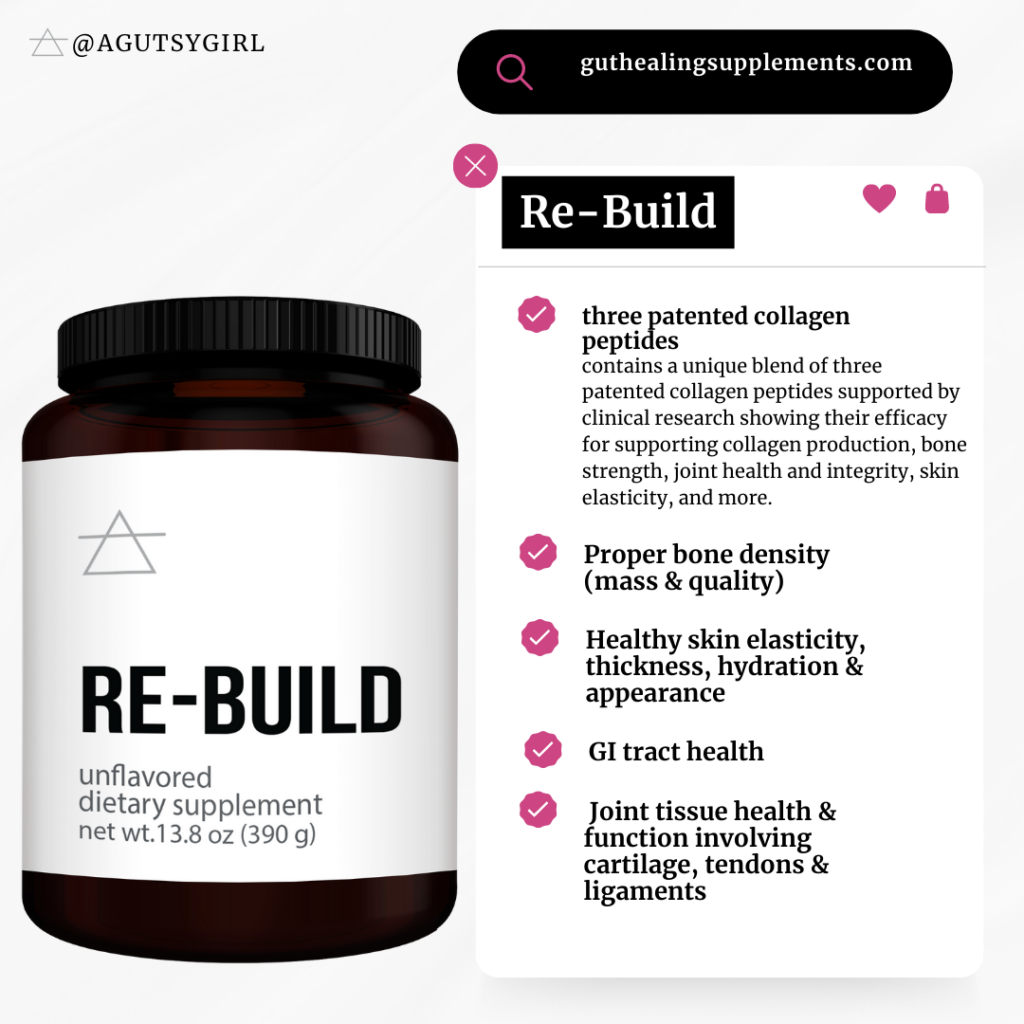 Boost the protein content of your coffee + creamers with Re-Build, which contains three patented collagen peptides.
USE CODE 'BLOG' AT CHECKOUT TO SAVE 15%.
Directions
Dump the can of coconut milk (or similar amount of cashew milk / coconut cream) in a bowl and whisk by hand for about 2-3 minutes.
Pour the milk into individual molds (I just use candy molds – Amazon associate affiliate link). Alternatively, you can use ice cube trays.
Add in whatever flavors you want to each mold, mixing and matching as you please (I used a dry-erase marker to label the flavors).
Place in the freezer to freeze, and use as needed. (They will easily pop out of the candy molds.)
FAQ
​Here are some of the most common questions I get regarding the above ingredients and/or process.
Can I add in other "boosters?"
Yes, of course.
Remember, though, you do have a finite amount of room to play with, so choose wisely.
Here are some "boosters" I have added in the past:
MCT Oil or coconut oil
probiotic (use code AGUTSYGIRL at checkout to save 15% off this probiotic +/or anything from their website)
Chocolate Sea Salt LMNT (p.s. get free LMNT electrolytes using this link)
One easy way to add in the probiotic is to simply whisk it in with your coconut milk right at the beginning. Since it, like the collagen peptides, are flavorless, they can act as your "base."
Can I use almond milk instead?
Technically, if the almond milk has compliant ingredients (just almonds and water) then yes, you can.
However, one of the hardest things about compliant almond milk that I've noticed is its tendency for separation and the watered-down effect.
I don't know about you, but even if I'm having compliant coffee creamers, I still want it to resemble heavy cream in some way, shape, or form. A coconut milk creamer, especially if it's full-fat, will mimic this the best.
Will these only work for hot coffee?
If you are putting your creamers in the freezer via the individual portions, then they will work best in hot coffee (so they melt).
However, if you'd like to add homemade coffee creamers to cold brew coffee or iced coffee, you can. Simply just make the recipe as you normally would and add it to the cold brew prior to freezing.
Does the type of coffee matter?
I do believe that the coffee you use matters.
While there are many health benefits to drinking coffee, it is a heavily sprayed crop.
​If you're going to make high-quality paleo coffee creamer, then you might as well make sure the coffee is as high quality as you can get it as well.
We aim to purchase organic coffee + fair trade whenever possible.
Two brands I love are: Purity Coffee and Equal Exchange.
Whole30 Compliant Creamer + Coffee Lovers!
I believe that even while trying to heal your gut, you can still have your coffee recipes galore and indulge in the great coffee taste.
You do not need to drink black coffee, and choosing from the ingredients outlined in this article are the perfect way for doing so.
For a coffee drinker, the world can be your homemade coffee creamer oyster.
Seriously. These are all so easy to make. Think of your favorite flavors, and play. You might be surprised with the delicious concoction you create.
By the way, as A Gutsy Girl, people are always wondering, "….but how do you drink your coffee anyways?" I shared HERE with a post on How I Drink My Coffee.
If you liked this article on my Whole30 Coffee Creamer Recipe, you might also enjoy:
Disclosure: Some of the links in this post are affiliate links. This means if you click on the link and purchase the item, I may receive a small commission at no extra cost to you.
Xox,
SKH
You will heal. I will help.