Want to know the 9 reasons I'm a Whole30 dropout? Oh good. I knew you did.
I made it 6 (of 30) days before I officially dropped out of the program.
Danggit. Worst student ever.
Now let me tell you why I became a Whole30 dropout.
9 Reasons I'm a Whole30 Dropout
Click HERE to save this post for later.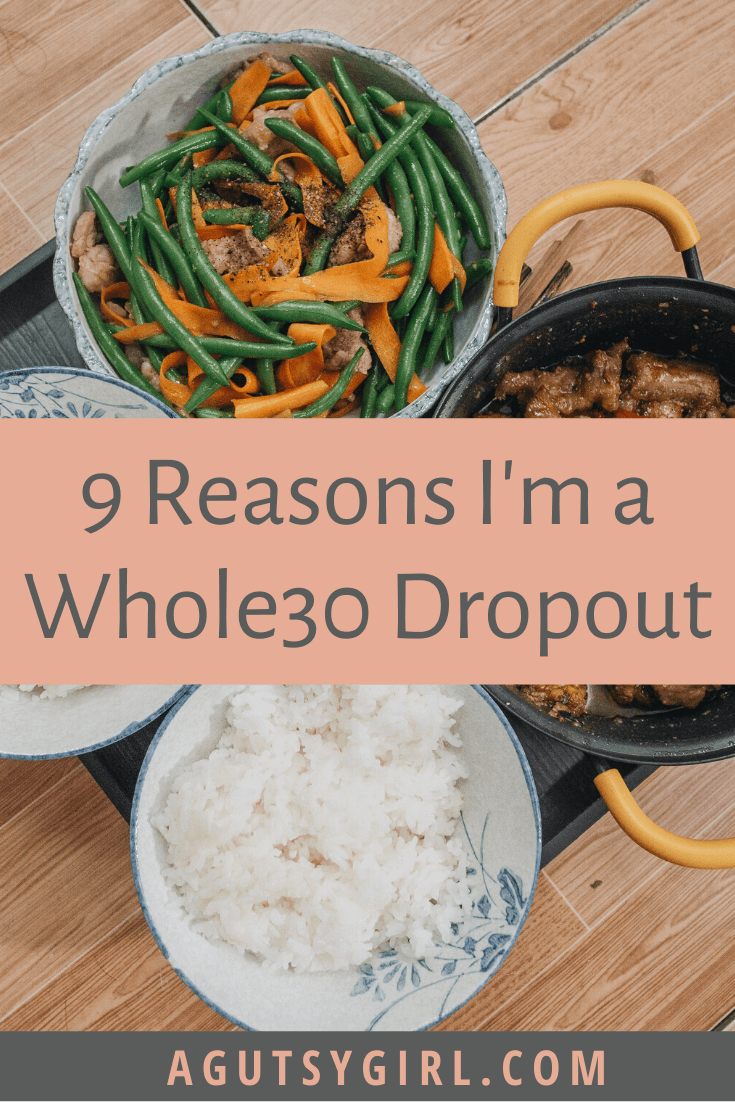 Slay the sugar dragon. In 6 days, I already did this, and that was my main goal. What I did realize is that there is sugar in everything. That said, on the whole, I don't believe I was eating that much sugar in the first place. If I had been, slaying the sugar dragon would have been much harder. In fact, I plan to keep on being super cognizant about sugar and where I get it from.
Funky fresh flavor. The other reason I wanted to do a Whole30 was to be inspired to add more flavor and variety to our meals. Mission accomplished in 6 days, and I don't intend on stopping anytime soon. (But on that, totally going to get Shalane Flanagan's book for some new funky fresh flavor ideas, Run Fast. Eat Slow.)
Whole30 "added sugar" rule. According to the "rules," I could not have my beloved Organic Amylu's Breakfast Sausage because it uses maple syrup. Yet, per serving there was only 1g of sugar. However, I could have my Chicken Apple Sausage because the sugar came from apples and fruit juice as a sweetener. Those have 3g of sugar per serving. For me, that doesn't make any sense. These days marketers are getting by with so much saying "no sugar added" when the truth is that the product is filled with fruit juice fillers. Just give me my straight up maple or honey, and Amylu's. But now that I'm thinking about it, the concept of those sausages might not have been approved in the first place?
Bread making. Paleo allows you to bake, and eat "bready" products, but not Whole30. It's a psychology thing, and I totally get it. We should mostly just be eating whole foods, as they are. But the fact that I felt I had to feel bad for wanting my AIP Bread was insane to me! It's mostly made of plantains, and plantains rock this house.
Rice. Sunday nights just wouldn't be the same without a jumbo bowl of white rice, bok choy, and farmer's market smoked salmon. And again, limit a meal like that for what?
Bonked run. My 12-mile run on Saturday was the worst I've had in a long time. For the past couple of weeks, I had been running like my own champ. But Saturday felt slow and far too hard. And then, after the run, I was constantly all, "Carbs, carbs, carbs….." but fell short with just bananas and sweet potatoes, veggies, and some other things. Usually, right after my runs, I'd have a protein pancake and/or some of my AIP Bread, which is perfect. Then, later in the day, I'd have white rice. I needed that on Saturday, but was trying too hard not to become a Whole30 dropout.
ZERO issues. People typically do a Whole30 for 2 reasons……

They need the structure because they have never eaten "real food," and want to get their feet wet or
They have gut/other health issues they are trying to solve, and they think Whole30 will help them get started with answers. You should know that I think both of those are legit and accurate, and if you fall there, it might be the perfect start for you. For me? Clearly, I don't need any help with real food, and my gut is the absolute best it has been in years! But in fact….

Too many FODMAPs. Ironically, because I couldn't have white rice, my AIP Bread, and protein pancakes, I was always needing to fill in with other carbs, which ended up being high FODMAP carbs (like sweet potatoes, apples, etc.) A few days ago I began feeling a hint of that "upper fermentation," and honestly? I got scared. I have been feeling so amazing, and if things that are Whole30 forbidden keep me thriving, then it's just not for me.
"No" when you don't need to. I wrote The Gutsy Girl's Bible because, by the time most people read it, they need to get better. They are suffering and have been for quite some time. I know because I lived it as well, and when I followed the book's teachings, I began to heal initially. You say "Yes To" and "No To" in my book because you just want to feel better. It is not meant to be a "diet" that lasts for a long duration because I no longer believe that we should ever have a "No To" list not warranted. I could go on and on and on about the negatives with it (from the physical to emotional negatives). Life is too short.
Is Whole30 a Good Program?
Do I think Whole30 is a good program? Absolutely. I still 100% recommend the book and its foundations. In fact, I don't even believe it qualifies as hard.
But once you've arrived at a place on your health journey where things are finally working then we ain't fixin' it if it ain't broken.
I'm working. My digestive system is currently at rockstar status. I'm finally so much less broken. I put in the hard work for years so that I didn't have to live with absurd restrictions ever again.
And with that? It's time for a run, protein pancakes and a couple of these mini muffins (aka AIP Bread turned muffin).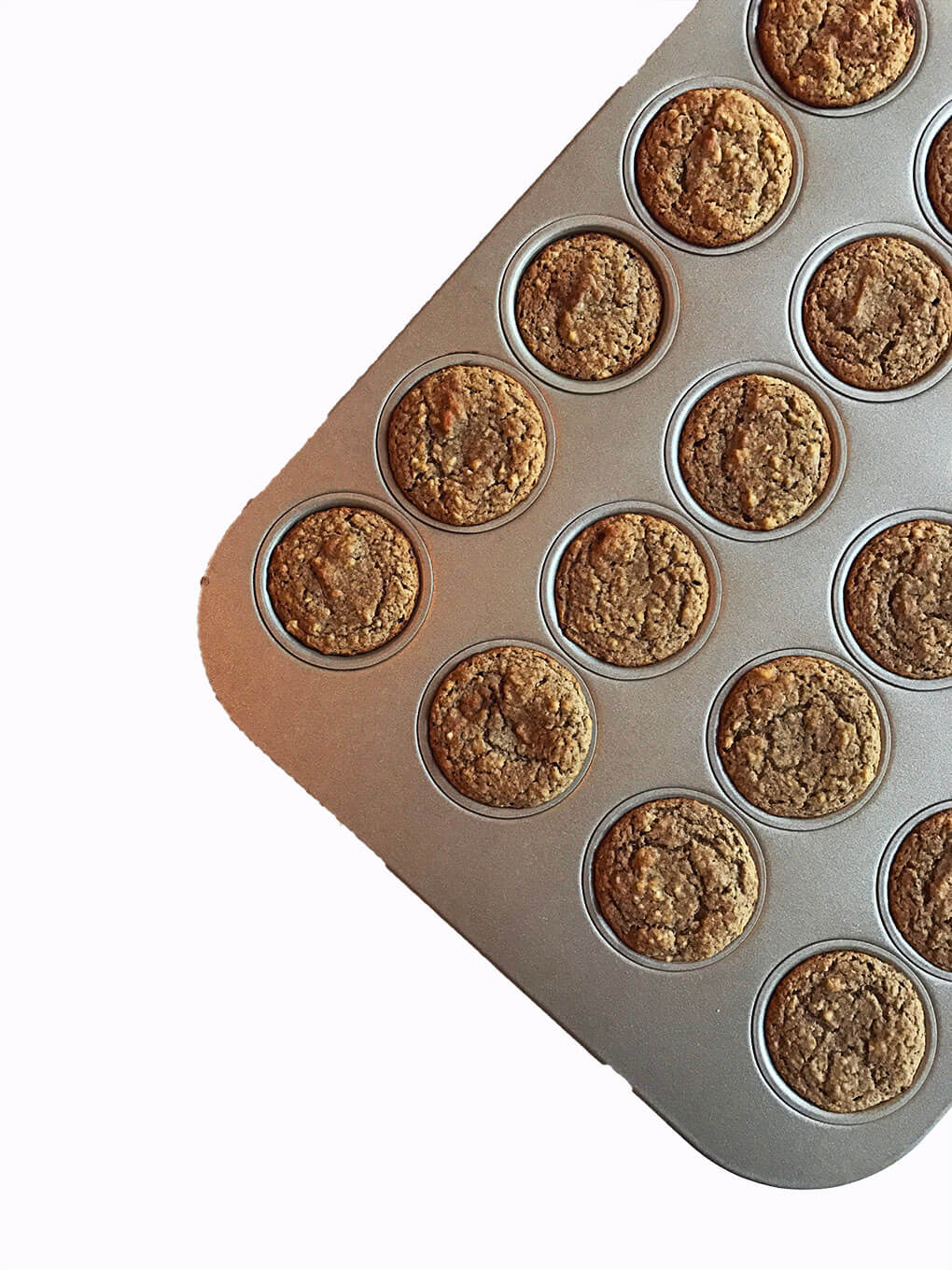 Thoughts?
Xox,
SKH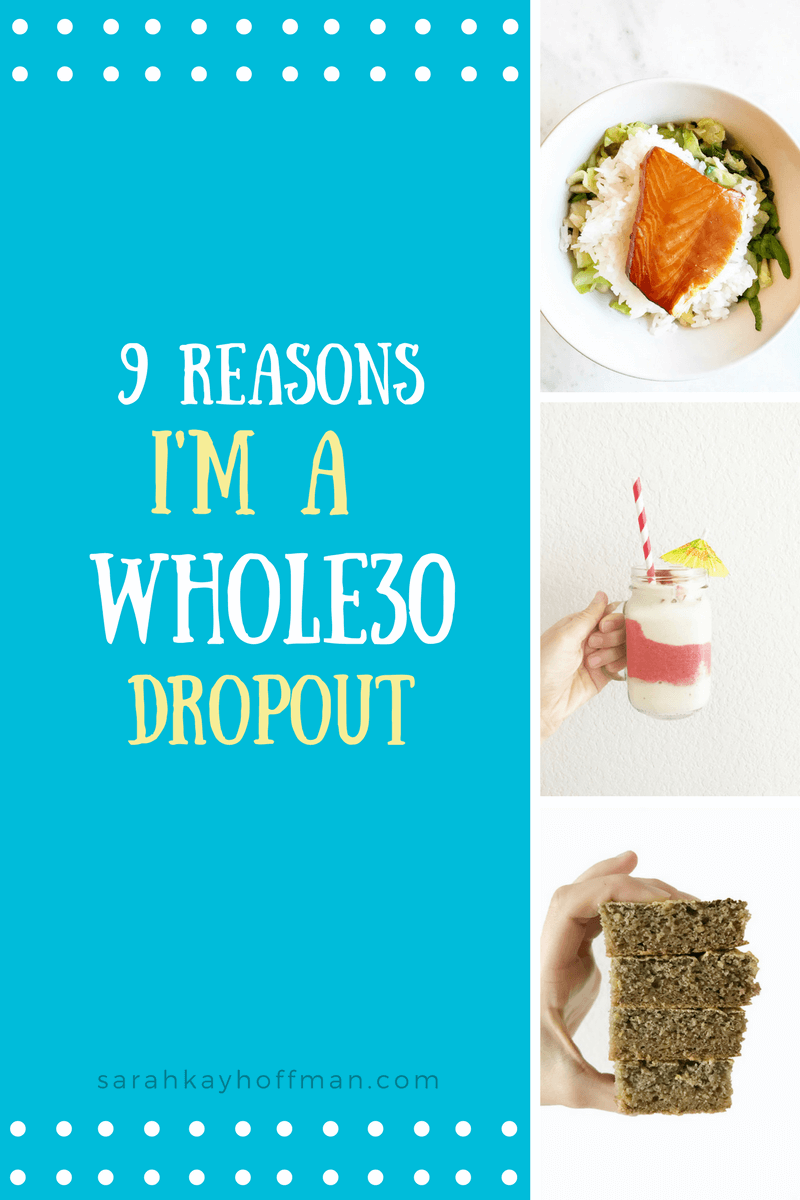 You will heal. I will help.