Banana bites are one of the simplest snacks ever so today I have gut healthy banana bites 7 ways.
But first, please make note that you should not make banana bites with Skippy Peanut Butter.
Skippy Peanut Butter
Listen, I realize that this post is full of nut butter ideas from yours truly.
But yours truly cares that if you're going to have the peanut butter and nut butters, they must be high quality.
In case you want the Skippy Peanut Butter ingredients, here they are:
Roasted peanuts, sugar, hydrogenated vegetable oil (cottonseed, soybean and rapeseed oil) to prevent separation, salt.
The oils in Skippy Peanut Butter are not good, not even a little bit, for your gut health.
So skip it, and continue on….
The Basic Information
Let's start with some basic information since I'm calling this gut healthy banana bites.
First, we are talking "gut healthy" so I'll be sure to make notes on what that means for each of the 7 ways.
Next, here are some posts you might find helpful to accompany this one:
Bananas are high in prebiotics
Might want to understand if any of those are relevant to your current phase of healing.
Next, let's just dig in.
Gut Healthy Banana Bites 7 Ways
Click HERE to save these Gut Healthy Banana Bites 7 Ways for later.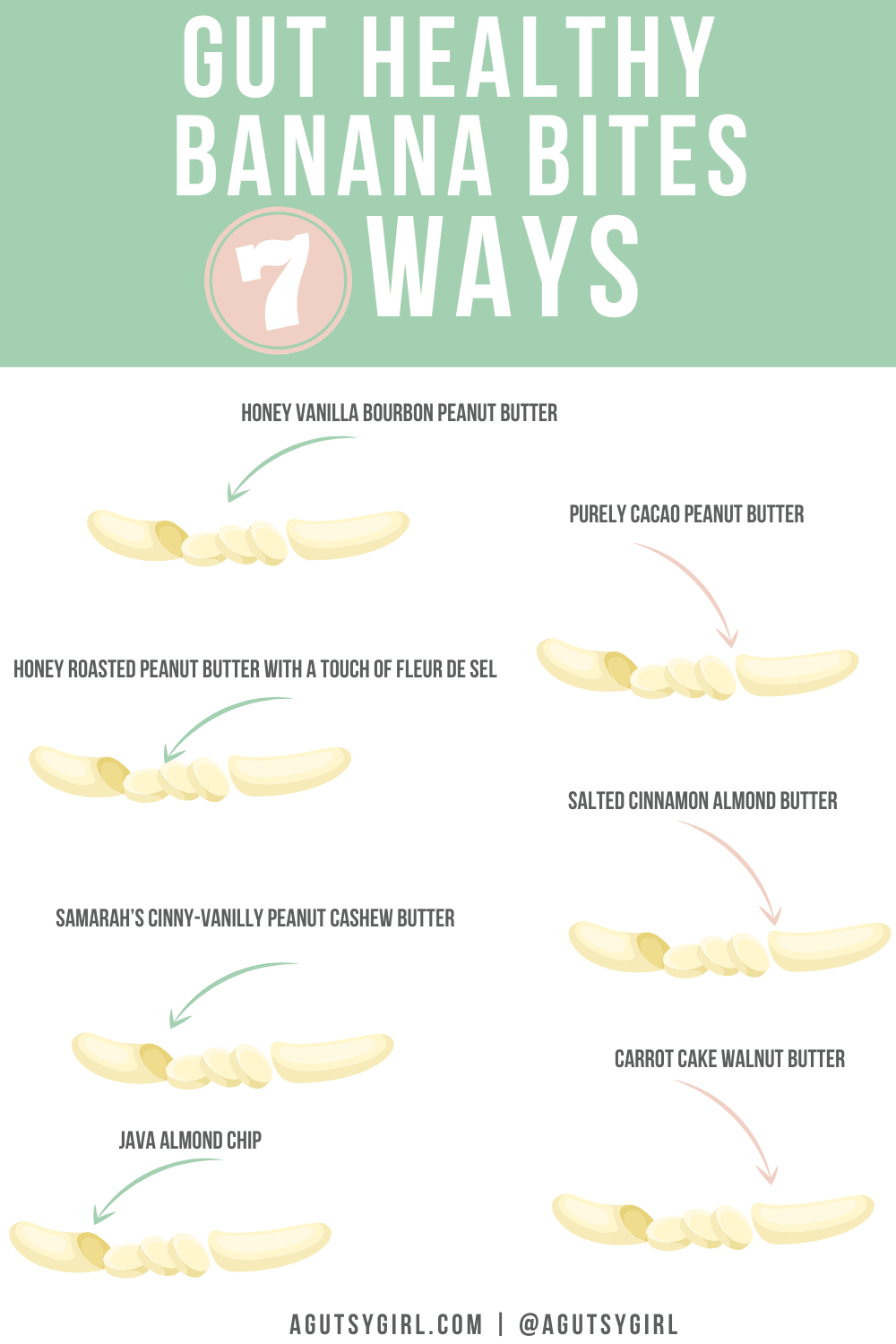 So here's the deal. You can make banana bites by using a slice of banana + nut butter + another ingredient + another slice of banana on top.
I'm making this even easier. You'll need just two things:
a nut butter from my original nut butter line, which can be found HERE
banana slices
Because I created and launched this nut butter line, I know the status of each (gluten free, dairy free, low-FODMAP, etc.)
So below, you'll find the nut butter to use and then any notes about it for your own healing journey.
And by the way, I created the original A Loving Spoon nut butter line when I first started healing my gut in 2009.
I had been feverishly studying the GAPS diet and these ingredients were all "GAPS approved."
Bananas
When deciding if a banana is right for you right now, please see any of the posts I linked to above. If you're wondering about bananas and FODMAPs, here is the information (taken from Reasonable SIBO HERE) for them: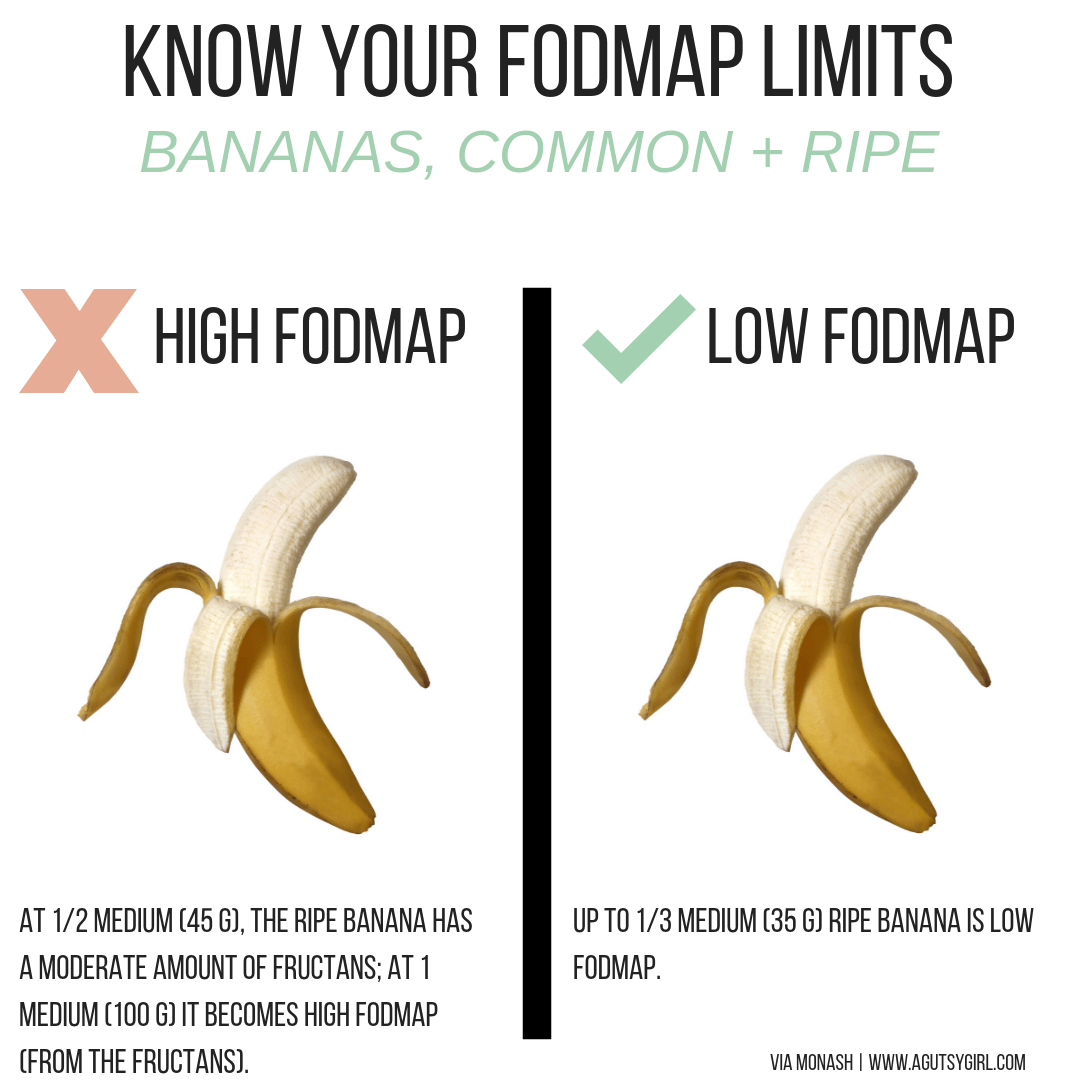 Now that's for a common + ripe banana.
If you prefer the common, unripe banana then 1 medium (100g) is low-FODMAP and 1 large (110g) contains a moderate amount of FODMAPs due to the fructans.
But remember, bananas are also a prebiotic, so are they gut healthy? Yes.
You decide what works for you, though.
Can I Use Dried Banana Chips Instead of Fresh Bananas?
Yes, yes you absolutely can use banana chips if desired.
Here is the graphic from Reasonable SIBO for banana chips. (BTW, there are 310 graphics like this found HERE.)
So if you stick to 15 or less, they are all the things free-from, including low-FODMAP.
Gutsy Key
This is the key for all nut butters below.
GF = gluten free
DF = dairy free
P = Paleo
EF = egg free
LF = low-FODMAP
NS = no sugar added
V = vegan
7 simple banana bite ideas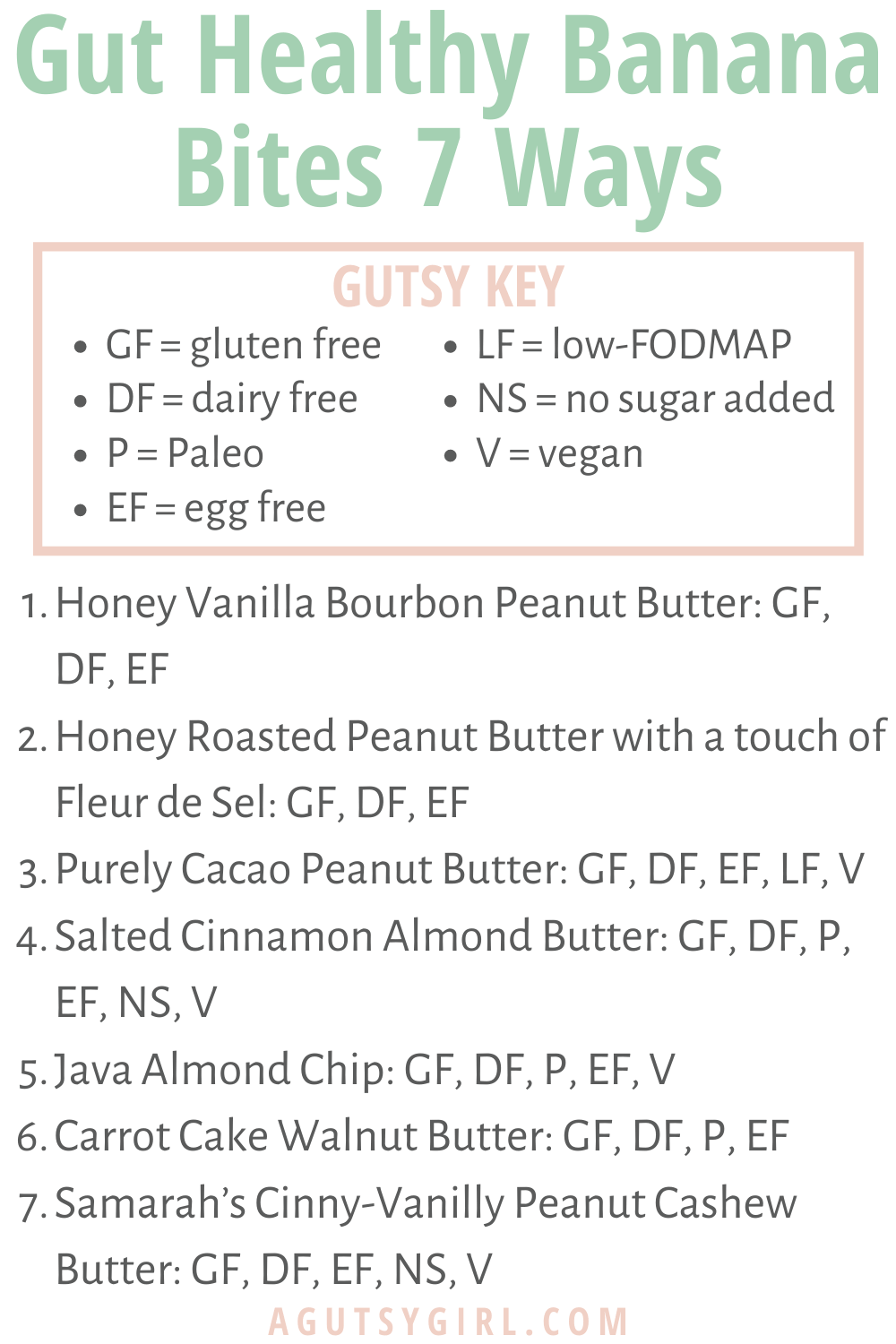 Honey Vanilla Bourbon Peanut Butter

To be clear, this was the most popular flavor when I had my company. It was always selling out, and the key differentiator between this flavor and anything else you might find on the market is the vanilla we sourced. In fact, I'd say it's one of the only reasons I charged for these recipes to begin with. The secret in the natural food industry is never the actual ingredients, but instead the source. My source was impeccable! When you make this bite, you can be sure it's:

GF
DF
EF

Honey Roasted Peanut Butter with a touch of Fleur de Sel

You need just three ingredients to make this nut butter. It's so lovely and simple that when we were in production, it was sold at the San Francisco Airport. When your banana bite is ready, it will be:

GF
DF
EF

Purely Cacao Peanut Butter

It's the perfect blend of non-dairy chocolate and peanut butter with a crunch. This was a top seller as well. And it is:

GF
DF
EF
LF
V

Salted Cinnamon Almond Butter

Zero added sugar in this recipe. For much of the time, this one was actually my personal favorite because it was so smooth, simple, and pure perfection. This one proved that less can definitely be more. It is:

GF
DF
P
EF
NS
V

Java Almond Chip

I really didn't know if I wanted to release this flavor, as it carries special meaning and significance to me. This flavor was my brother's favorite flavor. He loves coffee, and his dog's name is Java. We decided to name the flavor for the both of them. When you use it in your banana bite, it will be:

GF
DF
P
EF
V

Carrot Cake Walnut Butter

Fall in a jar. But let me tell you that even when it's not fall, you'll adore this one. I've been meaning to create a recipe using it for some "super seed balls." This flavor is:

GF
DF
P
EF

Samarah's Cinny-Vanilly Peanut Cashew Butter

Last, but certainly not least! As a mother who believes in real food and nourishing families with high-quality food, spending time in the kitchen – cooking and baking – with my children is a huge passion. When my oldest, Samarah, was just 3.5-years old, we came up with this flavor together.

She loved creating with me back then and still does to this day. She and I developed this brand new Peanut-Cashew nut butter together. The flavor was created after the business shut down, so up until the e-book released, no one had ever had it. Now you can!

GF
DF
EF
NS (only 1 teaspoon of a non-nutritive sweetener is used in this recipe, monk fruit)
V
Making Your Own Nut Butters
Click HERE to save these 6 tips for making your own nut butters for later.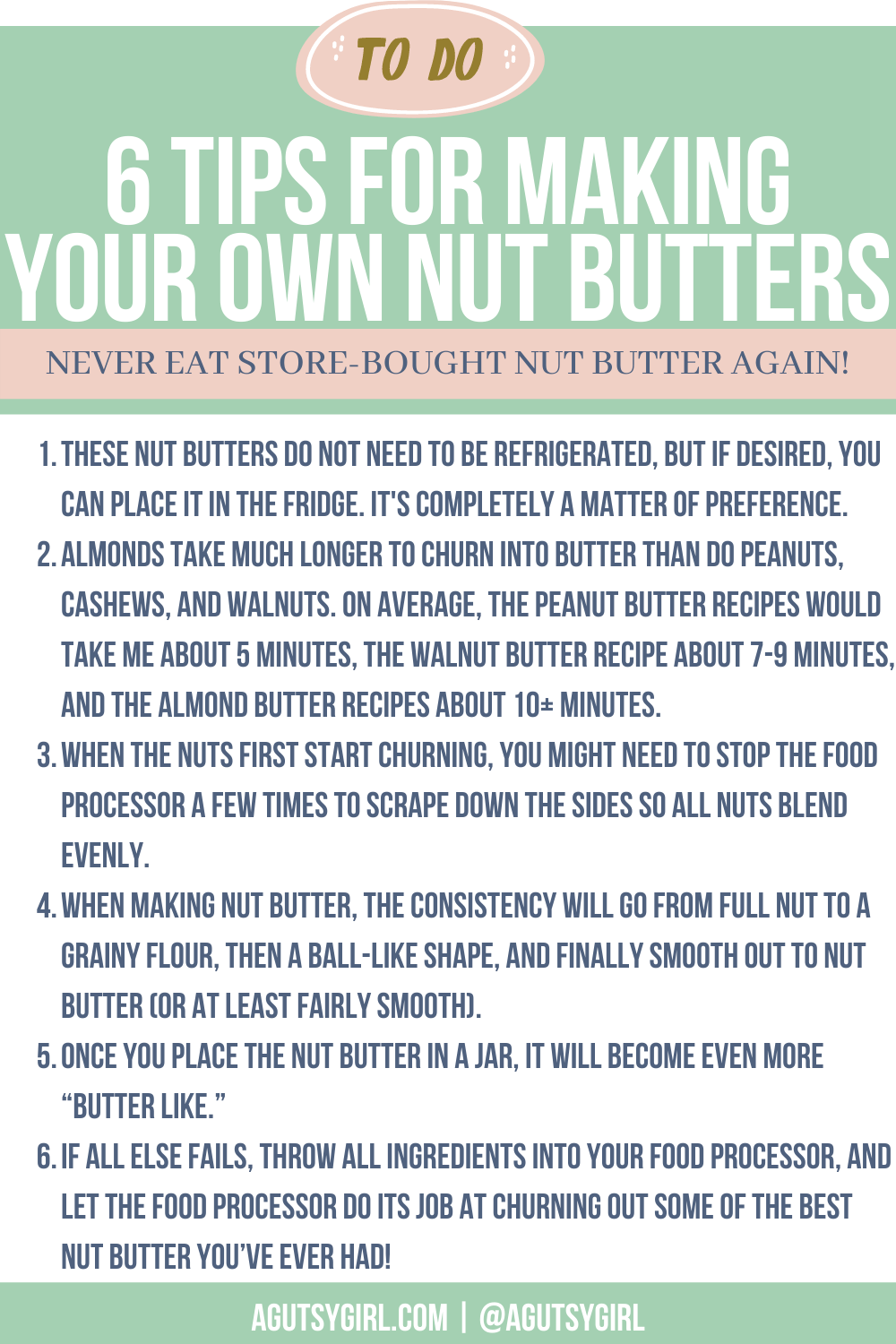 These nut butters do not need to be refrigerated, but if desired, you can place it in the fridge. It's completely a matter of preference.
Almonds take much longer to churn into butter than do peanuts, cashews, and walnuts. On average, the Peanut Butter recipes would take me about 5 minutes, the Walnut Butter recipe about 7-9 minutes, and the Almond Butter recipes about 10+ minutes.
When the nuts first start churning, you might need to stop the food processor a few times to scrape down the sides so all nuts blend evenly.
When making nut butter, the consistency will go from full nut to a grainy flour, then a ball-like shape, and finally smooth out to nut butter (or at least fairly smooth).
Once you place the nut butter in a jar, it will become even more "butter like."
If all else fails, throw all ingredients into your food processor, and let the food processor do its job at churning out some of the best nut butter you've ever had!
Sugar Free Peanut Butter
Let's say you want everything to be sugar free, including the nut butters.
The way you would do this is by using either a fresh banana (no added sugar; just natural sugars already in it) and/or dried bananas with no added sugar (they are out there)!
Then, whatever peanut butter and/or nut butter you want to use, just make sure there is no added sugar to it.
A couple of my recipes are already this way, but with all of them you could simply leave out whatever sugar was being used (i.e. coconut, honey, etc.)
Honestly, peanut butter and nut butters are already naturally sweet. You won't need much, if any, when necessary.
Peanut Butter and Nut Butter Homemade Recipes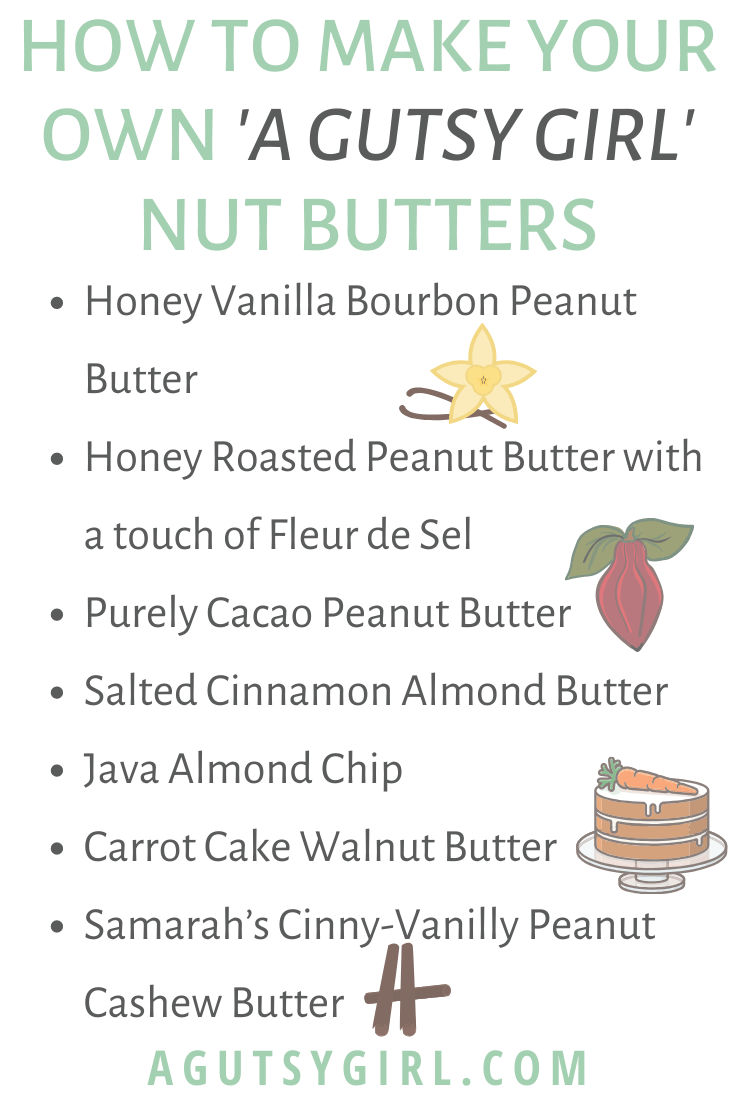 Now, if you do decide to purchase my nut butter recipes, here are other things you'll find in the e-book:
all ingredients and sources
44 simple nut butter pairing ideas
If you liked this post, you might also enjoy:

Xox,
SKH
You will heal. I will help.