Before I even tried it, I had an inkling that this would be the best organic, low-FODMAP Vegan protein powder.
And I was right!
So what is this protein powder?
It's the brand new Perfect Plant Protein from Perfect Supplements.
Best Organic Low-FODMAP Vegan Protein Powder
Click HERE to save this post for later.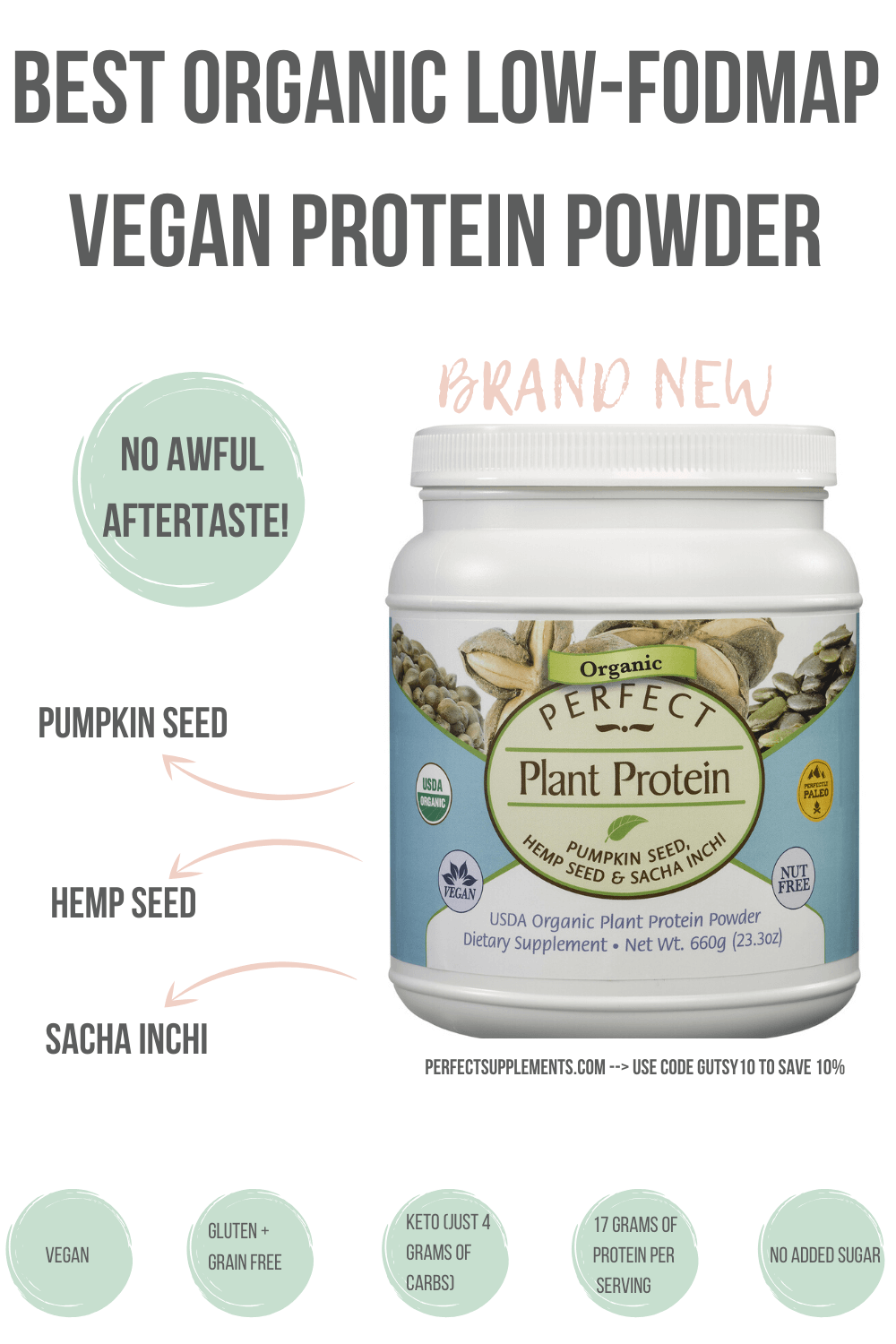 First, let me share its facts and accolades.
Perfect Plant Protein Ingredients
There are just three. They include:
Sacha Inchi
Pumpkin Seed
Hemp Seed
Perfect Plant Protein Special Diets
Here are all the things this Vegan protein powder is:
gluten-free
nut-free
grain free
soy free
pea free
legume free
Click HERE to buy this protein powder now. At checkout you can use my code – GUTSY10 – to save an automatic 10%.
Additionally
But wait, there's more!
no added sugar
no synthetics
Vegan
Paleo
Keto (just 4 grams of Carbs)⠀
USDA Organic
Non-GMO
complete protein (all 9 essential amino acids)
17 Grams of Protein per serving⠀
224mg of Magnesium per serving (and remember, magnesium is great for constipation!)
270mg of Potassium per serving⠀
So great, right? But how does it taste?
Perfect Plant Protein Taste Test
With just three ingredients and no sugar, I didn't know how this would taste. While I love plain, hemp protein, we always found that it left too much of an aftertaste and was oftentimes hard to integrate into recipes.
So when my tub of the Perfect Plan Protein arrived, Ryan and I both just had a taste of it – plain, with nothing added.
We both agreed – very good, not much of an aftertaste, and definitely better than the hemp-only protein powder aftertaste. If anything, it's got a slightly nutty aftertaste.
Because we thought it was pleasant, the first thing I made with it was a smoothie with my number 1 kitchen helper, Samarah. A child's taste buds are always the "true" test, right?!
So she and I made a smoothie. Here is exactly what was in the smoothie.
Smoothie Ingredients
banana (2.5 small/medium-sized)
strawberries (about 10 large)
almond milk (or milk of choice), 1 cup (or as desired)
1.5 scoops Vitamin C
1 scoop Perfect Plant Protein (use code GUTSY10 at checkout to save 10%)
2 probiotic capsules (use code AGUTSYGIRL at checkout to save 15%)
ice cubes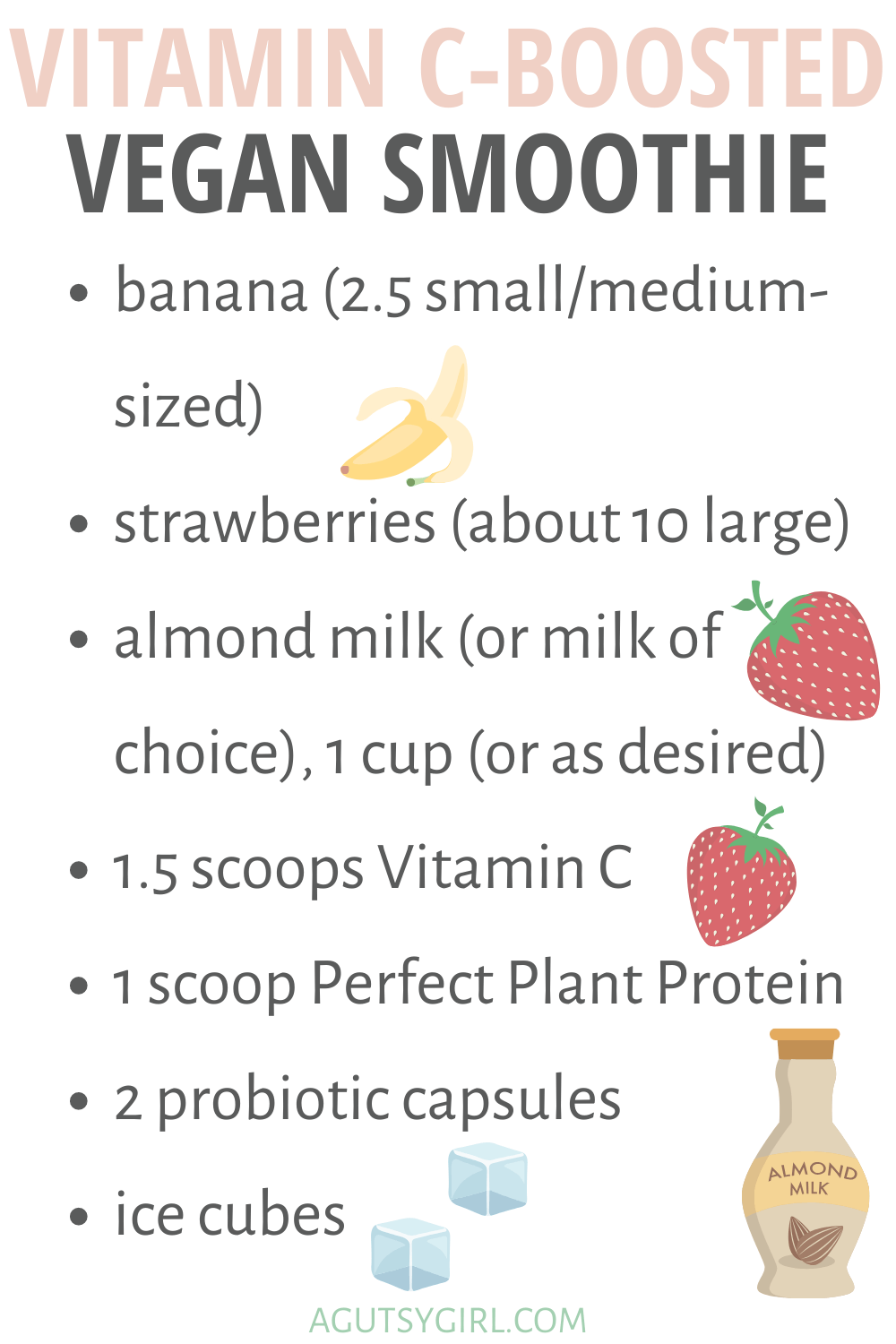 So good!
She drank it, Ryan drank it, and I drank it as well. That quantity was good enough for all of us. It was a Vegan smoothie with a boost of Vitamin C.
Try it, and let me know how you like it.
By the way, remember that if you purchase from my links, I make a small percentage at no charge to you. I only share the things we actually do and use in our house. When you purchase these products through my links, though, it allows me to keep on creating, sharing, and giving 90% of everything I do for free. And I heart you for it, darling.
If you enjoyed this post, you might also enjoy:

Xox,
SKH
You will heal. I will help.