In case you thought corn consisted only of corn-on-the cob, I put together a list of 134 corn sources and alternate names to show you otherwise.
This past summer, I put together a list of 192 sugar sources and alternate names.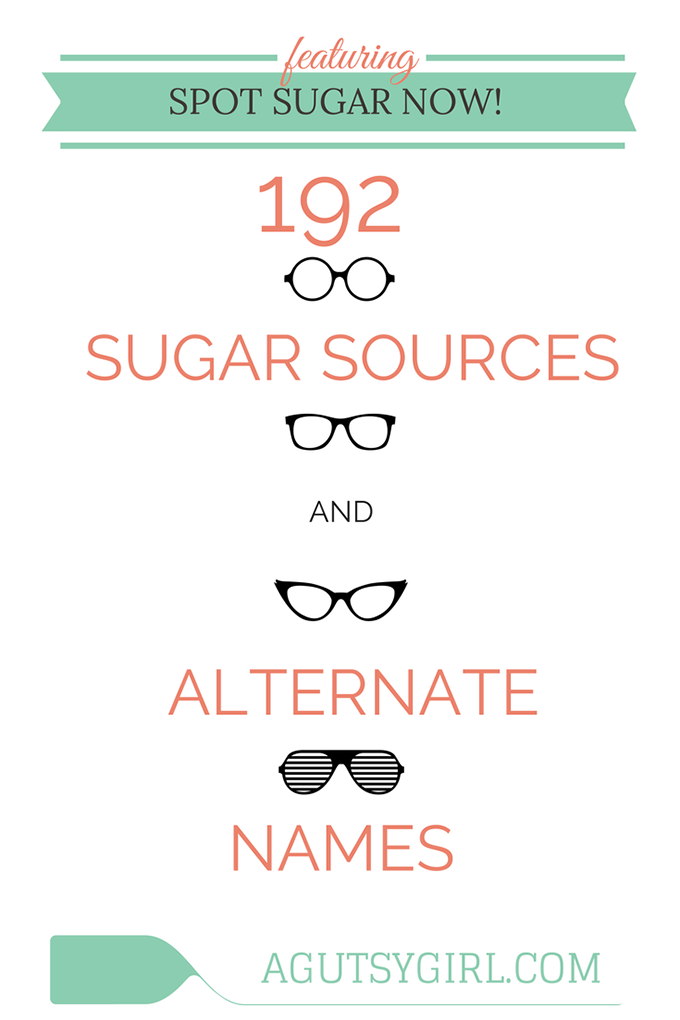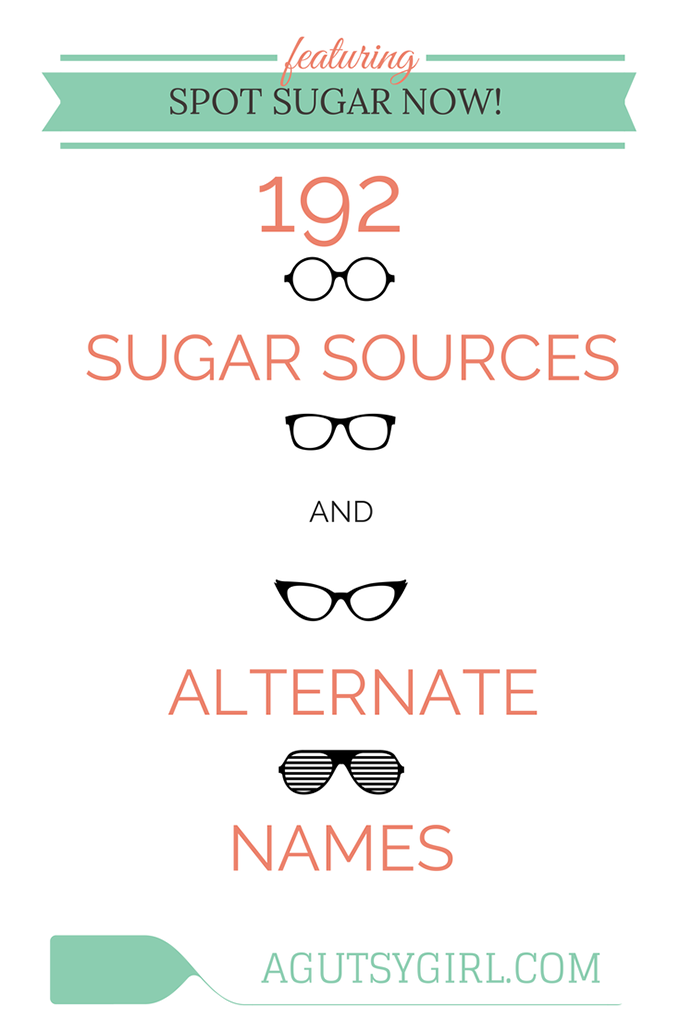 There are 8+ lists of this sort in The Gutsy Girl's Bible: an approach to healing the gut, 3.0.
Just like sugar, not all corn is evil. The reason I put together these lists is to show that so many things are and/or contain corn. Because many people have an intolerance to it, a list like this could be very useful.
That said, a lot (not all) of corn and corn-based products are not good. Corn consistently stays on the top 10 list of GMO crops. And research shows the link between GMO foods and digestion.
Take that for what it's worth to you.
And in the meantime, here is my contribution to helping you spot corn.
134 Corn Sources and Alternate Names
Click HERE to save this list for later.
Acetic Acid
Alcohol
Alpha Tocopheral
Artificial Flavoring
Artificial Sweetener
Ascorbate
Ascorbic Acid (Vitamin C)*
Aspartame
Baking Powder
Blended Sugar
Cake
Calcium Citrate
Cal. Fumarate
Calcium Gluconate
Cal. Lactate
Calcium Stearate
Caramel
Caramel Coloring
Candy
Canned Fruit
Cellulose Microcrystalline
Cereal
Citrus Cloud Emulsion
Confectioner's Sugar
Cookies
Corn
Alcohol, corn
Gluten, corn
Extract, corn
Cornflour
Cornmeal
Cornstarch
Oil, corn
Oil Margarine, corn
Sweetener, corn
Sugar, corn
Syrup, corn
Crystalline Dextrose
Dextrin
Dextrose
D-Gluconic Acid
Distilled White Vinegar
Erythritol
Ethanol
Ferrous Gluconate
Flavorings
Food Starch
Fructose
Fruit Juice Concentrate
Gluconate
Glucose
Glucose syrup

Glutamate
Gluten
Glycerides
Golden Syrup
Gravy

Grits

High-Fructose Corn Syrup (HFCS, HFCS 42, HFCS 55)
Hominy
Hydrolyzed Corn
Hydroly. Corn Protein
Hydrolyzed Vegetable Protein
Ice Cream
Infant Formula (not that you would eat this, but in case you have an infant – good to know)
Inositol
Invert Sugar
Invert Syrup
Iodized Salt
Jam
Jelly
Ketchup
Lactate
Lactic Acid
Lauryl Glucoside
Lecithin
Linoleic Acid
Lysine
Maize
Malt
Malt Extract
Syrup, Malt
Maltitol
Maltodextrin
Maltose
Mannitol
Masa Harina

Mayonnaise
Methyl Glucose
Modified Cellulose Gum
Mod. Corn Starch
Modified Food Starch
Molasses
Monosodium Glutamate
MSG
Natural Flavorings
Olestra/Olean
Polenta
Polydextrose
Polysorbates (i.e. Polysorbate 80)
Popcorn
Potassium Citrate
Potass. Gluconate
Powdered Cellulose
Powdered Sugar
Processed Food
Pudding
Saccharin
Salad Dressing
Semolina
Soda
Sodium Citrate
Sod. Erythorbate
Sodium Starch Glycolate
Sorbate
Sorbic Acid
Sorbitan
Sorbitol
Splenda
Starch
Stearic Acid
Sucralose
Sucrose
Sugar
Sweet 'N Low
Syrup
Unmodified Starch
Vegetable Gum Protein
Veg Paste
Vegetable Starch
Xanthan Gum
Xylitol
Yeast
Zea Mays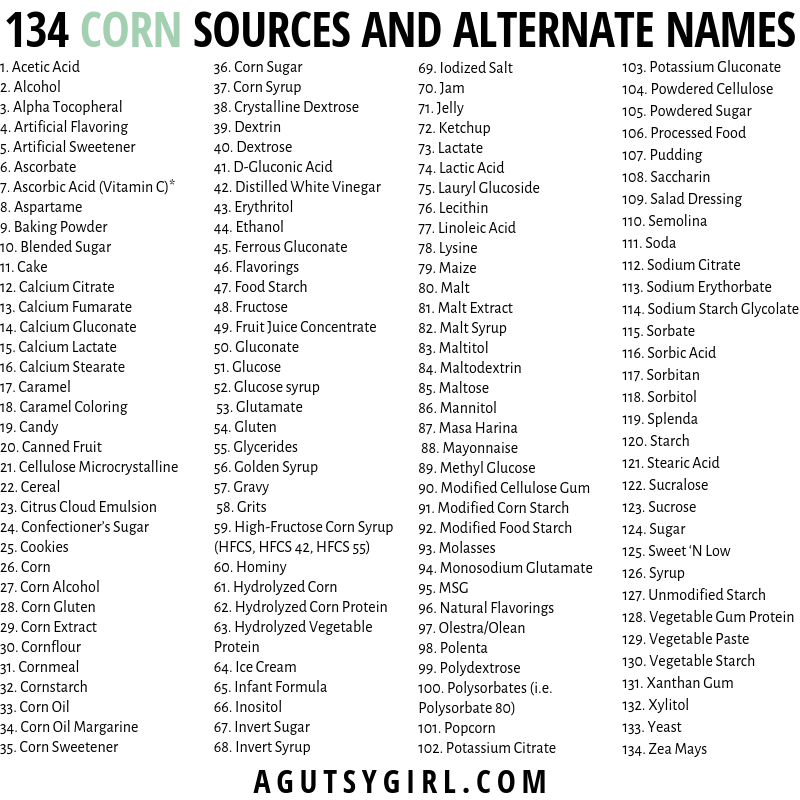 Xox,
SKH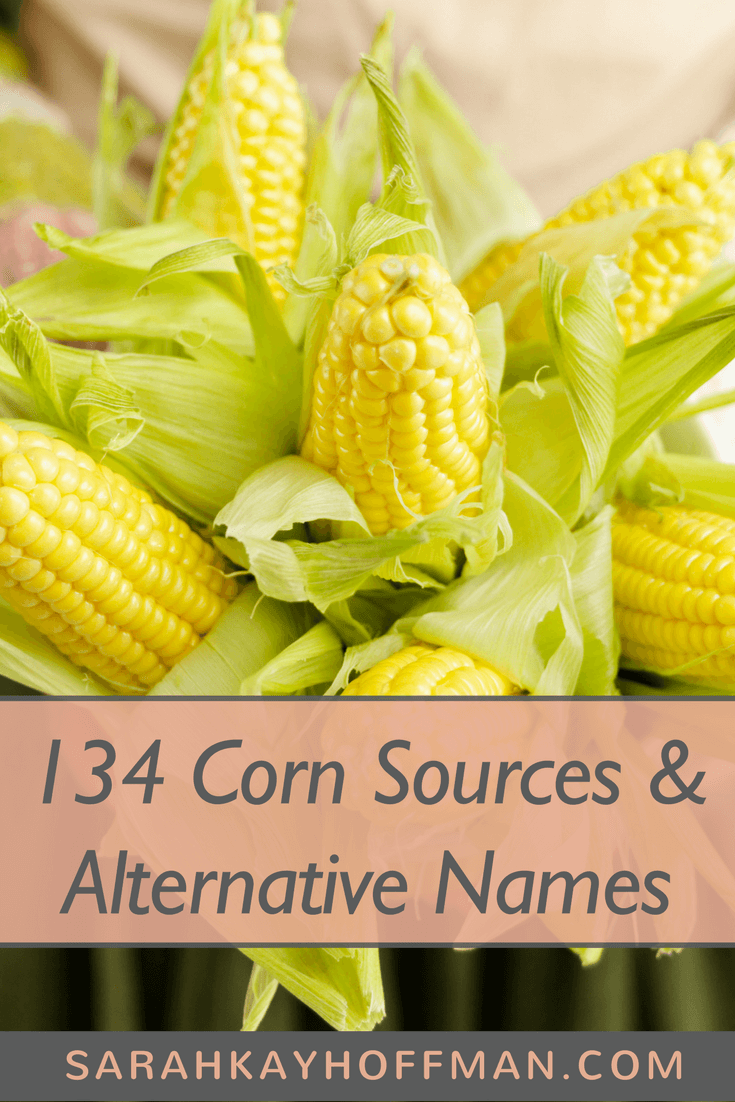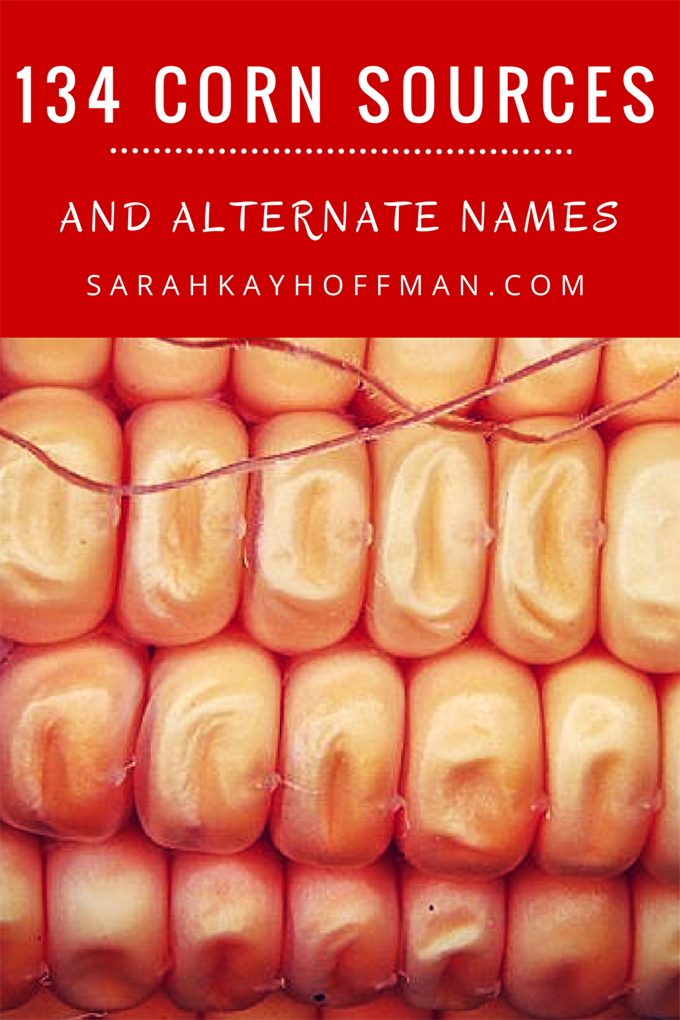 You will heal. I will help.