Raise your hand if you need this DIY Lemonade for Constipation recipe.
I alluded to it in my Staying at Home Daily Routine post. And now, here we are. 
This is how the recipe has evolved over the years.
Crystal Lite (rotten)
Make Your Own Lemonade (much better, would still make this in certain instances!)
just water, Vitamin C, and fresh-squeezed lemon (good, but sometime not enough flavor for me)
And now this. This DIY Lemonade for Constipation. While it might not sound like an appetizing recipe, this is as good as it gets when it comes to replicated authentic lemonade.
The reason I added "constipation" to the title is because it actually is something that helps keep things moving along. Also, I wanted to name it this because if you are prone to a lot of diarrhea, you will not want to enjoy this beverage on the daily.
With that, let's dig in.
DIY Lemonade for Constipation
Click HERE to save this recipe for later.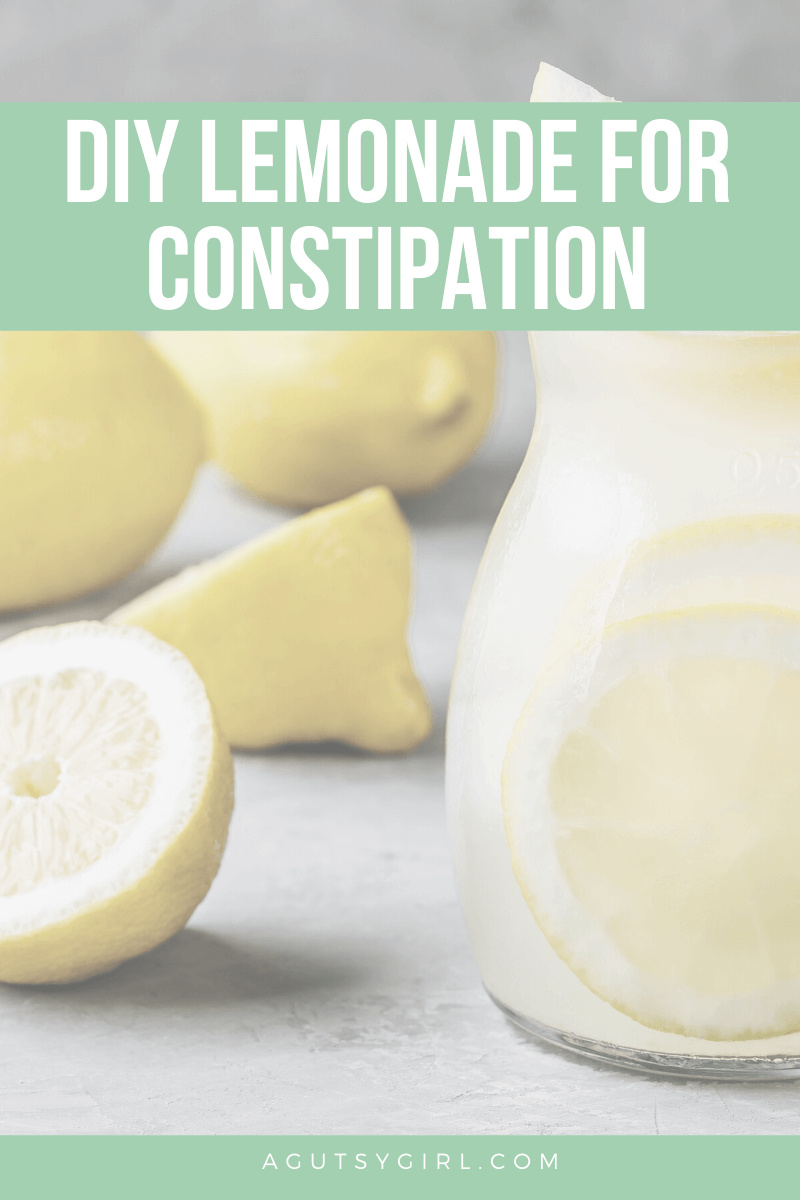 Here are the exact ingredients (+ brands) I used for the recipe and have been using for a very long time for this drink (in order of how I added them in the video):
Water
Well, water is water is water. I use filtered water from our house. The end.
Gut Garden Collagen Peptides
I'm working on a whole post around this product, but I use the Gut Garden Collagen Peptides because I love and adore the founder, Lily. Also, she is just like us – Gutsy. 
I think this Collagen is just as high quality as the Vital Proteins one, but it's cheaper. Also, when you buy directly from their site, you can use my code AGUTSYGIRL to save an extra 15%. 
Grab your collagen HERE.
Fresh Squeezed Lemon
Step one: buy 2 lemons. 
Step two: squeeze 1-2 of them for your lemonade. 
There you go. That's it.
GoodOnya HYDRATE Electrolyte Drink
Check out this graphic from GoodOnya regarding the powder.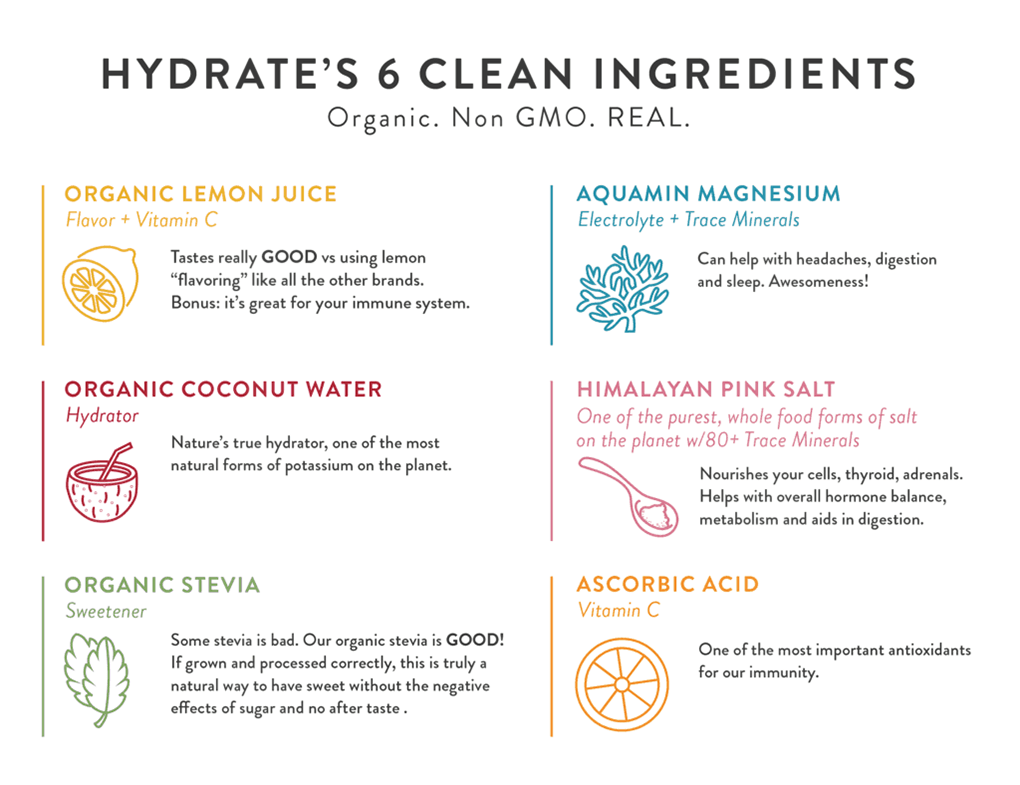 Everything about this is great for digestion, but I incorporate it specifically for the magnesium.
Grab the HYDRATE HERE.
Doctor's Best Vitamin C Powder
I've featured this in my Vitamin C post already, so you can read more about it there. 
You just need one, tiny scoop (which is 1,000mg) for this drink. 
More or less can be used, as needed for your own, unique circumstances.
Buy the Doctor's Best Vitamin C HERE.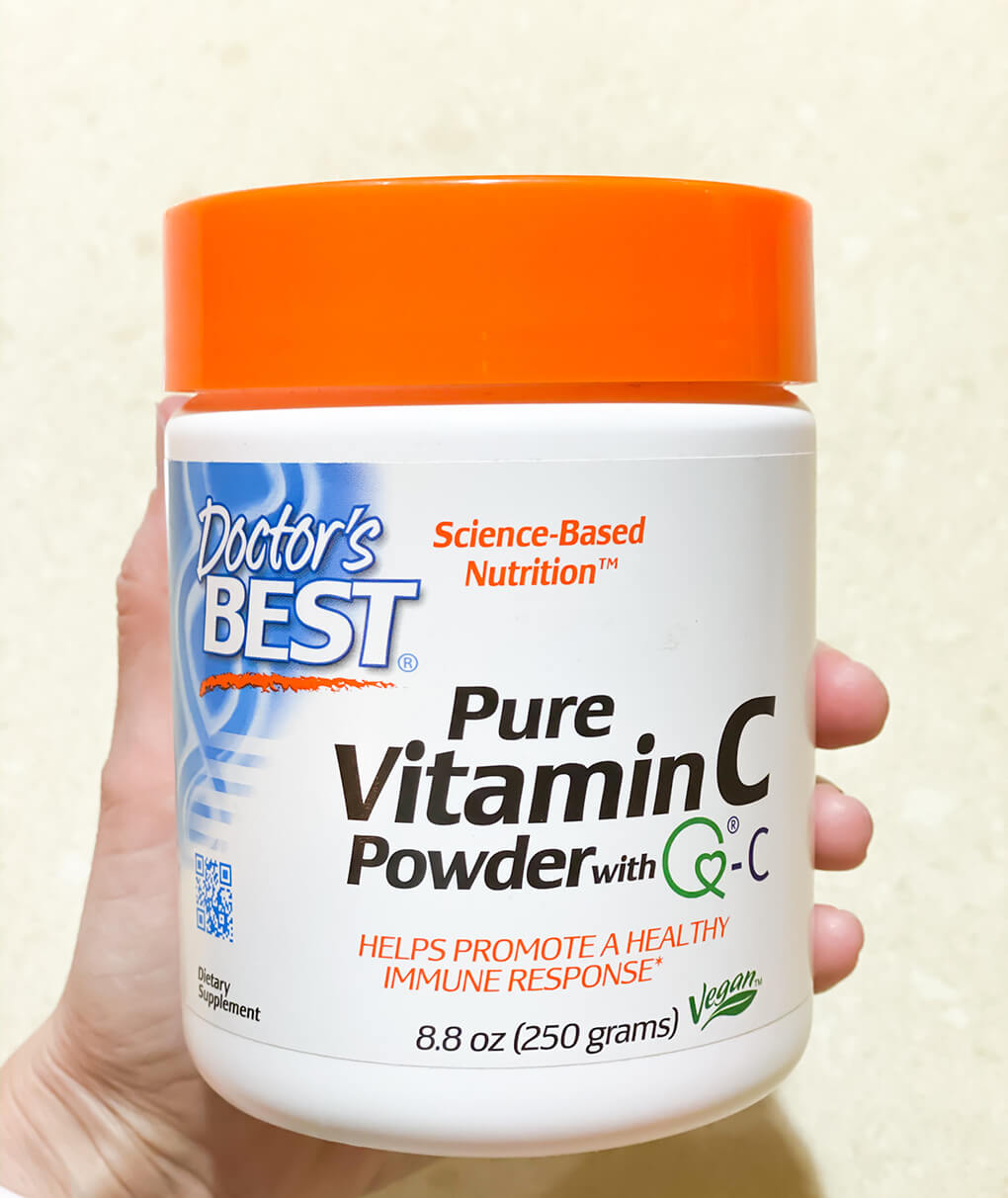 Lakanto's Monk Fruit
No, no I don't think sugar is optimal for gut heath or gut healing. 
That said, no one gets by a true healing journey without ever consuming any sugar. 
If you do, you're a unicorn, and I applaud you.
I choose certain sugars, and you should, too, based on your own circumstances.
If you are wanting to learn more about options, check out my non-nutritive sweeteners post HERE. 
And if you just want to use what I have, grab the monk fruit HERE. p.s. If you buy anything from the Lakanto website, my code is (again) AGUTSYGIRL to save 15%.
Ice
A few cubes is all you need.
By the way, and I mention this in the video, but room temperate water is optimal for digestion. Skip the ice if you want. When I think of lemonade, though, I think a hot, summer day with ice, cold lemonade.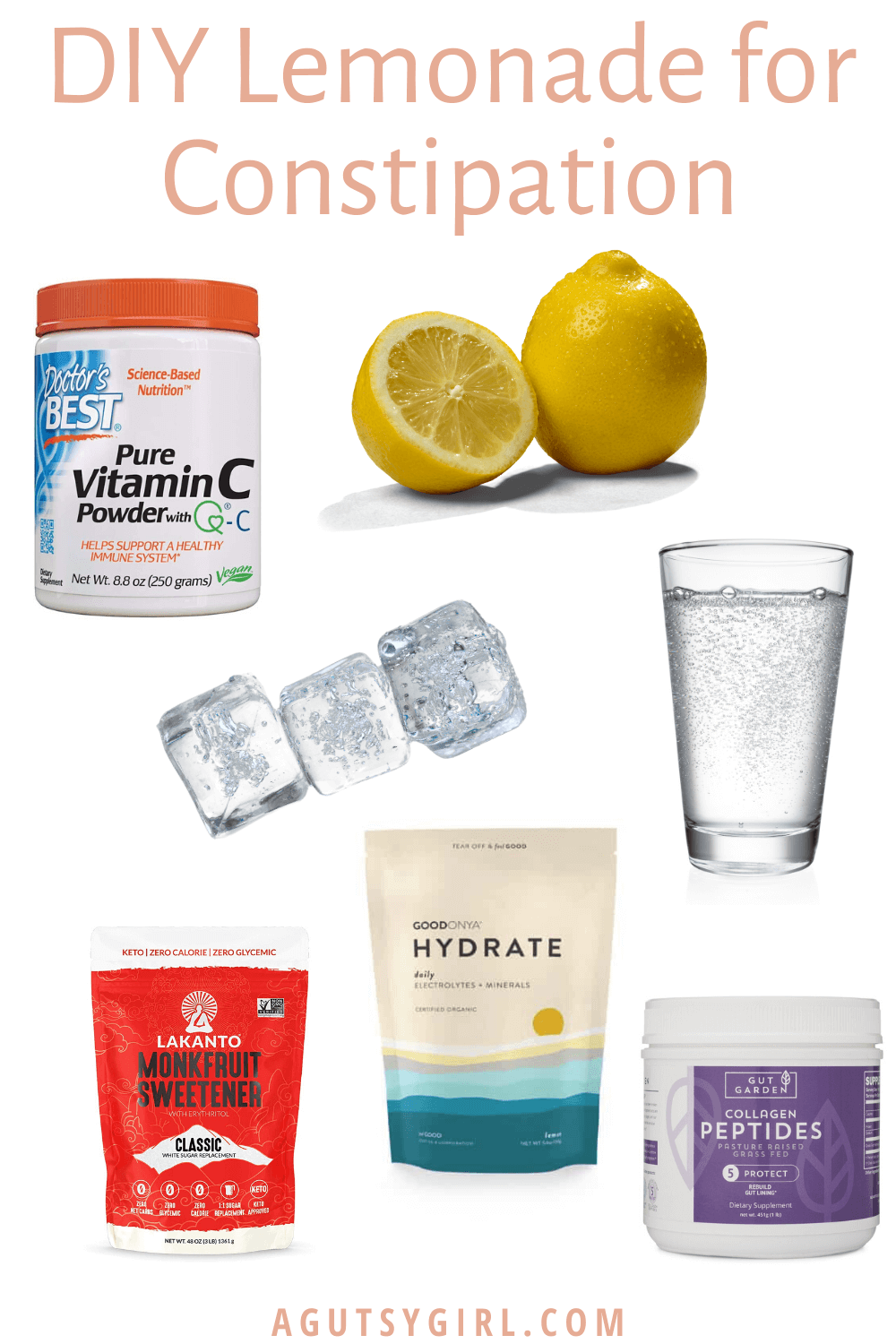 And I'm telling you – this recipe is pretty dang close to the original.
Now, this is what it looks like when you put it altogether.
DIY Lemonade for Constipation Recipe How-To Video
Notes: I did this video on Instagram Live, which is why it was shot the way it is. 

DIY Lemonade for Constipation Recipe
DIY Lemonade for Constipation
Prep time:
Cook time:
Total time:
Refreshing lemonade for both gut healing and gut health.
Ingredients
water, 12-16 oz
collagen peptides, ½ scoop
fresh-squeezed lemon, 1-2 small lemons
GoodOnya HYDRATE Electrolyte Drink, 1 Tablespoon
Doctor's Best Vitamin C Powder, 1 scoop
monk fruit, ½ - 1 tsp
ice, as desired
Instructions
Place all ingredients in a shaker, and shake vigorously until completely blended together.
Pour into a glass, and enjoy.
If you liked this post, you might also enjoy:
Xox,
SKH
You will heal. I will help.