I have a hummus recipe to share with a unique spin; hummus recipe no tahini.
Appetizers are fun to enjoy daily. 
Oftentimes they are quick and easy to make and can be enjoyed as a snack or appetizer throughout the week. 
This is one of those recipes.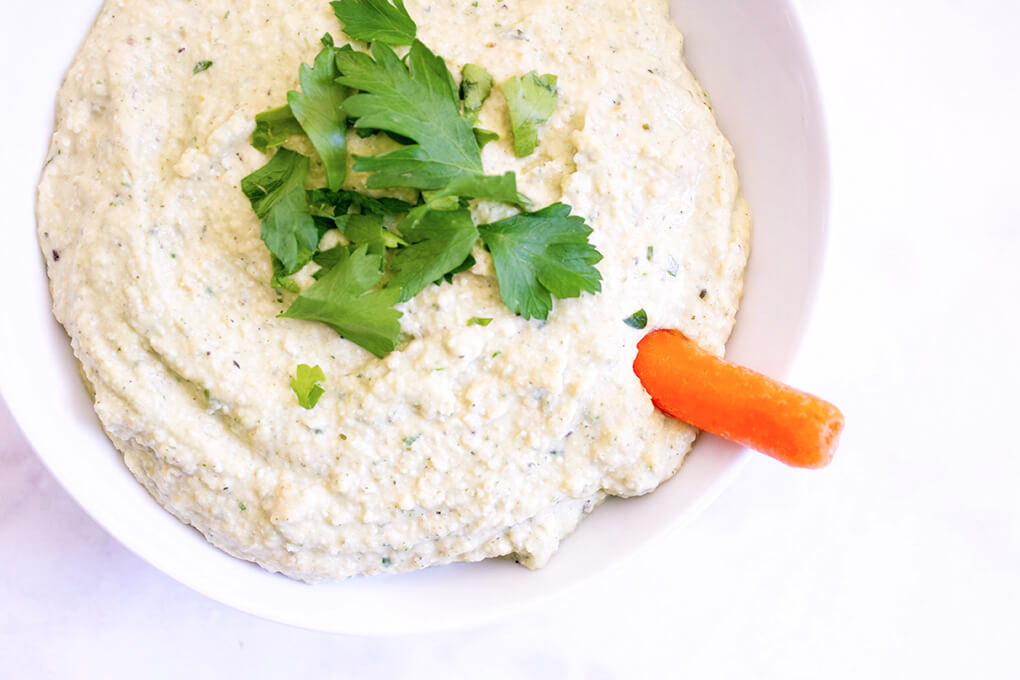 Now, this isn't your traditional hummus recipe. There is no tahini in it. And it uses a couple different ingredients. But it was intentional.
And additionally, gut-healing boosts could be added in.
So first things first: the recipe. 
But don't jump ship right after that because I have different modifications you could make, if needed and/or desired plus those boosts.
Hummus Recipe No Tahini (Hemp)
Click HERE to save this recipe for later.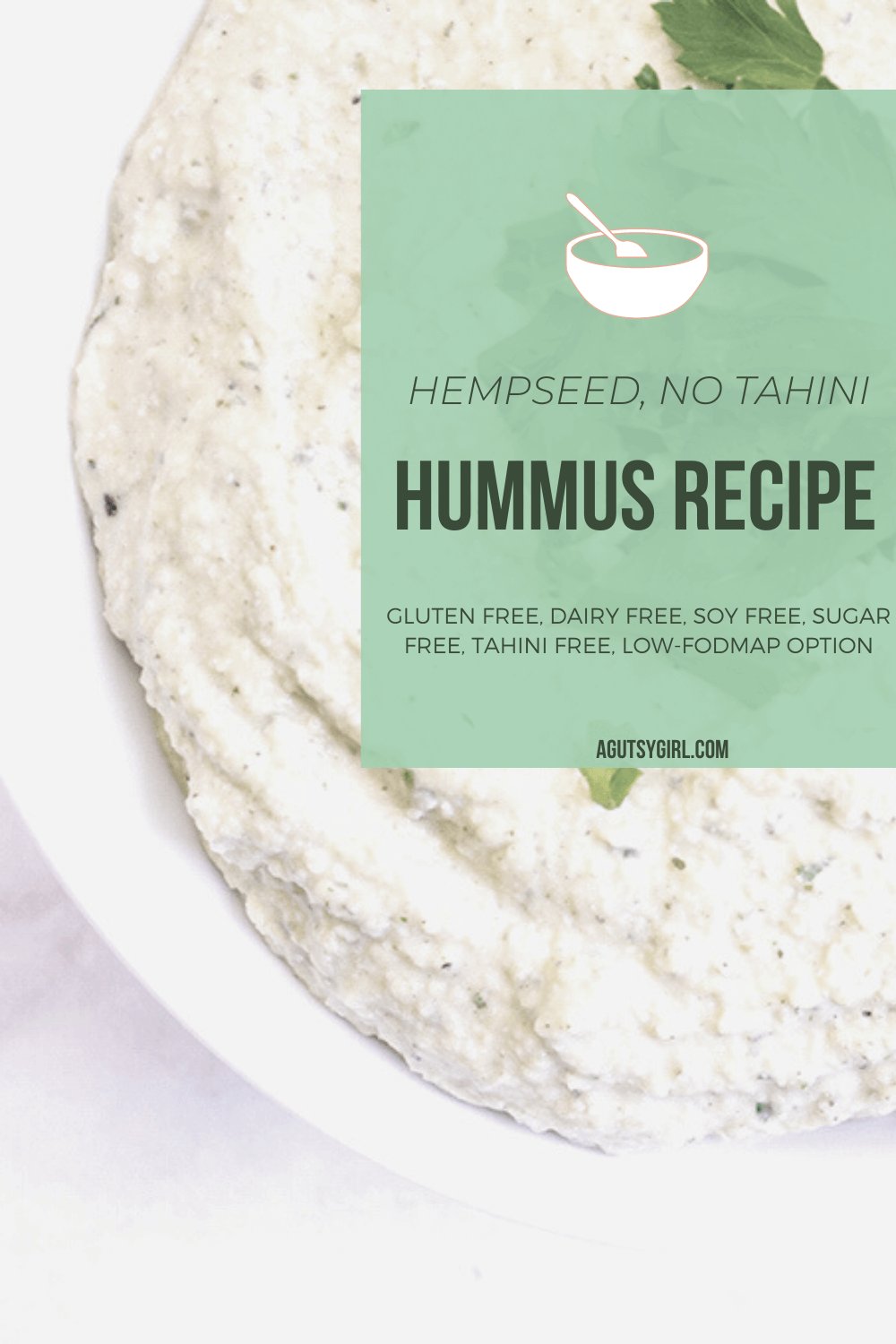 Hummus Recipe
Prep time:
Cook time:
Total time:
Hummus is always a good idea, but Hempseed Hummus with Liquid Coconut Oil can help take your hummus to a whole new level!
Ingredients
1 15oz. can Garbanzo Beans, drained
½ cup Nutiva Organic Shelled Hempseed
4 Tablespoons Nutiva Organic Liquid Coconut Oil
2 cloves Garlic (chopped)
½ cup Parsley (chopped)
Lemon, 1 (juiced)
1 tsp Sea Salt (to taste)
2 Tablespoons water
Instructions
Add all ingredients in a blender or food processor and blend until creamy.
Serve and garnish with additional parsley.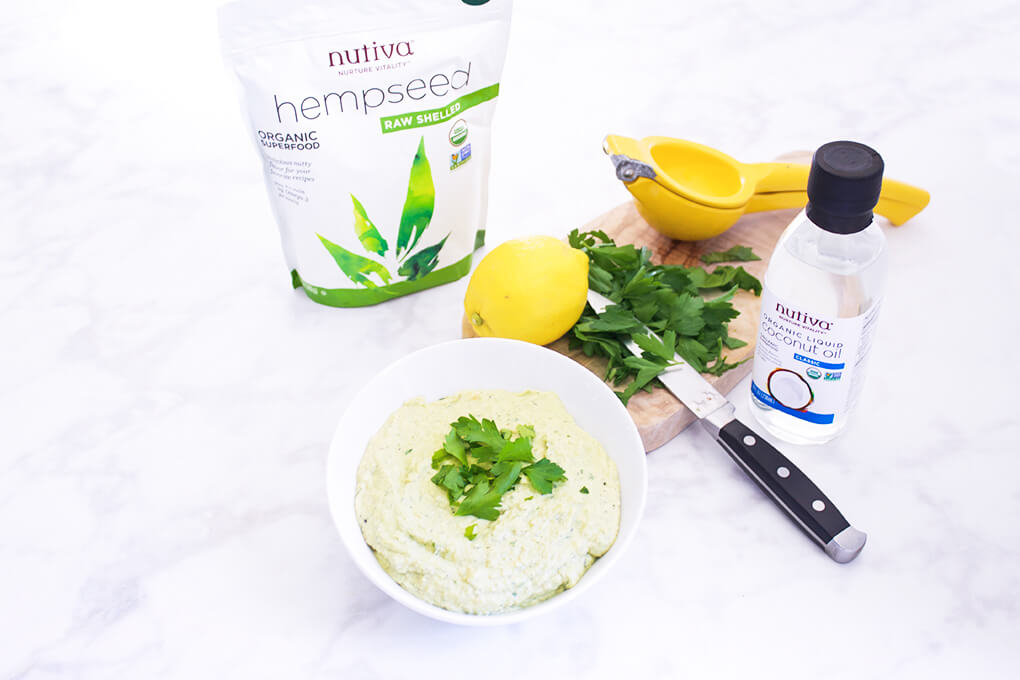 Okay, so you think it looks delicious, but you're concerned because you have SIBO and…..FODMAPs.
Let's chat modifications so you can be on your merry way with this hummus recipe.
Hummus Recipe: SIBO Considerations
Are garbanzo beans chickpeas? –> Garbanzo beans

Chickpeas, garbanzo beans; they are the same thing. Remember from Reasonable SIBO, if you are following a low-FODMAP diet, you can have somewhere between 1/4 – 1/3 cup garbanzo beans without a problem. Therefore, you make this hummus, and you eat that quantity. My policy and thoughts are that we should be eating more, not less; figuring out how to work within the parameters set by any specific condition.

Cloves Garlic

Yes, garlic is high-FODMAP (even just one clove). But I have the perfect way to get around that for this recipe. You simply cut the 2 garlic cloves out. Then, instead of using the Nutiva Organic Liquid Coconut Oil you swap it out for a Garlic Infused Olive Oil (boom! a low-FODMAP option).

Tahini substitute –> Hempseed

Many of you have maybe never even had hempseed. I've been a fan of it long before it was cool. In fact, I wrote Hemp History Week and Your Gut back in 2015. Hemp is low-FODMAP, and hemp seeds are a nearly perfect food source. High in digestible protein, healthy Omega essential fatty acids (EFAs) and naturally occurring minerals, hemp seeds are also free of gluten and have no known allergens.
And the boosts.
Like broths and smoothies, making pureed recipes like hummus is great for adding gut-healing boosts. Here are 3 I'd realistically add to this recipe:
Collagen
Turmeric
Read more about these boosts HERE.
Chickpea Recipe
I realize this recipe still uses a legume (the chickpea), but for many, there is no reason to completely avoid them forever. 
They are not part of the 28-day meal plan or what I talk about for the 21-days in The Gutsy Girl's Bible.
However, if you want to heal your gut, I can promise you that, at some point, 1/3 cup of garbanzo beans is really not the thing that's going to heal or hinder the process. 
Want more recipes? Here are some categories you might enjoy:


Xox,
SKH
You will heal. I will help.