Pumpkin season always requires a lot of recipes so I have a mini pumpkin muffin recipe to help inspire the fall season.
Some of the links in this post are affiliate links. This means if you click on the link and purchase the item, I may receive a small commission at no extra cost to you. All opinions remain my own.
But also, enjoying these mini pumpkin muffins can be done while simultaneously trying to heal your gut.
Yes, it's true. This muffin recipe is not only insanely delicious, but it also gut-healing diet friendly + contains good-for-the gut fall spices.
Though this great recipe makes for a wonderful fall breakfast option, it's such a perfect treat that it can be served as dessert, too.
It's an easy recipe which contains no gluten, grains, soy, refined sugars, or dairy. The recipe is Paleo, and it's so good that no one will know they are eating such a high-quality muffin.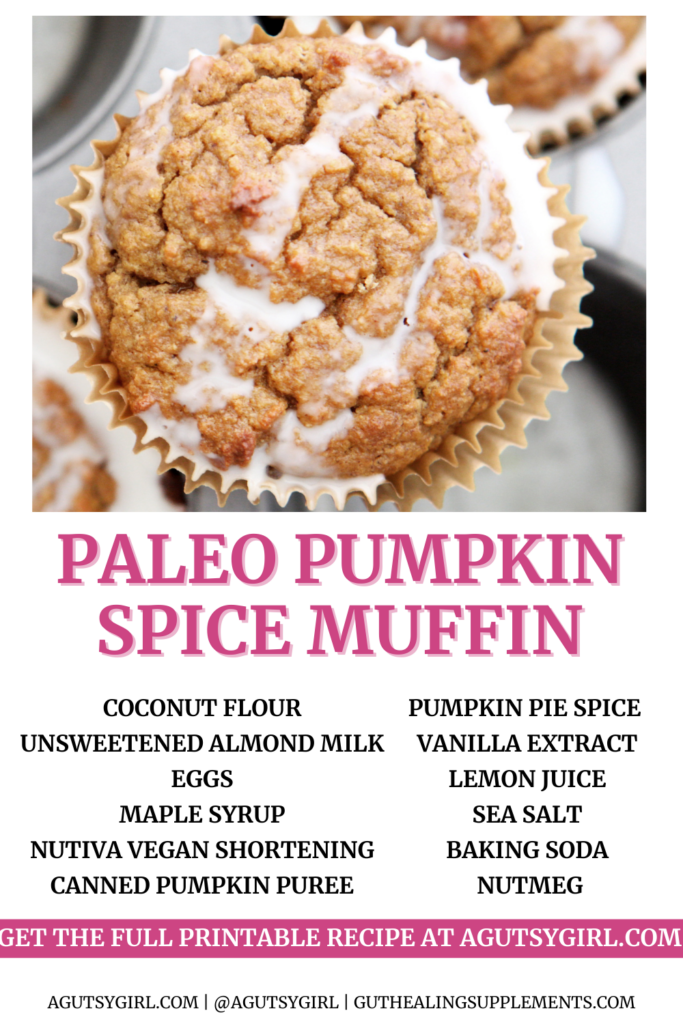 Mini Form: Fall Recipe
Now here's the deal. The original recipe I created was via a regular-sized muffin. But the next time I made them, I tried making them mini for the little hands around our house.
Here are the only 2 differences for mini vs regular muffins:
Baking time. When you make little muffins, you'll bake them for less time. Honestly, start with just 15 – 18 minutes. Poke with a toothpick and go from there. If there is still raw batter in the center of a muffin, then add 2 minutes at a time until done.
Baking vehicle. Obviously you'll need a mini muffin pan and mini muffin cups vs. a full-sized muffins tin. But they are easy to find.
I love mini food, objects, and all things miniature period. If you do, too, then check these out:
My favorite thing about the minis are that they are portable!
Simple snacks on the go.
Moving on to the ingredients for today's recipe; healthy pumpkin muffins.
The following ingredients are what you'll need for this easy muffin recipe, and they are the exact same no matter what size you choose: mini or regular size muffins:
1 cup coconut flour
1 cup unsweetened almond milk
5 eggs, room temperature
⅓ cup maple syrup
¼ cup Nutiva Organic Vegan Shortening
¼ cup canned pumpkin puree (organic pumpkin if possible)
1.5 Tablespoon pumpkin pie spice (if you don't have this, you can easy combine various fall flavors to mimic the pumpkin spice flavor with things like clove, ginger nutmeg and cinnamon)
1 Tablespoon + 2 teaspoon vanilla extract
tsp lemon juice
½ teaspoon sea salt
baking soda, ½ teaspoon
½ teaspoon nutmeg
Mini Pumpkin Muffin Recipe
Click HERE to save this post for later.
Fall-inspired with gut-healthy spices Paleo breakfast muffin.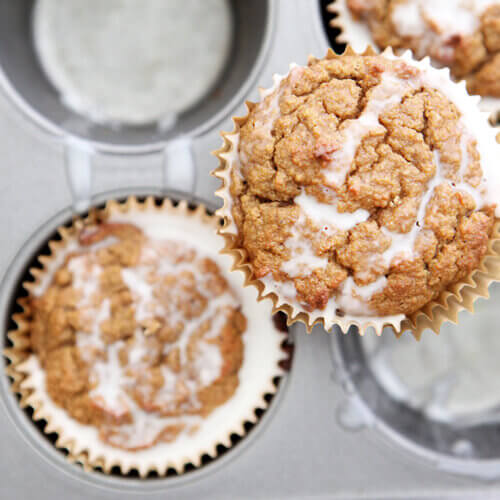 Mini Pumpkin Muffin Recipe
Fall-inspired with gut-healthy spices Paleo breakfast muffin.
Ingredients
1

cup

coconut flour

1

cup

almond milk

unsweetened

5

eggs

room temperature

1/3

cup

maple syrup

1/4

cup

Organic Vegan Shortening

Nutiva

1/4

cup

pumpkin

canned

1.5

tbsp

pumpkin pie spice

ground

1

tbsp

+ 2 teaspoon vanilla extract

1

tsp

lemon juice

1/2

tsp

sea salt

1/2

tsp

baking soda

1/2

tsp

nutmeg

ground
Instructions
Preheat oven to 350 degrees.

Line a 24-count mini cupcake holder with liners (or coat very well with oil / spray).

Place all dry ingredients in one bowl. Stir, and set aside.

Place all wet ingredients and beat together by hand (or with a handheld or immersion blender).

Add wet ingredients to dry ingredients and stir together by hand.

Pour batter into cupcake liners, filling a little more than ¾ way full.

Place in the oven and bake for 15-18 minutes, until the tops are golden brown (depending on your oven).

Remove from oven, and enjoy!
Extra Notes from the recipe
The Nutiva Organic Vegan Shortening is my favorite shortening on the market. If you have the Master Spreadsheet, you'll find it (and many other items) under the 'Holiday Baking' tab. If you don't want to use shortening, then use pure organic butter.
I think the best unsweetened almond milk is from Elmhurst because it contains just two ingredients: almond and unfiltered water. If you don't want to use almond milk, HERE are many other non-dairy options to choose from.
To make the super simple drizzle you see on the tops of the muffins via images, simply:

Measure 1/2 cup coconut butter, then melt.
Place coconut butter and 1 Tablespoon liquid coconut oil in a pan over low, stirring until fully blended and melted together.
Drizzle over the muffins.
p.s You can BOOST these muffins by adding in the Just Thrive Health probiotic. Simply open up 2 capsules, and pour the contents into your batter. BECAUSE this probiotic is so strong, you can even bake with it!
If simple concoctions like this are interesting to you, then you'll love my book, A Gutsy Girl's Bible: a 21-day approach to healing the gut. In it, you'll find 100+ Creations. Grab your copy on Amazon HERE.
Or, have this book at your fingertips instantly by downloading the PDF now.
These can easily be saved for later, as long as you put them in an airtight container. They freeze well when placed in a freezer bag, too. For these reasons, you can make a double batch then thaw once you're ready to indulge.
Let me know if you try these pumpkin mini muffins. Honestly, they are the best pumpkin muffins I ever created!
If you liked this post, you might also enjoy:
Xox,
SKH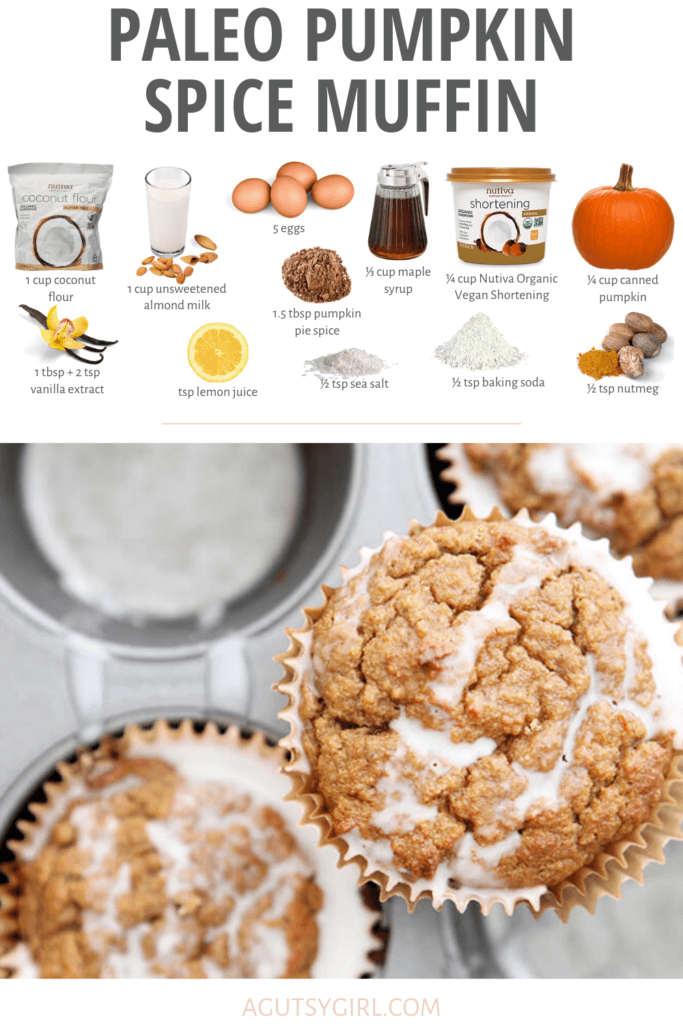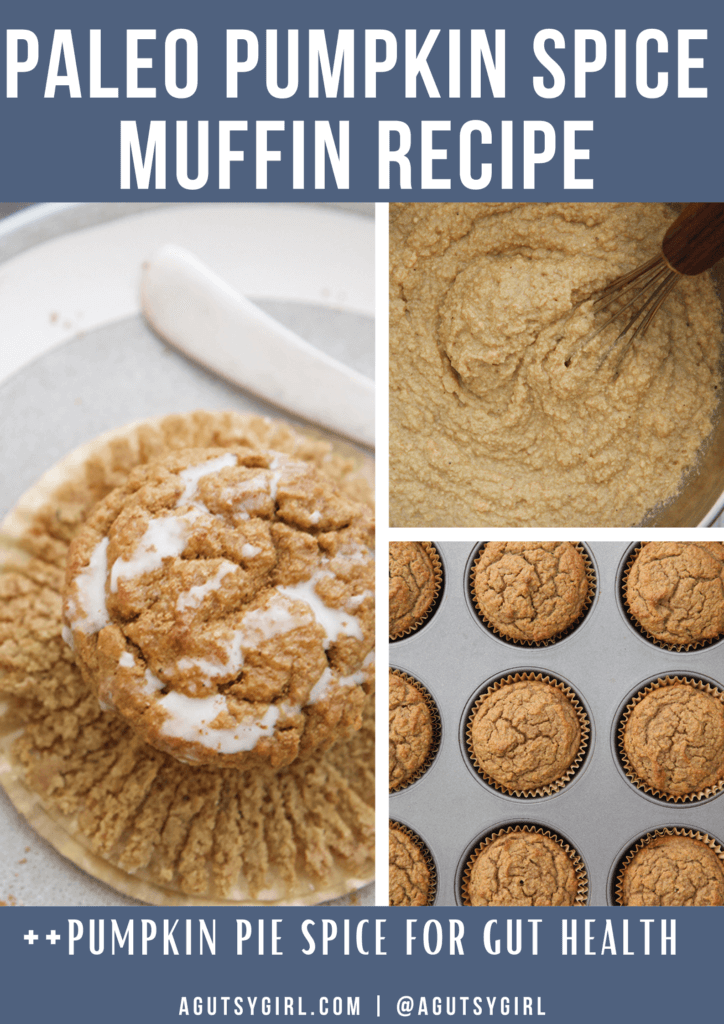 You will heal. I will help.