Hello lupini beans…..where have you been all my life?
Leave it to California to introduce me to Mr. Lupini Bean. I'm here in good old California for a hot minute, so I'm trying to do all the things. And by "all the things" of course I mean work non-stop while powering through with the very best eats, treats, and drinks (mostly NA – coffee, Booch, etc.)
Anyways, I'm perusing Erewhon when my friend asks, "Have you ever had BRAMI? They are so good; made with lupini beans."
I look at the ingredients, and here was the list (BRAMI Italian Snacking Lupini Beans, Garlic & Rosemary):
Water, Lupini Beans, Sea Salt, Organic Vinegar, Garlic, Rosemary, Lactic Acid (from vegetable fermentation)
p.s. I think the Garlic & Herb is the same as the Rosemary one. They must be going through some re-branding, packing, formulation, or something.
Hello Lupini Beans
Click HERE to save this post for later.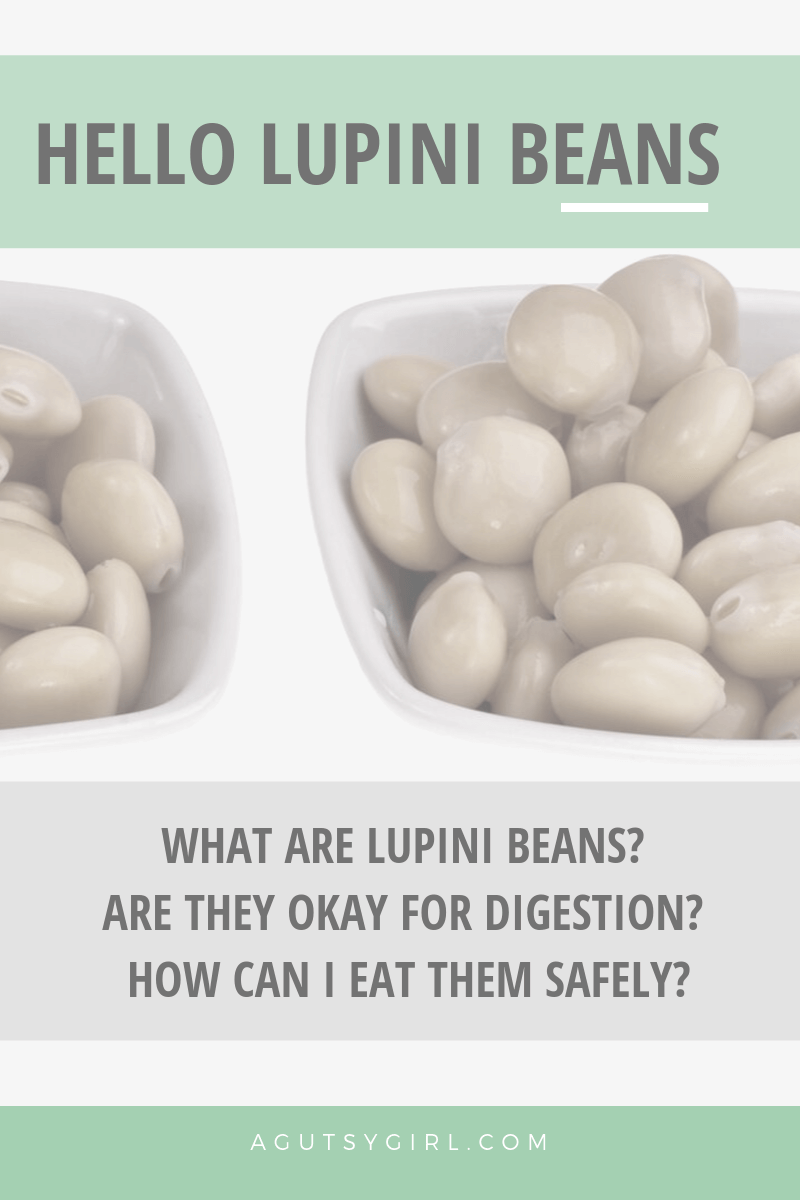 Lupini beans? What are they? Never even heard of them. Was it because I live where trendy foods aren't really common? Or was it just because it's not yet that common of an ingredient?
Beyond those initial questions, I wondered (because I knew Y'all would ask), "But what are their implications for the Gutsy community?"
First, let it be known – alert the press immediately – they are considered keto.
Calm down. Let's say hello lupini beans together.
What is a Lupini Bean?
The lupini bean (sometimes referred to as lupin beans; part of the legume family) comes from Italy. (How did I seriously not know that? Sorry, Ceci!)
They are seeds from the lupinus albus plant that provide a powerful and nutrient-dense punch. In fact, it's been stated that that these little beans fueled Roman warriors in battle.
The bean resembles a combination of fava, chickpea, and edamame; yet its nutritional content is very different.
Note: I mentioned below that I just found and fell in love with the bean yesterday. Because I knew nothing about it, I wanted to find out everything. However, they are not very common and there isn't a ton of information.
Lupini Beans Nutrition
Here are the stats for Mr. Lupini Bean:
Stats taken from a 1 cup serving of plain, lupini beans.
calories = 198
fat = 4.9 grams
protein = 26 grams
carbohydrates = 16.4 grams
fiber = 4.6 grams
Additionally, they provide a significant amount of thiamin (essential for carbohydrate and fat metabolism), folate (helps your cells metabolize proteins and also controls gene activity), zinc, and manganese.
A 1 cup serving provides 28 percent of the magnesium intake recommended daily for women and 21 percent for men, along with a good amount of copper.
Please make note that if you have a peanut allergy, they could trigger an allergic reaction.
Other Lupini Bean Benefits
According to the government's plant guide,
In traditional medicine, white lupine has varied uses. Lupine seeds are used to cure worms, reduce boils and skin ailments (Jansen, 2006), repel insects, enhance sugar tolerance in diabetics, and heal sores (Duke, 1981). In England, white lupine meal mixed with goat gall and lemon juice forms an ointment (Duke, 1981).
They also mention,
In Germany, a method for extracting alkaloids from bitter lupines has been developed and researched to determine possible uses as a fertilizer and for its biocidal effects. The alkaloid extracted may have insecticidal properties that could reduce or prevent insect damage when applied to vegetable plants (Brebaum and Boland, 1995).
How to Eat Lupini Beans
As their seeds are from the lupinus albus plant, you must use caution when eating them. Due to the high levels of alkaloids, they can be toxic if not prepared properly.
According to Chow Hound,
You can prepare and cook your own lupini beans by buying dried lupin beans, soaking them in water, cooking them in boiled water, and rinsing repeatedly with fresh water, but the preparation can take several days of rinsing with cold water or even weeks.
I'm with them; that's too much work. Some of you might have the interest or desire to try it. To you I say: You go! And also, report back to let me know how it went.
For the rest of you, meet BRAMI.
BRAMI: Italian Snacking Lupini Beans
I have zero current affiliation with BRAMI, and there is absolutely zero incentive for me to write this post. I'm writing it because I stumbled upon the BRAMI snacks yesterday and fell madly in love with the bean.
Sharing is the Gutsy community way of caring.
As mentioned above, these little beans are not very common – you won't a ton of information about them (the reasons are fairly clear HERE). I think in order for BRAMI to survive, much more education would need to be done. This post is my contribution to the cause….because I need them in my life forever.
BRAMI Beans are sprouted, marinated in savory seasonings, and packed fresh out of the barrel. They are:
soy free
keto friendly (Zero net carbs! The only beans virtually starch free, the lupini carb structure is dominated by prebiotic fiber.)
paleo friendly (The dogmatic Paleo-ists would say that beans are not paleo. The reason BRAMI's are paleo friendly is because they are sprouted for 10 days, removing any naturally occurring antinutrients.)
earth and farmer friendly (Lupini replenish nitrogen and phosphate to the land, require low water usage, and naturally repel pests.)
non-gmo
lightly pickled
contains prebiotics
One Serving of BRAMI
Just one serving = 25 beans of the one I got (the garlic and rosemary flavor) contains:
60 calories
1 gram of fat
5 grams of carbs
5 grams of fiber
0 grams of sugar
7 grams of protein
There is 403 mg of sodium so if you need to watch that, beware. I don't; eating all the salt I can get.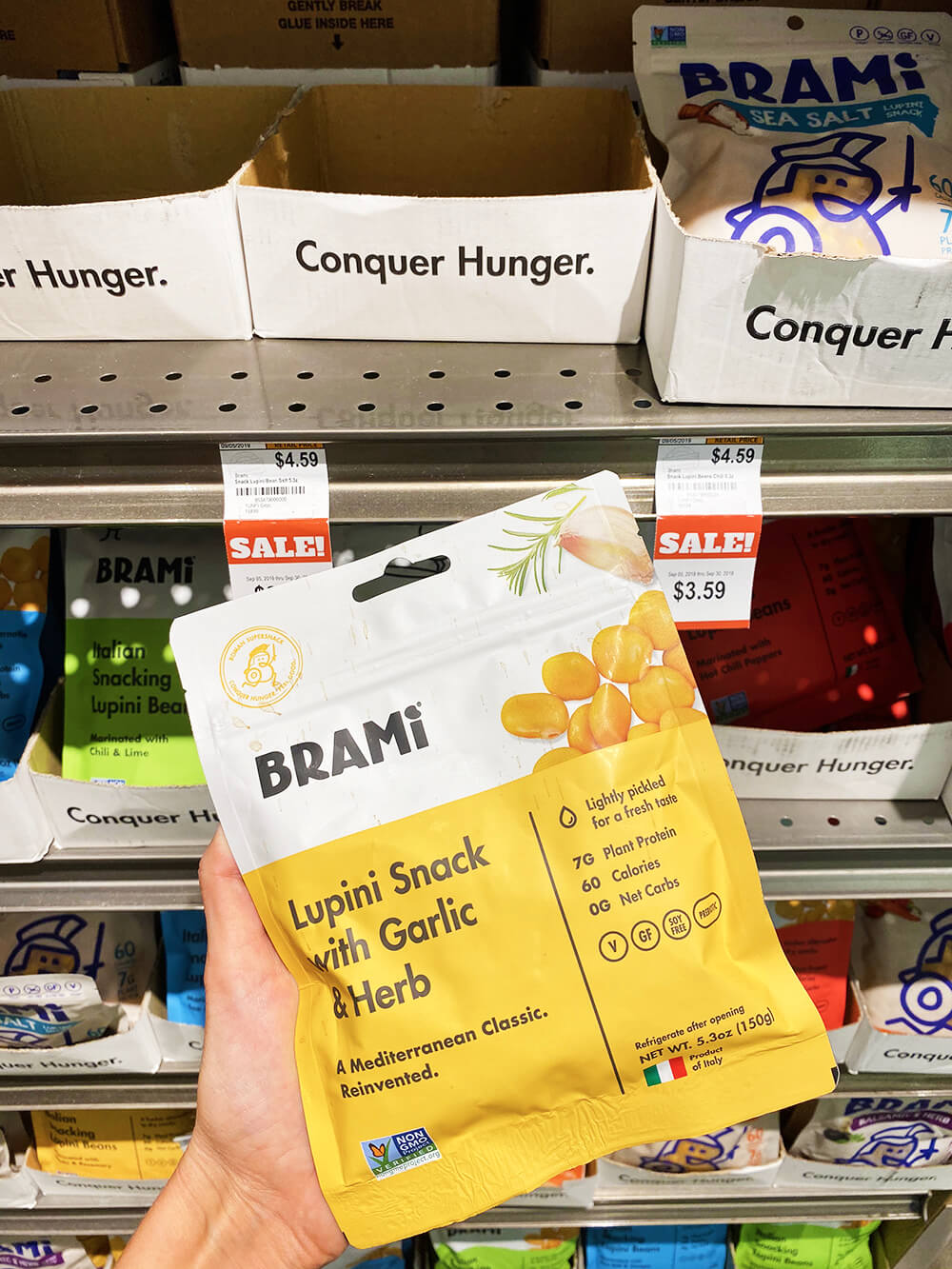 Current BRAMI Flavors
Garlic & Rosemary
Sea Salt & Vinegar
Chili & Lime
Balsamic & Herb
Hot Chili Peppers
Balsamic and Oregano
You will find them in various places, both online and off. I found them both at Whole Foods and Erewhon. HERE is their store locator.
Additionally, you can grab a variety pack on Amazon HERE or the Sea Salt & Vinegar flavor on Amazon HERE.
Finally, if you have a Thrive Market membership HERE (like I've been suggesting forever now!), you'll find them on Thrive as well.
Are Lupini Beans for Gut Health or Gut Healing?
If you aren't sure of the difference between gut health and gut healing, start HERE first. It is actually very important; it can make all the difference in the choices you make about "what's good for my body."
I believe that lupini beans are for sure in line with gut health. The numbers and their stats speak for themselves.
When it comes to gut healing, though, only you can know that. If you are eating bulk lupini beans and preparing them yourself, I would definitely proceed with caution since they are difficult to prepare and can cause digestive discomfort. If you want to learn more about soaking beans and digesting them, click HERE.
However, even if you're doing some deep gut healing, you might be able to do small quantities of the BRAMI Sea Salt & Vinegar flavor. This is the one with the least amount of ingredients:
Lupini Beans, Water, Vinegar, Sea Salt, Lactic Acid (from vegetable fermentation).
In fact, I may make that flavor a Certified Gutsy product. Due to the soaking and preparation methods, this snack might even help your digestion. But I don't know that. Only you can. Start slow and go….always my best recommendation. And track it with a food journal.
Wrap Up
After I bought my first bag last night and ate half of it, I went back for more. I got both the Chili & Lime and Sea Salt & Vinegar.
There are many ways you could eat them, but honestly, straight out of the bag was perfection. An easy, on-the-go snack. Actually, I don't do a ton of snacking anymore – they were a pre-dinner appetizer!
Anyways, figure out a way to say hello to lupini beans and let me know your thoughts.
If you liked this post, you might also enjoy:

[Click the image below to join the fun!]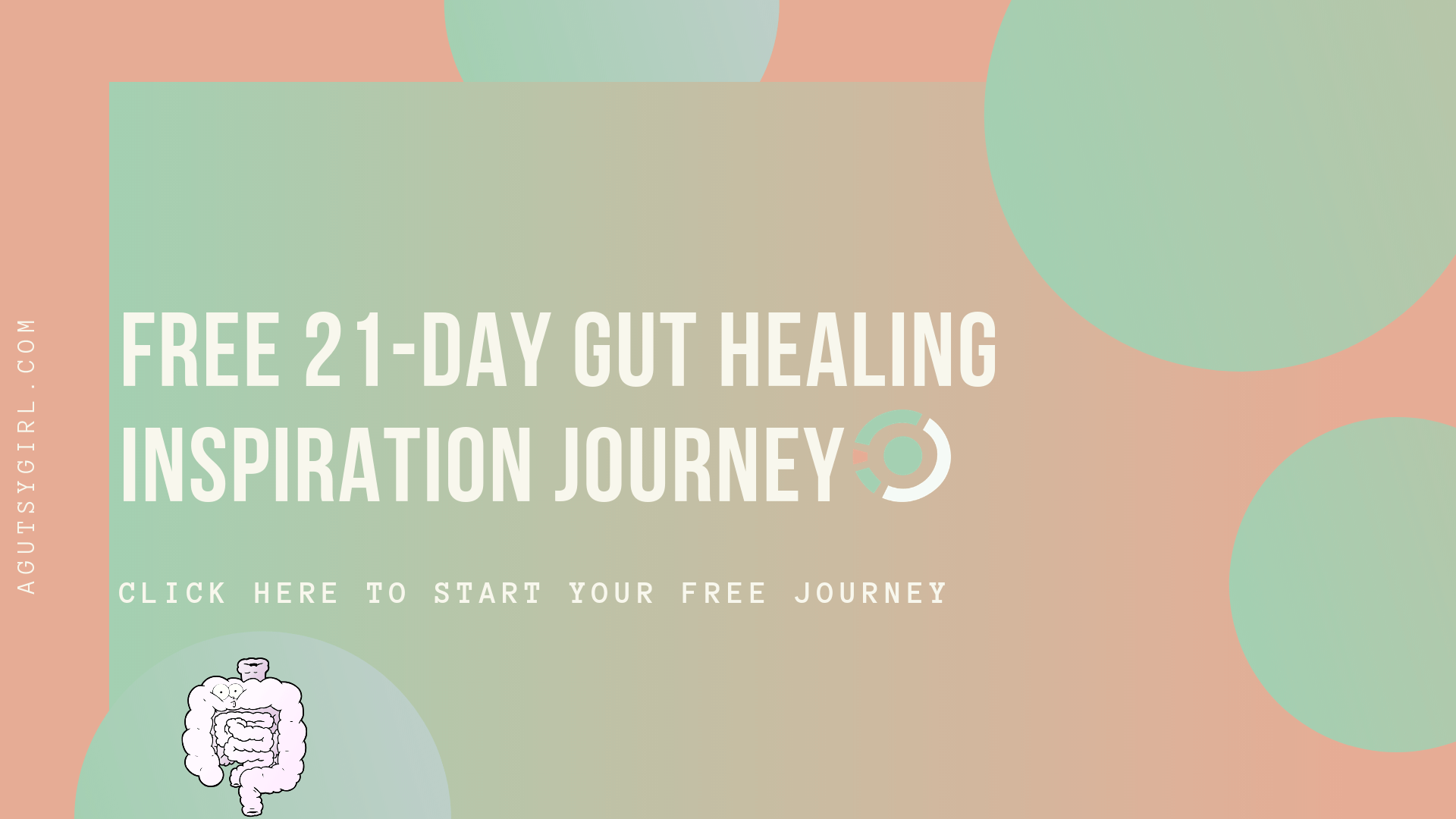 Xox,
SKH
Sources: HERE, HERE, HERE, and HERE.
You will heal. I will help.