I told you on Sunday that today I would share more about living with intention. Happy New Year!
Interested in knowing how I rang in the new year? In my super comfy bed, cozy and warm, sleeping. Seriously. New Year's Eve has never been my thing because I am a total introverted homebody who loves quiet, calm, and waking up in the super early mornings to start a fresh day.
And here we are, super early in the day on January 1, 2019.
This is, by far, the most amazing I have felt on a January 1 in years. And guess what? This is also the first year I don't have some big food or fitness goal. It's true, it's awesome, and I'm feeling freer and happier than ever before.
Again, don't misunderstand this for some easy path getting here and/or that I'm not still on my own journey. I for sure am, but I can tell you, without doubt, that I am in a far different place then ever before.
2019 Vision Board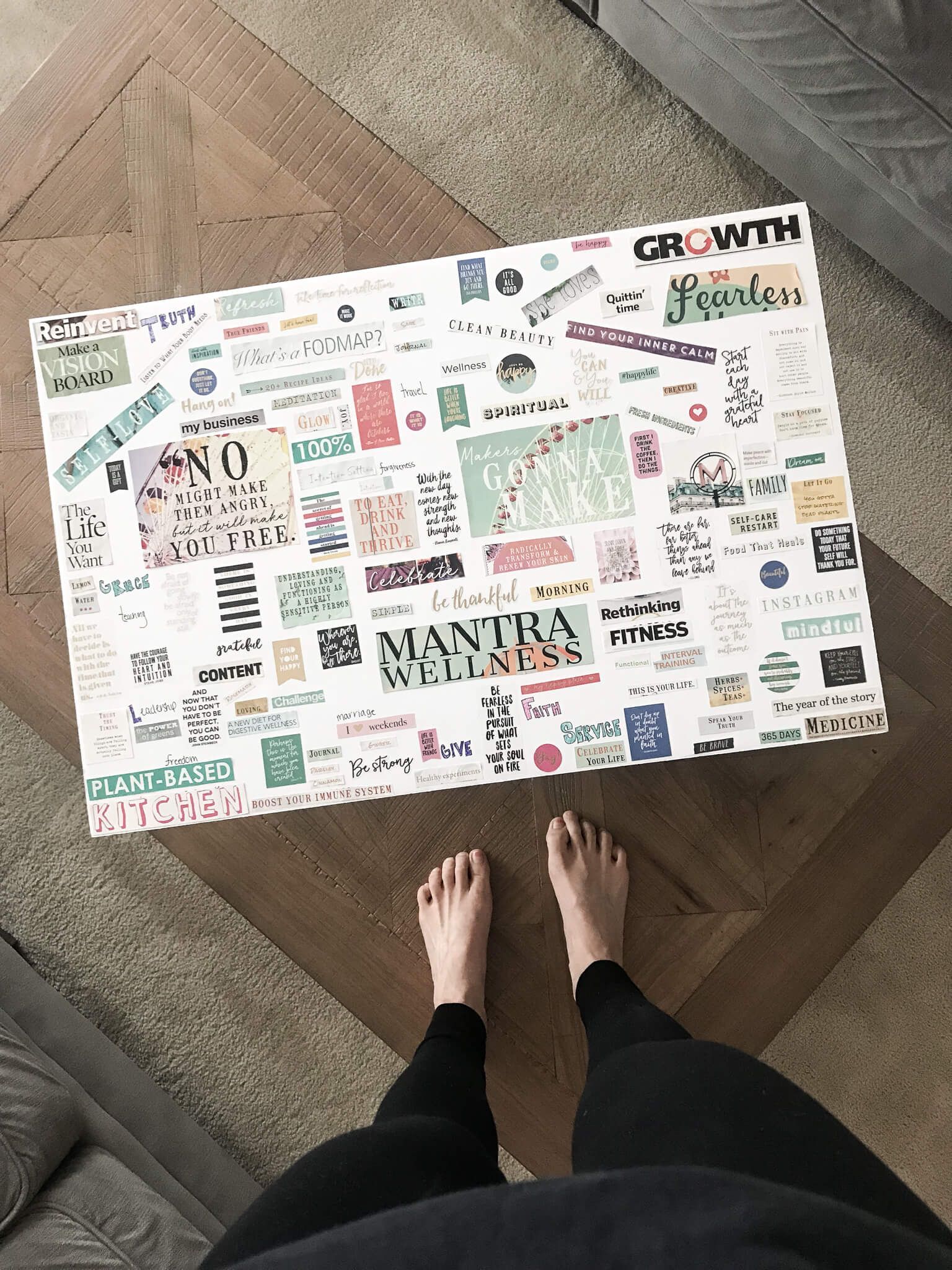 On Sunday I completed my 2019 Vision Board. I have made one other in my entire life. That was in 2017, and I called it a Manifestation Board. So as to avoid being complex, I went back to the basics of calling it a Vision Board.
Every last thing put on this board was done with 100% intent. I have been crafting and creating this, silently, since sometime around September/October. Why then?
You guys expect me to be real with you. So I will today.
Everyone thinks that the key to healing the gut lies in the food we eat and/or don't eat, that you'll find it through supplements and medication. Or even that you might find it in a magical herb, spice, or latest beverage.
It's not.
I mean, that's part of it.
The secret to gut healing; long, true, and lasting healing is that you uncover every last drop of underlying mental and physical issue carrying too much weight on your shoulders.
Do you remember what #47 on my gut holiday wish list was? Well here's your reminder:
Therapist. And last, but certainly not least, ask for some money for Christmas or do this one as a gift for yourself. Get a therapist, if you haven't already. Everyone thinks that the most important thing in healing the gut is food, supplements, and medication. I'm here to tell you, 1,000% that, while YES those are so important, the missing piece to the puzzle is almost always a lifestyle component. It's why I advocate for people to work 1-on-1 with me, but also to see a professional therapist to work through the toughest and roughest pain points in your life. Your life could change.
Massive gut healing and all the inspiration in the world for the Vision Board transpired because I (finally) took the chance on a therapist in September/October.
Telling you that is scary, but acting like I am doing all of this on my own with diet and supplements and medication would be painting a false picture. What you see on a blog is always only half the story, and without sharing this piece of information for you, I would be doing you far less favors for your own healing efforts.
You must know and believe (and act upon) that dealing with every last thing possible is critical if healing is your main prerogative for 2019 and beyond.
So with that, and with the work I did, intention was the only word that made full sense. Because remember from my post My One Word Intention, "a thing intended; an aim or plan" + "the healing process of a wound."
So much and all the "Yes."
Living with Intention
Click HERE to save this post for later.
I started writing my most important things on page one of the new Bullet Journal. The first couple were futuristic statements. I stopped, noted that I was being careless and thoughtless with them. I proceeded on. Each statement after those initial two begins as such, "I am….." or "I have….." In other words, they have been accomplished vs. wishful thinking that they might become accomplished.
When we are conscious about the things we say and do, our intentions for carrying them through magnify.
Here is my board.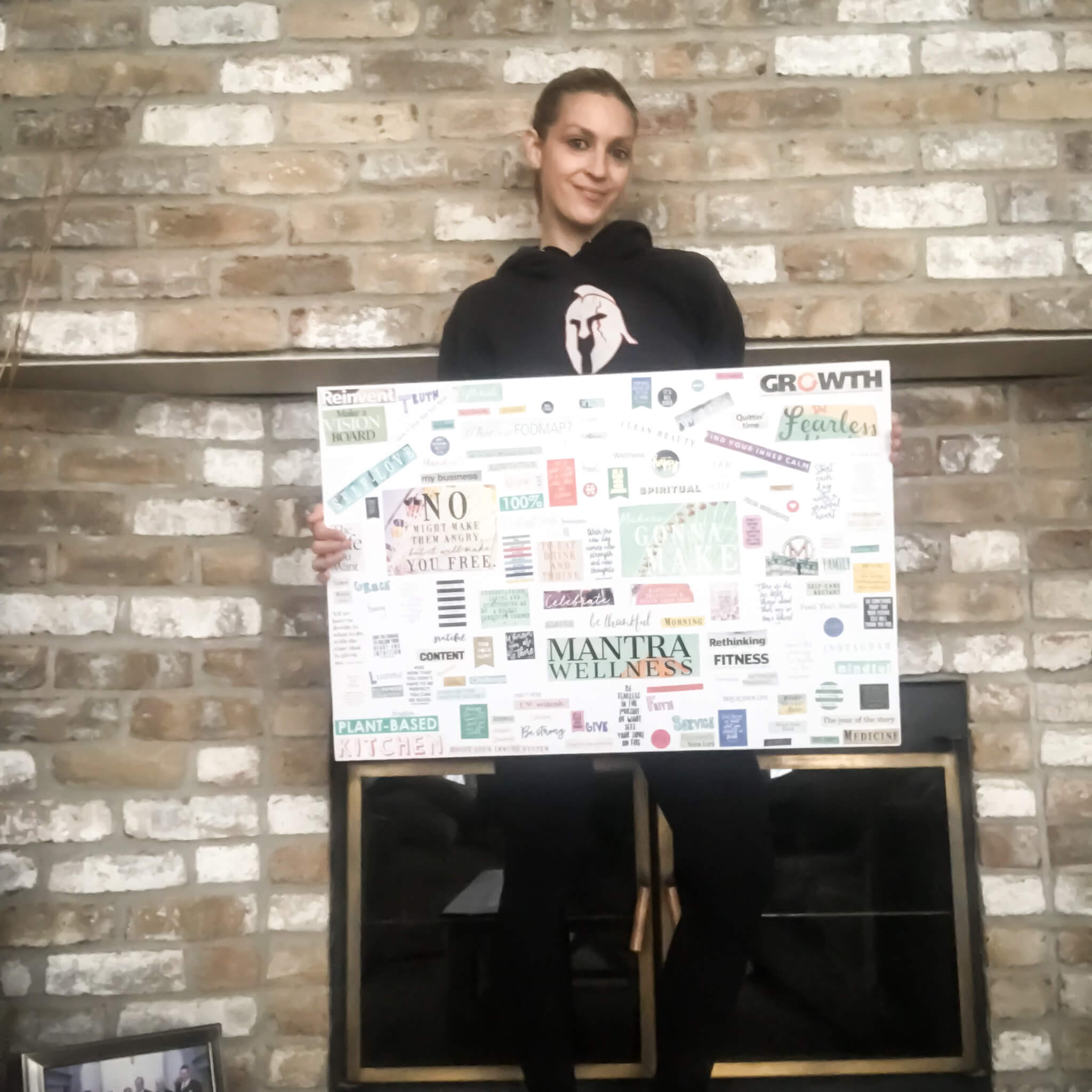 If you go to my Instagram Stories, you'll see a bubble in the highlight reel called, "VisionBoard2019." I talk about this board and you can see more of it up close. People started messaging asking questions about it. Here are the answers:
I cut out pieces primarily from these magazines: Mantra Wellness Magazine, Experience Life Magazine, Delicious Living, and Entrepreneur.
For all the nice quotes and pieces, I picked them up at Hobby Lobby (has 1,000% replaced Michael's for me).
I used THESE journaling pens (also used them for my new 2019 Bullet Journal, which I'll also share with Y'all soon).
I'll go through various pieces for context and so that my 2019 intentions and goals visible so I can come back to them anytime (also so that if any of them inspire you, that you'll adopt them, too).
Overarching Intentions
Some of these don't fit into a single category, but instead, all categories; over my entire life.
The year of the story.
My goal is to journal this year of intention and growth daily. I want this for me, but I also want to document it in case I can share it around this time next year to help inspire someone else.
Faith.
"I read the Bible daily, and I journal it." I have said I was going to read the entire Bible in a year for years. I have yet to. This year it's non-negotiable. A friend did it last year with THIS Bible. Her thoughts and words around the year of doing it inspired me so much that I put it on my priority list. I have it plus a journal to go along with it.
Joy.
Creating this in and with everything that has to do with Ryan and the children. I want this for them, mostly, and I want us all to find it in the everyday moments, whenever and however we can.
Little things.
My Bullet Journal states, "I make my bed daily." Think it's crazy that I even have to put that? This is about making my bed daily, but it's also about more than that. It's about the little things; doing them right away vs. procrastinating until later. Remember when I wrote Healing vs. Wholeness? I mentioned, "Through Terri, I heard very clearly on Friday night that in order to address this and a whole host of other things, I need to –> Clean Up and Clean Out." Read her book. It starts with making your bed in the morning, and then staying dedicated to very small things in life.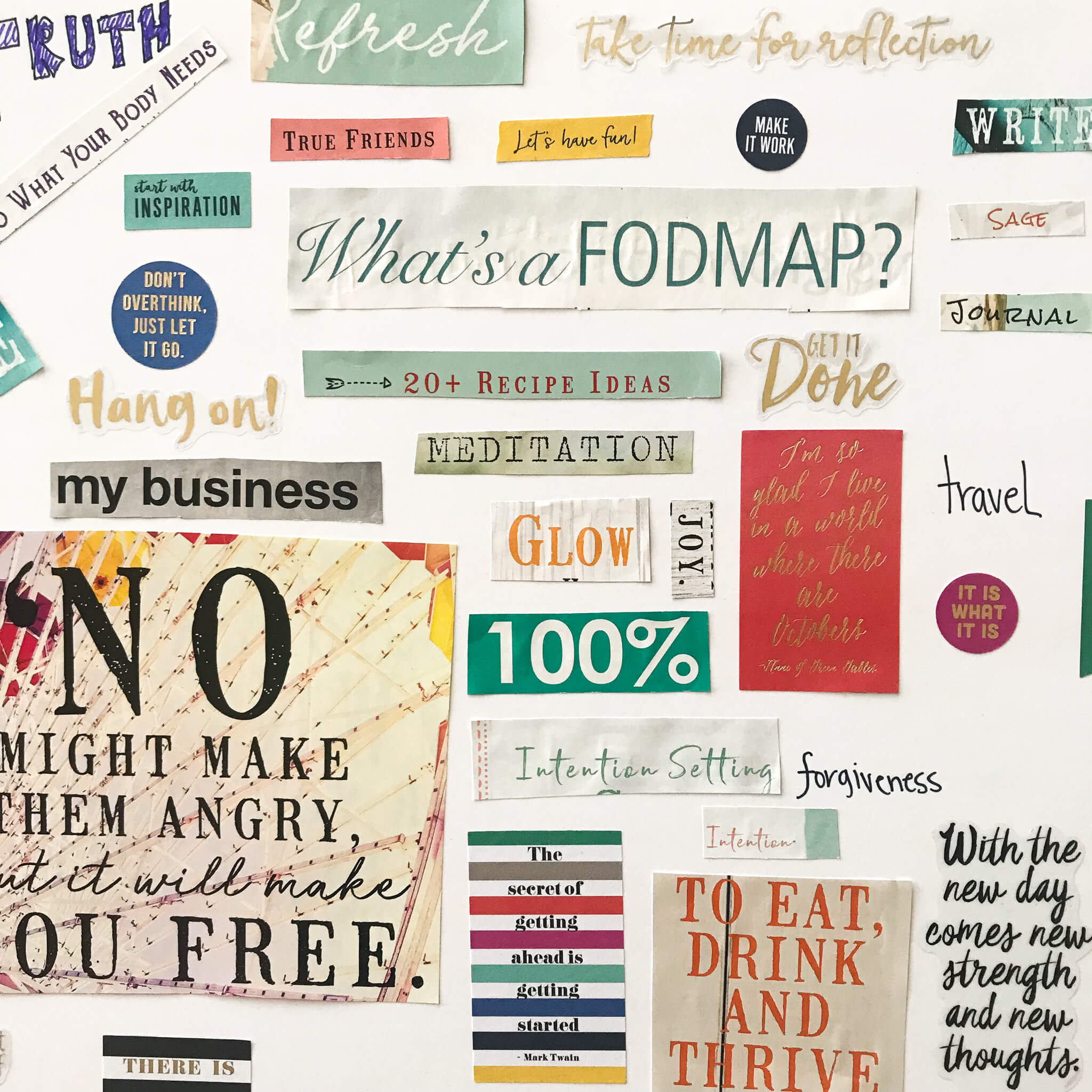 Health Intentions
Organic and tasty.
Be open to continuously trying new meals and recipes from cookbooks I might not typically choose, then making them in my own way. For example, I got Joanna Gaines' book, "Magnolia Table." She uses a lot of Vegetable Oil, which I never would – so just enjoying the recipes for what they are; swapping wherever I choose.
Plant-Based Kitchen.
Staying on the Flirting Vegetarian path. All of my heavy-meat eaters out there; go for it. There is no shame, and you always have to do whatever you must to feel your best. But right now, eating this way is changing my health (and my skin, by the way).
Healthy experiments.
What if, instead of setting huge fitness goals (spoiler alert for below: I'm not), you just set mini monthly healthy challenges? That's exactly what I'm doing. I've set the goals for January – March. Here they are: January – 1 cup of hot water + lemon daily, February – lay still + 100% silent for 2 minutes per day (and YES, this will be insanely difficult for me), and March – 25 Burpees a day. Again, I'll journal this all throughout the year.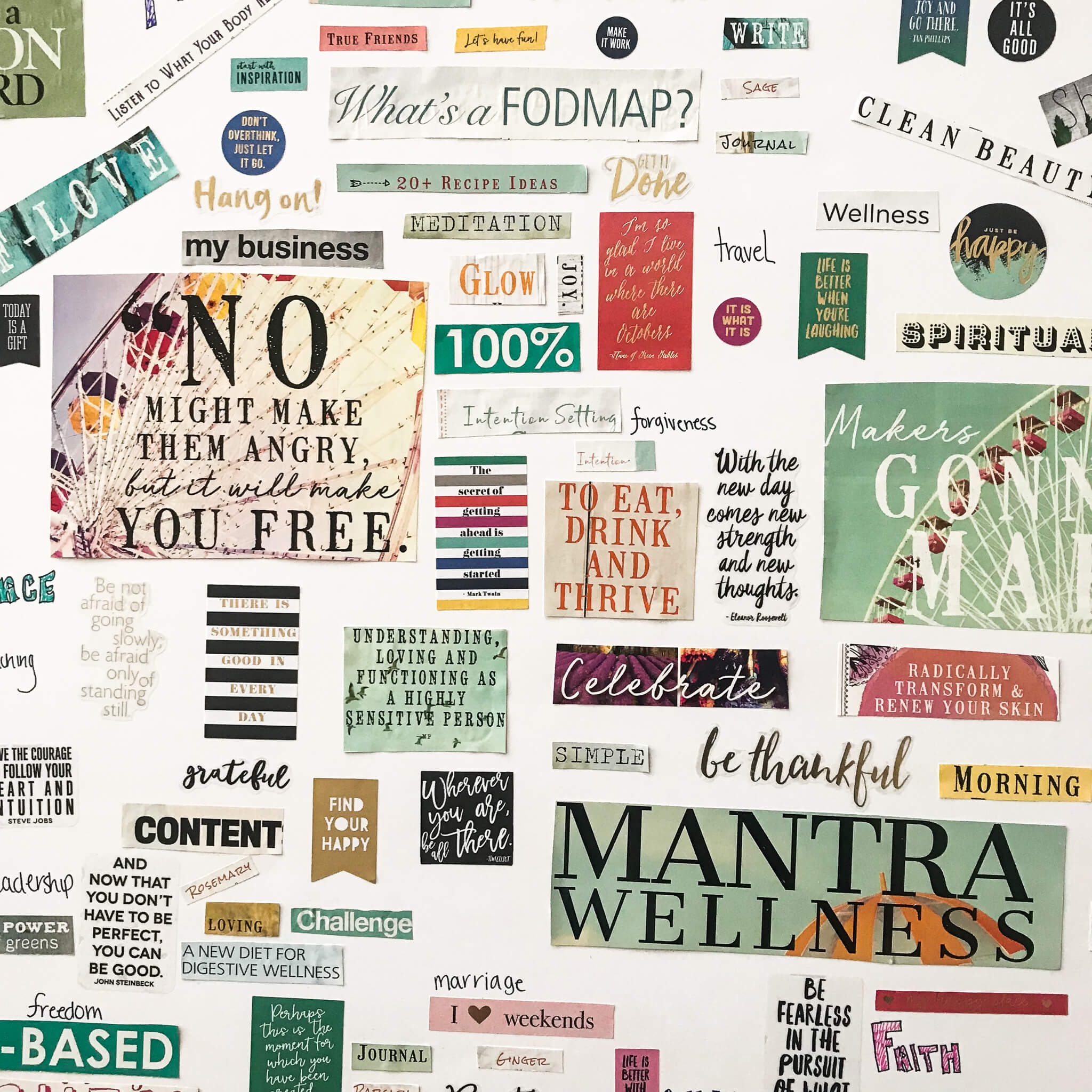 To eat, drink and thrive.
Last year I started January with no sugar. If you need that, you should. I don't. In fact, I need zero restrictions and no diets currently. I believe that once you start healing, this should be the ultimate goal for thriving.
Radially transform & renew your skin. Loved finding this statement. I'm going to continue doing this through diet and lifestyle.
Clean beauty.
I use Beautycounter 95% of the time. My latest find that is incredible is the Overnight Resurfacing Peel. Life. Changing. (It even comes in a travel size now.) And it's not just me saying that. My goal is to continue using and sharing everything about safer personal care items, skincare, makeup, etc. Yes, it's very important.
Fitness Intentions
Rethinking fitness.
During the past three months of Rest, I learned so much. Namely, I learned that I am never going to be some insanely talented athlete and, at almost 36 with a million other passions, I don't need to be. I believe SIBO stays best at bay when fitness is approached sanely. I still want to trail run and do the Medtronic 10K, but beyond that, no more long-distance running.
Functional and interval training.
Instead, workouts will be more functional and interval by nature. My goal is no longer "How great can be?" And "How much can I do?" But instead, "What is the least amount I can do and still feel healthy and strong?" On my goal list are intervals to achieve a sub-6 minute mile, Jess' new program Functional Fitness Defined (starting today) and then strength stuff (doing a version of Courtney's Booty Program).
When it fits.
You might have read both of those and thought, "That's still so much!" But it's not. Rarely will you find me in the gym or doing workouts at home that are longer than 30 minutes anymore and usually only 4 days max per week. I have cut it down so much, and believe it or not, I think I'm happier and healthier for it.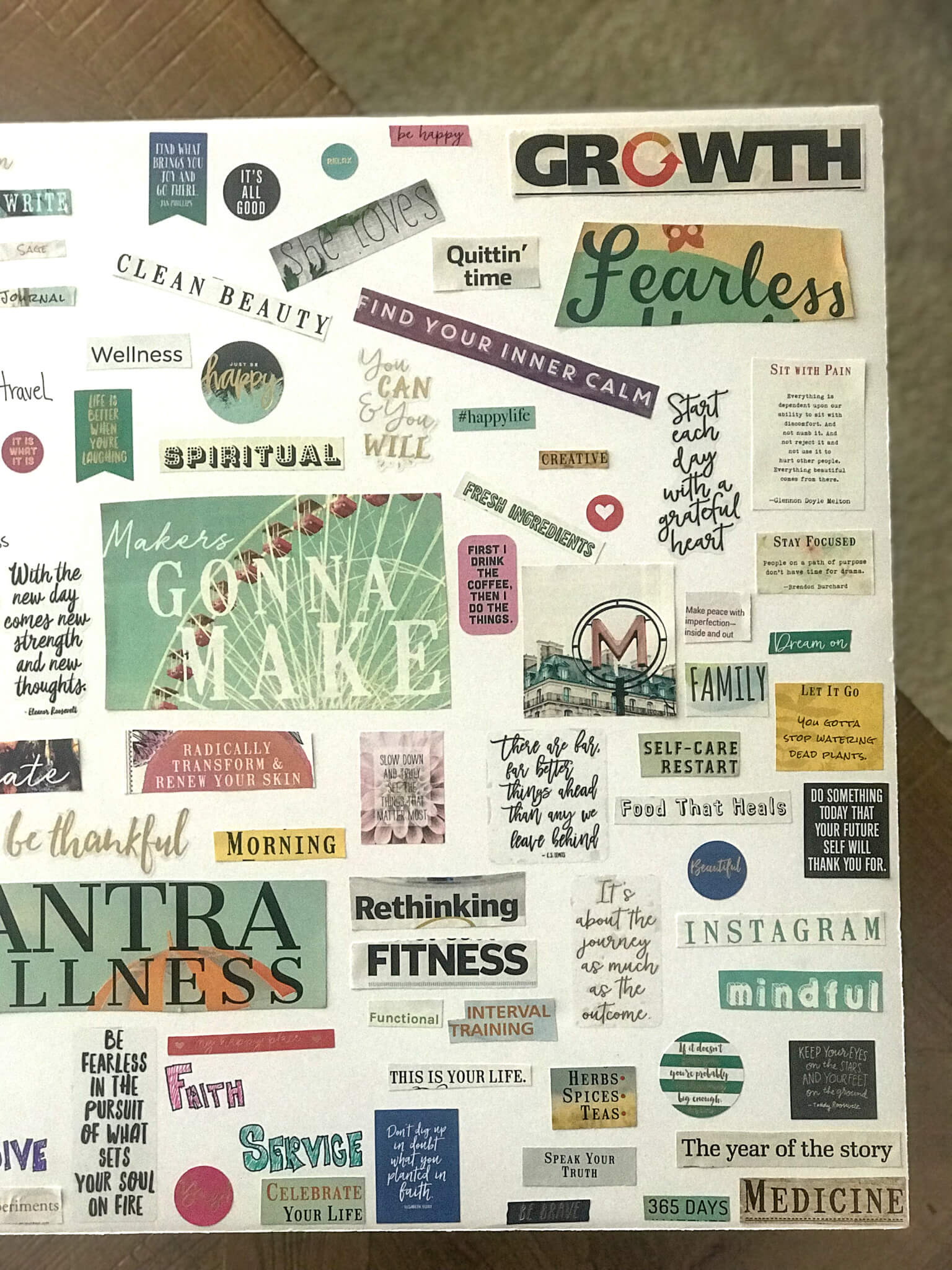 Professional Intentions
What's a FODMAP?
I've been saying it for a long time now, but the rise in SIBO diagnoses is going to continue spiking. My passion is helping women who are diagnosed with it understand every last thing about it that I can, and then heal as much as possible. My goal is to have Reasonable SIBO done by mid-February.
Content
Teaching.
Health Coaches reach out to me constantly about growing their own online business. I graduated from the school in 2012. I have finally caught my step and found my place, so now I just want to share exactly how I did it and help someone from there to here, too. It's a new service I'm offering in 2019!
My business.
I'm going to really focus on it this year. I have growth goals set with action steps mapped out in my Bullet Journal to help me reach them. I have created spreadsheets and ideas, metrics and inspirations in various places to help see this through to success. This is going to be the year of doing for intentional business growth. I have a list of courses, classes, etc. I want to do. Never stop learning. It's part of what makes business so exciting for me!
Makers gonna make.
I'm a natural creator at heart. I love to create, make, produce, and live in this bubble of creation and inspiration. I won't stop. Makenzie calls it, "Spreading my glitter…."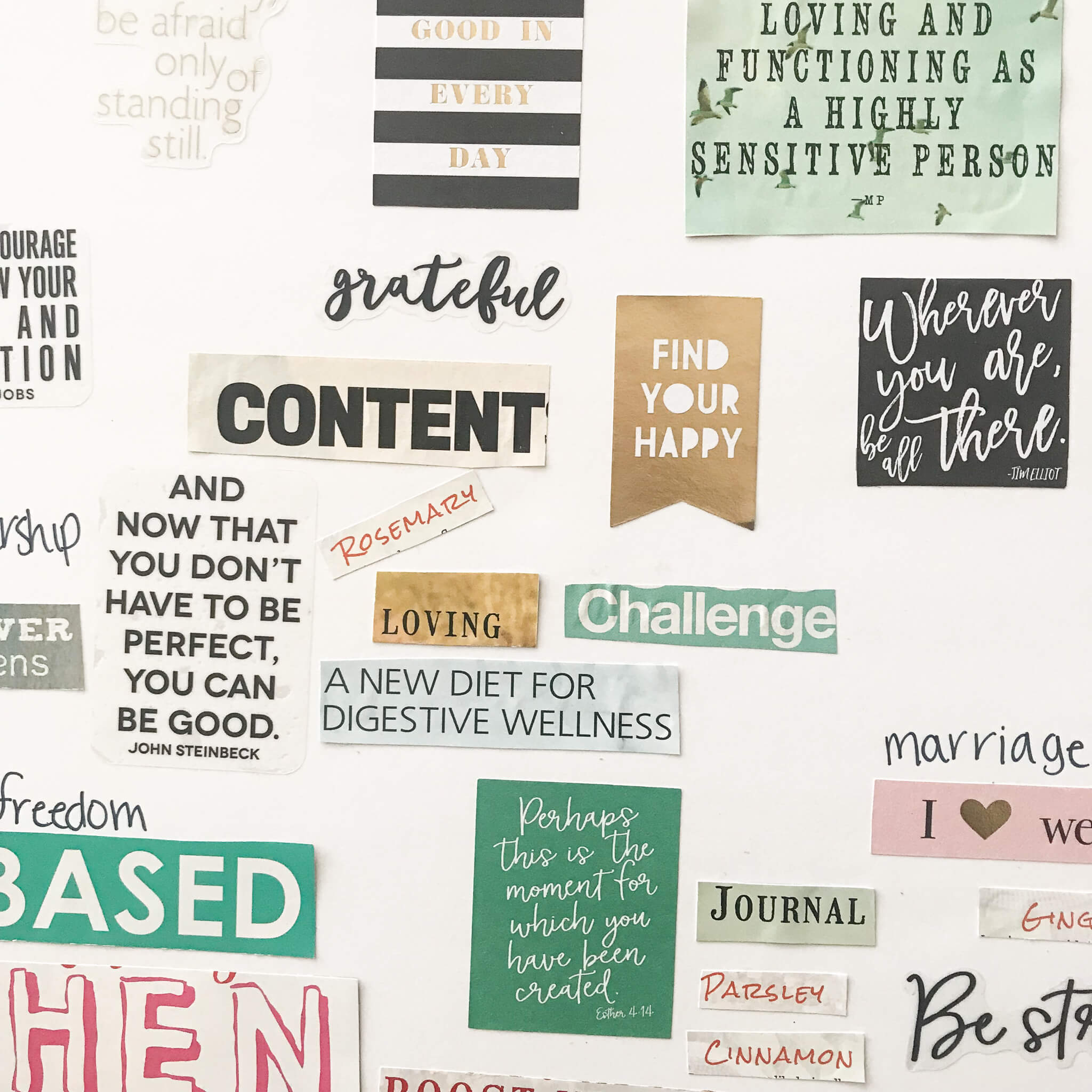 Quittin' time.
Know when it's quittin' time. Evaluations on every last piece of my professional life. Where I'm not finding joy, inspiration, and where I am finding negativity and bogged down stressors, I will remove.
Personal Intentions
Make a Vision Board..
Well, looks like I got this one down. I'm still undecided if I'll keep this at the home office or my studio (thinking the latter)
Truth. Being honest with myself and others.
Grace.
Giving myself this.
The life you want.
What is this? Living the life I want and helping others do the same vs. living the life we think we should live in order to be, do, say, accomplish XYZ. Big difference.
And now that you don't have to be perfect, you can be good.
Ahhhhhh……when I saw this, I started dancing. Actually, I didn't, but felt like it. Perfection has always been my enemy.
A new diet for digestive wellness. And there she is, the most perfect and sound diet I've ever experienced for digestive wellness. I already discussed this at the beginning of this post. It's not a diet.
Give.
My Bullet Journal states, "I am involved with a charity to do with less-fortunate children or I start one." I have been wanting to do this for awhile, but I've felt stuck with where and what. We will continue giving, and I have dreams of starting an Adoption Support Group for those who do foster-adoption or straight adoption. I've seen the need for this so much during this past year.
Start each day with a grateful heart.
No matter what, there is always something to be grateful for. The more we practice it, the better life naturally becomes.
Find your inner calm. This is another secret to unlocking your best life for living, loving, and healing.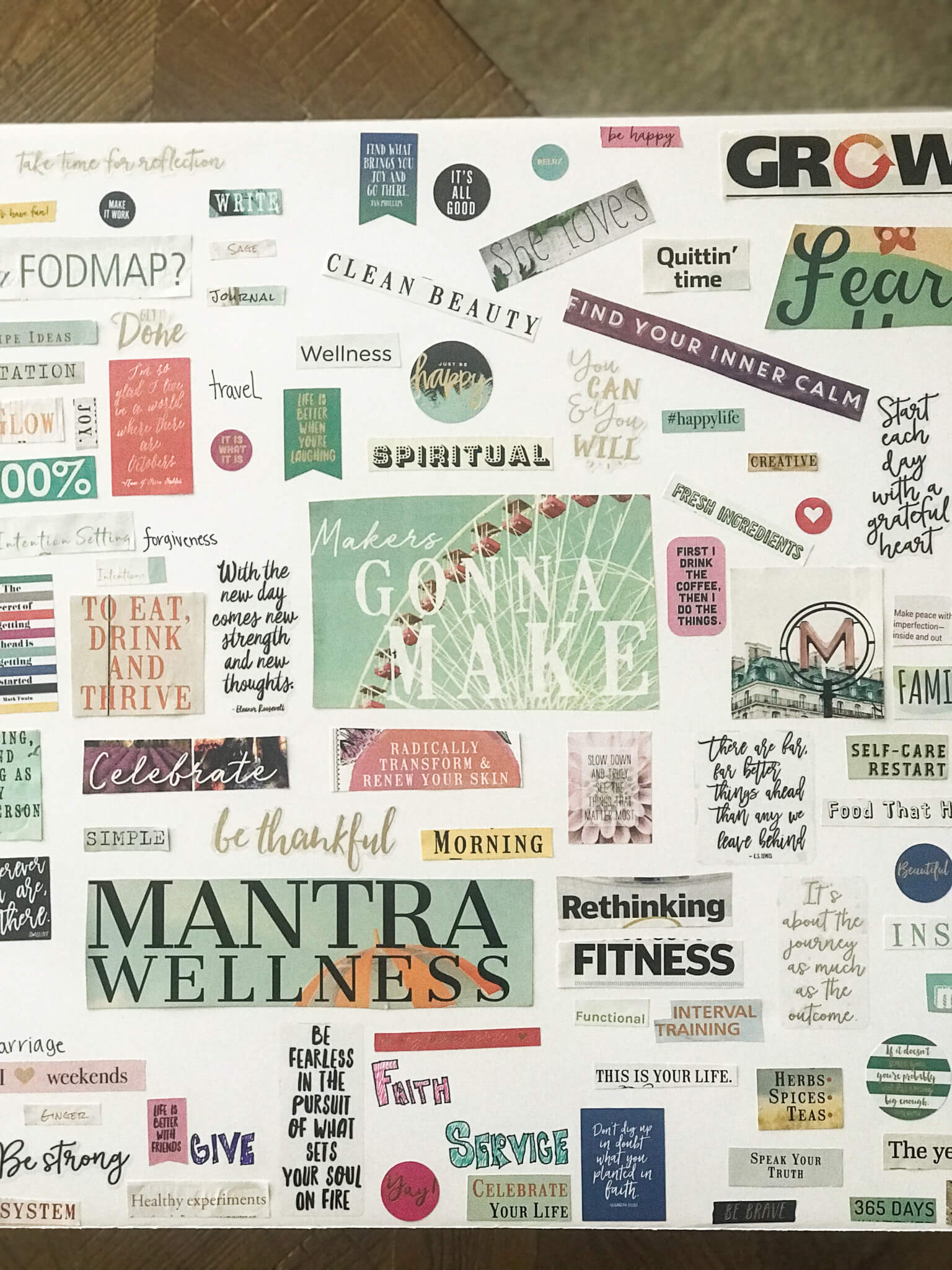 You gotta stop watering dead plants.
And last, but not least, yes, yes, and more yes. I found this sticker, and I plopped it up right away. No use in keeping something alive if there is no chance of it coming to life again. The first step in this, though, is discovering what those (already) dead plants. The truth is that some are not dead, they are just sick and tired and need reviving. You hear me?!
Look like a lot? It's actually not. There are no real "I-have-to-hit-it-hard-goals." Most important in all of this is the word, "Intention." With and in everything I do, there has to be intention, mindfulness, thought, and reason. And I have to journal the year of this intentional growth.
And with that, I'm off to read and write in silence for awhile.
I'd love for you to share with me in the comments section if any of this resonates with you, if you'll adopt one or more of mine, and/or if you did a 2019 Vision Board.
Xox,
SKH
You will heal. I will help.