I have a Tomato and Basil No-Dough Pizza for you today.
In case you weren't aware, there is such a thing as National Pizza Day. That day would be today. In case you're reading this and it's not National Pizza Day, though, who cares?! Seriously. Isn't every single day National Pizza Day? If you unfortunately don't have time to make your own pizza, then act fast and call a pizza delivery service so you can enjoy National Pizza Day. 
Meattza
This pizza is a no-dough pizza. In other words, it does not contain a traditional flour crust. 
I first tried a version of this recipe several years back when a friend sent me her recipe for "Meattza." 
That's right. Pizza made from meat.
Now, to be very clear, I rarely eat meat these days. I don't love it like I used to and I believe that's because when I was healing, I pretty much lived off it.
However, when I made this recipe several times for the book, I remembered why I loved it so much.
It is very good. You'll find the full recipe on page 119 of The Leaky Gut Meal Plan: 4 Weeks to Detox and Improve Digestive Health.
Before some of you start throwing your arms up about some of the ingredients for "gut healing," please read the full recipe then check out the Gutsy notes below.
Tomato and Basil No-Dough Pizza
Click HERE to save this recipe for later.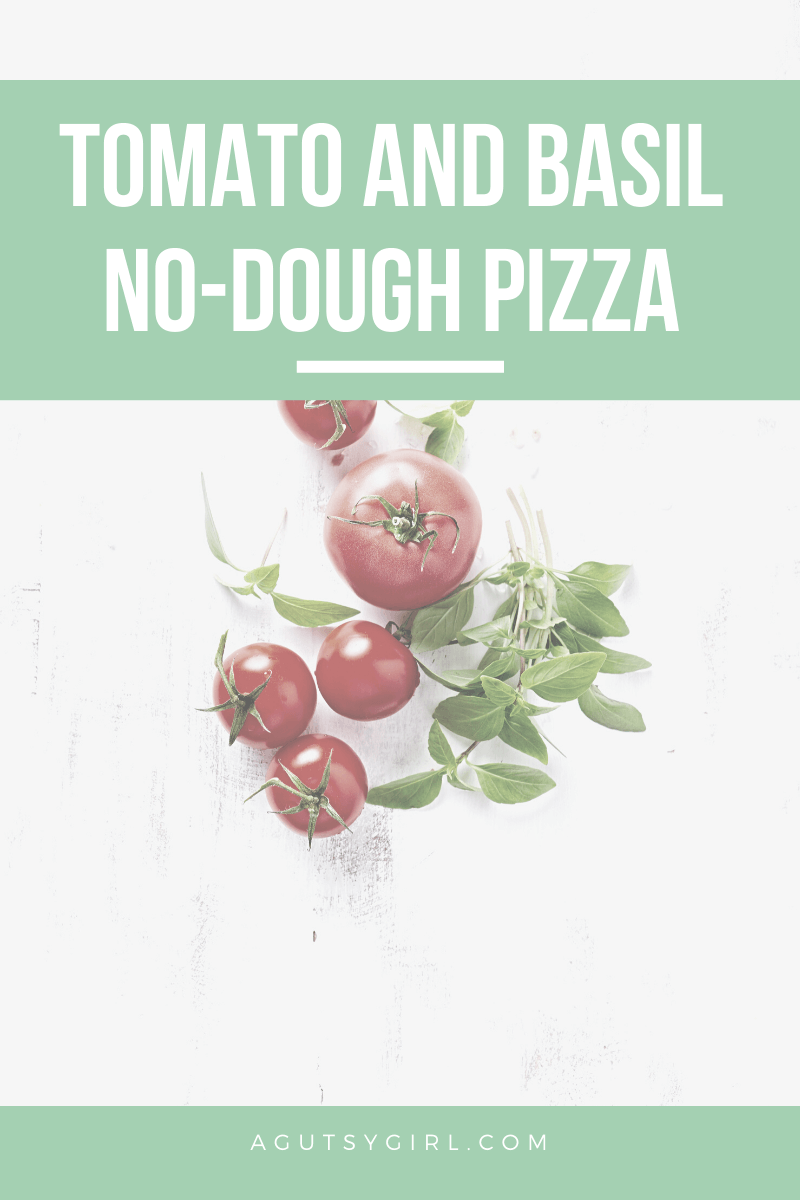 Tomato and Basil No-Dough Pizza
Prep time:
Cook time:
Total time:
Pizza night just took an interesting turn! This pizza's "crust" is formed with beef and coconut flour and flavored with oregano and garlic
Ingredients
Sauce
(8-ounce) can no-salt-added tomato sauce
1 garlic clove, minced
tablespoons (2) olive oil
tablespoon (1) chopped fresh cilantro
1 tablespoon (1) chopped fresh basil
teaspoon (1) salt
⅛ teaspoon ground cumin
Pizza
1 pound ground beef
3 tablespoons coconut flour
teaspoon (1) dried oregano
½ teaspoon garlic powder
teaspoon (1/2) salt
2 tablespoons olive oil
1 Roma tomato, sliced
4-ounce package goat cheese, sliced
6-ounce can sliced black olives, drained
2 tablespoons chopped fresh basil
Instructions
Sauce
Preheat the oven to 350°F.
In a small saucepan, combine the tomato sauce, garlic, oil, cilantro, basil, salt, and cumin. Cook over low heat, stirring occasionally, until hot, for 5 to 7 minutes.
Pizza
Meanwhile, in a bowl, combine the beef, coconut flour, oregano, garlic powder, and salt. Mix well with your hands.
In a large oven-safe skillet, heat the oil over medium-high heat.
Carefully press the beef mixture into the bottom of the skillet to create a ½-inch-thick "crust." Cook until golden brown on the bottom, for about 3 minutes.
Using a large spatula, carefully flip the crust, and cook for 3 minutes. Remove from the heat.
Top the crust with the sauce, tomato, cheese, olives, and basil.
Transfer the pan to the oven, and bake until the cheese has melted and the toppings are warm, for 7 to 9 minutes. Remove from the oven.
Notes
Substitution tip: Instead of ground beef, you can use ground turkey or ground chicken for the "crust."
Nutrition Information
Calories:
609
Fat:
47g
Saturated fat:
17g
Carbohydrates:
17g
Sodium:
1432mg
Fiber:
8g
Protein:
32g
Gutsy Notes
These are some special notes for the Tomato and Basil No-Dough Pizza recipe.
Week 4

If you have the book, you know that this recipe isn't introduced until week 4 of the meal plan. That was intentional due to the complexities of several ingredients. They are discussed in the next few points.

Goat cheese

This recipe is not dairy free, due to the use of Goat cheese. Some people think that Goat cheese is dairy free. It's not. However, just because you don't tolerate cow's milk, doesn't automatically mean you wouldn't tolerate goats. Here is what Alisa from Go Dairy Free says about it, "Goat milk is slightly closer in composition to human milk than cow milk is, with proteins that may be easier to digest. It is estimated that 20 to 40% of milk allergic individuals do not react to goat milk. However, milk allergic individuals should obtain an allergy test prior to trialing, as most people who are allergic to cow milk have similar reactions to goat milk. Plus, a rare few are in fact more allergic to [the casein or whey in]goat milk.

The lactose levels in goat milk versus cow milk are very similar (4.1% and 4.7% respectively), so lactose intolerant individuals might experience little to no relief from making the switch."

Nightshades

Tomatoes are a nightshade, which is obviously a fairly significant piece to this recipe. To determine whether or not you should consume nightshades, check THIS post out.

FODMAPs

Except for the garlic and garlic powder, this recipe is low-FODMAP. An easy swap for that is to cut both garlic ingredients out and instead drizzle a little of the  the Nutiva Organic Liquid Coconut Oil, Garlic on top of the "crust" just prior to baking. Alternatively, if you don't like using coconut oil, you can use Garlic Infused Olive Oil (both are low-FODMAP options).

Roll it out thin

Be sure to roll the "crust" out as thin as you can. The reason is to avoid a meat-patty consistency. You won't be able to make it ultra thin, but go as thin as you can.

"Too many calories."

600 calories per serving? 47g of saturated fat? Yes, it's high. However, I've also been criticized that there are too few calories in the meal plan. So which is it?! Also, compare it to a regular pizza. And finally, you could use a different type of meat (lean) and that would drastically reduce the numbers. If you care to. But I wouldn't 🙂
Anymore questions? I'm here for you every day; even (especially?) on National Pizza Day.
Grab your copy of The Leaky Gut Meal Plan: 4 Weeks to Detox and Improve Digestive Health. Consider joining the 28-Day Leaky Gut E-Course to compliment the book HERE.
Xox,
SKH
You will heal. I will help.