Today I am sharing 8 Ways to Begin a Meaningful Morning Practice.
I thought about today's topic while I was reading "What Successful People Do With The First Hour Of Their Work Day". I am guilty as the next of checking of my email stat.
Maintaining a morning practice could be one of the most beneficial things I put into place for my life; it could be for your own life as well.
8 Ways to Begin a Meaningful Morning Practice
Click HERE to save this post for later.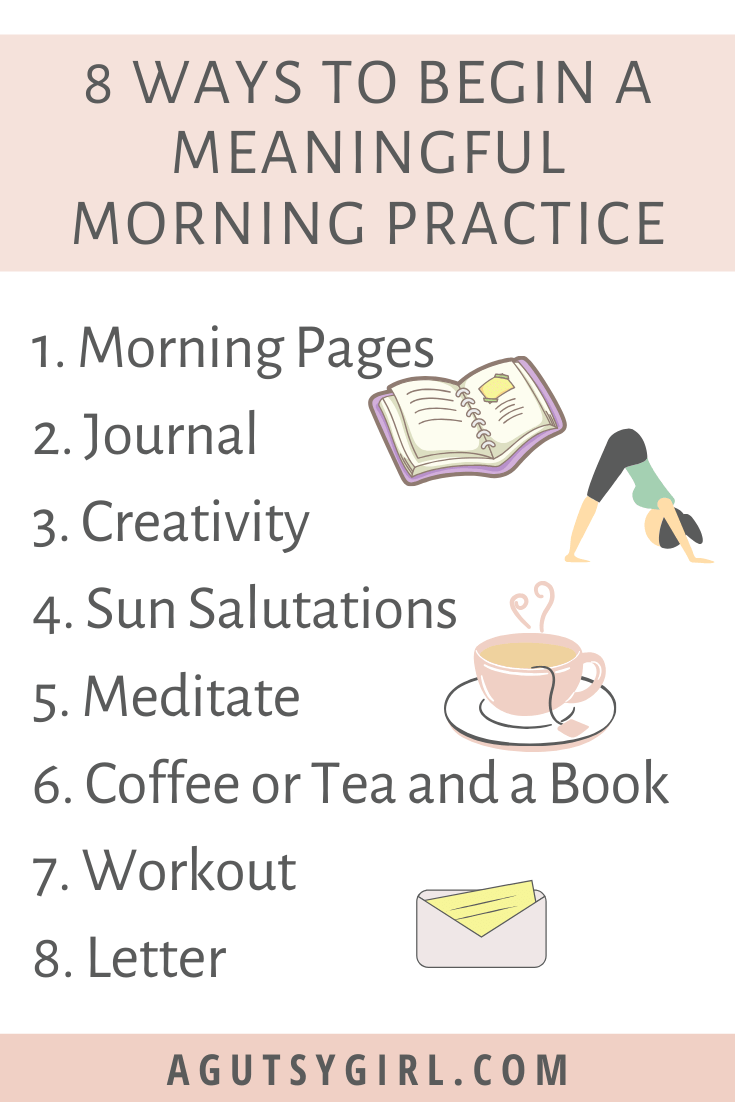 I used to do these, but I haven't in so long. Morning pages are simply a way to set your intentions for the day. I think the reason I stopped doing it was because the morning pages seemed too structured for me. I think I would rather….

Journal

Yes, to me, morning pages and journaling (also, journaling for gut healing!) are different. Grab yourself a great journal. After you have this space for your thoughts, just write. Devote 15-20 minutes in the early morning to writing down thoughts, ideas, emotions – anything. (Alternatively, you could Bullet Journal.)

Creativity

Take 30 minutes first thing in the morning and be creative. Maybe the journal is a part of this….you buy materials and design and decorate a book that will speak only to you. Or maybe you paint, draw, color – just something that does not involve your email or Facebook.

Sun Salutations

Back when I was an avid am runner, I would take this trail by our house. I timed it perfectly so that by the time I hit the end of the trail, the sun would be coming up. In sweat-filled clothes, I would stop and do yoga sun salutations. It was the most beautiful and peaceful way to start the day. Even though I don't run in the am anymore, I've considered many times on our am walks with the dogs going back to that place for the practice. You don't need the actual sunrise to do yoga sun salutations in your own home. Give it a try.

Meditate

Everyone meditates differently. The goal is to use 15-20 minutes of silence; in your mind, body and spirit. My mind is going 24/7, so even devoting 15-20 minutes is very hard for me. But meditation helps with stress; stress contributes to digestive problems. If you absolutely cannot just be in silence, try taking one thing currently weighing on your mind and meditate on it; think it through, the positives and the negatives. For me, I might use this time to meditate on a bible verse or story. Do what works for you. (p.s. THIS is my favorite form of meditation.)

Coffee or Tea. And a Book

I'm a dork for reading books currently. I'm trying to complete 1-2 per month. The morning is a great time to wake the mind up with reading. Most of us grab coffee or tea first thing in the morning. That's fine. Grab yourself a warm cup, cozy blanket and your book. Sit in peace and quite and read for 15-30 minutes.

Workout

Get your body moving for the day. I've kept no secrets about my early-workout motivations. Working out first thing in the morning is a great morning practice, and it can also double as a great morning habit to find yourself in. I don't do it everyday anymore, but I do know that the days I have morning workouts, I feel better and have more energy all day long. Plus, it's done for the day. I can focus on and be productive in many other ways.

Letter

I live across the country from family and friends. One year for lent, I wrote one snail-mail letter per week. I wrote it first thing in the morning. You can place this same meaning to your morning, if you have anyone who lives even 30 minutes to an hour away from you. Think of how excited they will be to get your letter vs. the cell phone bill.
Less Stress
I know for a fact that if I were to begin this morning practice again, my days would flow much better, I'd start the day with much less stress and I would feel better all day long overall. With that, I think it's time for me to implement again….
Do you partake in a morning practice? If so, what do you do?
If you liked this post, you might also enjoy:

Xox,
SKH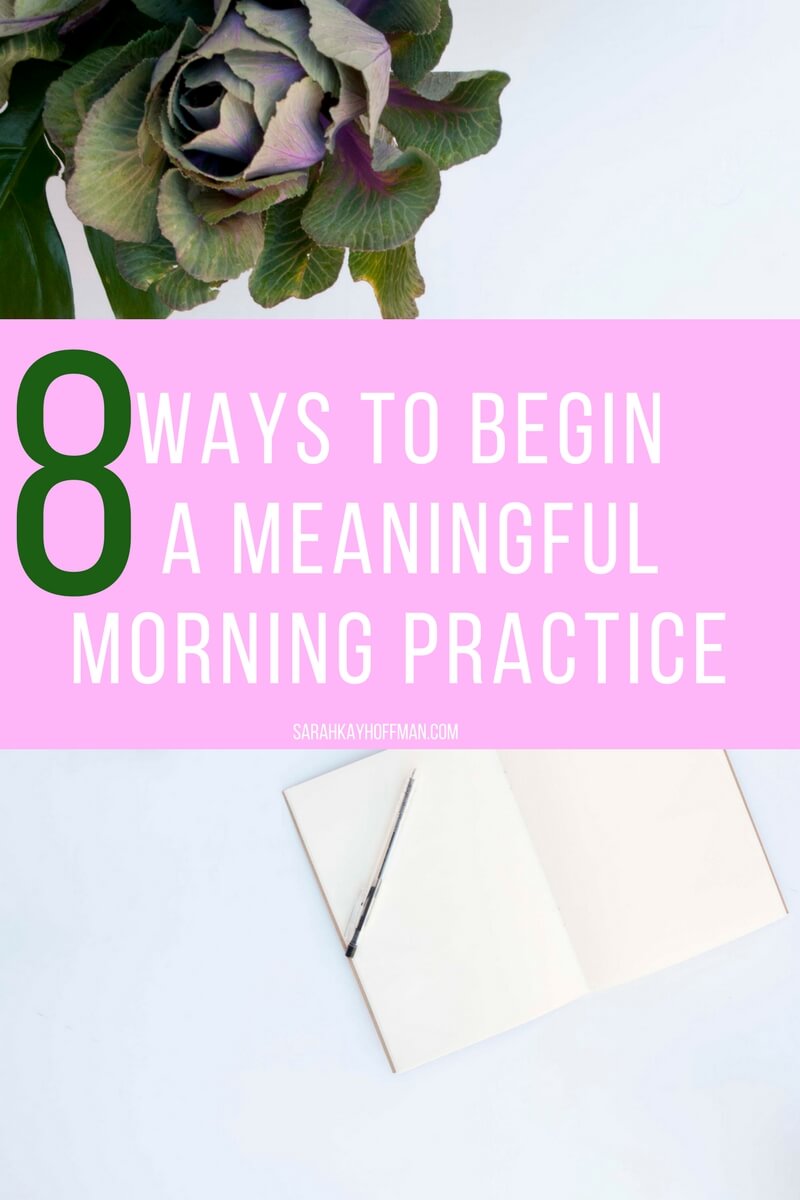 You will heal. I will help.