This gut healthy boosted oatmeal is helping me currently thrive. So I wanted to share it with you.
I did an Instagram live last week and showed the process of how I make the gut healthy boosted oatmeal (basically) every single day. 
The live didn't save to my Stories for 24 hours, but I was still able to download it right after. And even though it's sort of long, I still wanted to get it posted so you had the information. 
Not only is the live to show you what goes into this oatmeal bowl, but it's also me sharing why. 
When I'm eating gut healing and/or gut healthy things, it's very intentional. I know the reasons behind almost every food and supplement as it relates to my personal situation. 
And therefore, while this bowl is incredible for me right now, it might not be for you. Listen to your gut!
What is a Gut Healthy Boosted Oatmeal?
First, why do I call the oatmeal bowl this? Because that's exactly what it is. It's basically just oats with various supplements added in to maximize gut health.
Instead of ingredients like oats, peanut butter, chocolate, spices, and milk, it's simply oats with supplement additions. Well, for the most part anyways. 
Now that I'm super confident in where I stand on my gut healing journey, my goal is to boost gut health. Every single day I mix elements from my gut healing journey and overall gut health for the best possible outcome.
And yes, it's all working.
Gut Healthy Boosted Oatmeal Recipe
Click HERE to save this post for later.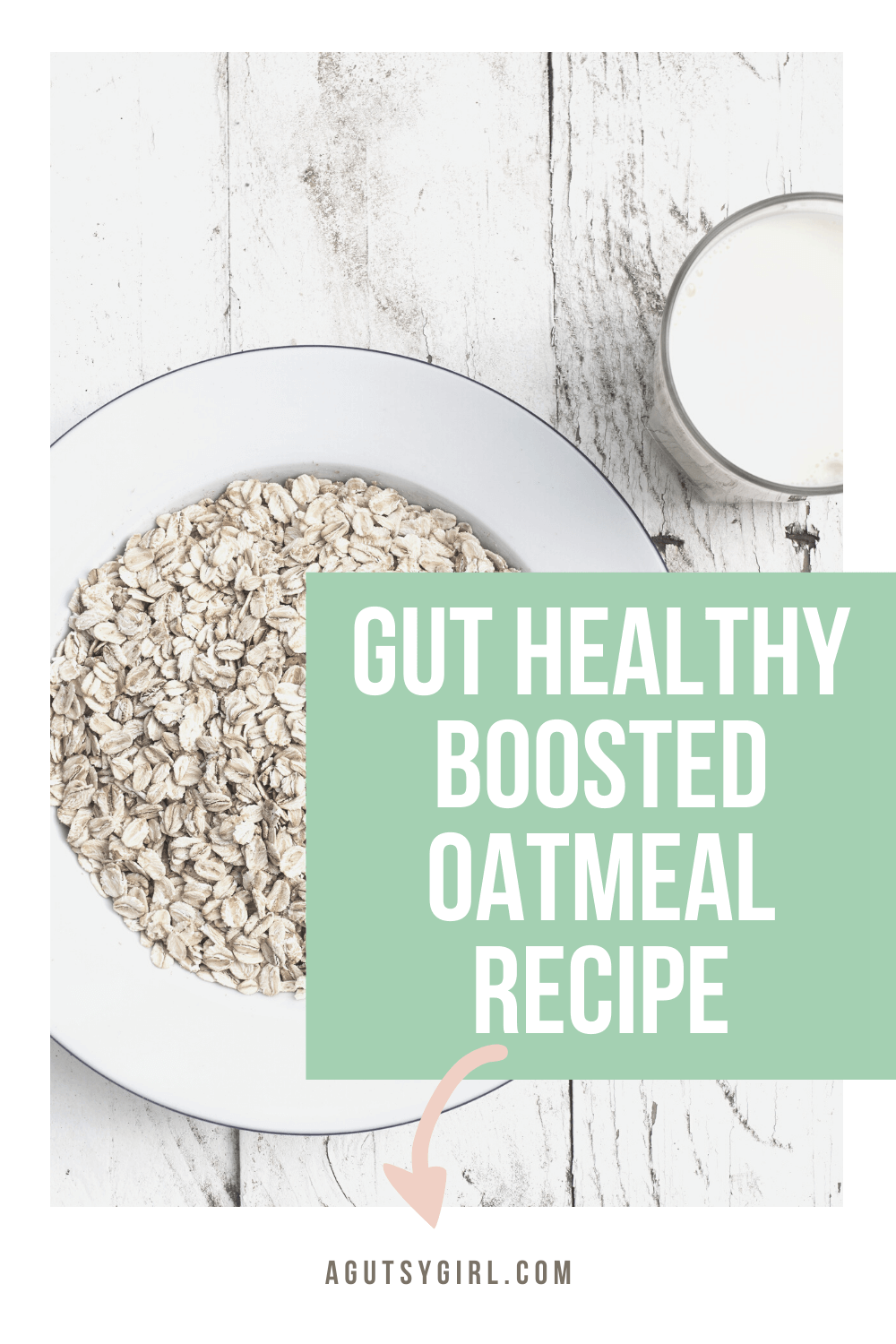 Let's just dig right in to what I all added in this oatmeal bowl. I'll share the ingredients, in order of how I added them during the video.
Side note: Almost all ingredients below have a code so you can save on your order. You'll find the probiotic, resistant starch, L-Glutamine, Ultimate IgG Immune Boost, collagen and even the sugar for the no-sugar cinnamon sugar discounts HERE via the Master Gutsy Spreadsheet. 
Also, at the bottom of each ingredient, I mention if it's a "gut health" or "gut healing" appropriate. Remember, this is my opinion through my research. With every single one of the supplemental ingredients, please be sure to check with your doctor and/or nutritionist. 
Organic Rolled Oats
Yes, of course I know that oats are a grain, starch, and even oftentimes frowned upon as an antinutrient. I'm well aware of it all. For that reason, for many of you in the depths of your gut-healing journey, you may choose to not use oats. That's okay. You do you.
I love organic oats for their fiber content and that they are very filling, low-FODMAP, and contain no sugar. 
Is Oatmeal Gluten Free?
The oats used in this video are from a local store.
They are certified organic, but not certified gluten-free. Because oats are naturally gluten-free and I don't have Celiac disease, these are perfectly okay for me. I will note that this would be the perfect instance for me to take the Gluten Away, though.
Probiotic Capsule
You're wondering, "A capsule in oatmeal? But how?" Simple. Step one: open capsule. Step two: pour capsule contents into the oatmeal. Stir, and boom! 
Hear me on this one, though. You cannot do this for all probiotics. This is just one of the hundreds of reasons why I use Just Thrive Probiotic. It's strong enough to survive all temperatures, and can easily be opened to incorporate into anything from ice cream to baked goods. 
Learn more about the Just Thrive Probiotic HERE.
Gut Health or Gut Healing? Probiotics are subjective. But many people, even those with SIBO, have had success with the Just Thrive Probiotic. If you're absolutely miserable, you could always start with 1/4 – 1/2 capsule, see how you feel and adjust accordingly. You could also skip this one. 
Best Probiotic!
+ save 15% with code AGUTSYGIRL at checkout
Ultimate IgG Capsule x 2
No matter what, building the strongest immune system you can is best. This is a product that, even when I don't eat oatmeal for breakfast, I'm taking daily.
With this oatmeal bowl, I'm working on both gut healing and gut health. Because 70-90% of the immune system lies in the gut, add in this (non-flavored) powder makes perfect sense. 
Similar to the probiotic, you'll open the Ultimate IgG capsule up and pour its contents over the oats. 
Learn all about the Ultimate IgG HERE.
Gut health or gut healing? Both.
L-Glutamine
L-Glutamine is to help build and support the intestinal lining. In fact, it was one of my stomach lining support supplements.
A bonus for this supplement is that it also helps preserve muscle mass. 
I've written an entire post about L-Glutamine for Gut Healing HERE.
Gut health or gut healing? Both.
Keto Collagen
Collagen is another supplement that's good for the gut lining.
It provides the amino acids needed to repair and rebuild the intestinal wall and prevent a leaky gut.
I used the My Gut Garden Collagen because I stand behind the company and their products. I'm a huge fan of everything they stand for.
This collagen is also keto and it includes nothing more than collagen peptides (i.e. no fillers, sugars, or other additives). 
Gut health or gut healing? Both.
Resistant Starch (prebiotic)
Until I was healed, I didn't research too much about prebiotics.Well, then I healed and began the intensive Gut Health Course via the Institute for Integrative Nutrition. 
And now I know, without-a-doubt, how critical prebiotics are long-term for the microbiome. In fact, some of you in the gut healing phase can even consider adding in prebiotics. I do not think this is a supplement to add in for those of you with active (and miserable) SIBO or any other type of overgrowth. 
Prebiotics help create a diverse microbiome. And a diverse microbiome leads to a stronger microbiome.
Gut health or gut healing? Gut health, and in some cases gut healing.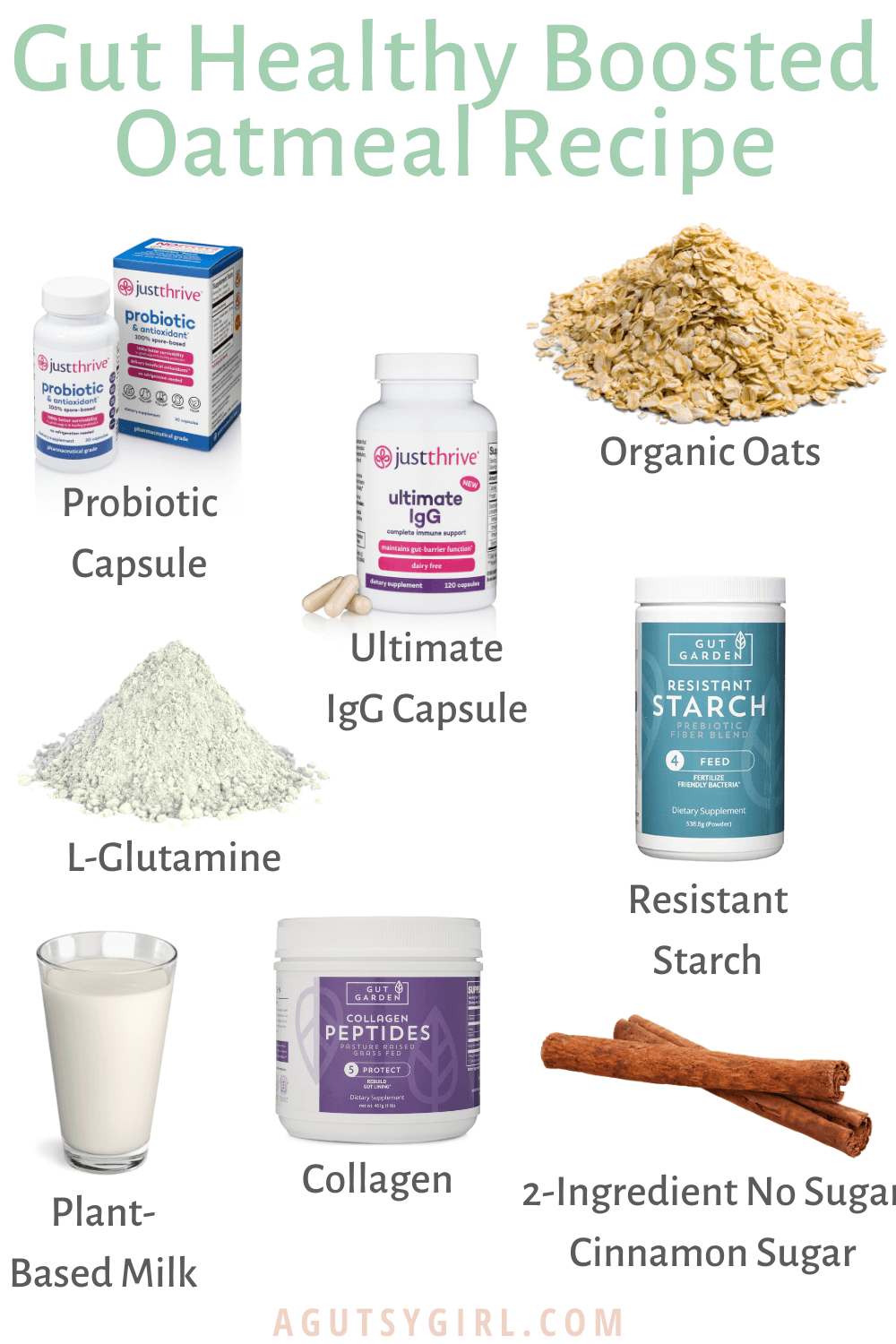 How to Make Oatmeal Taste Good
Now, if you just ate the oatmeal as-is from above, you might not think it tastes super great because….no sugar.
Therefore, here are two miscellaneous things I add to my own oatmeal:
2-Ingredient No Sugar Cinnamon Sugar

Yes, just two ingredients, and you can see how I make this HERE. You don't have to use this as your "flavor" if you don't want to. I just love it because it adds a spicy/sugary element without any extras really. 

Plant-Based Milk

It's mentioned in the video, but even though I love thick oatmeal, I do enjoy adding some milk at the end. You can choose whatever works for you.
Gut Healthy Boosted Oatmeal Recipe Card
Gut Healthy Boosted Oatmeal Recipe
Prep time:
Cook time:
Total time:
A Gut Healthy Boosted Oatmeal recipe to keep your gut flourishing.
Ingredients
Organic Oats, about 1 cup cooked
Probiotic Capsule, 1 (I use THIS one)
Ultimate IgG Capsule, 2 (THIS one)
L-Glutamine, about 1 teaspoon
Collagen, about ½ - 1 scoop (THIS one)
Resistant Starch (prebiotic), as desired (THIS one)
2-Ingredient No Sugar Cinnamon Sugar, as desired
Plant-Based Milk, as desired
Instructions
Make the oats according to the package, and scoop cooked oats into a bowl.
Empty the probiotic capsule contents into the oatmeal, and stir until completely mixed together.
Next, empty the Ultimate IgG capsules into the oatmeal. Again, stir until completely mixed together.
Add in the L-Glutamine, and stir until completely mixed together.
Then, add in the collagen. Again, stir until completely mixed together.
Finally, add the resistant starch and stir until completely mixed together.
Prior to eating, top with the 2-Ingredient No Sugar Cinnamon sugar and/or plant-based milk and/or anything else desired.
Notes
For all (probiotic, Ultimate IgG Immune Boost, collagen, and Resistant Starch), use code AGUTSYGIRL at checkout to save an automatic 15% on anything and everything from Just Thrive Health and My Gut Garden.


This "recipe" is just for one. When I make the oats, I make a huge batch ahead of time. 5 cups of dried oats to 10 cups of water. When I'm ready to eat this bowl, I take from the oats, and mix the other ingredients in.
Gut Healthy Boosted Oatmeal Recipe Video
Note: There is nothing fancy about this video. I didn't even really edit it much because there was a lot of information that I didn't think you'd want cut. Skip around however you'd like.

If simple concoctions like this are interesting to you, then you'll love my book, A Gutsy Girl's Bible: a 21-day approach to healing the gut. In it, you'll find 100+ Creations. Grab your copy on Amazon HERE.
Or, have this book at your fingertips instantly by downloading the PDF now.
If you liked this post, you might also enjoy:
Xox,
SKH
You will heal. I will help.