I want to show you how to get 32g of fiber in one super breakfast bowl because guess what? 
Fiber is critical for a healthy gut and for keeping the system moving right along.
I remember the days when I consumed very little to no fiber. Those were hard days, but when I was sick in rotten gut bacteria hell, the fiber made me even more sick. 
32g of Fiber in one Super Breakfast Bowl
Click HERE to save this post for later.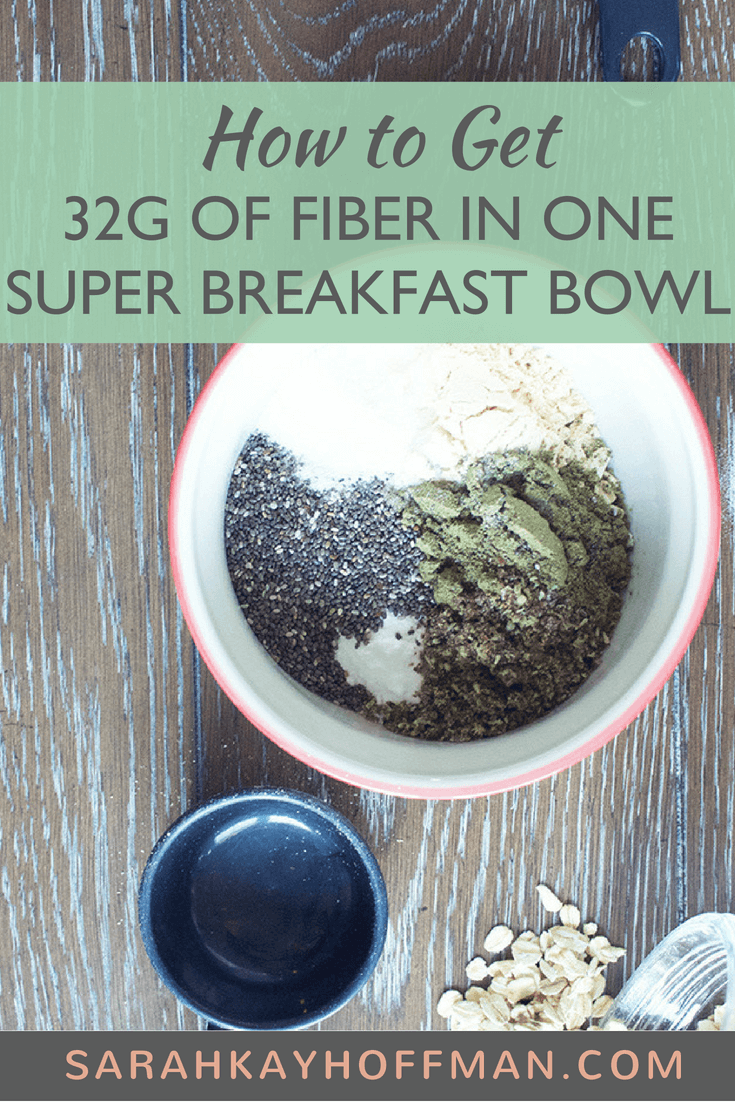 These days I consume no less than 35g of fiber per day. I'd gather my breakfast staple has a lot to do with that huge (and awesome) number.
There is no reason to make this post (or recipe) complicated because it is anything but that.
You can make this in less than 2 minutes if you eat it raw, and in about 5 minutes if you cook on the stove.
Here are the pieces to my oatmeal.
How to Make a Fiber-Packed Breakfast
Hemp Protein
Some of my favorite products in the world (ahem – Organic Virgin Coconut Oil) are from Nutiva, and the quality + taste is unparalleled.
Now that we have that out of the way, I use 2-3 Tablespoons of Organic Hemp Protein Hi Fiber or Organic Hemp Protein Vanilla (or Chocolate) in this daily bowl. Lately, I've been sticking with just the hi fiber one, but if you need more "flavor" then you'll want to choose one of the flavored one.
Hi Fiber, 3 Tablespoons = 12g fiber
Vanilla, 3 Tablespoons = 5g fiber

Superseed Blend
This is a brand new product at Nutiva, the Superseed Blend. The blend consists of ground flax, chia and hempseed with coconut. It is great in smoothies, with cereals like my oatmeal bowl and it's also amazing for baking (which, once the product has a larger distribution, I'll create some baking recipes with it for y'all). I have been adding 1 Tablespoon to my daily bowl.
Updated in 2020 to add: this product no longer exists, but the 3g of fiber can be easily replaced elsewhere.

Chia Seeds
Ah, the beloved Chia Seeds.
First off, have you made my Healthy Gut Chia Pudding Yet? Get to it, it's super delicious!
I love adding the Nutiva Organic Chia Seeds to so many things, and my daily super breakfast bowl is definitely one of them. I add in 1 Tablespoon (if you forego the Superseed Blend, you could add in 2 Tablespoons).
1 Tablespoon chia seed = 5g fiber
Gelatin
I have long used Great Lakes Gelatin for all my needs. But I have also used Vital Proteins.
That said, I do not believe the taste and/or consistency is different, and so when it comes to choosing your Gelatin, do what works best for you. Regardless, I used Vital Proteins (<- read more about gelatin for gut healing by clicking that link) in this bowl, 1 Tablespoon.

Gluten Free Oats
Oats are not Paleo, and grains are one reason why I'm not Paleo (unless my autoimmune condition kicks in again). But removing entire food categories when you feel great simply makes no sense to me. Especially when I do believe that things such as these gluten-free oats provide a ton of benefits.
Perhaps the most important benefit to me was that I began to feel like a normal person again. For years I craved a daily bowl like this, and now that I can do it while thriving, I am loving it. I buy the Trader Joe's Gluten Free and Wheat Free Rolled Oats. I use 1/4-1/2 cup in my daily bowl.
oats, 1/4 cup = 2g fiber
oats, 1/2 cup = 4g fiber
Coconut Flour
You might think it sounds odd to add coconut flour to your oatmeal bowl, but I love how it bulks it up even more while making me feel like I'm eating some sort of dessert cake. I use Nutiva Organic Coconut Flour, and typically 2 Tablespoons.
L-Glutamine Pure Powder
No power breakfast bowl would be complete without the addition of L-Glutamine Pure Powder, which I discussed in more detail via L-Glutamine for Gut Healing.
You need to add the amount that makes the most sense for you, but for me, I am up to 1 Tablespoon per oatmeal bowl. Again, no fiber here, but this is a gut-healing and thriving supplement I use.
Do the math, and you will see that for breakfast alone, in this one awesome bowl, you will have anywhere from 23g – 32g of fiber, which is incredible!

32g of Fiber in one Super Breakfast Bowl
Prep time:
Cook time:
Total time:
Get 32g of fiber in one super breakfast bowl
Instructions
Place all ingredients in a bowl.
Add enough water or milk of choice to cover them.
Sitr and enjoy.
Notes
This recipe can be eaten raw, but I really enjoy eating it cooked when I have a lot more time on the weekends. In that case, cook the oats on the stove. Once they are done, add the rest of ingredients, stir and enjoy.
If you need a little more "sweetness," you can always add a few drops of
Organic Liquid Stevia
or a little
Organic Coconut Sugar
.
I always add milk, and my milk of choice currently is anything almond/coconut by
Califia
.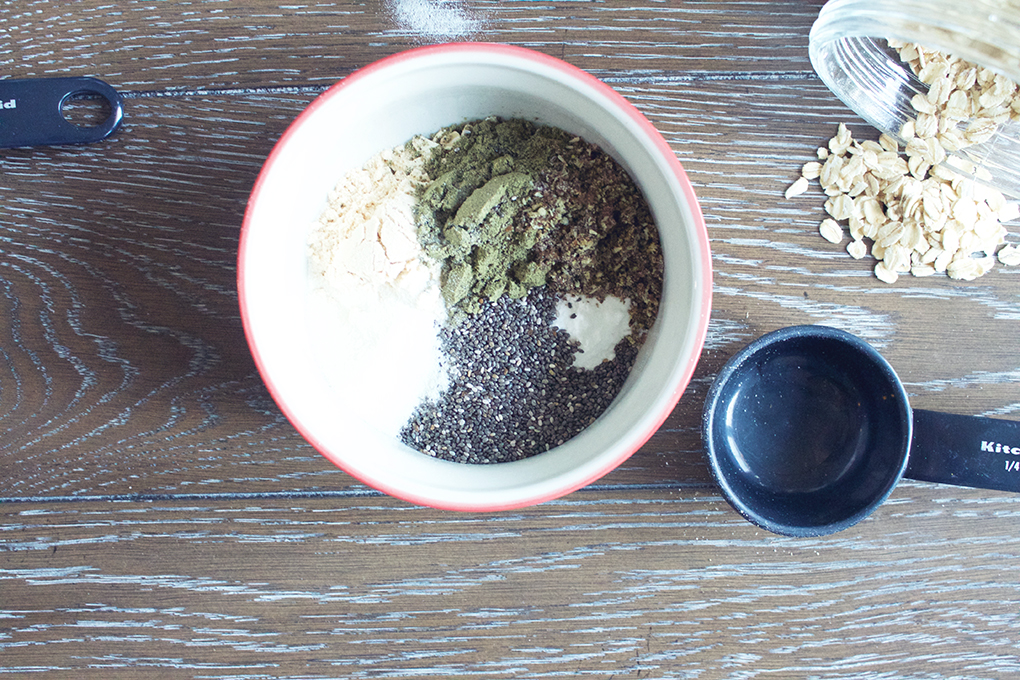 Xox,
SKH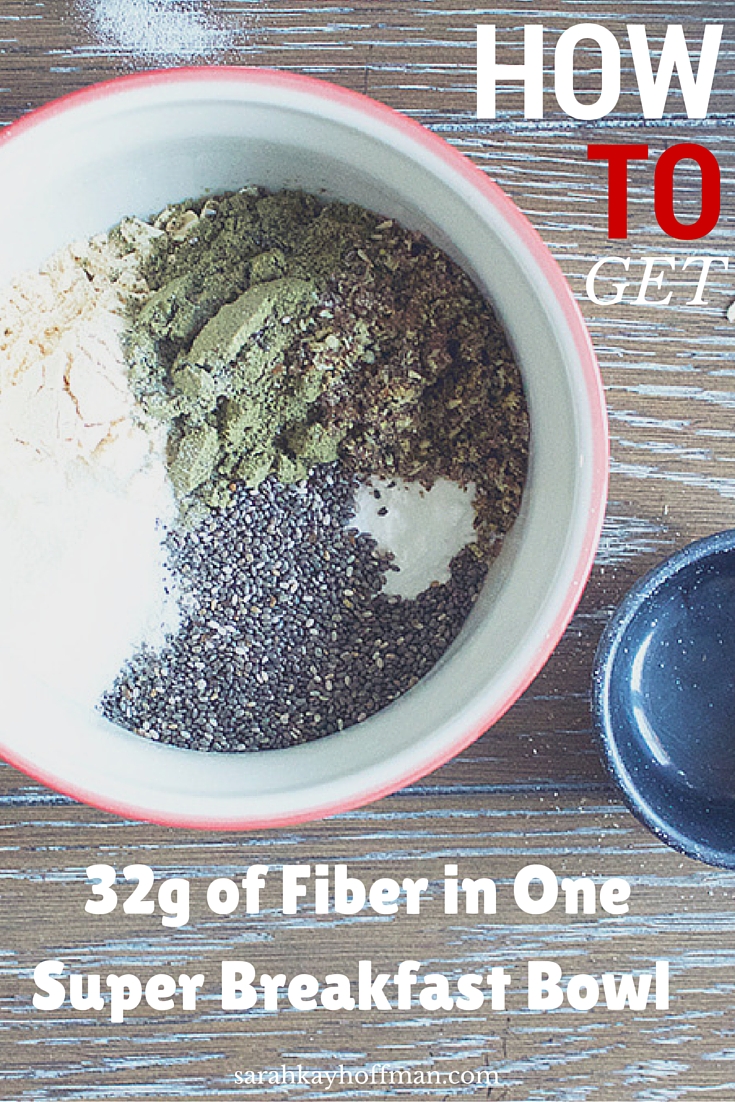 You will heal. I will help.