Today I put together a list of 73 Soy Sources and Alternate Names for you.
Here are all the lists like this that you will find in The Gutsy Girl's Bible:
Corn
Egg
Fish
Legumes and Beans
Soy
Wheat and Gluten
I know what many of you are thinking right now, "…..but wait, is soy bad for me?" That's not what these lists are for.
It's not that I think food is inherently "good" or "bad." And in fact, I do not believe that there is any food that should be 100% off limits for life unless one is allergic to said food.
If you watch my Instagram Stories, you'll see that I frequently eat big old noodle 'n tofu bowls. The noodles are typically the Thrive Market Wonder Noodles and the tofu is an extra-firm, organic tofu I get at Trader Joes, Whole Foods, or wherever I can find it.
Why? Because today I am able to eat ALL the things, and no food is off-limits for me.
That being said…..
Soy
Soy is a top allergen. The way we have "westernized" it has made it hard on the digestive system, and most soy is genetically modified.
Some soy products can be very "good" for us (i.e. Fermented Soy like Miso and Tempeh). But if you're looking for the real truth about soy, check out this article from Experience Life – Soy: To Eat or Not to Eat.
"Good" is also subjective, as always. For example, are you dealing with a case of Hydrogen Sulfide SIBO? Then soy might not be right for you – at least not for now, as it's high in sulfur. Or, are you intolerant to/allergic to soy? Again, might not be for you.
And finally, as the Experience Life article emphasizes, soy – as a whole bean – without any processing or chemical changes done to it (and in small amounts) can be (and is) regarded as generally healthy. Unfortunately, that is not how most soy in the United States is consumed.
Regardless of whether or not you choose to include soy in your diet, knowledge is power. If you want a list of soy sources and alternate names – this this of 73 soy sources and alternate names is fairly comprehensive.
73 Soy Sources and Alternate Names
Click HERE to save this list for later.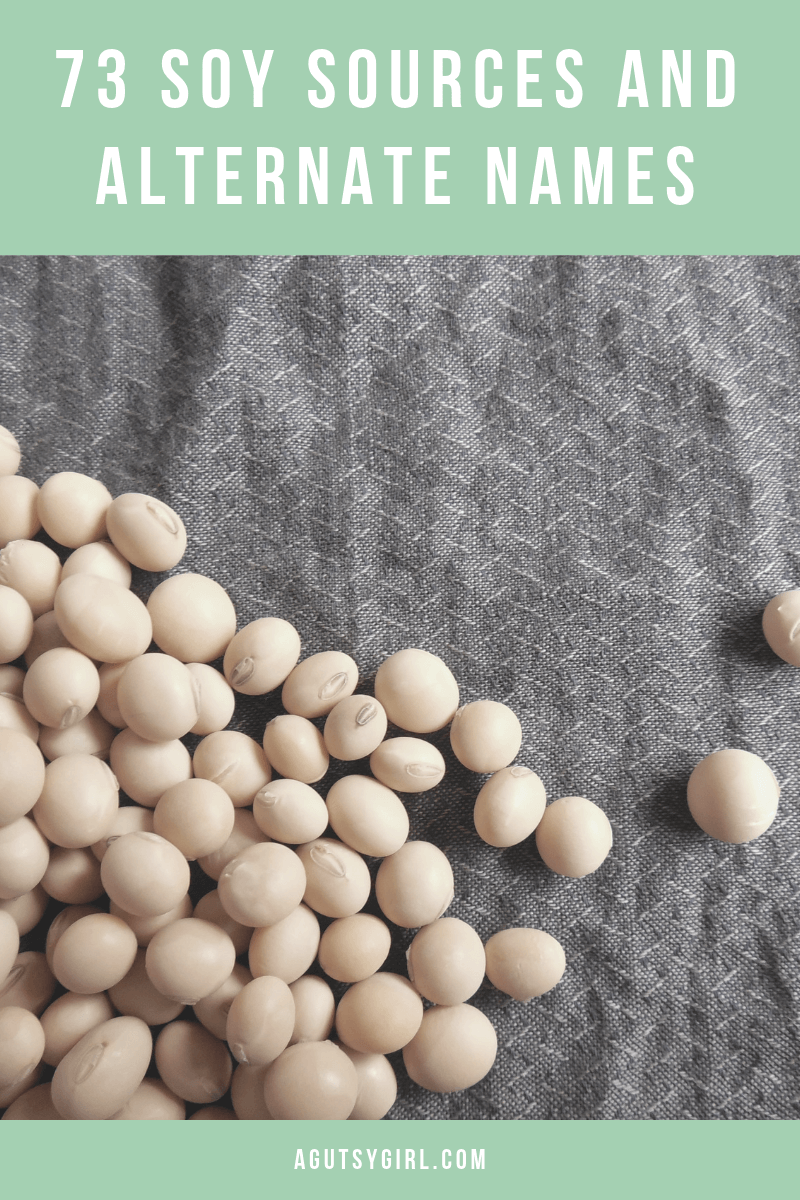 Artificial Flavoring
Bean Curd
Bread
Bouillon Cubes
Bulking Agent
Candy
Carob
Cereal
Chicken Broth (packaged)
Chocolate
Coffee Substitutes
Deli Meat
Edamame
Energy Bar
Glycerin
Gravy
Gum Arabic
Hydrolyzed Soy Protein
Kinako
Kinako Flour
Kyodofu
Margarine
Mayonnaise
Miso
Mono-Diglyceride
MSG
Soy Fiber
Soy Flour
Soy Lecithin
Soy Milk
Soy Oil
Soy Grits
Soy Nuts
Soy Nut Butter
Soy Protein
Soy Protein Concentrate
Natto
Natural Flavoring
Non-Dairy Creamer
Nimame
Okara

Processed Food
Protein Powder
Shirataki Noodles
Shoyu Sauce
Soja
Soy Albumin
Soy Bran
Soy Protein Concentrate
Soy Cheese
Soy Protein Isolate
Soy sauce
Soy Sprouts
Soya Flour
Soya
Soybean Curd
Soybean Flour
Soybean Granules
Soybean Paste
Soybeans
Supro
Tamari
Tempeh
Teriyaki Sauce
Textured Soy Flour
Textured Soy Protein
Textured Vegetable Protein (TVP)
Tofu
Vegetable Broth (packaged)
Vegetable Gum
Vegetable Starch
Yakidofu
Yuba
Xox,
SKH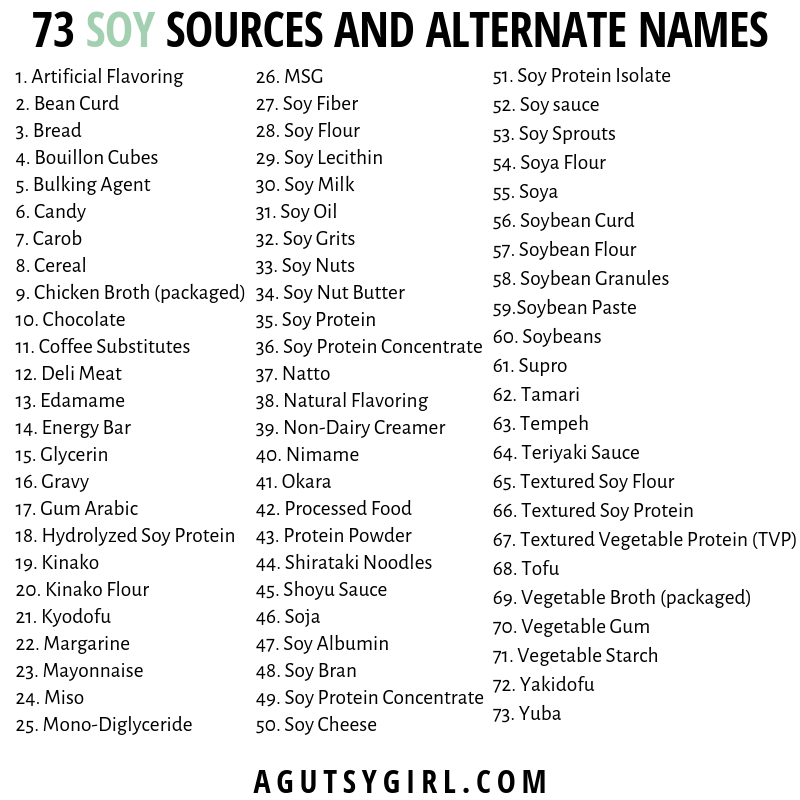 You will heal. I will help.