I put together a Master List of Digestive Health Coaches and Nutritionists because that ship has sailed for me, but I don't want to leave Y'all stranded.
It's true. I am done with 1-on-1 digestive health coaching – at least for now. I announced recently that April would be my last month. Some day, after I have my Master's Degree, I may do it on a very limited basis. For now, I have so many other things I'm focused on. Here is what I'll be doing from now until I complete school (which school will be super time intensive as well):
Producing e-books (The Gutsy Girl's Bible 3.0, Reasonable SIBO, and the third major one coming out in June, then more!)
Providing massive research which then gets translated into free content right here on agutsygirl.com and also for my exclusive e-newsletter.
Growing the A Gutsy Girl brand as a whole.
Continuing to seek out the right publisher to publish my first book!
Speaking on various gut health and my own healing journey topics to larger audiences.
While I believe that A Gutsy Girl provides massive amounts of free information to help get you started and/or keep you on a positive gut-healing path, I also realize that some of you need very specific and detailed hand holding plus plans. You want and need that 1-on-1 help; I'll be the first to support you, even if it's not me. Why? Because my mission is:
You will heal. I will help.
And if I'm not providing the 1-on-1 service, Lord knows someone is.
So I rounded up this Master List of Digestive Health Coaches and Nutritionists.
Alternatively, you could consider going to school yourself. I started way back when at The Institute for Integrative Nutrition. If you're interested in this path that I took, check out some of my published articles about it:
Master List of Digestive Health Coaches and Nutritionists
Click HERE to save this list for later.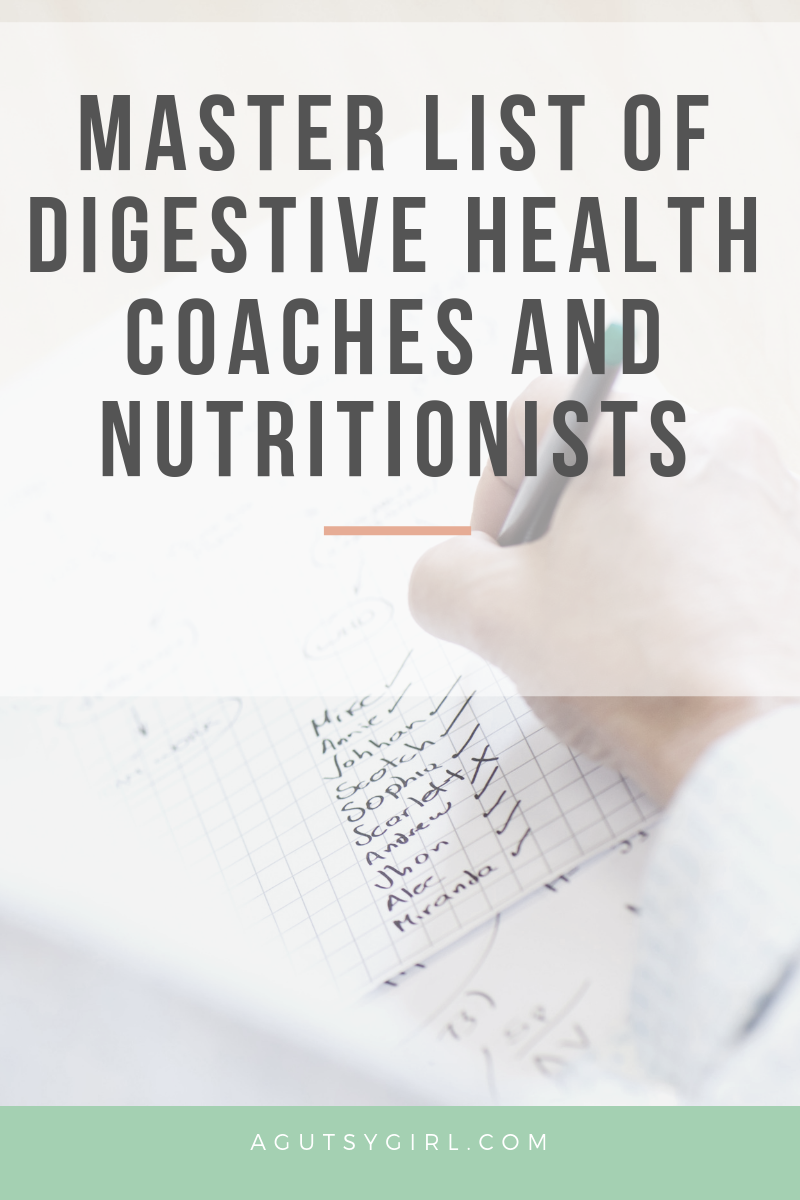 Also, don't forget to check out How to Find an Integrative Medicine Doctor.
By the way, is this an exhaustive list? Um, no. Not even close. In fact, it should be called the master-ish list. Know someone who should be added? Good, then just let me know. I'll look into them, and choose to add or not add.
Xox,
SKH
You will heal. I will help.