I have a fun, Vegan, Gluten-Free Frozen Hot Chocolate Recipe to share with you today.
You're so excited, right?
Okay, let me tell you about this recipe and the inspiration quick.
Recipe Inspiration – Tonsil + Adenoid Removal
Part of my story includes this,
The doctors decided a tonsillectomy and adenoidectomy was necessary. By the time my tonsils and adenoids came out (the summer before my senior year of college), they were rotted. The surgeon told my mom that there were so many scars and infections that I barely had either one of them anymore.  
Sure, it's fairly nasty. But you know what was worse than that? The surgery recovery. I have no idea why, but I actually thought I might die. To this day, I'm super confused when people tell me their recovery was "ok."
Anyways, there were a few good things that came out of the surgery. One of them was my discovery of the DQ Frozen Hot Chocolate. And yes, I am dating myself here because I don't even think it's on the DQ menu anymore. Remember, I had my tonsils out before graduating from college. 
I digress.
So I couldn't eat, sleep, or anything. But somehow slurping down one of those Frozen Hot Chocolate drinks every few days or so happened. The addiction became real.
Remember what I also stated in my story?
It took me awhile to recover, but once I did, I was sure I had found my "cure." No tonsils and adenoids? Perfect. Illness gone.
Yeah, I didn't care about what I ate, drank, or did back then unless it was fat-free and/or 2-points or less of Weight Watchers so that I could eat that DQ Frozen Hot Chocolate. 
Today I do care, and mostly for you. 
Truth be told, if DQ had their Frozen Hot Chocolate still, I'd maybe have one. 
But if you're healing your gut, consider my alternative instead.
Vegan, Gluten-Free Frozen Hot Chocolate Recipe
Click HERE to save this recipe for later.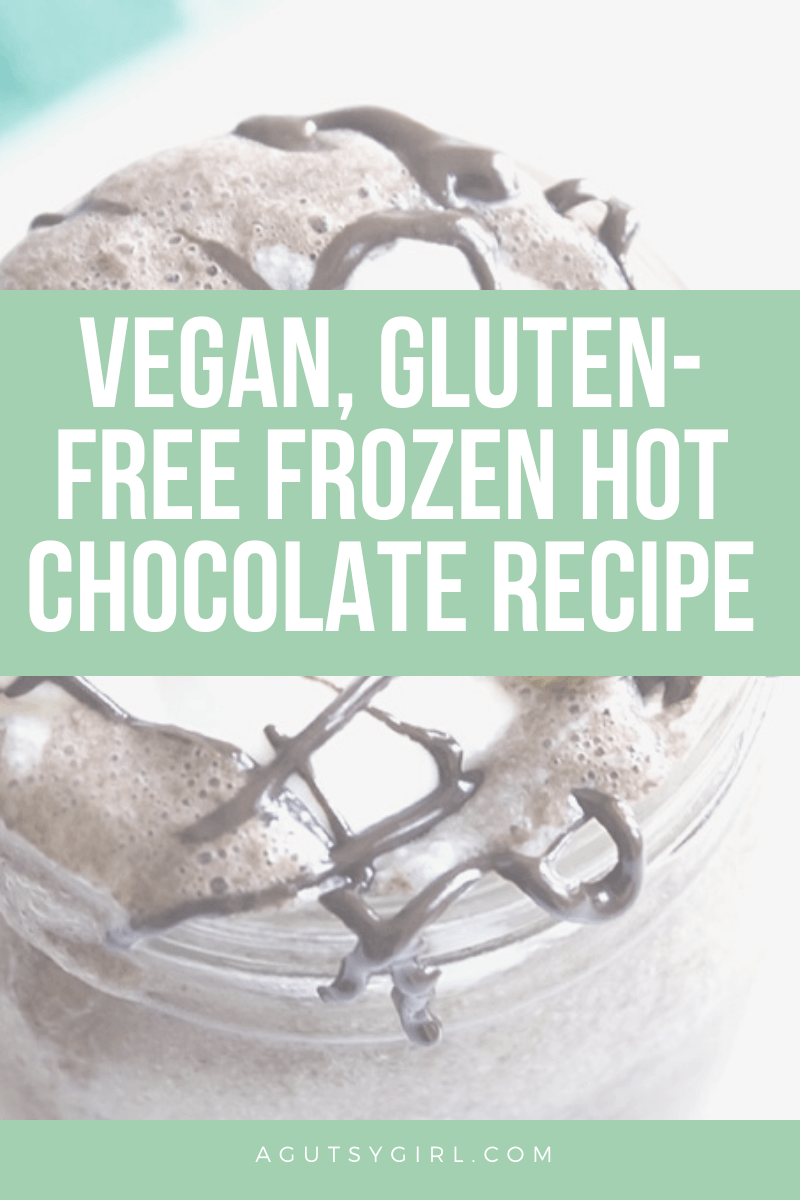 I created this recipe several years back already. At the time, I used Nutiva's Organic Hazelnut Spread. But today, I'm using Suntella instead.
Lakanto Suntella
[When you purchase Lakanto's Suntella HERE, I make a small amount of affiliate income at no cost to you. In return, you get a jar of the incredible, Vegan chocolate and if you enter in my code AGUTSYGIRL you'll also save 15% at checkout.]
I swapped in Suntella now because it tastes so dang good. Yes, of course, I have a jar. I should have ordered multiple, in fact, because our whole family loves it.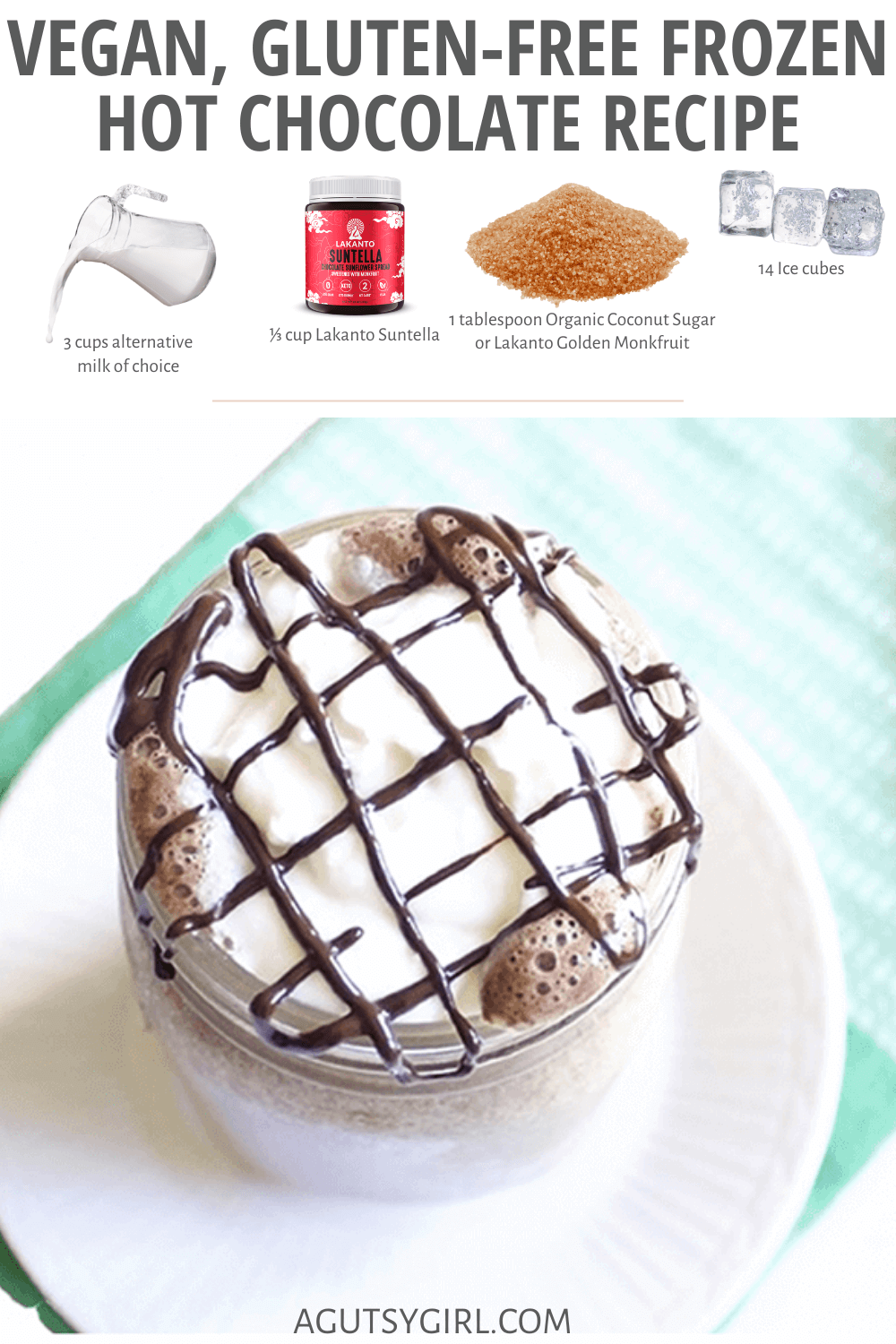 Suntella Facts:
Smooth and Creamy: The Suntella spread is a mixture of decadent chocolate, sunflower seeds, and other ingredients. So yes, with the sunflower seeds it is nut and peanut-free.
Only 2 net carbs: One serving is about 2 tablespoons. In those 2 tablespoons there are 13g of carbs, but 5g of fiber and 6g of sugar alcohol (subtract both from the total amount of carbs). Personally, I don't care about my carbohydrate intake, but many people do – and I fully respect that.
Stats: Suntella is high in fiber, nut-free, gluten-free, dairy-free, and contains no hydrogenated oils. It is sweetened with Lakanto Monkfruit Sweetener which has zero calories and is zero-glycemic.
Diets: The "diets" Suntella fits into include Keto, diabetic, candida, paleo, vegan, low-carb, egg-free, and low-sugar.
Ingredients:Sunflower Seeds, Non-GMO Lakanto Monkfruit Sweetener (Erythritol and Monk Fruit Extract), Coconut Oil, Dutched Cocoa, Sugarcane Fiber, Calcium Carbonate, Natural Chocolate Flavor, Sea Salt, Sunflower Lecithin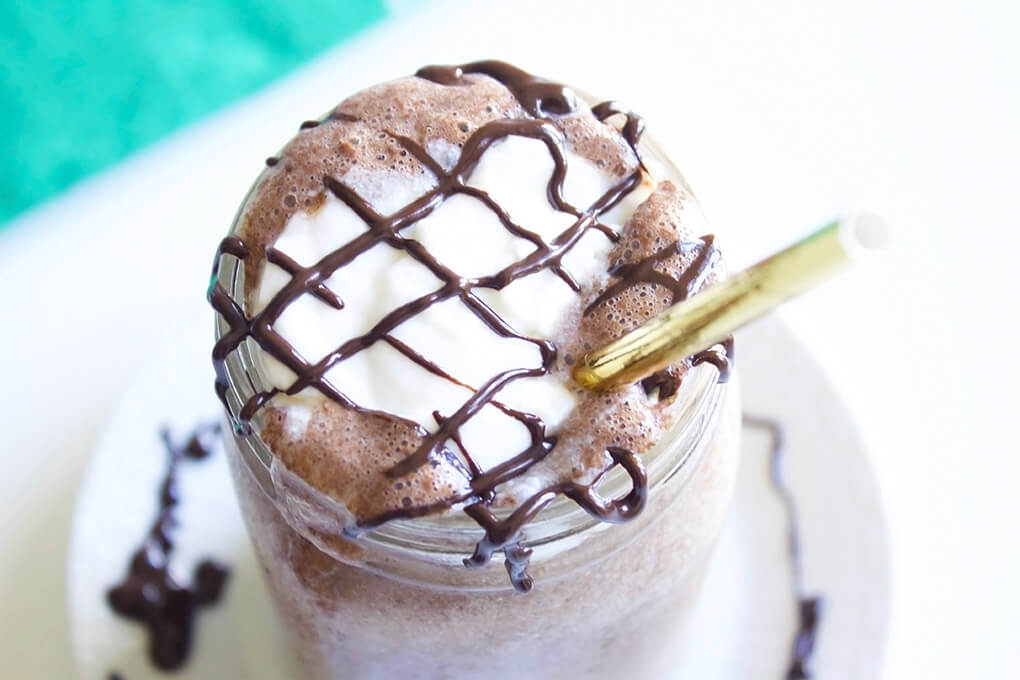 ** I am by no means saying that Suntella is a gut healing product or that all of you will tolerate it. Anytime a sugar ends with -ol, you have to do trial-and-error. It might and might not work for you.
Okay, so here is how you'd make the Vegan, Gluten-Free Frozen Hot Chocolate Recipe using Suntella.
Vegan, Gluten-Free Frozen Hot Chocolate Recipe using Suntella
Vegan, Gluten-Free Frozen Hot Chocolate Recipe
Prep time:
Cook time:
Total time:
Delicious, creamy and thick Vegan, Frozen Hot Chocolate shake.
Ingredients
3 cups alternative milk of choice
⅓ cup Lakanto Suntella
1 tablespoon Organic Coconut Sugar or Lakanto Golden Monkfruit
14 Ice cubes
Instructions
Place all ingredients in a blender, and blend until all ice cubes have been fully blended in.
Serve as is immediately or top with a Vegan Whipped Cream and drizzled Suntella.
p.s. If you want to learn how to make my Vegan Whipped Cream, you can check out the video HERE.
If you liked this post, you might also enjoy:

Xox,
SKH
You will heal. I will help.