Do probiotics help SIBO? And should I take a probiotic with SIBO?
Taking probiotics with SIBO (small intestinal bacterial overgrowth) is a controversial topic, and that's because no two SIBO cases are exactly the same.
Therefore, every single thing you read (yes, even this post) is subjective.
But let me just tell you that I have done it all.
I have taken probiotics with SIBO and I have not taken probiotics with SIBO. Additionally, I have tried various types of probiotics.
So today, I want to give it to you straight – what I've done and what has worked in my experience.
Here is some information on what other people say on the issue.
So what do I think?
Again, I'm only speaking from tried, tested, and true trial-and-error.
Do Probiotics Help SIBO?
Click HERE to save this article on "do probiotics help SIBO?" for later.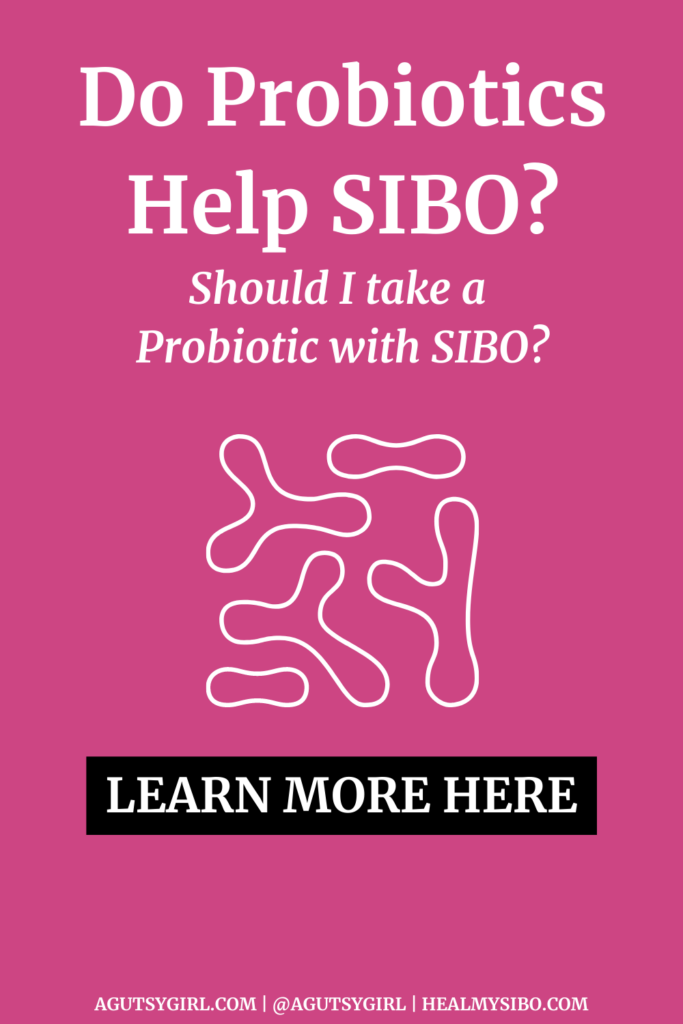 What is SIBO?
First, what exactly is SIBO?
SIBO stands for small intestinal bacterial overgrowth and at its core, in the most basic terms, occurs when there is too much bacteria in the small intestine.
SIBO patients typically present with any or all of these SIBO symptoms due to the overgrowth of bacteria:
bloating
diarrhea
constipation
pain
B12 deficiency
rashes
fatigue
food sensitivities
headaches
all of the above (ugh, the dickens!)
Want to learn more about this? Check out THESE 8 SIBO Signs and Symptoms.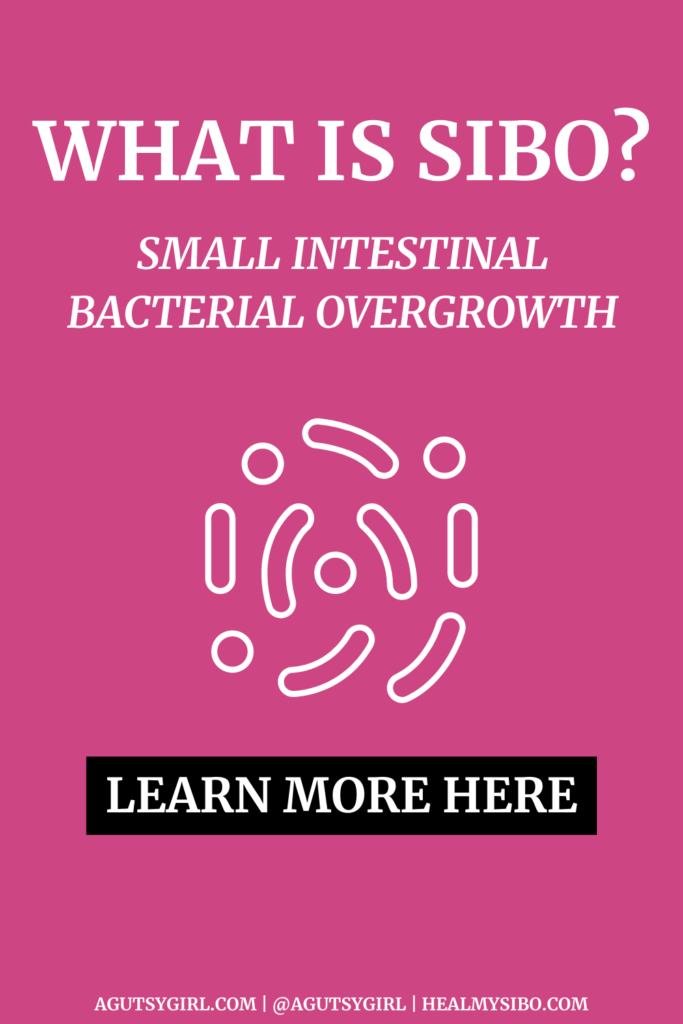 Digestive Issues
What makes this small intestine bacterial overgrowth so frustrating is that, once you've been diagnosed with it and are experiencing these gastrointestinal symptoms, it's also stubborn; very hard to get rid of and seemingly around for the long term for many.
With SIBO, there are also a multitide (of conflicting?) number of ways for treating it.
Here are some of the most common SIBO treatment options you've likely heard about:
Antibiotic therapy
Focus on overall digestive health
Address low stomach acid
Follow a low FODMAP diet and/or other SIBO diet
Take digestive enzymes
Consider the elemental diet
Make lifestyle changes
And then, of course, take probiotic supplements – which is at the heart of our conversation today.
Should I Take a Probiotic with SIBO?
Many healthcare professionals will agree that whether or not you take a probiotic with active SIBO depends on these three main things:
What is the root cause?
What stage of SIBO healing are you in? How are your daily symptoms?
Which probiotic are you taking?
Let's first address #1: What is the root cause?
One area to start your focus is to understand the root, or underlying cause.
This is, by far, one of the best first things you can do to understand not only the role of probiotics for your healing journey but also the way in which you can see significant improvement in the shortest time possible.
According to Neuroscience News,
Probiotic use may be particularly problematic for patients who have known problems with motility, as well as those taking opioids and proton pump inhibitors, which reduce stomach acid secretion and so the natural destruction of excessive bacteria.
This helps explain why probiotics, at certain times during my healing journey, made me miserable. My bottleneck is motility and reduced stomach acid.
If this is your root cause, too, this could be the reason you also aren't tolerating probiotics during treatment of SIBO.
Sometimes, however, SIBO is triggered after an illness while traveling abroad. In that case, the good news is that a probiotic may be beneficial once you take into consideration the other things below.
The key here is that you must know your root cause.
So often, though, we never know the root cause, which probably contributes to a probiotic "not working."
Furthermore, when we don't understand why the overgrowth occurred in the first place, what was once an "easier-to-treat" SIBO case then turns into more severe cases. Ultimately, then, the overgrowth becomes harder to treat.
#2: What stage of SIBO healing are you in? Symptoms?
I can only speak to this one from 100% experience.
When I was first diagnosed and/or every time I would relapse, everyone said,
You need to take a probiotic especially if you've been on Rifaximin for a month.
(Rifaximin, by the way, was part of the course of antibiotics I took.)
So I did. I took the probiotic, but it never helped. In fact, I think it made me worse.
Over time, I have learned that when SIBO relapses I must completely remove the probiotic. If I even feel a hint of SIBO trying to relapse, I remove the probiotic. Works like a charm; every single time.
Your takeaway here: listen to your body. What is it telling you today? If it's in misery, consider dropping that probiotic for a short period of time for best results.
#3: Which Probiotic are you taking?
Dr. Amy Myers says that for those with SIBO, a soil-based probiotic is best. 
Soil-based probiotics do not exacerbate symptoms of SIBO in the way other types of probiotics can. In fact, one clue that you may have SIBO is that when you take a probiotic containing lactobacillus or bifidobacterium you have an exacerbation of your symptoms such as more gas, bloating, constipation, diarrhea or other digestive symptoms. If you are currently dealing with SIBO, it's not recommended to take a probiotic containing lactobacillus or bifidobacterium strains until you've eliminated your bacterial overgrowth and repaired your gut, as these can actually worsen your SIBO.
Some Soil-Based Probiotics
Primal Blueprint (used this one in the past)
Equilibrium is a super high quality probiotic (though they say it's not 100% soil-based) that I have taken throughout the years, at different times on my journey. 
What About Spore-Based Probiotics?
Spore-based probiotics are a type of soil-based microorganism that is formed from spores and found in dirt and vegetation. (source)
According to Advanced Functional Medicine, here are 3 key differences / benefits for spore-based probiotics:
They have a longer transient time in the gut, which means it has a longer life of activity. Spore-forming probiotics have a transient time of about three to four weeks, while traditional probiotics normally have a transient time of four to seven days.
They have better outcomes, specifically for SIBO-type patients, compared to traditional probiotics like Lactobacillus. They are also superior to a low-FODMAP diet alone in relieving SIBO-like symptoms, according to recent research. 
Many probiotics sold off the shelf in pharmacies and supermarkets are not actually alive and thus, don't have the effect that we want them to. Unlike the more commonly used Lactobacillus-type probiotics, spores are dormant life forms. They remain dormant in harsh environments until they reach more favourable environments like the gastrointestinal tract. Once inside the large intestine, these dormant spores can change into their active, vegetative forms and begin colonizing in the gut.
Dr. Ruscio states,
Diving deeper, researchers looked to find a probiotic that truly lived up to its definition, which is to protect its host. With Just Thrive Probiotic, they found a specific strain that is not only protecting its host from toxins and pathogens, it also protected its host from leaky gut – the root cause of the vast majority of chronic illnesses.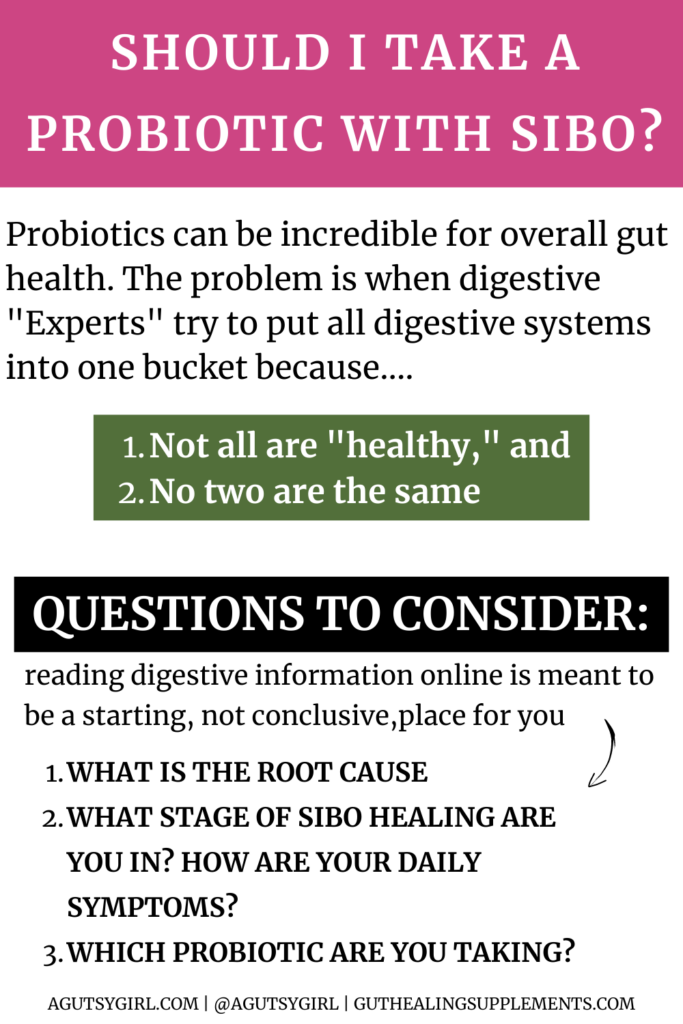 But also, be sure to ask yourself….
Does the probiotic contain prebiotics as well?
Remember, there is a difference between probiotics and prebiotics.
While some sources will tell you to only use a probiotic that contains prebiotics, you must know that for those with SIBO, this is rarely the best strategy.
Prebiotics are full of fiber and help feed bacteria.
Are you in a place where you want that?
It is my personal belief that in order to get a digestive system that is back to square one and feeling good again, we must first ensure gut bacteria is present in the right areas of the GI tract in the appropriate amounts.
In other words, all the health benefits of "good" gut bacteria are found in the large intestine vs. an overgrowth in the small intestine.
Personal Probiotic Usage Update in 2020
Post-Expo West in 2019 I began taking the Just Thrive Probiotic.
Since then, I have never looked back. And I continue to recommend it to almost everyone – it's been incredible for our entire family.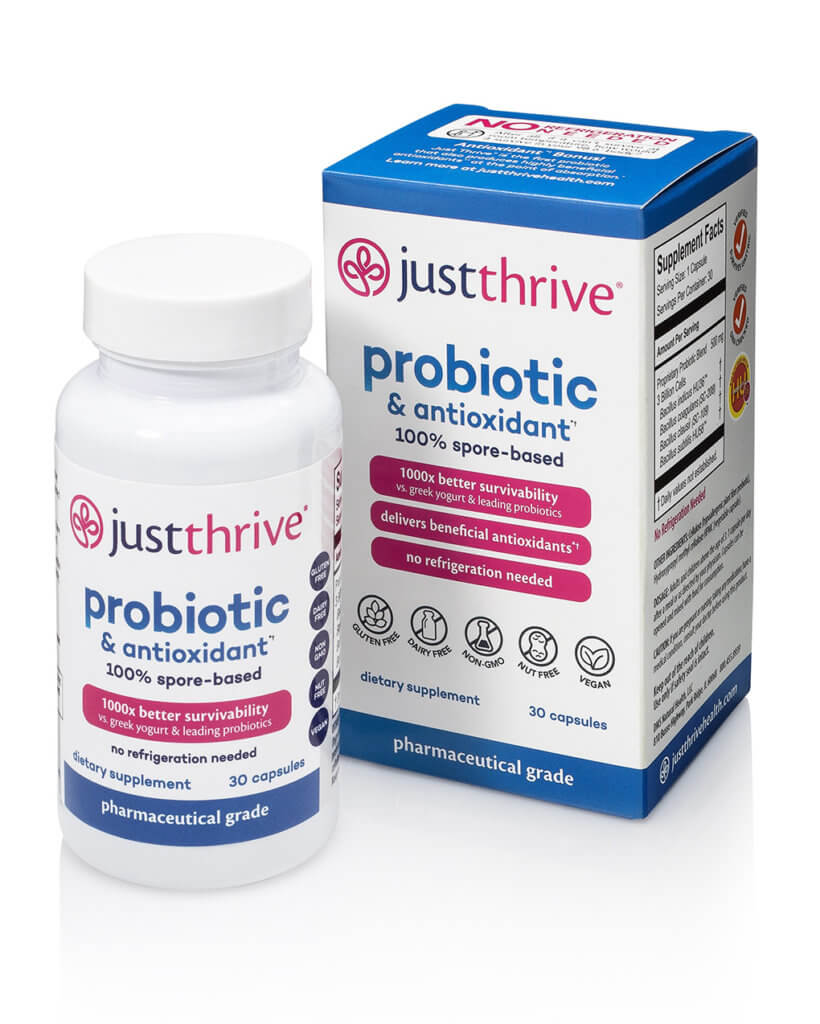 Get the Just Thrive Health probiotic + use code AGUTSYGIRL at checkout to save 15%.
You can learn more it:
Final Thoughts
Probiotics can be incredible for overall gut health and in maintaining a healthy gut microflora.
I have written all about it HERE.
The problem is when digestive "experts" try to put all people, their digestive systems and different conditions into one bucket because:
Not all are healthy, and
No two are the same.
Reading digestive information online is meant to be a starting, not conclusive, place for you. Work with your healthcare practitioner to find what's going to be best for you, based on testing results and trial-and-error.
If all the rage are probiotics and how wonderful they are, take a step back and do some critical thinking on it while practicing via your own trial-and-error. Then, listen to your own body.
My stomach has always told me if and when it's ready for a probiotic.
Today? Yes, yes I am taking a probiotic daily. I believe it's helping me thrive, but I'm also on the other side of SIBO h#$%.
Questions? Thoughts? Leave them in the comments below.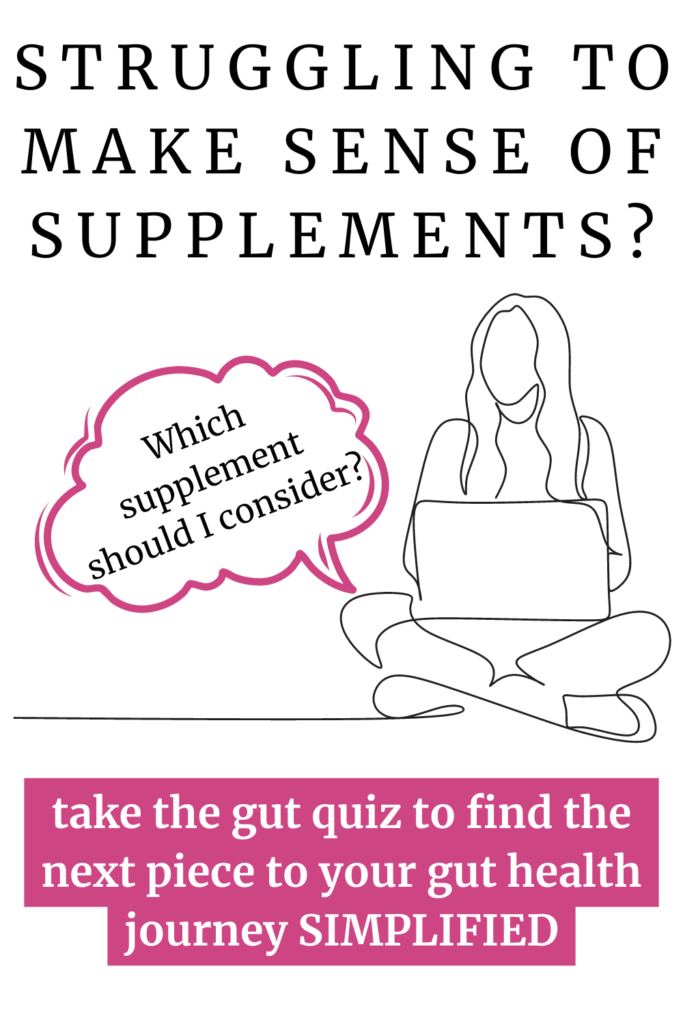 Wondering which supplement(s) is right for you? Take our FREE supplements quiz to find out.
If you liked this post on "do probiotics help SIBO?" you might also enjoy:
Xox,
SKH
You will heal. I will help.