If I had a nickel for each time someone asked, "Should I take a probiotic with SIBO?" I might be a millionaire.
Taking probiotics with SIBO is a controversial topic, and that's because no two SIBO cases are exactly the same. Therefore, every single thing you read (yes, even this post) is subjective.
But let me just tell you that I have done it all.
I have taken probiotics with SIBO and I have not taken probiotics with SIBO. Additionally, I have tried various types of probiotics. So today, I want to give it to you straight – what I've done and what has worked in my experience.
Here is some information on what other people say on the issue.
So what do I think?
Again, I'm only speaking from tried, tested, and true trial-and-error.
Should I Take a Probiotic with SIBO
Click HERE to save this post for later.
Whether or not you take a probiotic with active SIBO depends on these three main things:
What is the root cause?
What stage of SIBO healing are you in? How are your daily symptoms?
Which probiotic are you taking?
Let's first address #1: What is the root cause?
According to Neuroscience News,
Probiotic use may be particularly problematic for patients who have known problems with motility, as well as those taking opioids and proton pump inhibitors, which reduce stomach acid secretion and so the natural destruction of excessive bacteria.
This helps explain why probiotics, at certain times during my healing journey, made me miserable. My bottleneck is motility and reduced stomach acid. If this is your root cause, too, this could be the reason you also aren't tolerating probiotics.
Sometimes, SIBO is triggered after an illness while traveling abroad. In that case, a probiotic may be beneficial once you take into consideration the other things below.
The key here is that you must know your root cause. So often, though, we never know the root cause, which probably contributes to a probiotic "not working."
#2: What stage of SIBO healing are you in? Symptoms?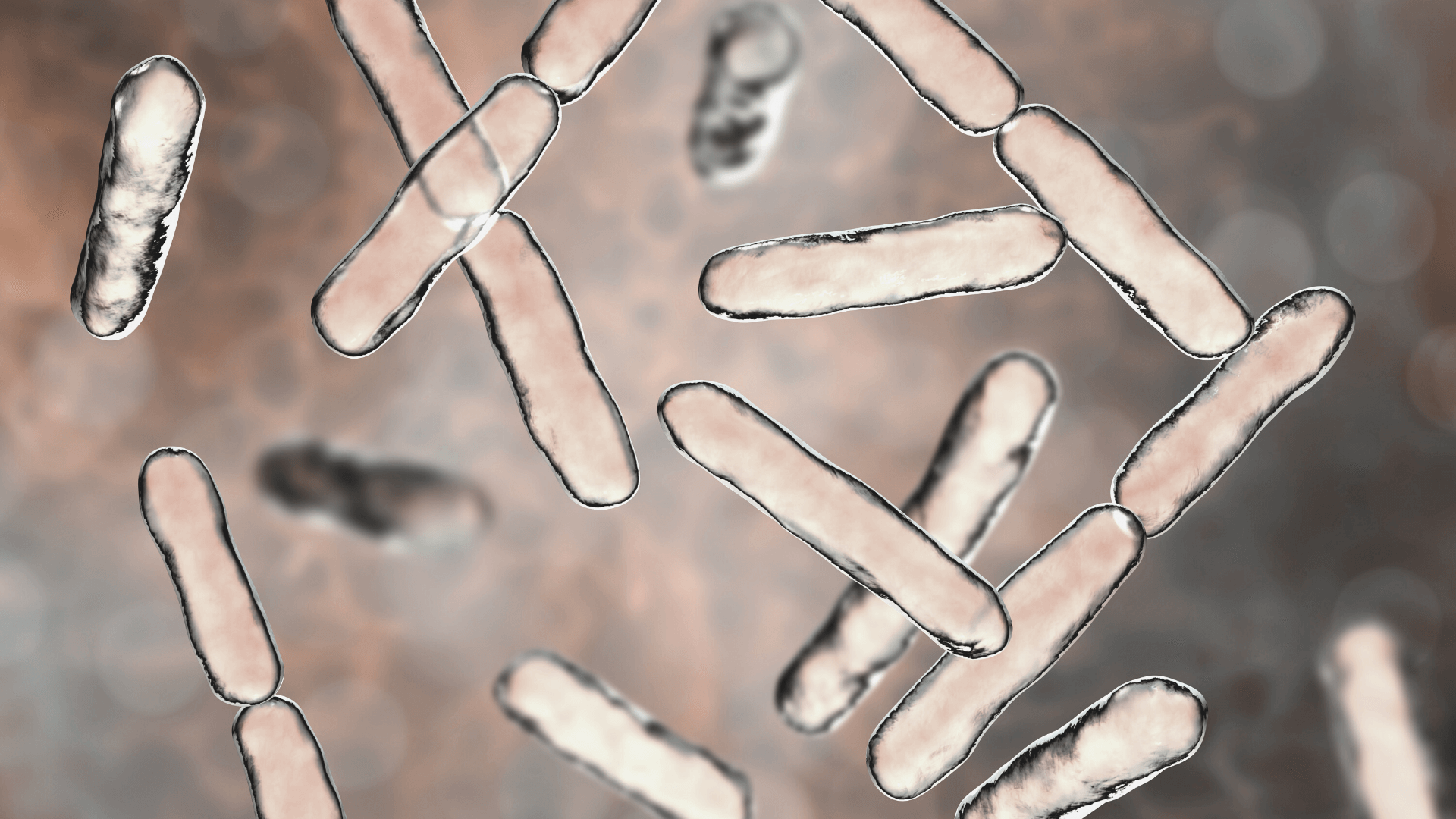 I can only speak to this one from 100% experience.
When I was first diagnosed and/or every time I would relapse, everyone said, "You need to take a probiotic especially if you've been on Rifaximin for a month."
So I did. It never helped; in fact, I think it made me worse.
Over time, I have learned that when SIBO relapses I must completely remove the probiotic. If I even feel a hint of SIBO trying to relapse, I remove the probiotic. Works like a charm; every single time.
Your takeaway here: listen to your body. What is it telling you today? If it's in misery, consider dropping that probiotic.
#3: Which Probiotic are you taking?
Dr. Amy Myers says that for those with SIBO, a soil-based probiotic is best.
Soil-based probiotics do not exacerbate symptoms of SIBO in the way other types of probiotics can. In fact, one clue that you may have SIBO is that when you take a probiotic containing lactobacillus or bifidobacterium you have an exacerbation of your symptoms such as more gas, bloating, constipation, diarrhea or other digestive symptoms. If you are currently dealing with SIBO, it's not recommended to take a probiotic containing lactobacillus or bifidobacterium strains until you've eliminated your bacterial overgrowth and repaired your gut, as these can actually worsen your SIBO.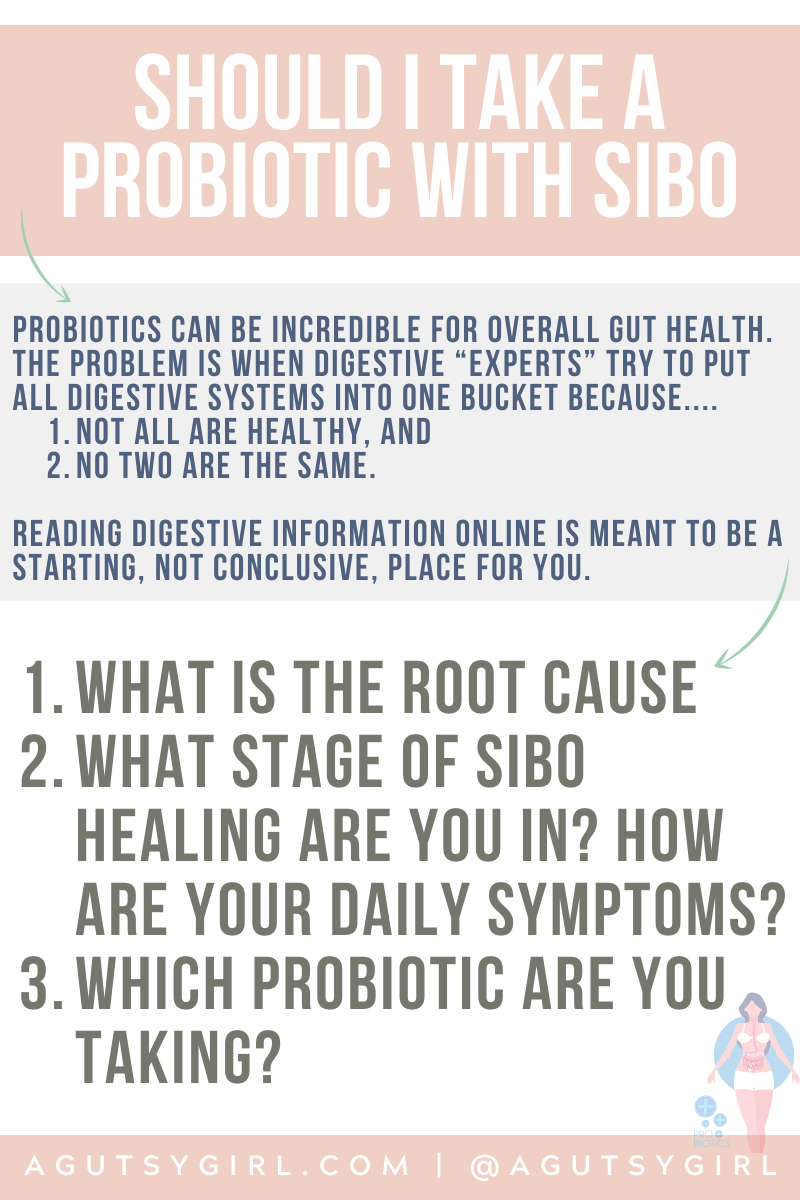 Some Soil-Based Probiotics
Prescript-Assist (however, I can't find it anywhere anymore)
Primal Blueprint (used this one in the past)
Equilibrium is a super high quality probiotic (though they say it's not 100% soil-based) that I have taken throughout the years, at different times on my journey. 
Besides the soil-based probiotics, one other thing to look for and ask yourself is:
Does the probiotic contain prebiotics as well?
Remember, there is a difference between probiotics and prebiotics.
While some sources will tell you to only use a probiotic that contains prebiotics, you must know that for those with SIBO, this is not always the best strategy.
Prebiotics are full of fiber and help feed bacteria. Are you in a place where you want that? 
Personal Probiotic Usage Update in 2020
Post-Expo West in 2019 I began taking the Just Thrive Probiotic.
Since then, I have never looked back. And I continue to recommend it to almost everyone – it's been incredible for our entire family.
You can learn more it:
Save 15% off the Just Thrive Probiotic by entering in code 'AGUTSYGIRL' at checkout.
Final Thoughts
Probiotics can be incredible for overall gut health. I have written all about it HERE. The problem is when digestive "experts" try to put all digestive systems into one bucket because:
Not all are healthy, and
No two are the same.
Reading digestive information online is meant to be a starting, not conclusive, place for you.
If all the rage are probiotics and how wonderful they are, take a step back and do some critical thinking on it while practicing via your own trial-and-error. Then, listen to your own body.
My stomach has always told me if and when it's ready for a probiotic.
Today? Yes, yes I am taking a probiotic daily. I believe it's helping me thrive, but I'm also on the other side of SIBO h#$%.
Questions? Thoughts? Leave them in the comments below.
If you liked this post, you might also enjoy:
Xox,
SKH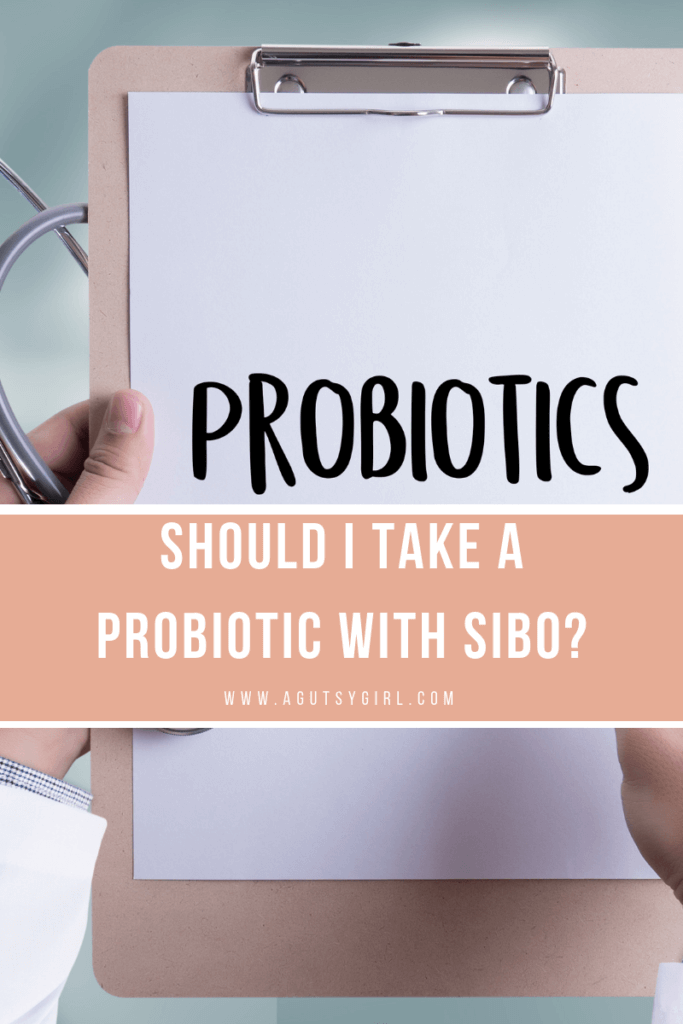 You will heal. I will help.