What is more beneficial to have for your gut healing journey, an instant pot or slow cooker? Let's go over the instant pot vs slow cooker to help you decide.
Instant Pot vs Slow Cooker
Click HERE to save this post for later.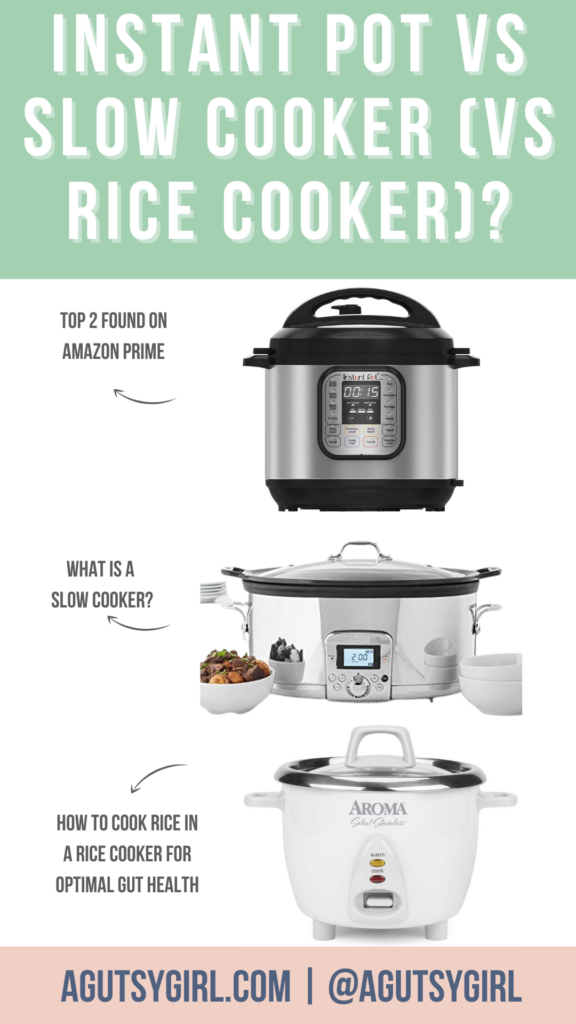 First, let's understand what both an Instant Pot and a Slow Cooker do.
What is an Instant Pot?
The Instant Pot is an electric pressure cooker which cooks food more quickly by increasing the pressure (or steam) inside the range.
As with slow cookers, it cooks food tenderly but much more quickly than the latter.
In some recipes, using an Instant Pot can reduce cooking time by as much as 70%, according to the manufacturer.
Although, compared to traditional cooking techniques, it will save you approximately a third of the time for most recipes.
Source: HERE
What are Slow Cookers?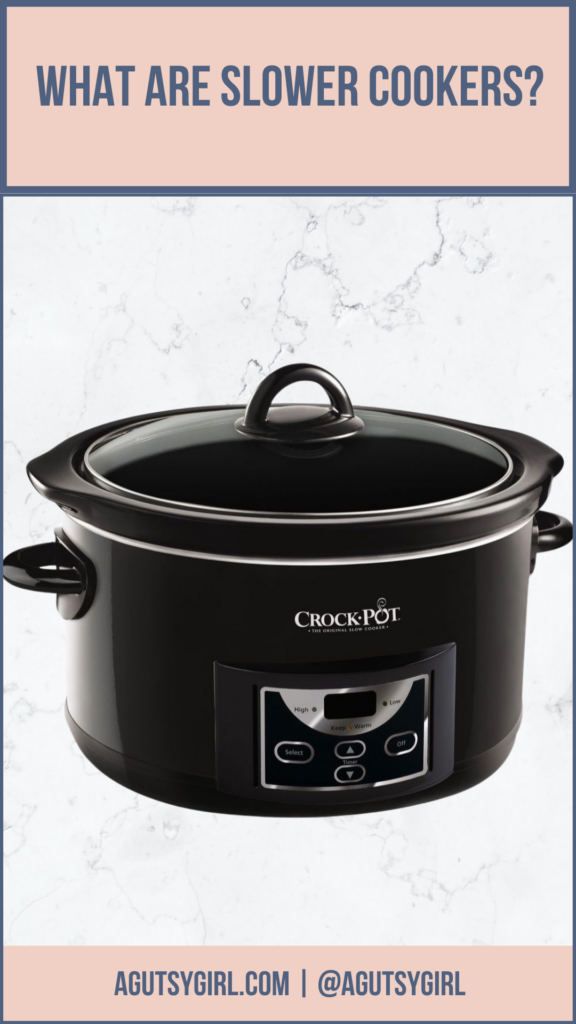 Slow cookers are undeniably one of the most excellent ways to prepare a healthy dinner quickly.
In fact, you will notice that a lot of my recipes use the slow cooker.
Slow and go; it's such a great gut healing, cooking, and general life motto.
Slow cooker cooking is a great way to make a nutrient-dense dinner quickly.
Besides its versatility, a slow cooker offers various additional benefits, such as the ability to cook dishes uniformly while staying hands-free. This benefit, similar to the Instant Pot, allows you to do other things around the house, run errands, or work.
Finally, slow cookers are simple to use and often take little more than plugging them in.
Setting Up the Instant Pot or a Slow Cooker
When it comes to the set up and use for the Instant Pot vs a slow cooker, there is a difference.
It's not necessarily that it's easier or harder, but definitely different.
Setting Up Your Instant Pot
Thoroughly rinse the stainless steel pot and lid with soap and water before using them for the first time.
Place the stainless steel cooking pot into the Instant Pot.
Ensure the anti-block shield is enabled and secure.
Seal the interior of the lid with the silicone sealing ring. Note that this is frequently shipped completely assembled.
Secure the condensation collection to the back of the Instant Pot with a snap.
From the rear and bottom, connect the power cord.
Then, you're ready to use it.
Using the Instant Pot
Once you're all set and ready to use the Instant Pot, you'll need to:
Connect the power cord.
Make sure not to go above the max line inside the pot, indicating the maximum pressure cooking capacity.
Ensure the inner pot is clean and inside the cooker base.
Close the pot by following the arrows on the lid.
Decide on the cooking process based on the food.
Set the pressure release valve handle to seal.
It's step 5 that you need to really pay attention to.
Then, once the food starts cooking, you'll also need to be aware that there are different cooking stages.
For example:
In the beginning, the pot is simply heating up. Steam and pressure are accumulating inside. No "cooking" happens quite yet, as this part of the process takes anywhere from 5-20 minutes.
Then, cooking occurs. As this is the Instant Pot, this part happens very quickly, but always depends on what exactly you're cooking.
Finally, pressure releases. Once the cooking cycle completes, your timer sounds, and the pot is turned off, then the steam and pressure escape through the release pipe.
---
Note: This finally pressure release includes either natural release (NPR) or rapid release (QR). NPR = takes a little longer, and throughout this period, the meal continues to cook at a decreased rate. QR = quickly halts the cooking process.
---
Tips for Using a Slow Cooker
Click HERE to save these tips for later.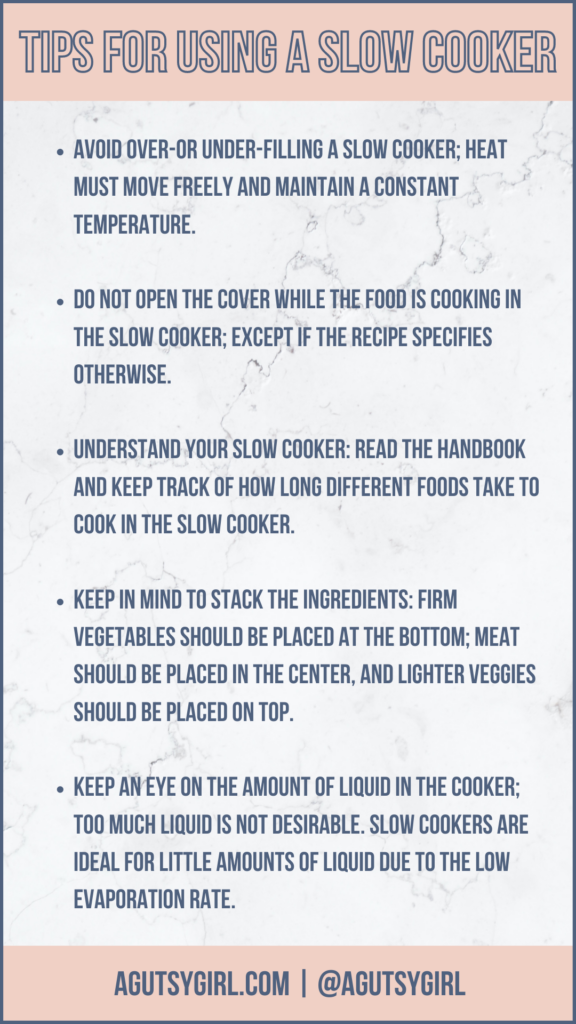 While the slow cooker is easier to set up and use, there are still some tips for using it.
Avoid over-or under-filling a slow cooker; heat must move freely and maintain a constant temperature.
Do not open the cover while the food is cooking in the slow cooker; except if the recipe specifies otherwise.
Understand your slow cooker: read the handbook and keep track of how long different foods take to cook in the slow cooker.
Keep in mind to stack the ingredients: Firm vegetables should be placed at the bottom; meat should be placed in the center; and lighter veggies should be placed on top.
Keep an eye on the amount of liquid in the cooker; too much liquid is not desirable. Slow cookers are ideal for low amounts of liquid due to the low evaporation rate.
Top 2 Instant Pots
Okay, so what Instant Pot and/or Slow Cooker to choose?
Here are my top 2 Instant Pot recommendations: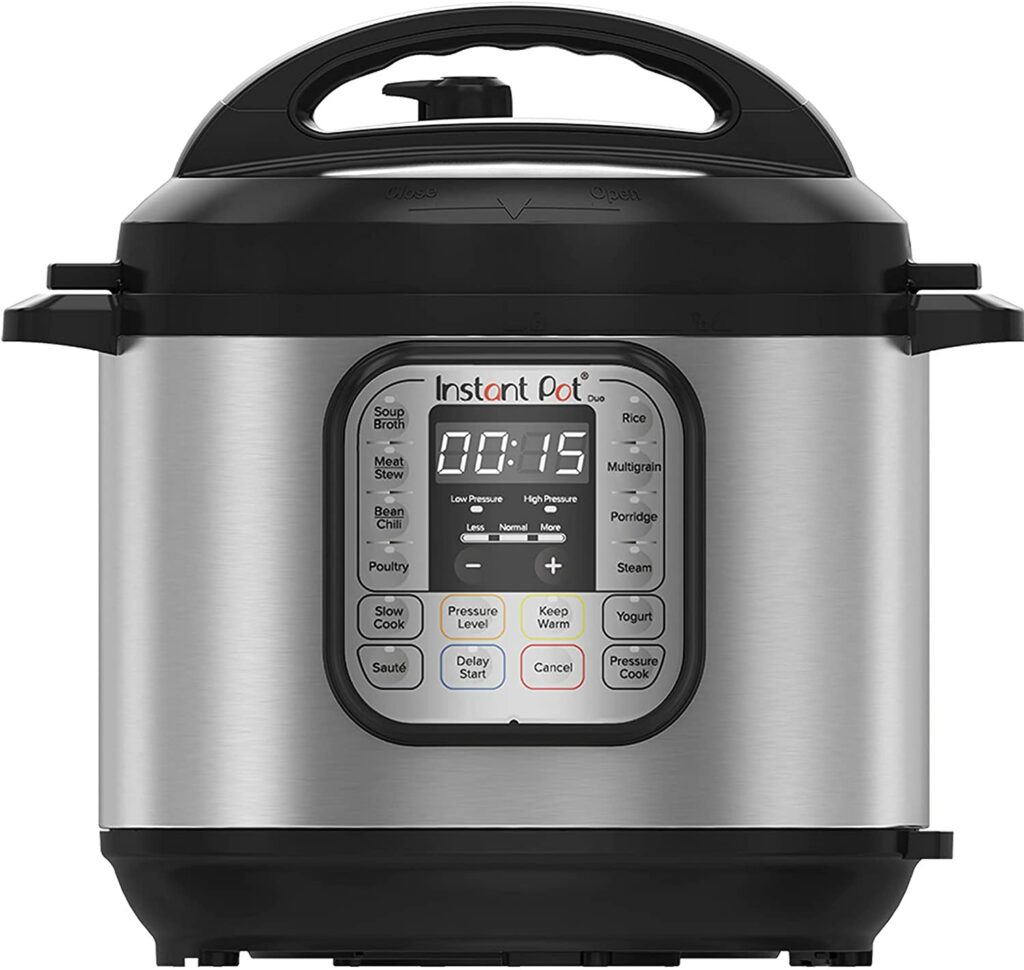 Instant Pot Duo 7-in-1 Electric Pressure Cooker, Slow Cooker, Rice Cooker, Steamer, Sauté, Yogurt Maker, Warmer & Sterilizer, 8 Quart, Stainless Steel/Black
$99.95 (Amazon Prime)
7-IN-1 FUNCTIONALITY: Pressure cook, slow cook, rice cooker, yogurt maker, steamer, sauté pan and food warmer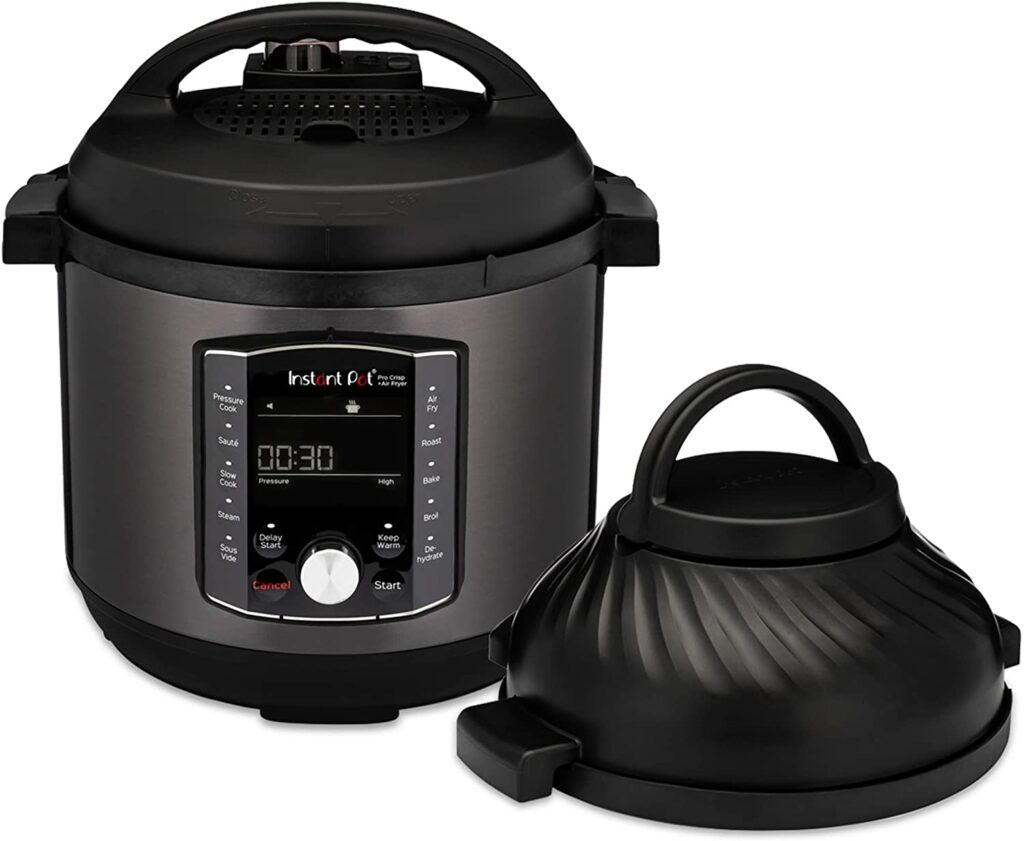 Instant Pot Pro Crisp 11-in-1 Electric Pressure Cooker with Air Fryer Combo, 8 Quart, Roast, Bake, Dehydrate, Slow Cook, Rice Cooker, Steamer, Sauté, 14 One-Touch Programs
$249.95 (Amazon Prime)
11-IN-1 FUNCTIONALITY: Air fry, broil, bake, roast, dehydrate, reheat, rotisserie, toast, warm, convection oven.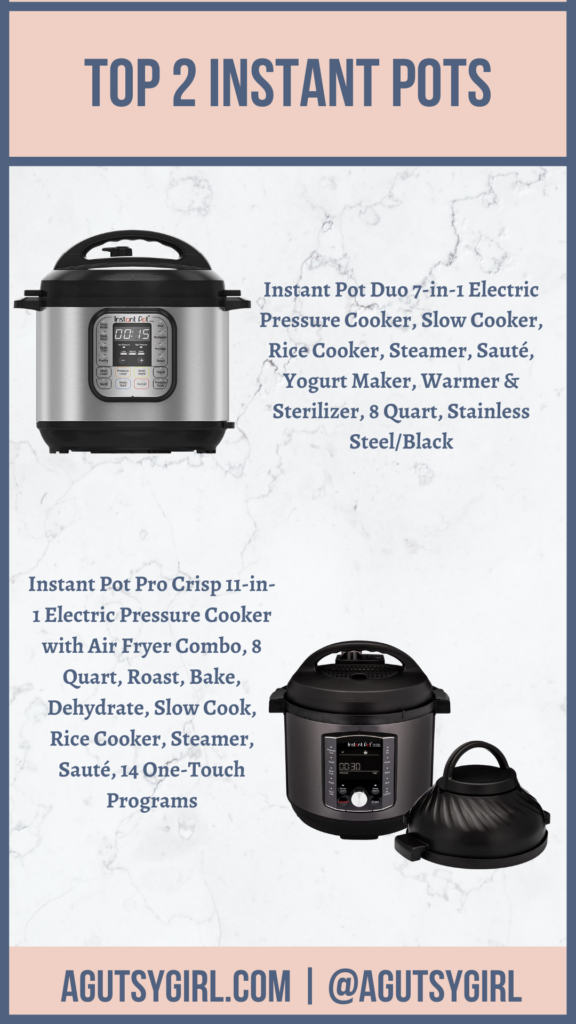 Top 2 Slow Cookers
And, here are my top 2 Slow Cooker recommendations: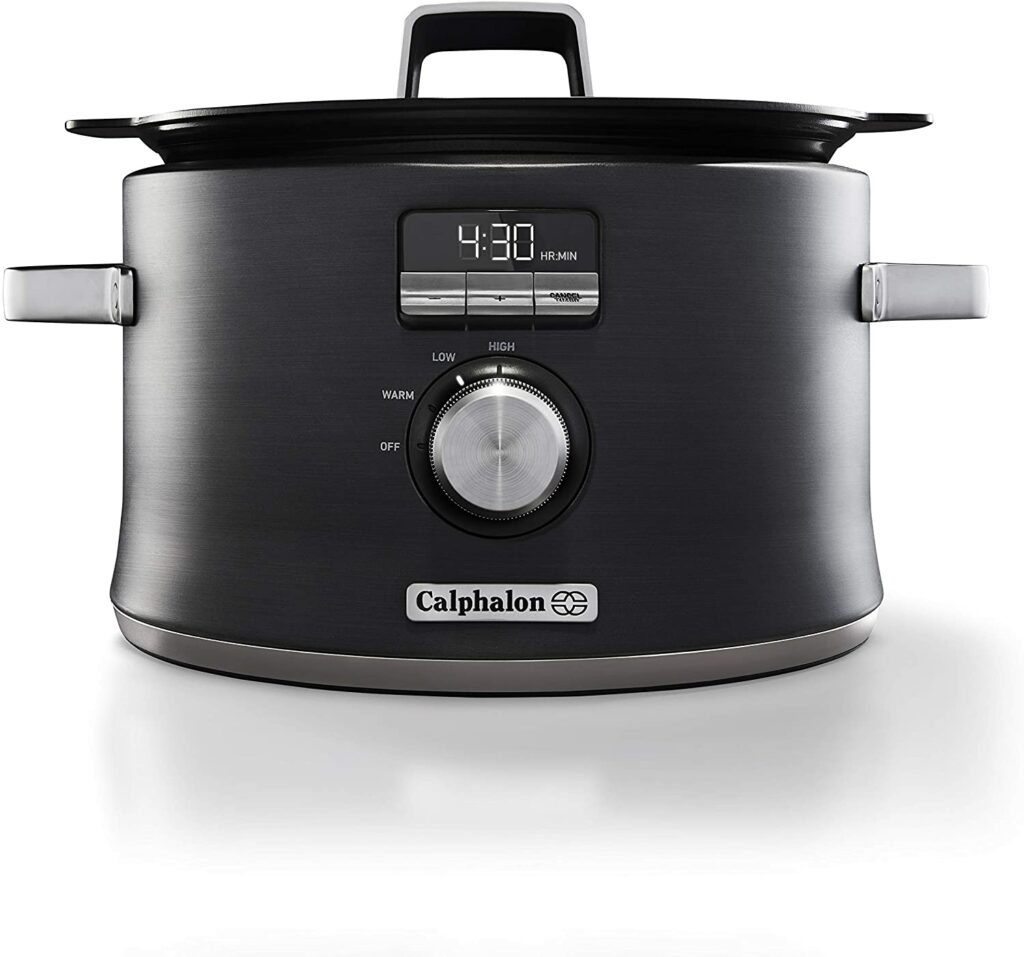 Calphalon Digital Sauté Slow Cooker, Dark Stainless
$129.99 (Amazon Prime)
Conveniently sear, brown, sauté, & slow cook all in one pot for maximum flavor with digital programmable controls.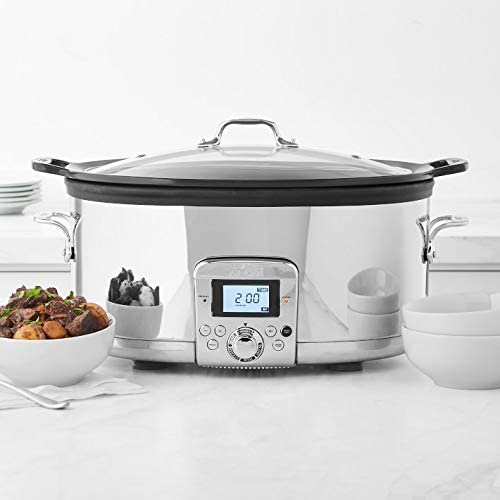 All-Clad 7-qt Gourmet Plus Slow 1200 Watt Cooker with All-In One Browning
$379.99 (Amazon)
Includes steam basket and rice measuring cup. Polished stainless-steel body. Glass lid allows you to view food during cooking.
An honorable mention slow cooker is the BLACK+DECKER 7-Quart Digital Slow Cooker with Chalkboard Surface because the front of it is a chalkboard surface so you can draw on it, which is a fun, added bonus.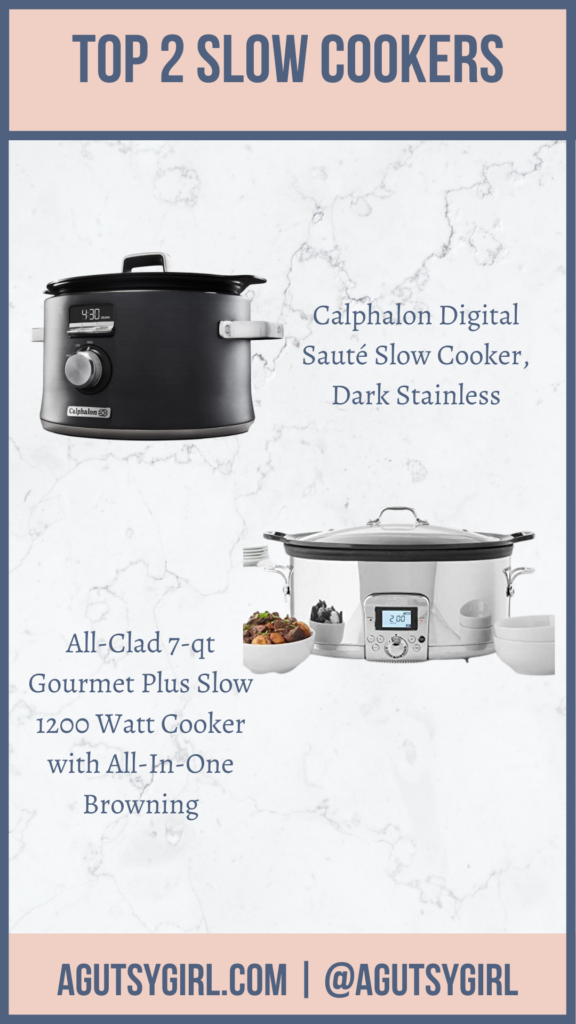 Size of Slow Cooker Needed
While I love the 7-quart size, you might not need anything that large (it's really not that large, though).
Here are some other ideal sizes, depending on your situation:
If you want to utilize the slow cooker for small meals with little to no leftovers, opt for the 3-quart size.
A 5-quart slow cooker is a good size for meals for three to four people.
The 6+-quart slow cooker is ideal for cooking in large batches and for cooking for a party.
What is a Rice Cooker?
Not to confuse the situation even more, but I also wanted to throw the Rice Cooker in there for consideration.
I'm ridiculous and have all 3: slow cooker, Instant Pot, and rice cooker.
A rice cooker is a kitchen device used to cook several different rice and grains.
Rice cookers work by heating water and absorbing it into the rice, cooked until it is tender.
Additionally, like the Instant Pot, the rice cooker is automated, so there is no need to worry about the rice cooker boiling over or catching fire.
Cooking a large quantity of rice in a rice cooker takes approximately 25 to 35 minutes.
We make rice in our rice cooker an average of every other week.
How to Use a Rice Cooker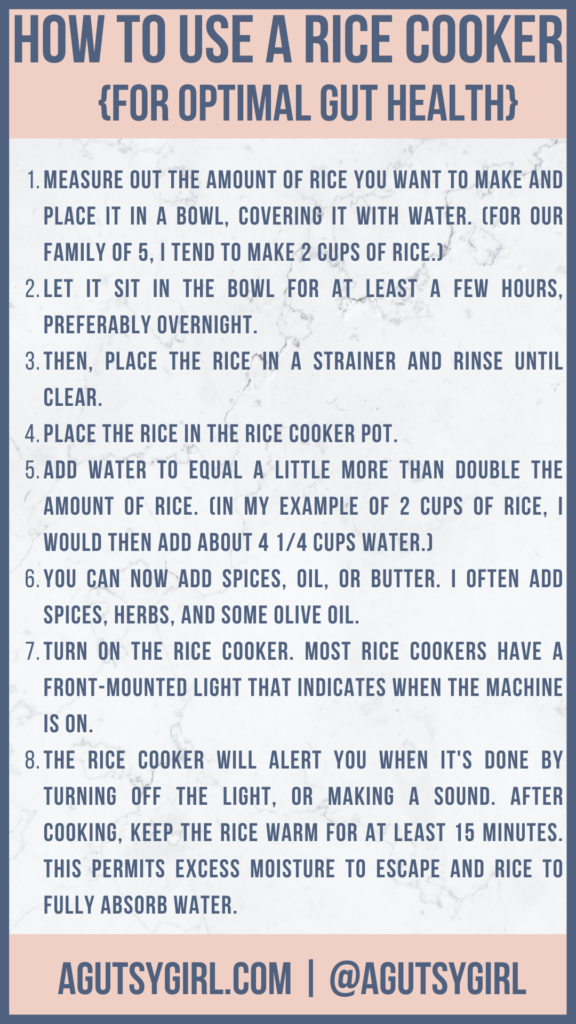 You'll want to read the instructions for whatever rice cooker you have, but when I use ours here are the steps I follow.
Remember, these steps are a little different than normal because I'm sharing them from an 'optimal gut function' standpoint.
Measure out the amount of rice you want to make and place it in a bowl, covering it with water. (For our family of 5, I tend to make 2 cups of rice.)
Let it sit in the bowl for at least a few hours, preferably overnight.
Then, place the rice in a strainer and rinse until clear.
Place the rice in the rice cooker pot.
Add water to equal a little more than double the amount of rice. (In my example of 2 cups of rice, I would then add about 4 1/4 cups water.)
You can now add spices, oil, or butter. I often add spices, herbs, and some olive oil.
Turn on the rice cooker. Most rice cookers have a front-mounted light that indicates when the machine is on.
The rice cooker will alert you when it's done by turning off the light, or making a sound. After cooking, keep the rice warm for at least 15 minutes. This permits excess moisture to escape and rice to fully absorb water.
That's it. This method always makes my rice super fluffy.
NOTE: I have only placed Jasmine and Basmati rice into our cooker. Heartier rices like black and wild will be different.
Amazon Rice Cooker
You can get your rice cooker on Amazon, just like I did.
Here are the top 2 rice cookers to consider (from Amazon):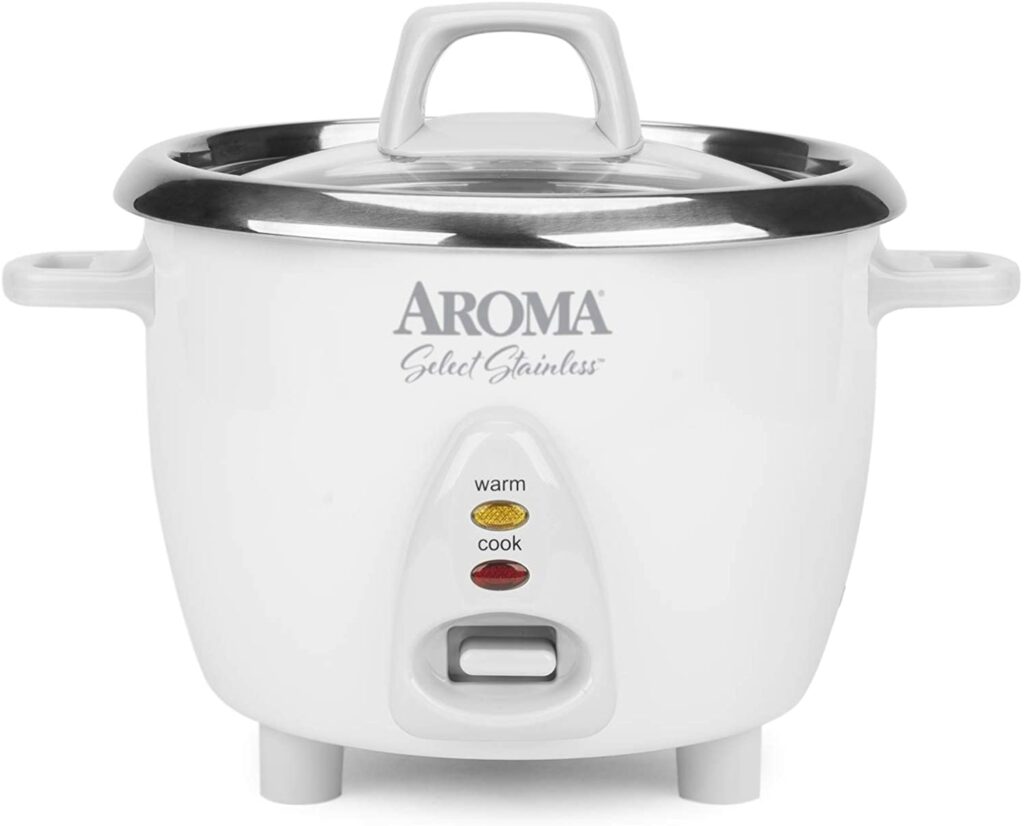 Aroma Housewares Select Stainless Rice Cooker & Warmer with Uncoated Inner Pot, 6-Cup(cooked) / 1.2Qt, ARC-753SG, White
$35.26 (Amazon Prime)
This smart rice cooker detects when your rice is ready, so you don't even have to set a timer. Then, it automatically switches modes to keep your rice warm!
---
Note: I actually have a Lotus Foods Gourmet Stainless Steel Rice Cooker and Steamer, 12 Cup Capacity. I'm not seeing that they sell it anymore, but the two above are almost identical.
---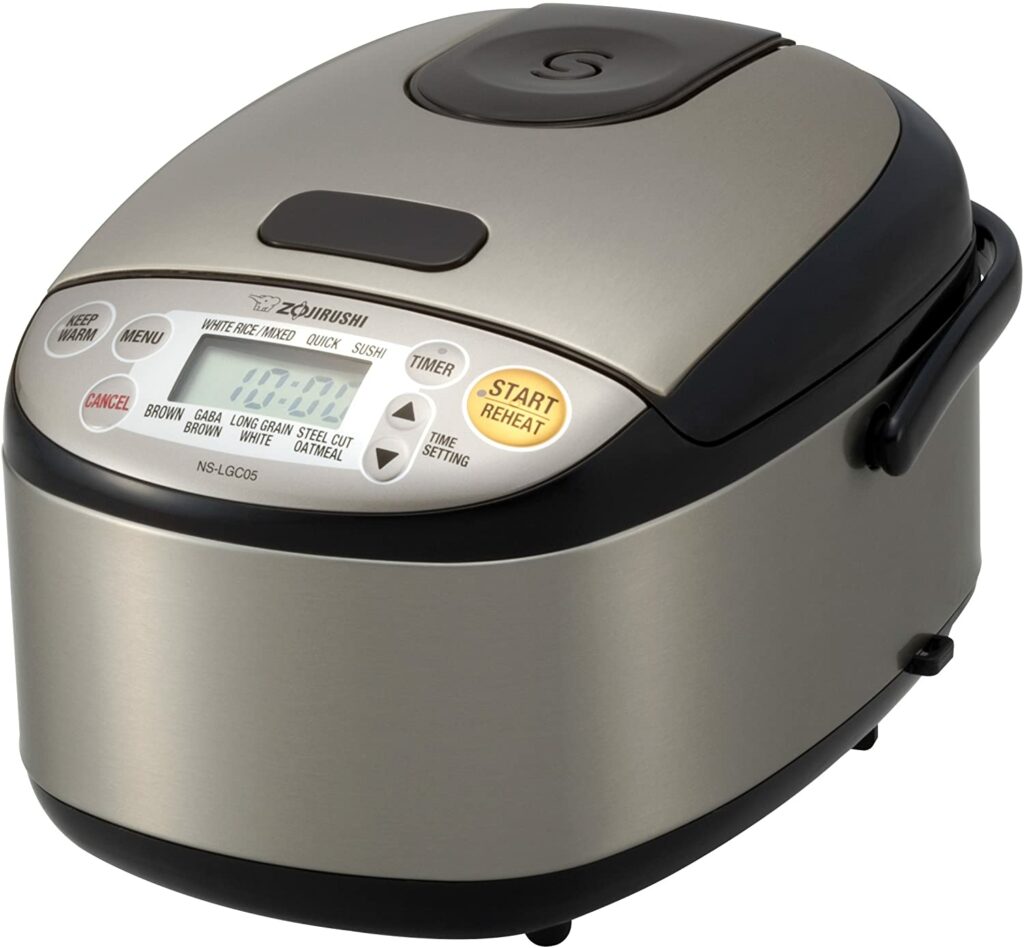 Zojirushi NS-LGC05XB Micom Rice Cooker & Warmer, 3-Cups (uncooked), Stainless Black
$139.95 (Amazon Prime)
Multi-menu cooking functions: Special settings for white/mixed riced, sushi rice, brown rice, GABA brown rice, long grain white rice, steel cut oatmeal and quick cooking
Which is best? Instant Pot? Slow Cooker? Rice Cooker
So then, which is the best?
The answer will be completely up to you, your journey and your personal preference.
You'll need to decide which is best by answering these questions:
How much money do I want to spend?
Where will I store it? Tucked away? On the counter? Is there room?
Do I need a lot of versatility?
What will I primarily use the cooker for?
Which one do I feel most confident with using?
And after answering all of those, maybe your answer is: Guess I need all three 🙂 It's okay. No judging here.
Do you have an Instant Pot, Slow Cooker, and/or Rice Cooker? Or are you considering getting one?
Questions? Leave them below!
If you liked this post, you might also enjoy:
Xox,
SKH