Need to increase your stomach acid? Well, I have 11 Ways to Naturally Improve Stomach Acid Production as the third part to this stomach acidity series.
In case you missed them, part 1 was 33 Ways to Tell If You Have Low Stomach Acid and part 2 was How to Test At Home for Low Stomach Acid, HCL Challenge.
I have already made it clear that stomach acid is essential for optimal digestive health.
The digestive system is 30 feet long and the stomach itself is only a small portion of that.
The stomach is a temporary storage place for food. Only water and alcohol are digested here, which is why you get drunk on an empty stomach.
Additionally, HCL is here, which is the only acidic organic in the digestive tract. The HCL kills bacteria and helps break food down so that it can effectively send food on its merry way.
Naturally increasing its production, then, is ideal.
---
Episode 92: Show notes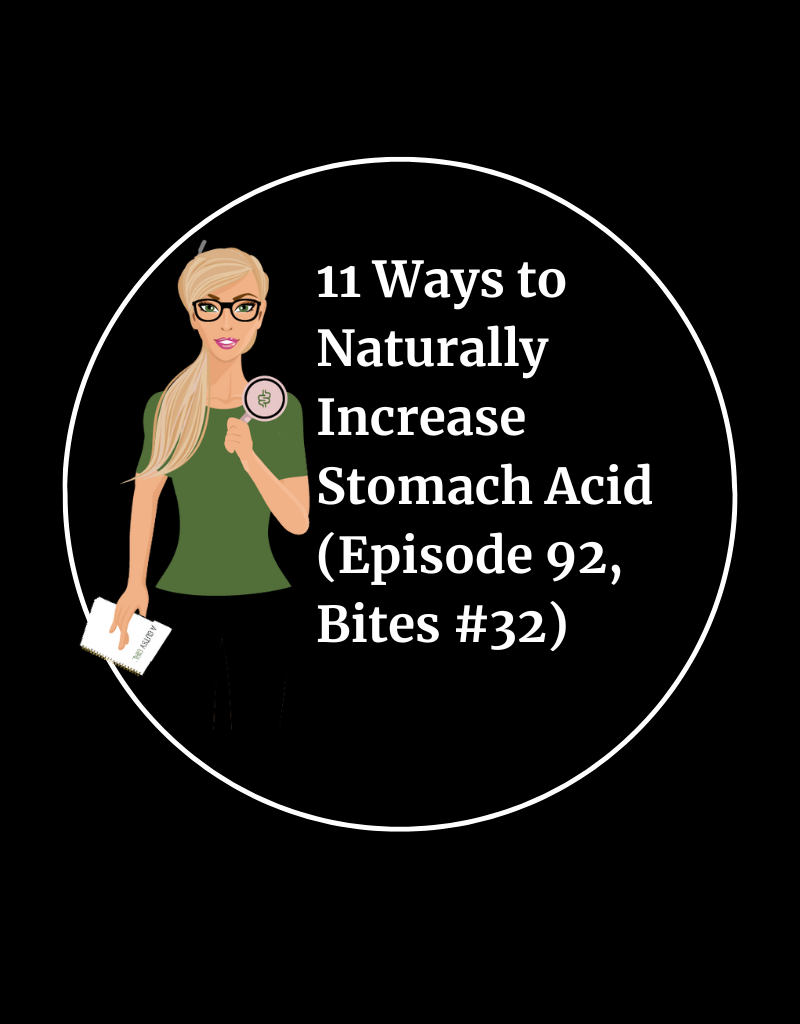 Episode 92 on the 'A Gutsy Girl' podcast: 11 Ways to Naturally Improve Stomach Acid Production. What are 11 ways that you can increase stomach acid naturally?
Subscribe Today:
Apple Podcasts | Google Podcasts | Spotify | iHeart Radio | RSS
In this Episode we cover:
What are 11 ways to naturally increase stomach acid
Links & Resources Mentioned in this Episode:
Podcast listeners save 20% off anything from agutsygirl.com with code PODCAST at checkout. You'll also save 15% off anything from guthealingsupplements.com with code AGUTSYGIRL at checkout.
More about our Podcast
A Gutsy Girl is the podcast that teaches, preaches, and celebrates healing the gut and living a happier, healthier life. If you're interested in being a guest on the show or have a topic you'd love to hear discussed, please reach out to us at podcast@agutsygirl.com
11 Ways to Naturally Improve Stomach Acid Production
Click HERE to save this post on 11 Ways to Naturally Improve Stomach Acid Production for later.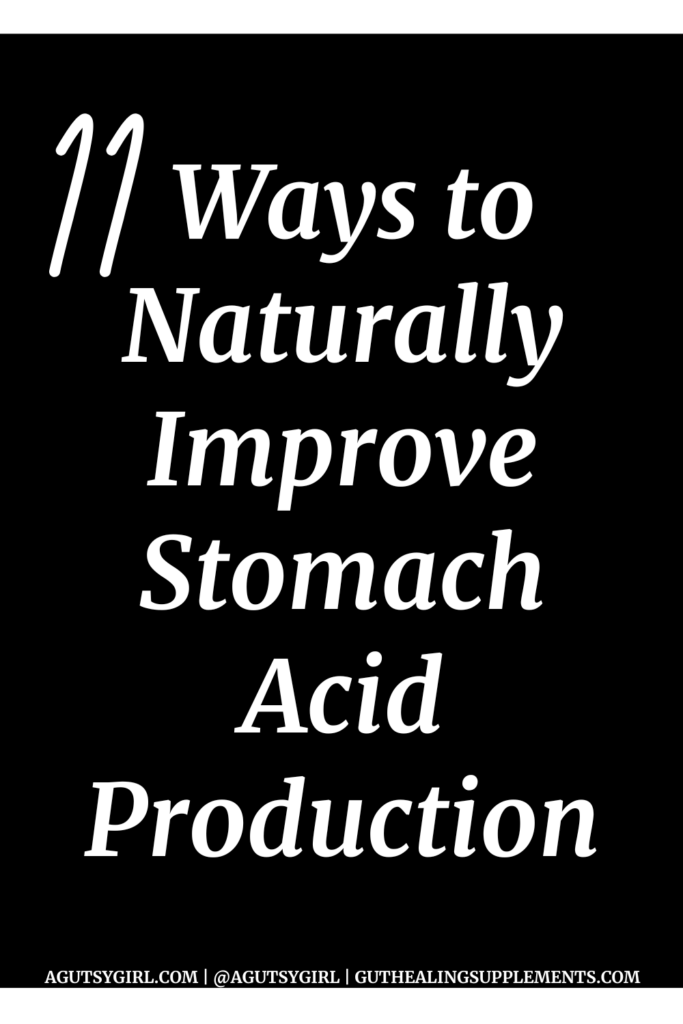 1. Add fermented veggies to your diet
You can simply make your own fermented veggies or buy ones such as Bubbies Sauerkraut, Farmhouse Culture, and Kimchi.
If you can't handle the full product, try just the juice, which also helps.
2. Use a quality sea salt
Pink Himalayan Salt is my favorite because not only can it help with acid production, it also contains important minerals like magnesium which helps fight high-stress levels (and is great for those recovering from Adrenal Fatigue).
3. Explore Food Combining
Carbohydrates reduce the production of HCL and protein requires HCL to be digested.
If you can avoid mixing the two, it could help. (That said, I feel it's more important to just eat without the extra stress, and if this one will stress you out, skip it.)
4. Marinate your meats
You can marinate meats prior to cooking to help with pre-digestion of them.
Using a marinade with lemon, lime, apple cider vinegar, etc. to help your body better digest the protein.
5. Chew
Take your time when eating meals.
Did you know that digestion begins in the mouth and that you have digestive enzymes there as well?
Chew your food slowly so as to break it down as much as possible before it even reaches the stomach.
Remember, so often it comes down to HOW we eat vs WHAT we eat.
6. Hot vs Cold Liquids
Ice water inhibits the production of stomach acid, so avoid drinking it with your meals and instead drink it around meal times.
Also, avoid drinking water with meals period, as it dilutes your natural HCL and enzyme production.
7. Choose a beverage wisely
Ginger, dandelion root and lemon are all things which naturally increase HCL production.
Make your own warm beverage using them (try making a warm version of my lemonade!) or easier yet, try one of these (caffeine-free) teas: Ginger Aid® and/or Roasted Dandelion Root.
8. Take Betaine HCL
In addition to the fact that the Betaine HCL Challenge will help determine your current HCL levels, including a supplement with Betaine HCL can help increase stomach acid as well.
There are two main ways to do this:
You can take straight HCL pills. Take them in the same way you conducted the challenge. Each time you decrease a pill, you'll know your stomach acid production is naturally increasing.
Take a supplement that includes HCL. Some people are sensitive to the high amounts of HCL per pill, so they prefer to include HCL as part of a supplement intended to help break food down. This is why we created, Break Down. It is a superior digestive enzyme that includes HCL.
9. Be calm
Overall stomach acidity levels drop as we become more stressed.
Learn to manage stress, especially around meal times when the body's job is to digest food.
10. Eliminate all food sensitivities
Consuming foods on a daily basis that you are sensitive or intolerant to (i.e. wheat, gluten, soy, eggs, corn, preservatives, nightshades, etc.) causes a decrease in stomach acid production.
Learn more about food sensitivities.
11. Apple cider vinegar
Add apple cider vinegar to your diet wherever you can.
You can mix a little in with water prior to all meals or better yet, cook with it.
Some recipes: Homemade Apple-Spiced Vinaigrette, Homemade Sweet Sage Dressing, Roasted Brussels Sprouts, Grapes and Walnuts.
In case you haven't gathered it yet, I find the digestive system 1,000% fascinating. I live and breathe ways to optimize it since I spent years tearing it down.
If you want to learn every last thing about your own digestive system, grab a copy of my 28-day gut healing journaling SYSTEM, Ahara Dinacharya.

If you liked this post on 11 Ways to Naturally Improve Stomach Acid Production, you might also enjoy:

Xox,
SKH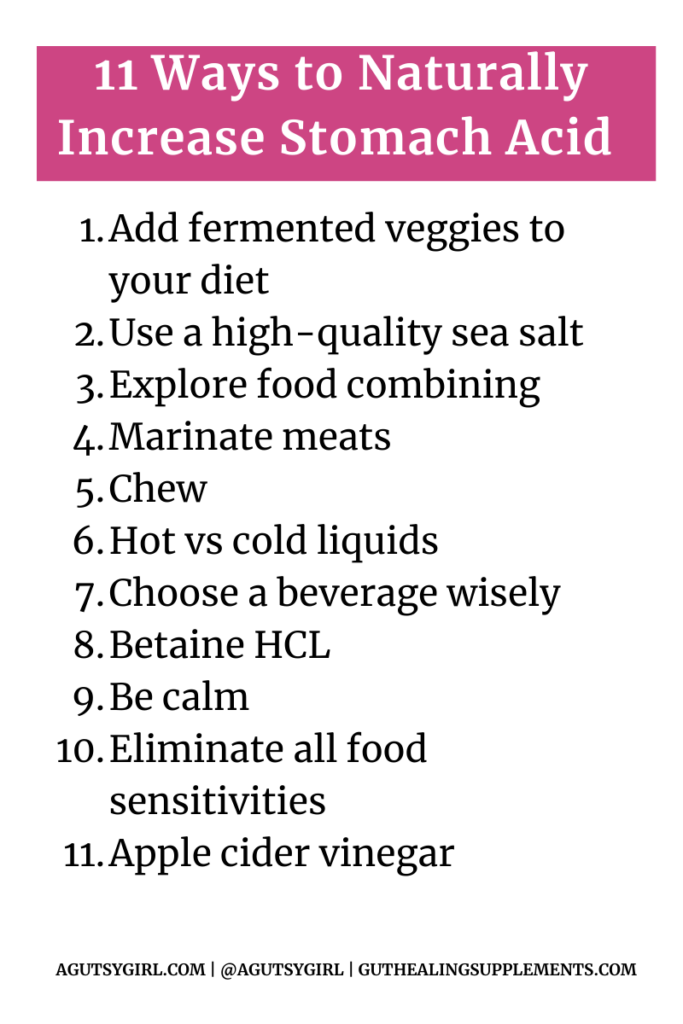 You will heal. I will help.