I love answering your questions. Today it's all about food questions and answers.
A reader recently emailed me,
I realized that there are quite a few products that you frequently use where I have only a vague understanding of what they actually are. I could be alone in this, but thought maybe you could write about some of them at a more basic level if you felt that other readers would benefit as well? For many of these things, I am intrigued, but have no idea when/where/how to even begin thinking about using them.

Coconut products: Prior to following your blog, I think I had only heard of coconut oil and dried coconut chips (oh, and coconut water too). But over time you've talked about different kinds of coconut oil, coconut manna, butter, aminos, etc. What's the difference?

MCT Oil?

Chia, Hemp, and other things I didn't realize had edible "versions" – you wrote about Hemp awhile back if I recall, which was educational.

What are your thoughts on the apple cider vinegar "craze" I see plastered all over my Facebook feed every day? Just a fad, or legitimate cure-all? Seems like it can solve the world's problems, LOL!

(Disclaimer: I totally realize that I could Google these things and probably figure it out on my own… but let's face it – right or wrong – I'm not going to.)
Food Questions and Answers
Click HERE to save these for later.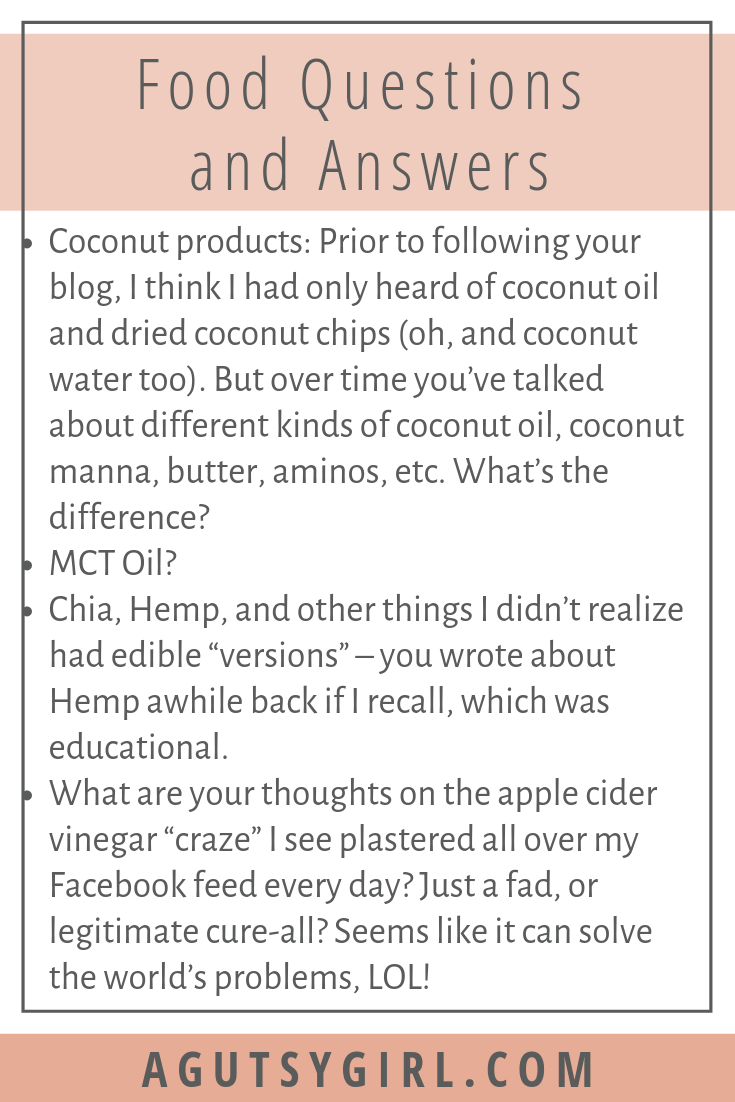 First of all, I laughed….."I totally realize that I could Google these things and probably figure it out on my own… but let's face it – right or wrong – I'm not going to." I do the same thing. Google is just a matter of who plays the game the best anyways.
The best information out there is rarely found at the top of Google. I know this because when I have gotten to the bottom of deep searches it was only after that, deep searches.
I digress.
Let's start with the coconut conversation because coconut is my jam, and if I could do it again, I would not have started a peanut butter company, but instead one focused on the coconut. I believe in the power of a coconut so hard.
Coconut
Coconut Oil
You can learn all about Coconut Oil HERE.
Everyone has an opinion about Coconut Oil, and this past week, the American Heart Association came out with an article about why Coconut Oil is not healthy, nor has it ever been healthy. All I will say about the article at this point in time are two things.
There was a time I was fat-free, sugar-free this, that, and the other. It failed me miserably. In fact, that period of time in my life is what I believe lead to the ultimate demise of my health – the one that I will pay for for the rest of my life.
The American Heart Association also has their stamp of approval on many cereal boxes. No thanks. I'll keep my coconut oil.
The reason I am such a huge fan of Coconut Oil is that I love the taste of it (Virgin Coconut Oil vs. Refined Coconut Oil), it has helped with my gut healing, and it's an awesome vehicle for natural hair and body care.
This idea that it's harmful because it's a saturated fat is bogus. (Read: The Great Cholesterol Myth and/or study up via The Weston A. Price Foundation.)
So let's start with Coconut Oil and Coconut Manna.
Coconut oil is expeller pressed from coconut flesh whereas Coconut Manna is made from dried coconut flesh. Which brings me to….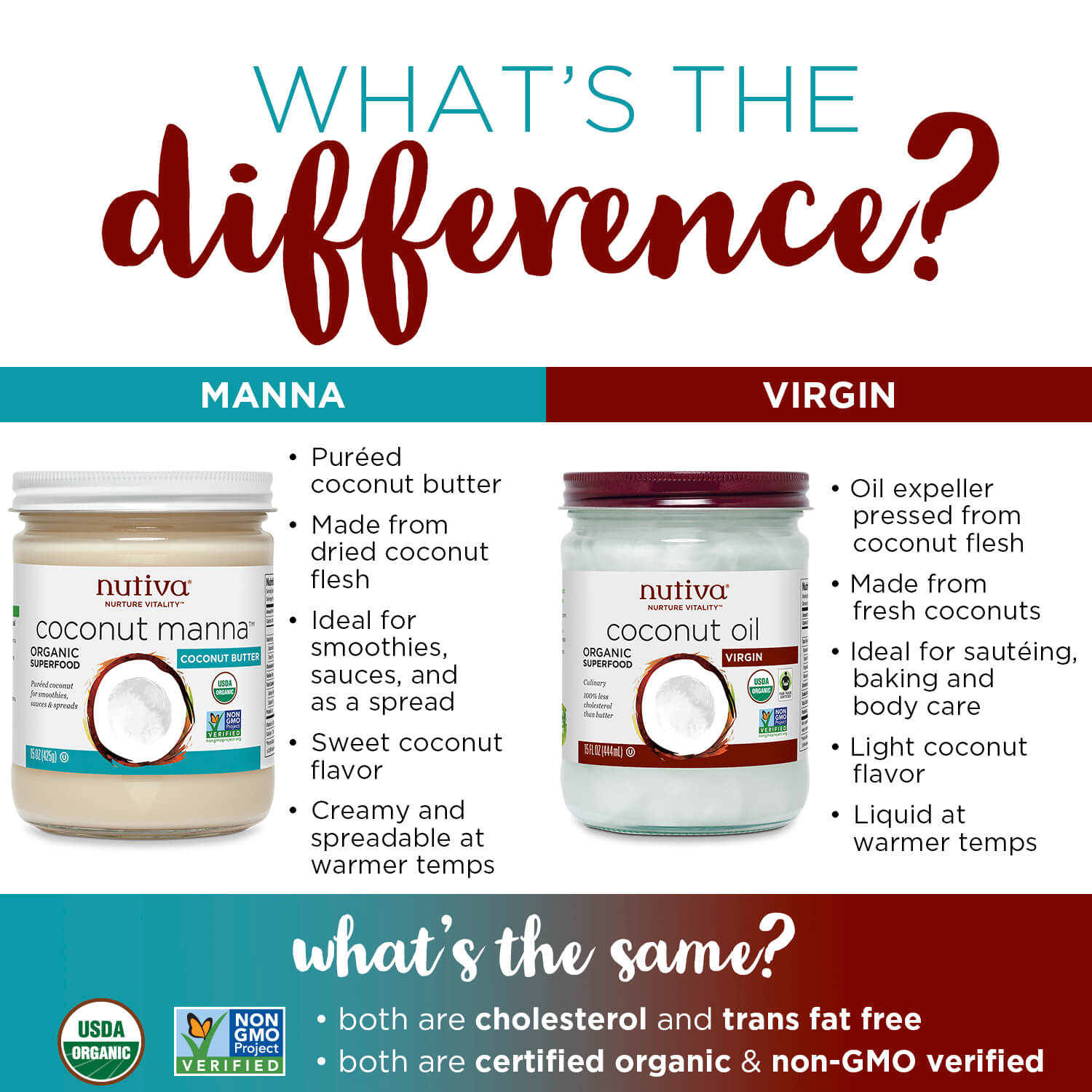 Coconut Manna
Coconut Manna is simply just Coconut Butter, but the "Manna" is Nutiva's trademarked term for the butter. Nutiva calls their Coconut Butter, Coconut "Manna" because if ever there was a food from heaven, this is it.
I wrote an entire guide around the product, in fact. See -> Your Complete Guide to Coconut Manna. Nutiva's Coconut Butter is plain. For a dessert Coconut Butter, the best out there is Nikki's Coconut Butter.
Why would you eat Coconut Manna/Butter? Because it's just super good! It acts as a daily treat for me. Daily. In fact, I mention it on my post around sweet while gut healing HERE.
Coconut Aminos
Think of this as a soy sauce alternative, but sweeter in nature than a soy sauce.
Coconut aminos are a liquid made from the aged sap of coconut blossoms and salt.
My favorite is Big Tree Farms Coco Aminos because I love the company and what they stand for, but there are many different brands on the market now. In fact, you can get a really great one from Thrive Market. They have a plain and a Teriyaki one that's great for a grilled chicken saute.
And more coconut products
It's not just Coconut Oil, Manna, and Aminos I love. I also love (and use all the time), coconut:
By the way, you can get all four of these with a Thrive Market membership as well.
Look, when it comes to all the things coconut, one will never be able to convince me that it's bad or unhealthy. Ever.
MCT Oil
The conversation around MCT (medium-chain triglycerides) oil has only gotten a lot of buzz fairly recently, relatively speaking.
Proponents of it would say that MCTs are easily digested and provide energy, support the metabolism and are burned by the body for energy and fuel. In conjunction with a balanced diet and exercise, consuming MCT Oil can support weight management.
It hit hot in the Paleo community when people began adding it to things like coffee for the extra boost. You know, kind of like this….
But what do I think of MCT Oil? And do I use it?
Well yes, in fact, I do. But I would be lying to you if I told you I used it and loved it as much as all the coconut products. I don't use it often unless I'm working on recipes, usage, and photographs with it for Nutiva. Nutiva came out with the world's first organic MCT Oil. That said, do I think you need to add MCT Oil every single day by the tablespoon to all 3 cups of coffee you have? No.
If you want to learn more about MCT Oil and its benefits and how you might incorporate it into your life, check out What Exactly Is MCT Oil + Why You Should Use It.
Chia, Hemp
I don't think there was a question around this, but just an observation: Chia, Hemp, and other things I didn't realize had edible "versions" – you wrote about Hemp awhile back if I recall, which was educational.
And yes, I can't emphasize enough how much I love both chia and hemp. In fact, if you want to learn more about hemp, click HERE for all the things I've written.
Grab my Gut Healing Chia Pudding recipe HERE.
Apple Cider Vinegar
It's time for a little story, friends.
Once upon a time, there were some high school friends. They heard that if you took a shot of Apple Cider Vinegar prior to meals, you would magically lose weight. So they started. After a few short days, one of the friends took a shot that was too big. She swallowed theApple Cider Vinegar wrong, and couldn't breathe temporarily because the vinegar had burned the throat so badly. And that was the end of theApple Cider Vinegar craze for that girl.
The girl may or may not have been me, and she may or may not have avoided Apple Cider Vinegar for years to come.
Today, I am recovered from that horrible experience, and I am a huge fan! My Apple Cider Vinegar of choice is Bragg Organic Raw Apple Cider Vinegar.
So your question was, "Is Apple Cider Vinegar a fad, or legitimate cure-all?"
The way I'd answer this is the same way I'd answer that question as it relates to any food item, "It depends, but it's definitely not a cure-all."
Honestly? I don't care how great a food is from a healing and/or medical standpoint. Nothing, in a silo, is a cure-all, and I think we have to tread lightly on pretending that any one food is so miraculous that it can make or break us (just as any one food is so damaging that it can make or break us).
The way that I believe any one food to be life-enhancing is that an individual tries it and something changes for the better. In other words, you try Apple Cider Vinegar for any given length of time for any given reason and then you step back and ask yourself, "How is that working for me?"
I'll help you with that when you grab your 90-day gut healing journal!

For me, the Apple Cider Vinegar was not just a fad.
It actually did help when it came to digestion and improving HCL. (I talked about it in 11 Ways to Naturally Improve Stomach Acid Production.) It also worked by adding it to recipes for flavor (Summer Pad Thai Noodle Salad anyone?!), and for baking "science" reasons (baking soda + Apple Cider Vinegar = baking powder).
Decide why you are interested in using it. Then, use it for those intended purposes, see if you enjoy it and ask yourself if it's working for you. If so, then I'd say that yes, it's completely legitimate.
Whew!
That was a lot. I hope you enjoyed it! And remember, if you have questions, make sure to submit them so I can get them in the queue.

Xox,
SKH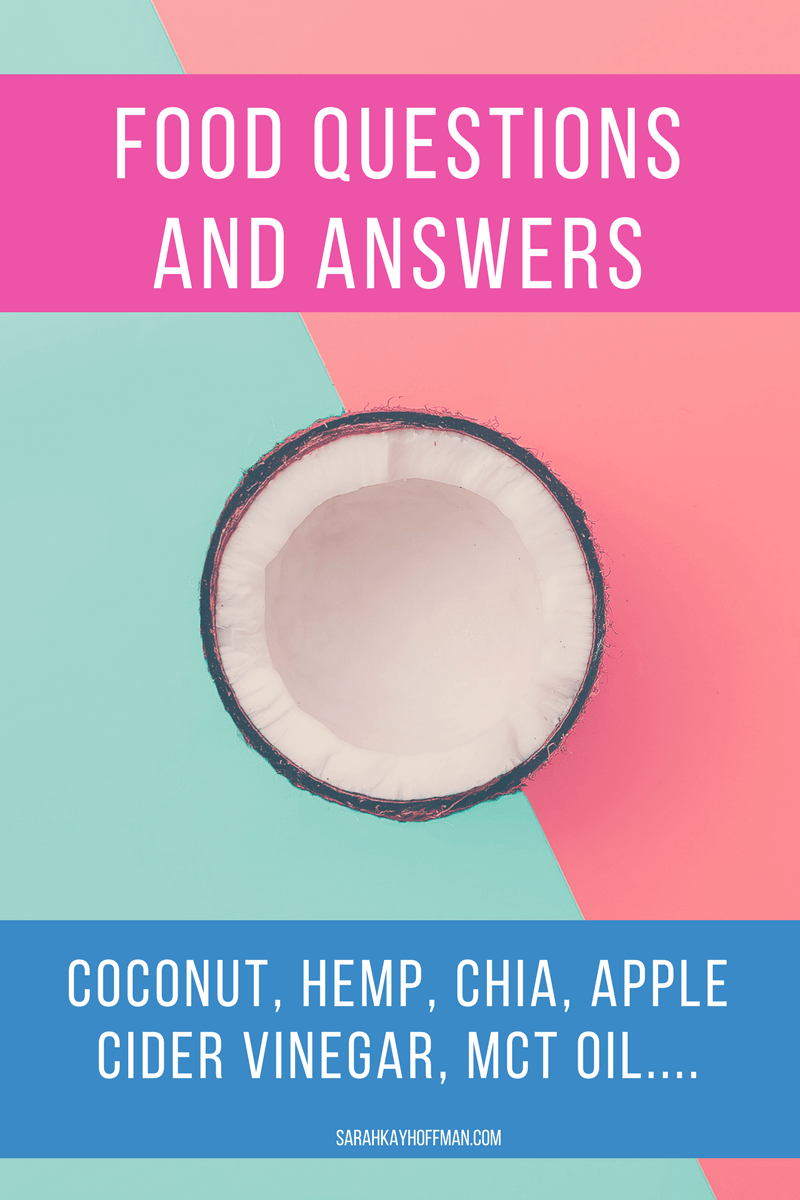 You will heal. I will help.