Today I'm addressing (finally) the side effects of antibiotics and rebuilding the gut after a round of antibiotics.
Side Effects of Antibiotics and Rebuilding the Gut
Click HERE to save this post for later.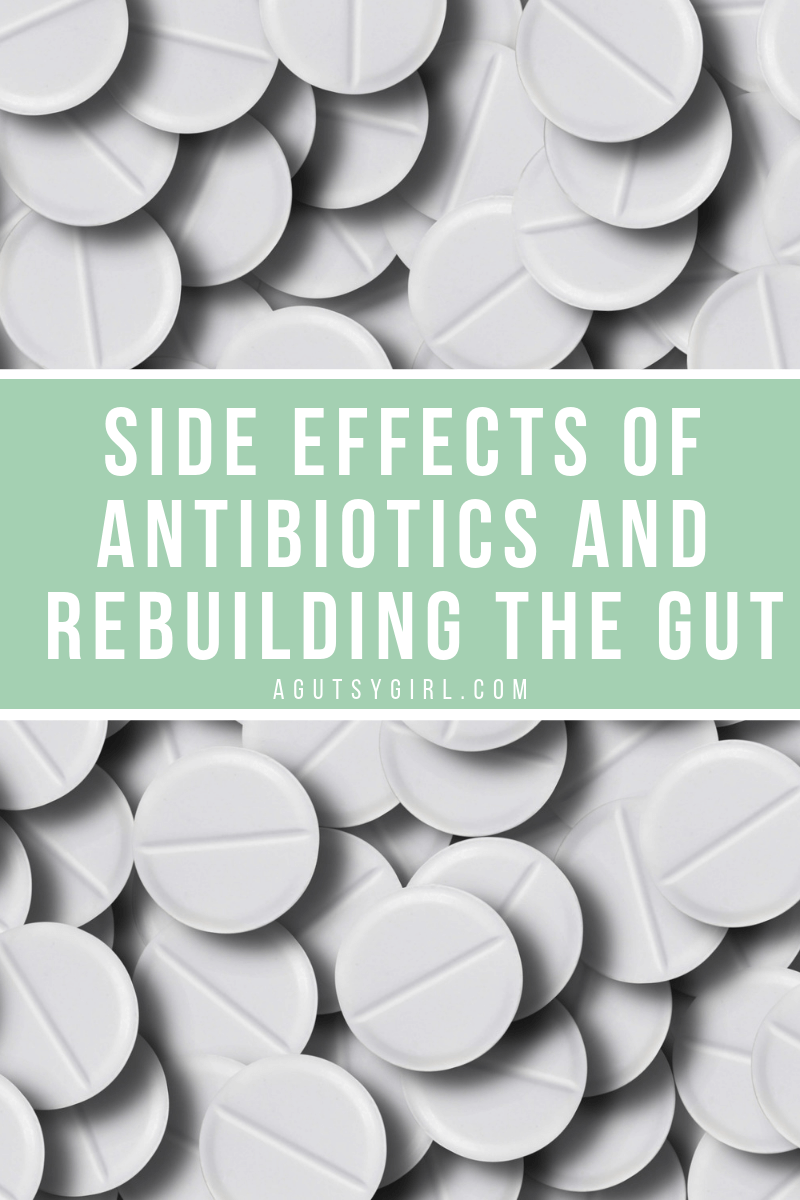 I am constantly being asked two things as they relate to antibiotics:
Is it okay if I have to take a round of antibiotics? and
How can I keep my tummy happy during and after antibiotics?
So let's dig in, mmmmmkay?
What are Antibiotics?
Let me break this down as simply as I can to start the discussion.
The National Library of Medicine states that antibiotics are,
powerful medicines that fight bacterial infections. Used properly, antibiotics can save lives. They either kill bacteria or keep them from reproducing. Your body's natural defenses can usually take it from there.
Anti = opposed to, against
Pro = for, beneficial
The Problem with Antibiotics
Antibiotics, as originally intended, can be life saving. There is no denying that, though many will try to argue it.
The modern era of antibiotics started with the discovery of penicillin by Sir Alexander Fleming in 1928. Since then, antibiotics have transformed modern medicine and saved millions of lives. Antibiotics were first prescribed to treat serious infections in the 1940s. Penicillin was successful in controlling bacterial infections among World War II soldiers. source
Problems began after that, when resistance developed with Penicillin and then eventually, with other antibiotics as well.
Why? Because as a society, we used them too much and too often, and "The overuse of antibiotics clearly drives the evolution of resistance."
Antibiotics work for bacterial, not viral, infections.
Some of these viruses include:
Colds
Flu
Most coughs and bronchitis
Sore throats, unless caused by strep
"If a virus is making you sick, taking antibiotics may do more harm than good. Using antibiotics when you don't need them, or not using them properly, can add to antibiotic resistance. This happens when bacteria change and become able to resist the effects of an antibiotic."
Side Effects of Antibiotics
But let's say that you have a bacterial infection and need the antibiotic. Then what? Is it okay to take them?
YES! Listen, I learned my lesson the hard way in April of 2014. I wrote about it via Antibiotics (<- go check out the post). I should've visited a pharmacist at the drugstore for more details about my drug regimen.
Seriously, friends, we must stop antibiotic-shaming. If you are living your life proactively vs. reactively 90% of the time, then the other 10% you need to react.
You have a choice here, as always, but I trust that you'll make the right one. More important than that, though, is that you will do so without shame.
But yes, it's true, there is a plus/minus to everything in life. Antibiotics are no different.
Here are some side effects of antibiotics:
Stomach problems like diarrhea, nausea and vomiting.
Thrush infections, which can affect the mouth (white patches will be visible) and in women can also occur in the vagina (causing itchiness, pain and discharge).
Ongoing diarrhea caused by an intestinal infection, which may be serious and require further investigation and treatment.
Allergic reactions, such as hives (large, red, raised areas on the skin), fever and breathing problems.
Bodily infections resistant to antibiotics.
Swollen, black, or "hairy" tongue.
Menstrual cycle problems.
Hallucinations, psychotic reactions and tendon ruptures.
Sources: HERE, HERE, and HERE.
(Keep in mind that different antibiotics have different side effects, and that this is not an exhaustive list.)
Rebuilding the Gut After Antibiotics
Listen, I love and respect all the natural, integrative, and functional doctors / doctors with websites out there. I study and learn alongside them, and I will always be on their side.
That said, sometimes I feel like we can get too wrapped up in every last thing they say about the negatives on Western medicine.
I believe there must be a better balance because as it stands today people are typically using too much or too little medication; I've found problems with both.
Hear me clearly on this: sometimes you just need the damn medication.
Today, what I want you to know is this fact, "After antibiotic treatment, our gut microbiota usually recovers to its previous state a few weeks or months later."
If it's critical that you take an antibiotic, take it. Focus on it, don't let the guilt weigh you down (because that will do your system even more damage), and then move on.
9 Simple and Practical Ways for Rebuilding the Gut After Antibiotics
Click HERE to save these ways for later.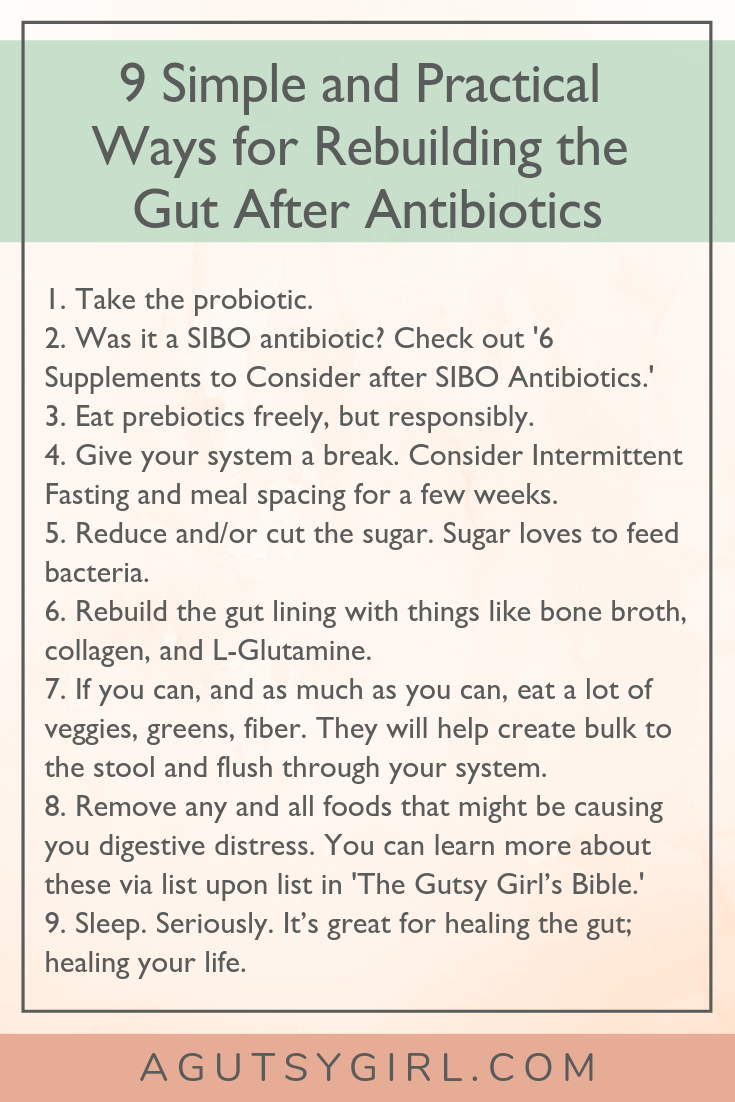 Take the probiotic. And the answer is Just Thrive. I use (and love) Just Thrive, and recommend it constantly. Learn all about it HERE. (p.s. PLEASE just make sure you understand your body well enough + the probiotic you're choosing to take. Read THIS.)
Was it a SIBO antibiotic? Check out 6 Supplements to Consider after SIBO Antibiotics.
Eat prebiotics freely, but responsibly. (You can even ferment your own foods at home.)
Give your system a break. Consider Intermittent Fasting and meal spacing for a few weeks.
Reduce and/or cut the sugar. Sugar loves to feed bacteria.
Rebuild the gut lining with things like bone broth, collagen, and L-Glutamine.
If you can, and as much as you can, eat a lot of veggies, greens, fiber. (I realize this isn't practical for all of you.) They will help create bulk to the stool and flush through your system.
Remove any and all foods that might be causing you digestive distress. You can learn more about these via list upon list in The Gutsy Girl's Bible.
Sleep. Seriously. It's great for healing the gut; healing your life.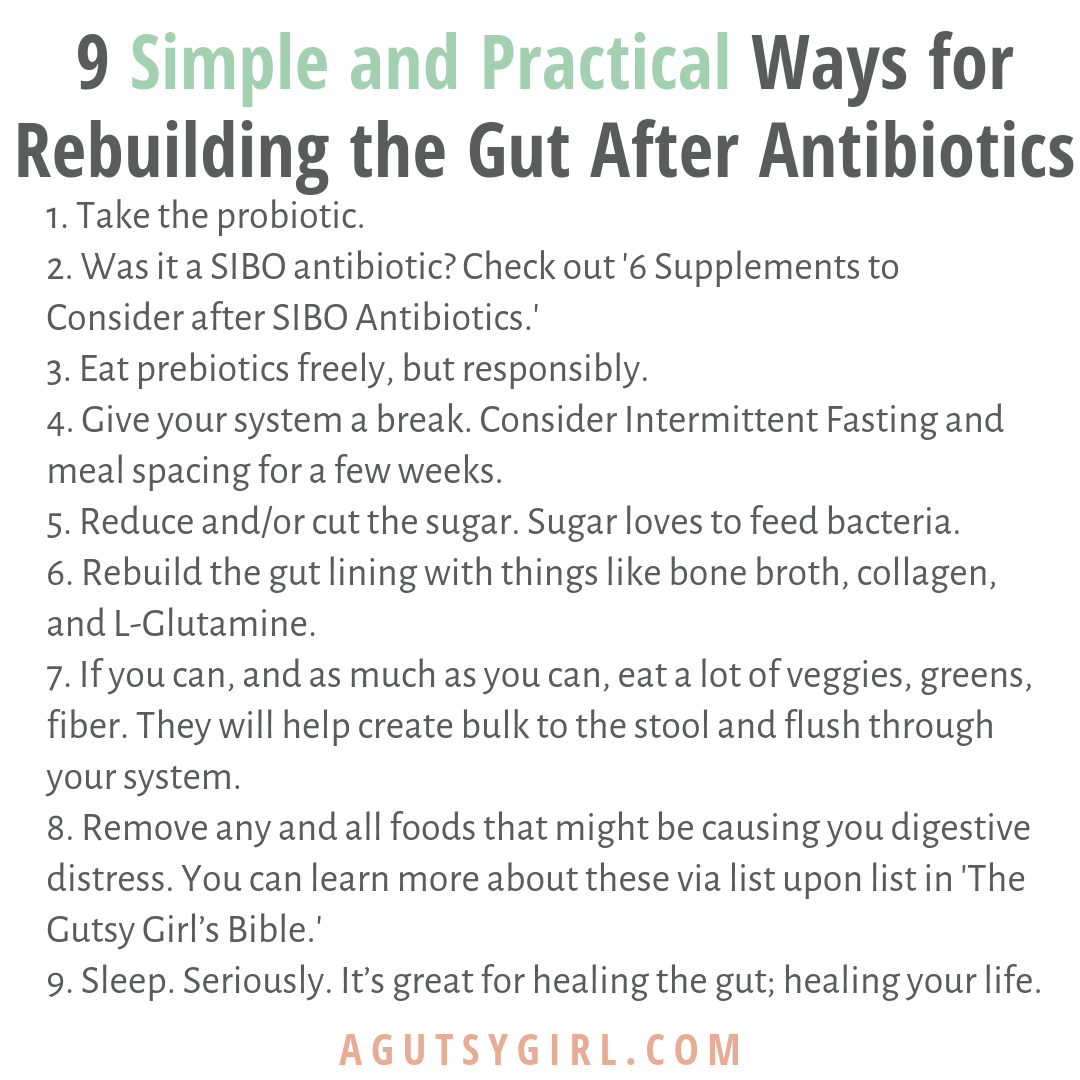 I really hope this helped you with the antibiotic fear-state we are currently living in.
Do everything you need to to avoid having to take them in the first place, but when you do need them, "give in," get better and continue healing your gut.
Questions? Ask away.
If you liked this post, you might also enjoy:
p.s. Start your own gut healing journey with me today – for FREE – with the 21-Day Gut Healing Inspiration Journey.

Xox,
SKH
You will heal. I will help.