What is ImmunoLin and why is it the star ingredient in Tummy Soothe? Today you'll hear my obsession explained.
I have been feverishly waiting for this episode to come out so I could share this life-changing information with you.
Now is the time!
ImmunoLin as the Star Ingredient in Tummy Soothe, My Obsession Explained (Episode 105 with Brian Kaufman)
Click HERE to save this article + episode for later.
Episode 105: Show notes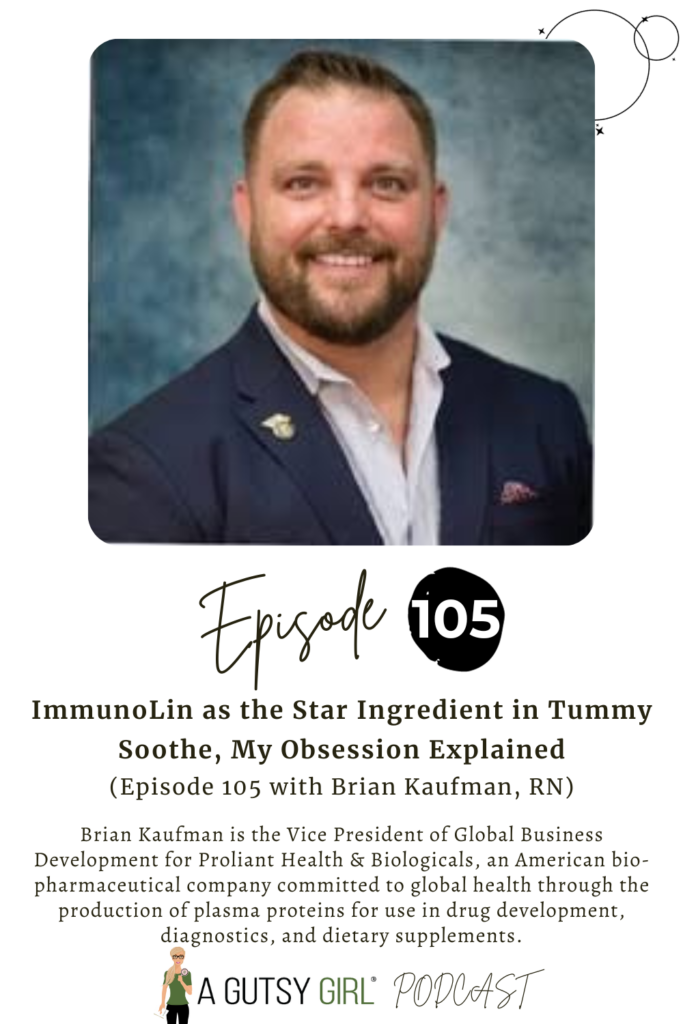 Episode 105 on the 'A Gutsy Girl' podcast: ImmunoLin as the Star Ingredient in Tummy Soothe, My Obsession Explained is all about, you guessed it, ImmunoLin and why we need it for overall gut and immune health.
Subscribe Today:
Apple Podcasts | Google Podcasts | Spotify | iHeart Radio | RSS
In this Episode we cover:
Who is Brian Kaufman?
What is an antibody and why are they important?
Why should I take an antibody like ImmunoLin if I already take probiotics?
How does ImmunoLin work and who should be taking it?
What is the difference between colostrum and a serum-based antibody like ImmunoLin?
What are some of the clinical trial results?
Is this safe for any/all populations to consume?
How long until you see significant results from using ImmunoLin?
Can it be taken with other ingredients/therapies?
Links & Resources Mentioned in this Episode:
More about the A Gutsy Girl podcast
A Gutsy Girl is the podcast that teaches, preaches, and celebrates healing the gut and living a happier, healthier life.
Rome wasn't built in a night, and neither was your microbiome.

Brian Kaufman
Tummy Soothe
"I can say without a doubt that my digestive system is much happier since I started including this in my protocol!"

Sonia P.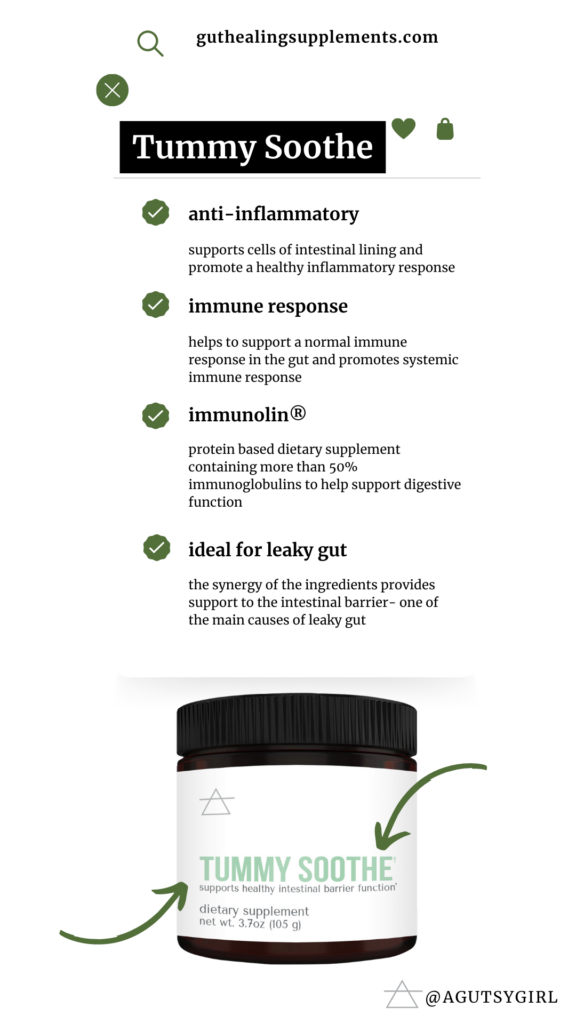 ✔ Supports gut health
✔ Supports healthy intestinal cells
✔ Support gut immune function
✔ Supports GI barrier integrity
Use code BLOG at checkout to save 15%.
SBI Binding Agents
If any of these are of concern to you, then Tummy Soothe is for you, as SBI binds to the following antigens:
Aflatoxin B2
Aflotoxin G1
C. albicans lysate
C. albicans Als3 protein
H. pylori CagA protein
Cytolethal distending toxin subunit A
Cytolethal distending toxin subunit C
Shiga-like toxin type 1
Lipopolysaccharide (LPS)
C. difficile Toxin A & B
Peptidoglycan
Flagellin
Zymosan
C-di-AMP
CpG
MDP
Gliadin
E. coli
Staphylococcus
Klebsiella Pneuomonia
Salmonella Typhimurium
Serratia Marcescens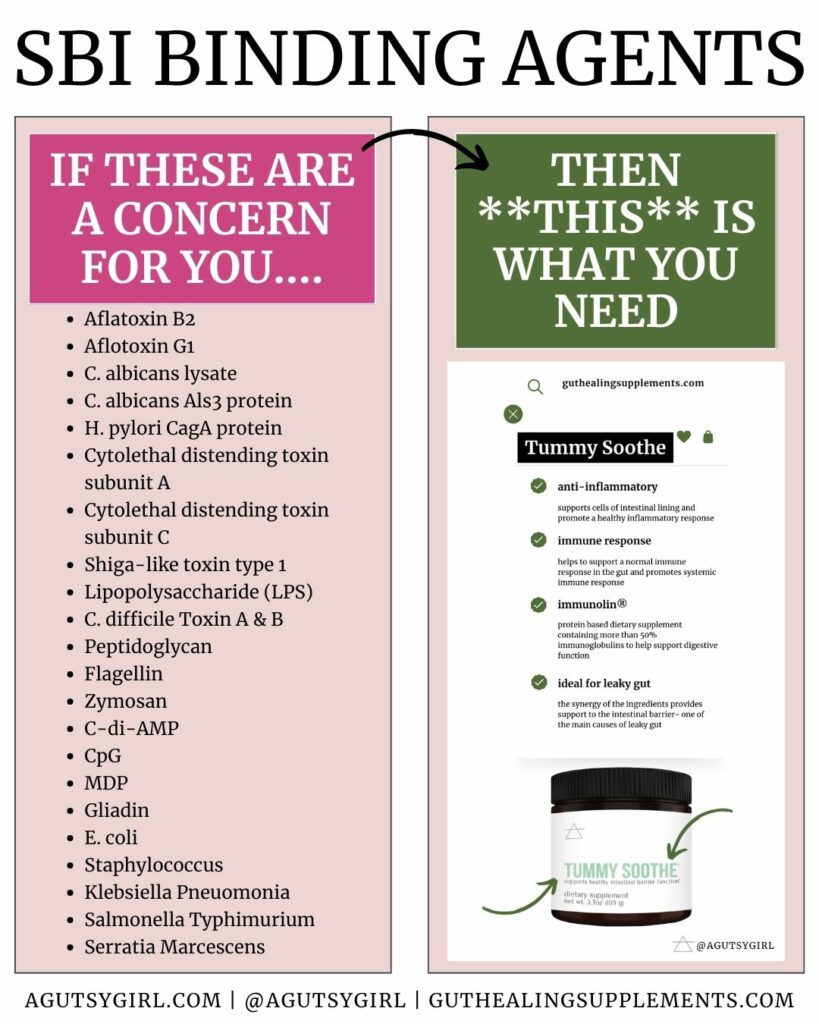 Wrap-Up
As always, a huge goal for this show is to connect with even more people. Feel free to send an email to our team at podcast@agutsygirl.com. We want to hear questions, comments, show ideas, etc.
Did you enjoy this episode? Please drop a comment below or leave a review on Apple Podcasts.
Bio: Brian Kaufman, RN
Brian Kaufman is the Vice President of Global Business Development for Proliant Health & Biologicals, an American bio-pharmaceutical company committed to global health through the production of plasma proteins for use in drug development, diagnostics, and dietary supplements.
A decorated Army veteran and GI Nurse, Brian has over 15 years of experience in direct patient care and medical sales where his primary focus has been in digestive health and infectious disease.
When he is not formulating new products with his team, Brian loves spending time with his wife and two children in Iowa, cheering on his Georgia Bulldogs, and playing rugby for the Des Moines Rugby Club.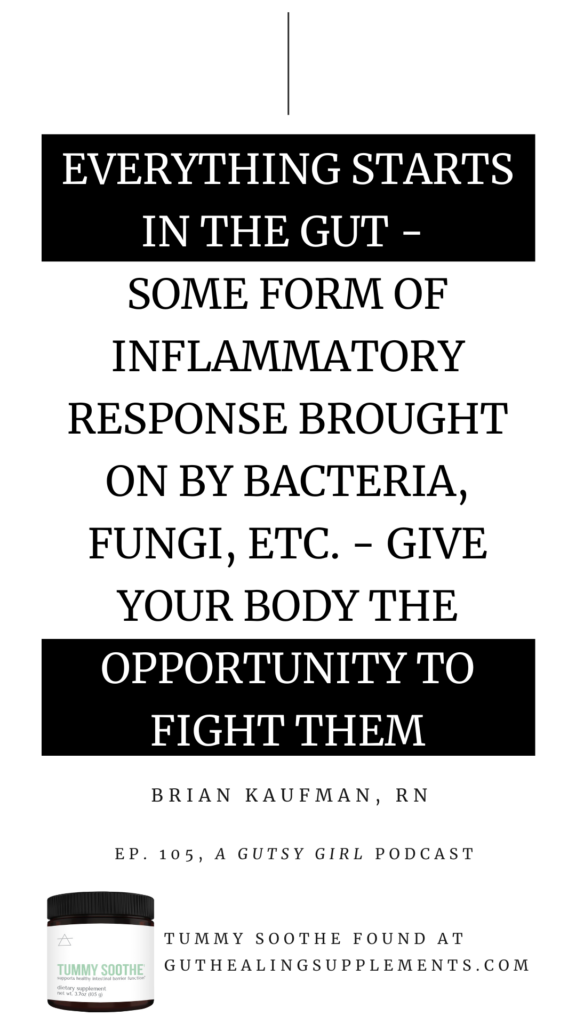 If you liked this podcast episode on the ImmunoLin, you might also enjoy:
Xox,
SKH
You will heal. I will help.